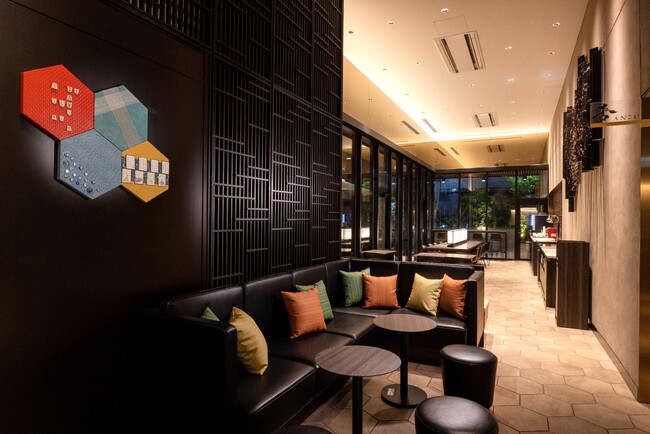 Accor, one of the world's largest hospitality groups based in Paris, France, opened ibis Styles Tokyo Ginza East on Thursday, June 1, 2023.
Ibis Styles is Accor's economy brand with over 560 unique designs and themes in over 45 countries around the world. Our hotel has a modern Japanese design with the theme of "festivals and traditional Japanese games", and incorporates art such as fireworks paintings, karuta and ohajiki.
"ibis Styles Tokyo Ginza East" has 135 guest rooms, restaurants, large public baths, open-air baths, sky terraces, and various other facilities. On the 1st floor, we will prepare a breakfast buffet where you can enjoy a wide variety of dishes, including freshly baked croissants, at the open restaurant "ANZU" where bright natural light shines through large windows on two sides.
In addition, a "free breakfast opening offer" commemorating the opening is being held until August 31 (Thursday). Members of Accor's lifestyle-focused loyalty program ALL – Accor Live Limitless can earn reward points and have free access to Ann as a lounge space outside of breakfast hours. The lounge is equipped with high-speed free Wi-Fi, electrical outlets, and beverages, and on sunny days, you can enjoy a wonderful time while feeling the breeze on the open-air terrace seats.
The hotel's greatest features are the "large public bath/open-air bath" on the 11th floor and the "sky terrace" overlooking the Sky Tree. Forget that you are in Tokyo, and enjoy a special space where you can comfortably soothe your fatigue while looking at the stars in the night sky.
The hotel is located in a good location suitable for both sightseeing and business purposes, a 3-minute walk from Shintomicho Station, a 4-minute walk from Hatchobori Station, a 7-minute walk from Ginza-itchome Station, and Higashi Ginza. With a 9-minute walk from the station, you can visit not only Ginza but also Tokyo Station, Nihonbashi, Tsukiji, and other places in Tokyo on foot.
Accor Japan Representative Director / Dean Daniels Comment
"I would like to express my sincere gratitude to everyone involved for the opening day today. The hotel is the 21st hotel in Accor's domestic network and the eighth hotel under the ibis Styles brand. As a simple and trendy economy brand, ibis Styles welcomes travelers from all over the world, and we aim to become a well-loved brand in Japan by providing a variety of services."
Accor currently operates 20 hotels in nine cities in Japan, ranging from premium to economy brands, and plans to open five new hotels by 2025.
ibis Styles Tokyo Ginza East Facility Overview
Location: 1-2-13 Shintomi, Chuo-ku, Tokyo
Access: JR Keiyo Line / Tokyo Metro Hibiya Line "Hacchobori" Station Exit A3 4 minutes walk Tokyo Metro Yurakucho Line "Shintomicho" Station Exit 2 3 minutes walk Tokyo Metro Ginza Line "Ginza 1-chome" Station Exit 11 7 minutes walk 4-minute walk from Exit A1 of Takaracho Station on the Toei Asakusa Line Number of guest rooms: 135 (94 with Ryukyu tatami mats, 41 with carpets)
Ancillary facilities: large public bath, open-air bath, sky terrace, restaurant "ANZU"
Opening commemorative plan: Free breakfast included Contact: (representative) 03-3555-1230
For reservations, please visit this link: https://all.accor.com/C185
*Surveyed on hotels listed on major OTA sites that have Ginza in the hotel name and have a large public bath, May 2023.
About Accor <br /> Based in Paris, France, Accor is an industry-leading hospitality group with more than 5,400 hotels and residences and more than 10,000 restaurants and bars in 110 countries around the world. Diverse and fully integrated within the hospitality industry, including over 40 luxury, premium, midscale and economy hotel brands, entertainment and nightlife venues, restaurants and bars, private residences, shared accommodation, concierge services and co-working spaces. We are developing a well-developed ecosystem. In lifestyle hotels, one of the fastest growing categories in the industry, we have established a solid position through a joint venture with ENNISMORE, which has many creative lifestyle brands. Accor boasts a unique and unique portfolio of brands and approximately 230,000 team members worldwide. Members of Accor's comprehensive loyalty program have access to a wide range of benefits, services and experiences in everyday life. Through initiatives such as Accor Solidarity, RiiSE and the ALL Heartist Foundation, the Group also focuses on promoting positive behavior through business ethics, responsible tourism, sustainable environmentalism, community engagement, diversity and inclusion. is guessing. Founded in 1967, Accor is headquartered in France and is listed on the US Euronext Paris stock exchange (ISIN code: FR0000120404) and on the OTC market (ticker: ACCYY). For more information, please visit https://group.accor.com .
About ibis Styles
ibis Styles welcomes travelers with creative design and a playful atmosphere. With a clear theme and a unique design concept built on a confident and optimistic approach, ibis Styles offers a simple, trendy yet economy brand of hospitality. Our friendly staff will delight your guests with delightful surprises that will make every stay customizable and special. With over 560 uniquely designed ibis Styles hotels in over 45 countries, there is something for every couple, family, solo or business traveler. For more information about ibis Styles, please visit ibisstyles.com.
*The information listed is the current plan, and may change due to future detailed examination.
[Accor] From the press release