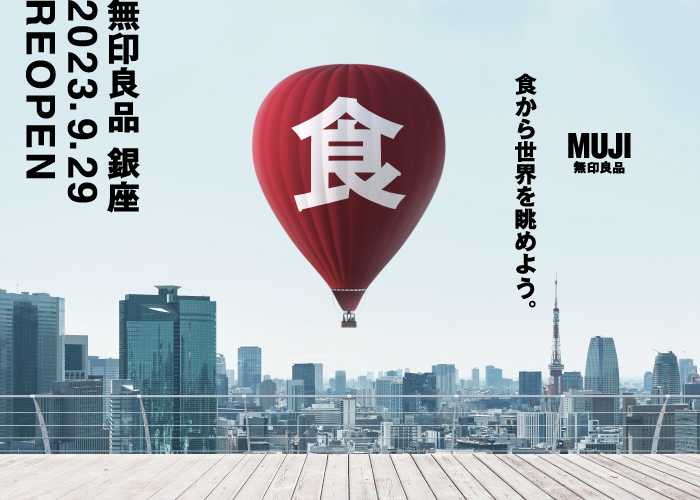 A store where you can experience a special feeling unique to Ginza, focusing on "food and kitchen" learned from the world's wisdom and culture.
Ryohin Keikaku Co., Ltd., which operates MUJI, will reopen MUJI Ginza on Friday, September 29, 2023. As MUJI's world flagship store located in Ginza, which has regained its vitality and is attracting more people than ever since the end of the coronavirus pandemic, we offer a special and highly satisfying experience unique to Ginza, where you can feel that "Ginza is a fun city.'' In order to provide a shopping experience, we aim to be a store that focuses on food learned from the cultures and wisdom of the world.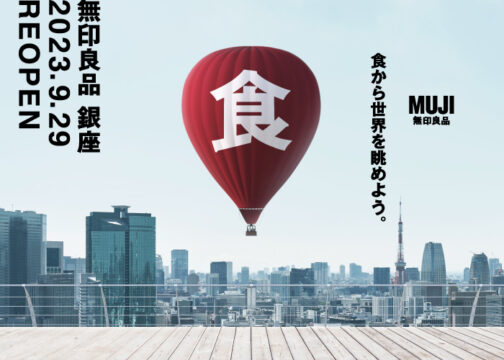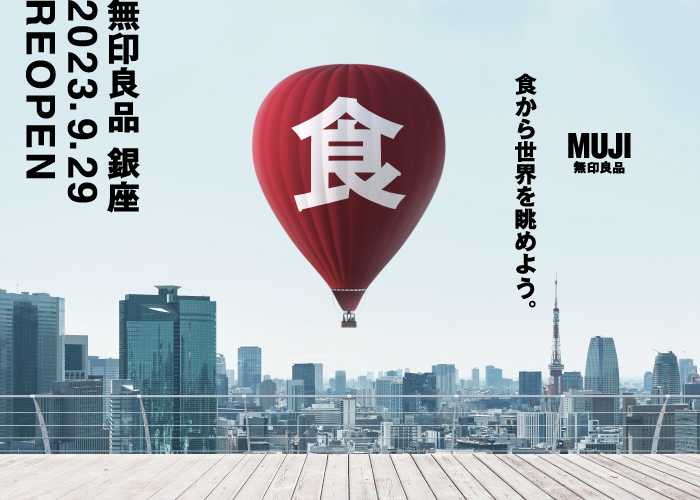 A special feeling unique to Muji in Ginza
Our company aims to "support the basics of daily life in every corner of the country," and strives to provide products and services that support the basics of daily life at affordable prices.
In the city of Ginza, which is visited by many people from all over the world and where Japan's long-established culture and the world's cutting-edge culture coexist, MUJI Ginza has learned from lifestyles around the world and leverages the emotionality, wisdom, and lifestyle culture that live there. We will create a store where you can experience and experience the authentic and genuine products, services, and environment that harmonize tradition and cutting-edge technology.
We also aim to be a store that will help everyone who visits Ginza learn more about the city and become a starting point for them to fall in love with Ginza even more as they tour the city and shops.
■Key points of renewal
1. Food and kitchen utensils <br /> Clothing, food, and housing are all closely related to each other, but food is at the center of it all. We aim to be a store where you can feel that there is still much discovery and fun hidden within.
The city of Ginza flourished as a symbol of civilization and enlightenment during the Meiji era, overcoming many hardships such as the Great Kanto Earthquake and the ravages of war, and has always promoted the appeal of fresh food. Along with Ginza, which has continued to evolve as the "Capital of Taste'' without stopping even during the coronavirus pandemic, "MUJI Ginza'' will also take the opportunity of the renewal to renew the MUJI Diner and introduce new bakery products. We will foster the food culture of Ginza.
2. MUJI Ginza, an initiative to connect with the city of Ginza , aims to continue to be a place where everyone can enjoy and create connections in Ginza, a place where a variety of people gather. Since opening in April 2019, we have held workshops and events with long-established companies and artists connected to Ginza, and from April 2022, we will hold the "Ginza Hitotsunagi Bar" every month on the 6th floor, attracting people. It has played a role as a place where connections between people are born. After the reopening, we will expand the number of participants. In addition, by pairing a long-established confectionery store with MUJI's new coffee, MUJI Ginza will evolve into a store where you can experience the special feeling and connection to the city that is unique to the city.
---
---
3. Sales floor renewal
In the food department on the 1st floor, there will be a new corner selling coffee beans roasted in-store. Italian foods and frozen foods are also readily available. The 2nd and 3rd floors have separate floors for men's and women's clothing, and the sales floor zoning has been changed to a room configuration to offer the latest coordination. The kitchen sales floor on the 4th floor will expand its sales floor space and expand the range of professional products such as the Italian commercial tableware and cooking utensils used at the MUJI Diner on the B1F. On the 5th floor, we carry vintage furniture that has been loved and used for a long time. We will also start a new vintage furniture repair service.
Below are the details of the renewal.
[Food and kitchen supplies]
● MUJI Diner (B1F)
Behind the food culture of each country and region is the wisdom and tradition of making the most of local ingredients.
MUJI Diner will be reborn as a place to pursue true deliciousness befitting the Ginza area, with MUJI's commitment to food and sustainable initiatives.
This time, we focused on pasta, one of the world's staple foods, and MUJI has carefully made it from wheat into its menu. We mainly use domestically produced vegetables, including GAP-certified agricultural products, and sustainable livestock and marine products.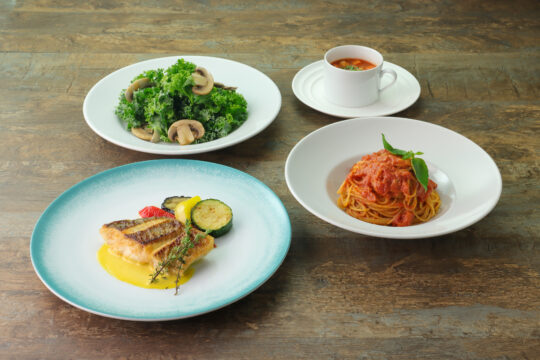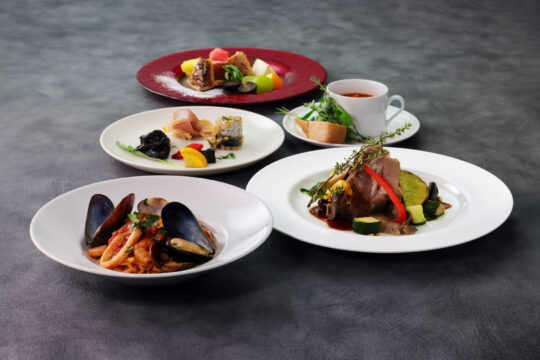 ● Italian wine/chilled food section (B1F/1F)
A new wine section will be established on the B1F, selected by the store's sommelier. Also, with the theme of authentic flavors and eating methods learned in Italy, the 1st floor will feature wines selected by MUJI, such as raw ham, fresh cheese, and fresh pasta. We will also start handling chilled foods.
● Roasting and selling coffee beans from all over the world in-store (1F)
We roast and sell a wide selection of coffee beans from all over the world in-store. In addition to the 11 types of coffee beans that we started selling at "MUJI Grand Front Osaka,'' which opened on September 8th, we will be selling 12 types (2 types of 100g and 200g), including the Ginza original blend exclusive to our store. These coffees can also be enjoyed at B1F "MUJI Diner", 1F "MUJI Bakery", and 6F "Coffee & Salon".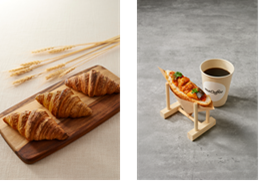 ● MUJI Bakery (1F)
The menu has been completely revamped, with a focus on whole-grain croissants that you can eat every day, as well as freshly baked bread and coffee roasted in-house.
In addition, we will be selling street Italian food focaccia sandwiches that can be eaten immediately after purchase and can also be taken home. We developed the menu with the desire for customers to tour the streets of Ginza with a focaccia sandwich in hand.
● Kitchen utensils (4F)
The sales floor has been re-edited based on themes and the product lineup has been expanded to overflow with the rich feelings of food, such as "creating," "presenting," "talking," "tasting," "gathering," and "celebrating." Did. We stock Italian commercial tableware and cooking utensils used at MUJI Diner, as well as Japanese-made aluminum cookers that will expand the fun of cooking indoors and outdoors.
● Coffee & Salon (6F)
We offer light meals such as home-roasted coffee, domestic whiskey, cocktails, pinsa, and more as a place where customers can enjoy a moment of Ginza by experiencing something special and extraordinary in their daily lives. We value the connections between people born from a cup of coffee or alcohol, and strive to create a place where you can feel community and connection.
[Efforts to connect with the city of Ginza]
● Ginza Hitotsunagi Bar
Kobikicho Yoshiya, a long-established Japanese confectionery shop founded in 1922 and located in the back alley of Kabukiza, will open MUJI Ginza on the 6th floor from April 2022 in collaboration with the Ginza Things Connecting Project launched by the third generation Daichi Saito. We have been holding the "Ginza Hitotsunagi Bar" every month at our Salon, inviting guests with ties to the city of Ginza, and providing a place for new encounters between people.
Taking advantage of this renewal, we have expanded the number of participants from 20 to 40 people, and will continue to hold the event as a place where a variety of people can gather, have fun, and create connections.
The first event after the renovation is scheduled to be held on October 13th (Friday) with Mikasa Kaikan's Mizue Hotta.
● Pairing Ginza's famous sweets with MUJI coffee
At Coffee & Salon on the 6th floor, under the theme of "bringing out each other's charms," we are pairing famous sweets from Ginza and other long-established confectionery stores with 12 types of MUJI coffee that the confectionery owner thinks will go best with them. I would like to suggest.
When pairing coffee and sweets, you can discover unexpected marriages by not only pairing flavors such as sourness and sourness, but also by pairing opposite flavors.
[Other services]
● Deployment of specialized staff <br />Specialized staff will be assigned to each floor to assist customers with their shopping. We will create a system where customers can shop freely and easily, and sales staff will support them when needed.
・1F: Wine sommelier, coffee professional ・2F/3F: Styling advisor, personal color diagnosis, skin diagnosis ・4F: Natural cleaning ・5F: Interior advisor, organizing and storage advisor ・6F: Barista
● Sale of vintage furniture and start of repair service (5F)
Rather than throwing things away, we propose a lifestyle where you can enjoy vintage items that will be loved and inherited for a long time, helping to create a better future 10, 20, and 100 years from now. The appeal of vintage furniture is that you can experience its quality while using it, such as the marks of hands, the taste of aging over time, and the warmth of the materials.
In addition, in line with our vintage furniture proposals, we will begin a new repair service that is necessary for long-term use.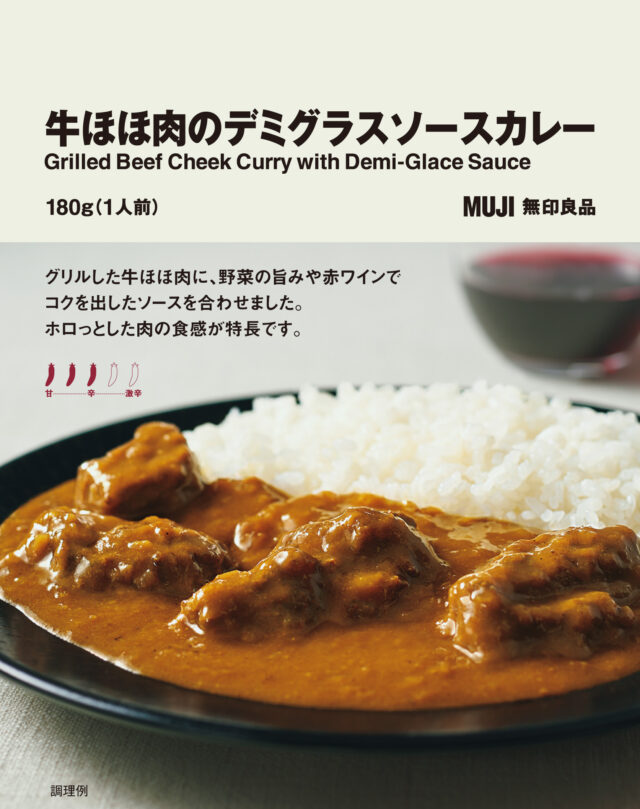 [Renewal opening limited project]
● Limited quantity curry (beef cheek demiglace sauce curry) 1,000 yen including tax We have created a limited quantity retort curry with an adult taste that you want to treat yourself to or eat on a special day. It is made with plenty of slowly grilled beef cheeks, and is finished with a sauce made with the flavor of vegetables and red wine.
*Ends as soon as it runs out
● Pasta & Pasta Sauce, Coffee Bean Eating/Drink Comparison Set <br />The Pasta & Pasta Sauce set uses durum wheat, which has a strong flavor, and is milled using a method that retains the original flavor of the wheat without polishing it. This set includes a variety of pastas made with freshly ground wheat flour and a pasta sauce that goes well with each type of pasta. In order to help customers find the coffee they like, we created a set of coffee beans that allows customers to try out light roast, medium roast, and dark roast. All items come in a jute bag embroidered with a "balloon" which is the main visual of the renewal.
Limited quantities will be sold at the entrance for 10 days from September 29th to October 8th.
Pasta & Pasta Sauce Set 1,700 yen including tax, Coffee Set 1,500 yen including tax *Ends while supplies last
● Original lucky bag filled with Ginza's famous sweets "Looking at Ginza from the perspective of food. ", Ginza's most famous sweets will be sold for a limited time in jute bags with a balloon embroidered on them. With the keywords of "fun, delicious, discovery, surprise, and connection," this lucky bag was created with the cooperation of store owners in Ginza that have been connected over the four years since its opening in 2019.
A limited number of 50 pieces will be sold at the entrance every day for three days from September 29th to October 1st. *Ends as soon as it runs out
● "MUJI Ginza" original jam bread made by "Ginza Tsuki to Hana" ★Only on Friday, September 29th "Ginza Tsuki to Hana", a jam bread specialty store for adults, opened in Higashi Ginza in December 2019. We were able to connect through a project to introduce restaurants recommended by our staff. To commemorate the renewal, original jam bread exclusively available at MUJI will be sold at the fruit and vegetable section on the 1st floor. This jam bread is made using Shine Muscat from Okaki Farm in Nagano Prefecture, which we purchase directly from the production area and sell. Sold only on opening day. 400 yen including tax *Ends as soon as supplies last
● JAPAN CRAFT
On the 6th floor, ATELIER MUJI GINZA, under the title "Design Exhibition of 100 Craftsmen," thousands of works by 104 artists from all over Japan who continue to create various tools for daily life will be exhibited, from the past to the future. Along with the continuing universal craftsmanship, we will exhibit it in a multifaceted way. *9/29~10/9 exhibition, 10/10~29 sale https://atelier.muji.com/jp/
As a related project, at the special venue on the 4th floor, Mr. Atsuo Yamagishi, a lacquer craftsman who makes MUJI's Kawada-nuri lacquerware, will bring modern sensibilities to traditional Kawada-nuri with the idea of "creating lacquerware that is easier to use.'' We have a collection of lacquerware that incorporates new challenges.
*8 items with limited quantity, 90 one-of-a-kind pieces by artists [Sales period] 9/29 – 10/29
● Renewal and re-exhibition of the Ginza city diorama
The diorama of Ginza using MUJI products, which was exhibited at the "Small MUJI Exhibition – How to Enjoy Everyday Necessities" held from February 3rd to April 23rd, 2023, has been renovated and displayed at the front desk of MUJI HOTEL. It will be re-exhibited at.
This diorama was created by Tatsuya Tanaka, a miniature photographer and model artist, who combined diorama figures and MUJI products to depict the streets of Ginza, including Kabuki-za and long-established stores, as well as scenes bustling with people visiting Ginza. This exhibition allows you to enjoy the city of Ginza from a different perspective than usual.
● Limited color sales and original handle replacement for "Hard Carry Case with Adjustable Bars" Masu. There are 3 sizes of red (36L, 75L, 105L). Clear is available in 2 sizes (36L, 75L). *Ends while supplies last.In addition, this time, we will be offering a service where you can replace the handle and make it more personalized to your liking for a limited time (9/29-10/1, 10/7-9 total for 6 days). There are three handle colors to choose from: "indigo,'' "vermilion,'' and "silver,'' which are associated with dyes and raw materials that have been used in Japan since ancient times. Handle replacement costs 2,500 yen (tax included) per location. (Up to 2 handles can be replaced per carry case)
[Store overview]
| | |
| --- | --- |
| Store name | Muji Ginza |
| location | 3-3-5 Ginza, Chuo-ku, Tokyo 104-0061 |
| business hours | 11:00-21:00 *MUJI Diner/Coffee & Salon until 22:00 |
| Sales floor area | 1204 tsubo (3980.18 m²) |
[Ryohin Keikaku Co., Ltd.] From a press release
<Past related articles>
Announcement of ATELIER MUJI special exhibition Life in Art "JAPAN CRAFT 'Design of 100 craftsmen' exhibition"
Announcement of ATELIER MUJI special exhibition "Tsuzuru Exhibition – Weaving the path of WONDER FULL LIFE"
Announcement of "Found MUJI Search MUJI" to be held at MUJI Ginza from September 9th (Friday) to November 27th (Sunday)