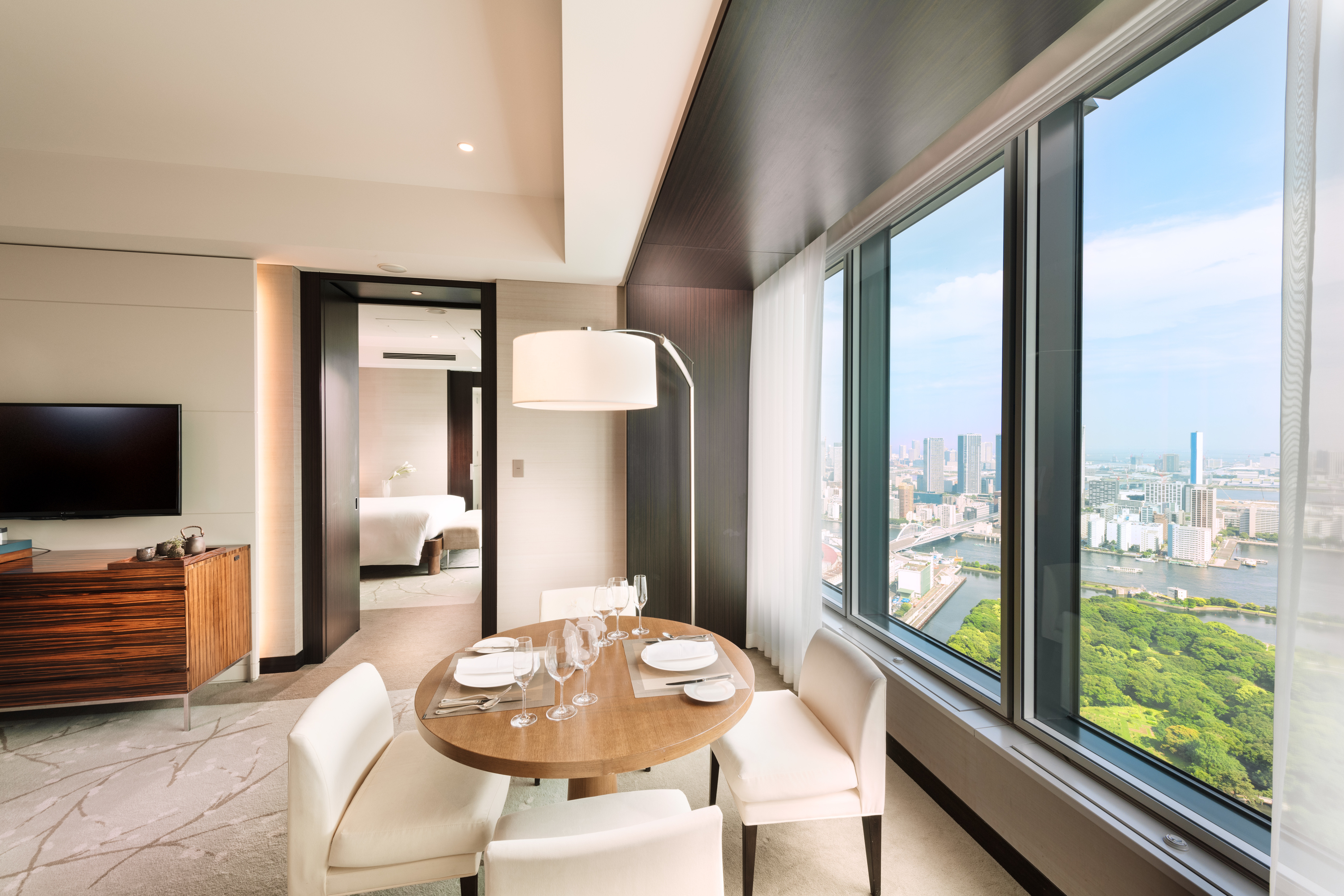 There is also a plan where you can stay in a suite with a view of Tokyo Bay and the Hamarikyu Garden, and enjoy staying with carefully selected wines and special dinners that you can enjoy in your room, hotel credits that can be used for spas, etc.
Conrad Tokyo celebrated its 15th anniversary on the 1st of this month. In commemoration of the 15th anniversary, two types of special accommodation plans, "Blissful Wine Celebration" and "Anniversary Delight", will be available from July 22 (Wednesday) for a limited time today. I will sell it.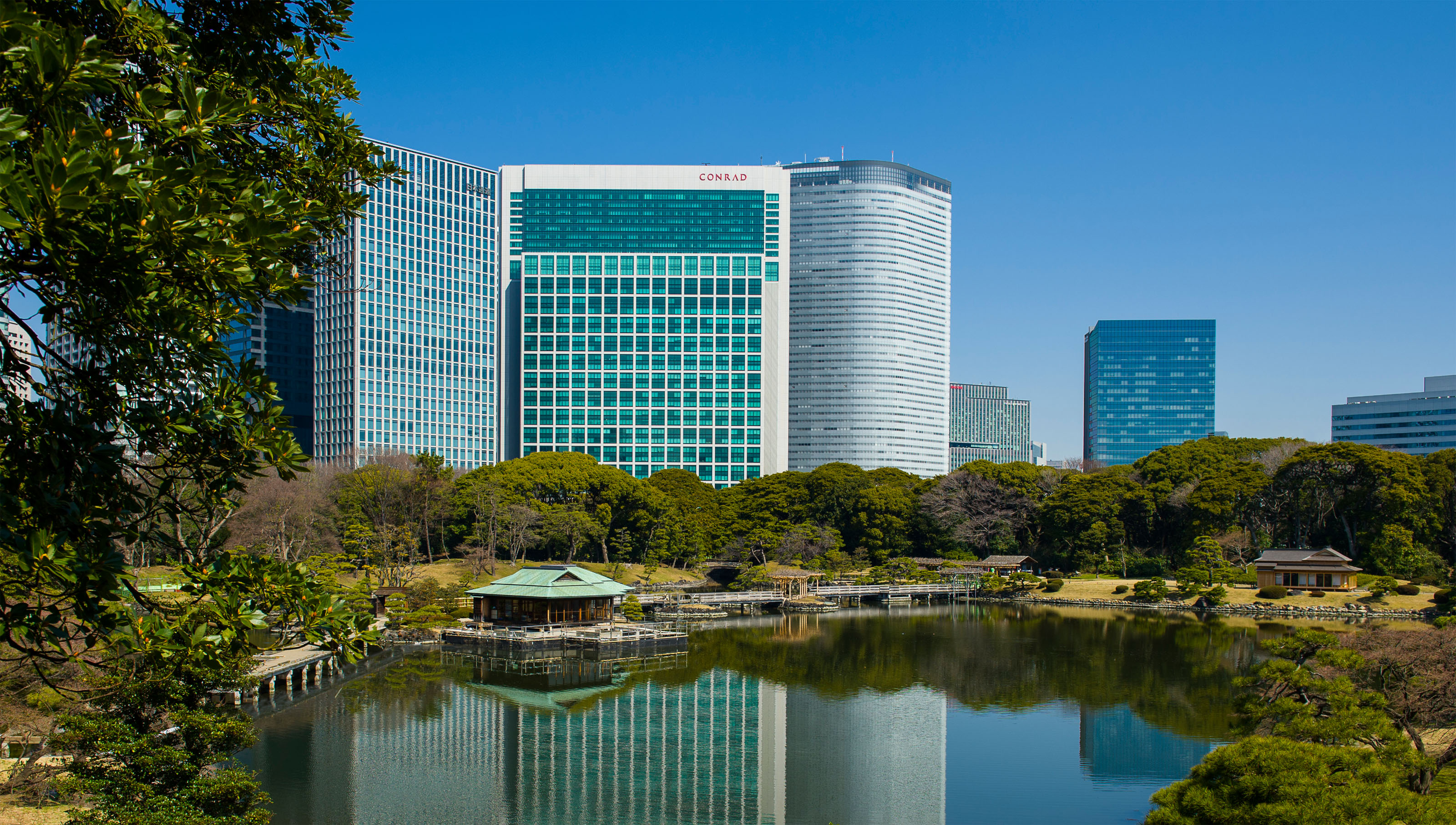 ---
---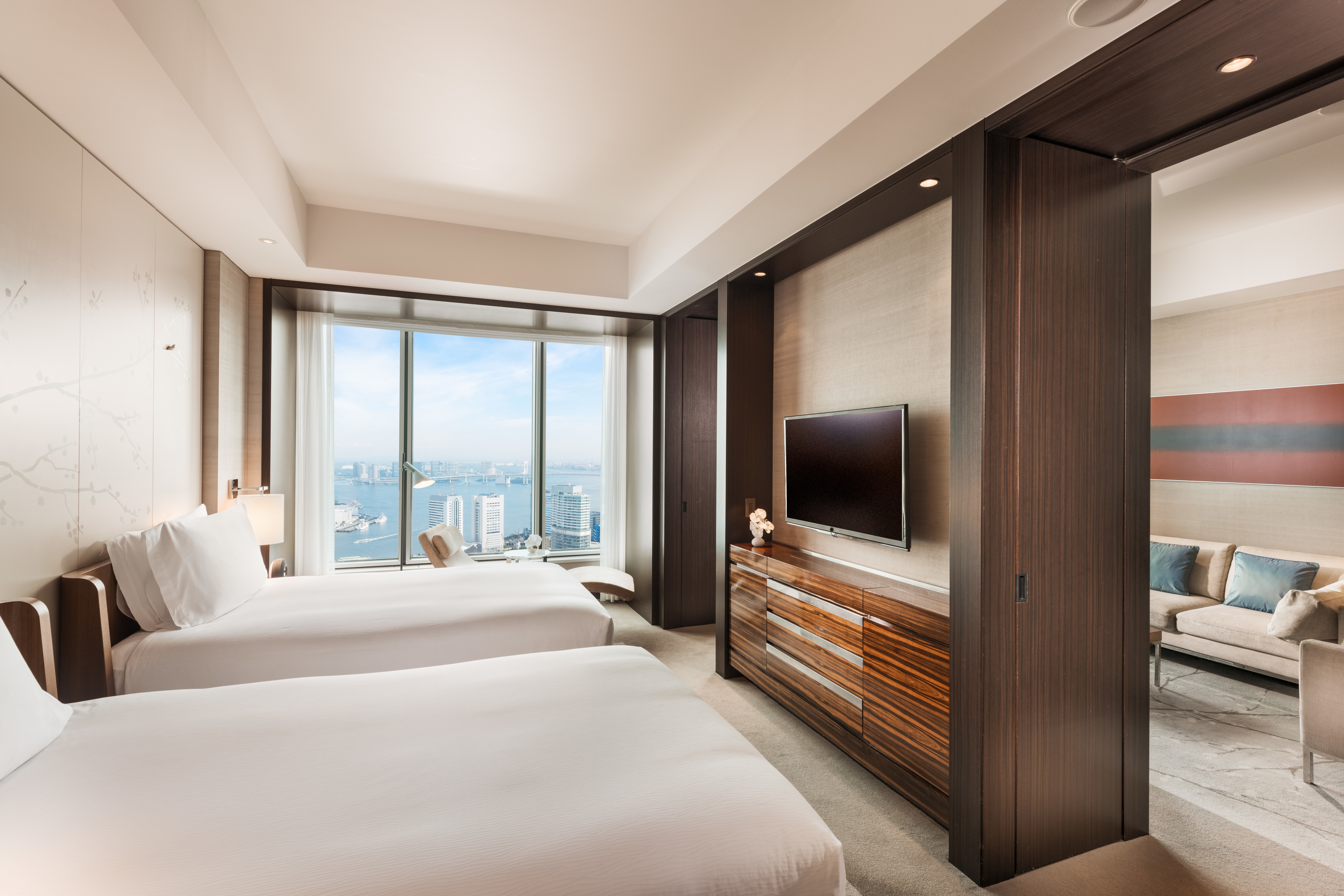 "Brisful Wine Celebration" is a limited-edition stay in a Bay View Suite with a separate living space and bedroom that offers a spectacular view of Tokyo Bay in front of you and the Hamarikyu Gardens with its vivid greenery. It is a plan that you can enjoy while enjoying in-room chef's special dinner, world-renowned sommelier, and KENZO ESTATE's wine (3 glasses for 1 person 3 types) carefully selected by Satoru Mori. KENZO ESTATE is a winery that released the first vintage in 2005 when Conrad Tokyo opened, and we have been providing it at the hotel from the opening year to the present, and we have been walking together for 15 years. The plan also includes access to the Executive Lounge and free parking.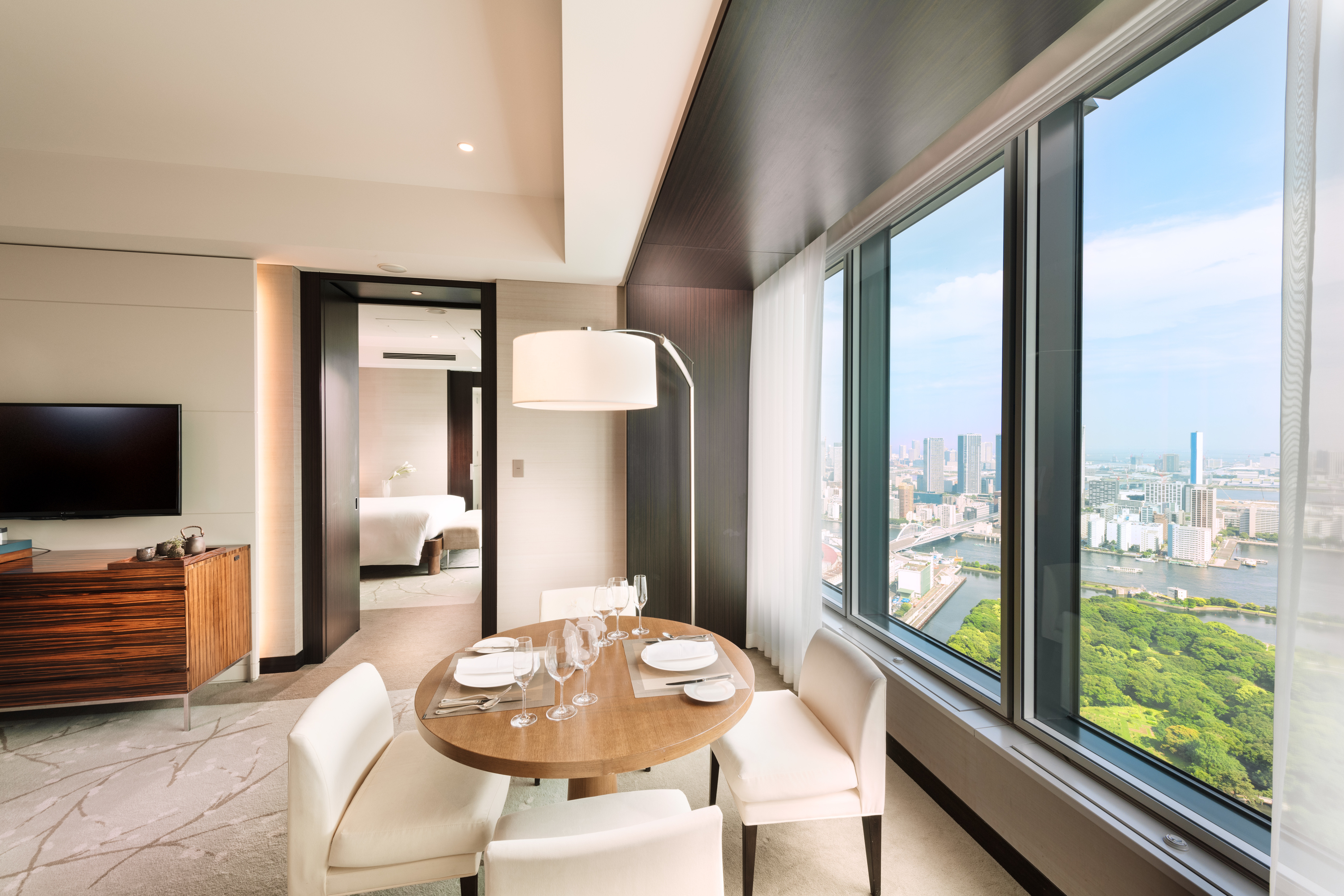 With your loved ones, close friends, and family, you can enjoy your stay in a high-quality and elegant hotel with a relaxing time spinning in a private space.
"Anniversary Delight" has a hotel credit of 10,000 yen for staying in your favorite room from 291 rooms in Conrad Tokyo, restaurants in the hotel, Suigetsu Spa & Fitness, room service, etc. This plan allows you to fully enjoy the staycation. Like a movie, you can enjoy breakfast in the room service, heal your daily fatigue at the spa, enjoy the meals that the chef used to eat at the restaurant, and long for the special occasion of the 15th anniversary of Conrad Tokyo. It is a great opportunity to realize.
Celebrate the 15th anniversary of your opening and discover the charm of Conrad Tokyo and make your stay memorable.
Overview of "Brisful Wine Celebration" <br /> Date: 1 night 2 days (2 people)
Price: 150,000 yen (excluding consumption tax and service charge)
Sale period: Wednesday, July 22, 2020 to Thursday, December 10
Stay period: July 29th (Wednesday) to December 17th (Thursday), 2020
Content:
・Bayview suite stay ・Special dinner for plan (room service)
・KENZO ESTATE wine (3 glasses per person, 3 types)
・Breakfast (room service or all-day dining "Cerries")
・Executive lounge access ・Fitness use ・Free parking available (24 hours from storage)
Reservation: Official website ( https://www.conradtokyo.co.jp/ ) or telephone 03-6388-8500 (representative)
Reservation site: https://www.conradtokyo.co.jp/plans/rooms/6810
*A 10% consumption tax and a 15% service charge will be added to the displayed charges.
*The menu content of the dishes provided depends on the season and stocking situation.
"Anniversary Delight" Overview <br /> Date: 2 days, 1 night (2 people)
Price: Varies depending on guest room type and operation status Sales period: Wednesday, July 22, 2020 to Wednesday, December 30
Stay period: Wednesday, July 22, 2020 to Wednesday, December 30
Content:
・A favorite room from 291 Conrad Tokyo rooms ・Hotel credit for 10,000 yen (restaurant, bar & lounge, spa & fitness, room service, etc.)
・Fitness reservations: Official website ( https://www.conradtokyo.co.jp/ ) or telephone 03-6388-8500 (representative)
Reservation site: https://www.conradtokyo.co.jp/plans/rooms/6809
###
About Conrad Tokyo <br /> Conrad Tokyo is located in Shiodome, a short distance from Ginza, and overlooks the panoramic views of Hamarikyu Garden, Rainbow Bridge, and Tokyo Bay. With 290 spacious rooms, which is the largest standard room in Tokyo, with a total area of 48㎡, 4 lively restaurants and bar & lounge, large, medium and small banquet facilities equipped with state-of-the-art equipment, spa, pool and fitness facilities In addition, we have substantial facilities such as "Suigetsu Spa & Fitness" with an area of 1400㎡. Including Michelin Guide Tokyo, the Condé Nast Traveler "Gold List" and the Trip Advisor "Top 25 Hotels" have consistently earned top ratings both in Japan and overseas. For more information about Conrad Tokyo, please visit. Information is also distributed on Facebook www.facebook.com/conradtokyo and Twitter www.twitter.com/conradtokyo.
About Conrad Hotels & Resorts <br /> As a global leader in the hospitality industry, Hilton has one brand under the umbrella of approximately 40 hotels on five continents. Innovating and curating art stimulates the sensibilities of customers around the world who try new things. At Conrad, you can experience the services that satisfy our customers while experiencing local and global culture. Guests can enjoy pre-check-in, room selection and other services through the Hilton Honors mobile app. Click here to book Conrad. www.conradhotels.com, https://itunes.apple.com/jp/app/hilton-honors/id635150066?mt=8
Please check here for the latest information. newsroom.hilton.com/conradhotels, www.facebook.com/conradhotels, www.instagram.com/conradhotels, www.twitter.com/conradhotels.