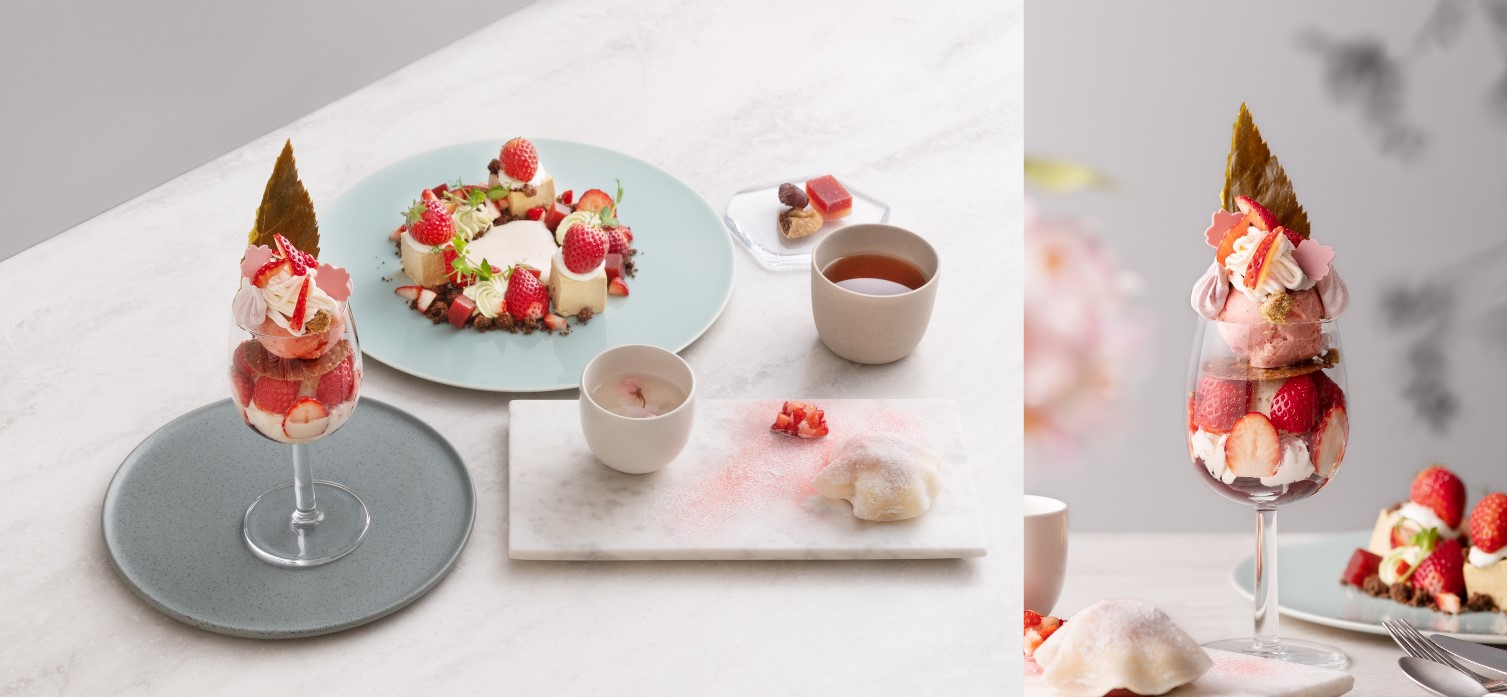 "Beauty Connection Ginza" is in season from March 17, 2021 (Wednesday) to April 26, 2021 (Monday) at the fruit course specialty store "Fruit Salon" on the 2nd floor of the facility. We will offer a new menu using strawberries and cherry blossoms.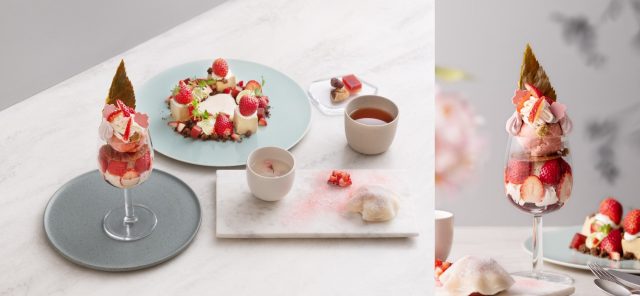 The new menu in March and April of our shop, where the full course of fruit sweets with attention to detail, with seasonal fruits as the leading role, is now in season, enjoy spring with the scent of cherry blossoms. A three-course meal that can only be enjoyed during this season. With a variety of arrangements that are not bound by the frame of sweets, we have created a luxurious full-course meal of spring with strawberries and cherry blossoms.
This time, with the theme of strawberry picking in Ginza, the first dish starts with a plate with the image of "strawberry field", the second dish is "strawberry daifuku" which combines cherry cake and fresh strawberries with fromage blanc, and the third dish is cherry blossoms. From the strawberry sorbet with the scent of strawberry and the "parfait" with soy milk brown rice gelato as the main axis, it is a special course that looks gorgeous and the scent of seasonal strawberries and cherry blossoms colors spring. The parfait, which is the pride of the fruit salon, mixes the ingredients as you eat, due to the margins created in the glass, and you can enjoy the change in taste and texture until the last bite. Enjoy a full course of seasonal fruits, see, eat, and enjoy a luxurious time that fills your five senses.
Strawberry and cherry blossom full course ¥ 5,500 (tax included)
Offer period: March 17, 2021-April 26, 2021
---
---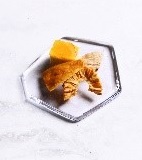 Dried Fruits / Minardies <br /> Please enjoy our special dried fruits and bite-sized baked goods.
1st Plate "Strawberry field"
A dessert where you can taste the strawberry "Oi C Berry", which is rich in vitamin C so that you can take 7 tablets a day. I imagined a strawberry field by combining Earl Gray mousse and cacao crumble.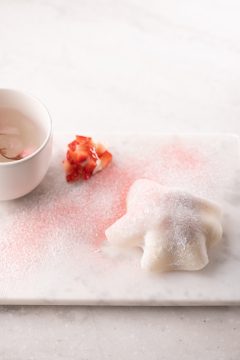 2nd Plate "Ichigo Daifuku"
The Japanese sweets of strawberries have been reproduced in a dessert style. We will prepare a light Daifuku that combines fromage blanc with sakura bean paste and fresh strawberries, along with sakura tea.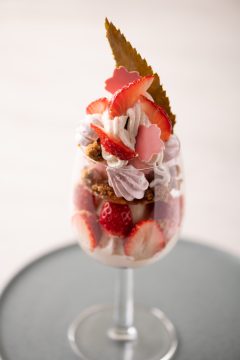 3rd Plate "Parfait"
A parfait with strawberry sorbet and soy milk brown rice gelato as the main axis.
The moderate acidity of Griot cherries and the aroma of sweetened cherries are accented.
By intentionally creating a margin in the glass, the ingredients mix as you eat, and you can enjoy the change in taste and texture until the last bite.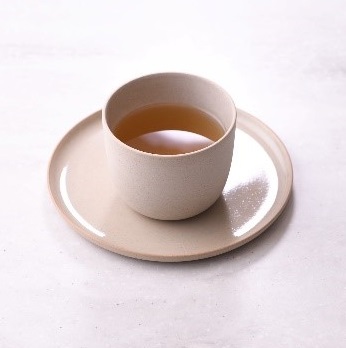 Drink "After-meal drink"
You can choose your favorite drink from Maruyama Coffee's original blended coffee, black tea, roasted tea, herbal tea, and fruit tea.
Recipe supervision / BIEN-ЛTRE PÂTISSERIE owner Maiko Baba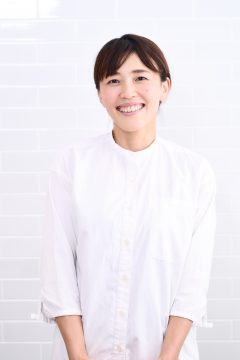 Born in Kyoto in 1977. After graduating from university, he worked as an interpreter overseas and returned to Japan to move into the world of eating and drinking.
Participated in the launch staff of the Spanish restaurant "Restaurant Sant Pau" in Tokyo and served as a chef pastry chef. After that, he was involved in the launch of patisserie and cafes and became independent.
In 2010, the sweets and parfait shop "BIEN-STRUCTTRE PÂTISSERIE" was opened, and in 2017, the gelato and bake shop "FLOTO" was opened. Sweets that take advantage of the characteristics of the ingredients are gaining popularity.
Comment from Maiko Baba
Seasonal "strawberry" and spring-like "sakura" are a fresh combination with a slight Japanese taste. The point is that "tea" is used for all the dishes this time. Please enjoy the gorgeous co-starring with different tastes for each dish.
About Beauty Connection Fruits Salon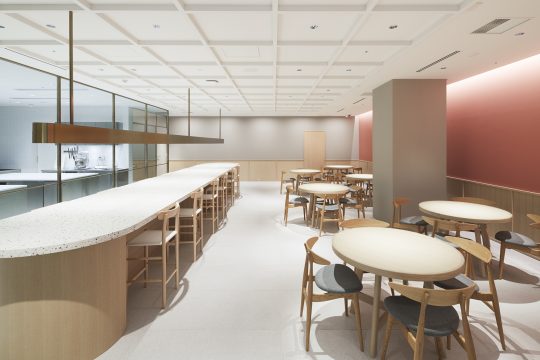 Opened in November 2019, "Beauty Connection Ginza" is a beauty complex consisting of all four floors: "beauty equipment / cosmetics", "food / drinks", "beauty medicine", and "hairstyles". Beauty Connection Ginza 2F "Fruit Salon" is a full-course meal specialty store that attracts attention for its new sensation that you can enjoy nutritious seasonal fruits in a "full course" with the concept of "cleaning from the inside".
The recipe is supervised by Maiko Baba, the owner and patisserie of Yoyogi-Uehara's popular patisserie "BIEN-STRUCTTRE PÂTISSERIE". You can enjoy it in a relaxed space.
* About our new coronavirus infection prevention measures *
https://www.beauty-connection.jp/news/2020/05/26/business-resumption_0601/
・ For customers who come to the store, we ask that you measure the temperature and disinfect your hands when you enter the store.
・ All staff are required to wash their hands, gargle, disinfect their hands, and wear masks in the salon.
・ The layout is such that the distance from other groups is 2 meters or more so that customers do not sit face-to-face. In addition, for stores that require advance reservations, we limit the number of reservations from normal times to ensure a thorough social distance.
・ At the store, wear masks and face guards properly and thoroughly wash your hands frequently and appropriately.
・ We will thoroughly clean the kitchen's cooking equipment and utensils with kitchen detergent, and thoroughly carry out general hygiene management, such as hand washing before and after work.
Store overview
Name: Beauty Connection Ginza Fruits Salon
Residence: GINZA gCUBE 2F, 7-9-15 Ginza, Chuo-ku, Tokyo 104-0061
Business hours: 11: 00-20: 00
Regular holiday: Tuesday Phone number: 03-6263-8392
Official HP: https://www.beauty-connection.jp/fruits/