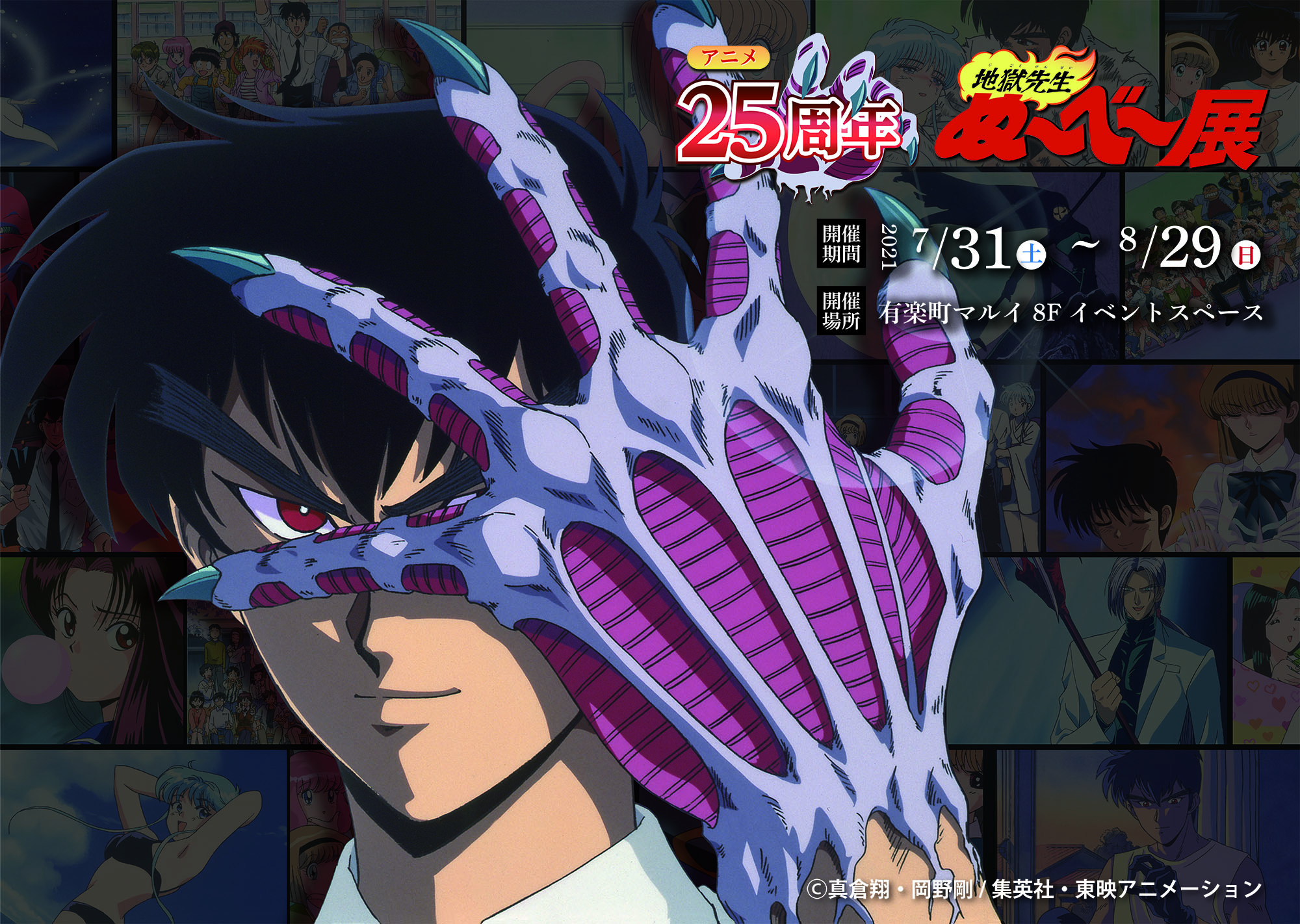 25th anniversary of anime! "Jigoku Sensei Nube Exhibition" will be held from Saturday, July 31st to Sunday, August 29th at Yurakucho Marui! Many valuable cels and limited-edition goods from that time are also available!
"There are invisible dark inhabitants in this world. They sometimes strip their fangs and attack you.
He may be the messenger of justice who came from there in hell to protect you from them … "
---
---
★ 25th Anniversary Exhibition Event Held!
Original: Sho Makura, Manga: A school ghost story comedy "Jigoku Sensei" that was made into a TV animation (average audience rating 11.3%) in 1996 based on the popular manga serialized in "Weekly Shonen Jump" by Takeshi Okano (1993-1999). Nu-be- ". An exhibition event will be held in Yurakucho Marui from July 31st (Sat) to August 29th (Sun), 2021 to commemorate the 25th anniversary of the animation of this work, which is still extremely popular 25 years after the TV anime broadcast. Decided!
In addition to the autographed colored paper from Dr. Magura & Dr. Okano and the autographed colored paper from the main cast, we will exhibit valuable cels and setting materials at that time! Admission is free! At the same time, "Jigoku Sensei Nube Exhibition" LB branch shop in Yurakucho Marui has a lot of limited goods and pre-sale goods! Please come and visit the "Nu-be-Exhibition" during the 2021 summer vacation (Obon)!
* Limited Base (LB) is a store that offers Limited items that can only be purchased here.
[Event Summary]
● Event name: 25th Anniversary of Anime "Jigoku Sensei Nube Exhibition"
● Venue: Yurakucho Marui (2-7-1 Yurakucho, Chiyoda-ku, Tokyo)
● Period: July 31, 2021 (Sat) -August 29, 2021 (Sun)
* Some exhibits will be replaced from Saturday, August 14th.
● Venue: 8F Event Space ● Business Hours: 11: 00-20: 00
● Admission fee: Free ● Admission method:
Please come directly to the event space on the 8th floor.
We may distribute numbered tickets during times of congestion. Please note.
* Admission restrictions and numbered tickets may be distributed to avoid "three dense".
* In order to prevent the spread of the new coronavirus infection, we may cancel or change the business hours in a hurry. Please forgive me in advance.
* If there are any changes, we will inform you on this website.
■ "Jigoku Sensei Nube Exhibition" Yurakucho Marui Event Site
https://www.0101.co.jp/086/event/detail.html?article_seq=39302&article_type=sta
■ Yurakucho Marui Anime Event Official Twitter
https://twitter.com/marui_yurakucho_a
■ "Jigoku Sensei Nube Exhibition" LB branch shop in Yurakucho Marui (goods information) site
http://www.limitedbase.com/nube_01/
■ "Jigoku Sensei Nube Exhibition" LB Branch Store in Yurakucho Marui (Goods Information) Twitter
https://twitter.com/Limited_Base
[Anime "Jigoku Sensei Nube" Story]
Narusuke Nueno (commonly known as Nu-be), who has been assigned to Domori Elementary School and is in charge of the 5th grade and 3rd class. He is usually sloppy and sloppy, but he is loved by his students as a lovable teacher who can't hate him. However, Nube had another face as the only psychic teacher in Japan. His left hand, which is always covered with black gloves, is sealed with the strongest power "demon's hand" that can directly touch and purify evil spirits and youkai. Its power belonged to the hellish demon who bet himself and contained himself in order to save a student. When the children are attacked by the "Dark Resident" and are in danger, the deadly "demon's hand" cuts through the darkness and exterminates the devil! What kind of mysterious incidents and mysterious events are waiting for us today?
[Broadcast information]
Broadcast all 48 episodes of the TV Asahi series (April 13, 1996 – June 21, 1997)
【cast】
Meisuke Nueno <Nu-be->: Ryotaro Okiayu
Hiroshi Tateno: Yoshiko Fujita Goko Inaba: Rumi Kasahara Miki Hosokawa: Mina Tominaga (currently Miina Tominaga)
Katsuya Kimura: Kazunari Tanaka Makoto Kurita: Megumi Urawa Shuichi Shirato: Junichi Kanemaru Akira Yamaguchi: Michiyo Yanagisawa Masako Kaneda: Ginzo Matsuo Noriko Nakajima: Machiko Toyoshima Shizuka Kikuchi: Emi Uwakawa Ritsuko: Michiko Neya Ishikawa: Yoshiyuki Kono: Yuri Shiratori Tamamo: Tomoyuki Morikawa Minako Sensei: Masako Katsuki Maclano Shoji: Yasuhiro Takato Narration: Yoshiko Kurumiya
© Sho Makura / Takeshi Okano / Shueisha / Toei Animation