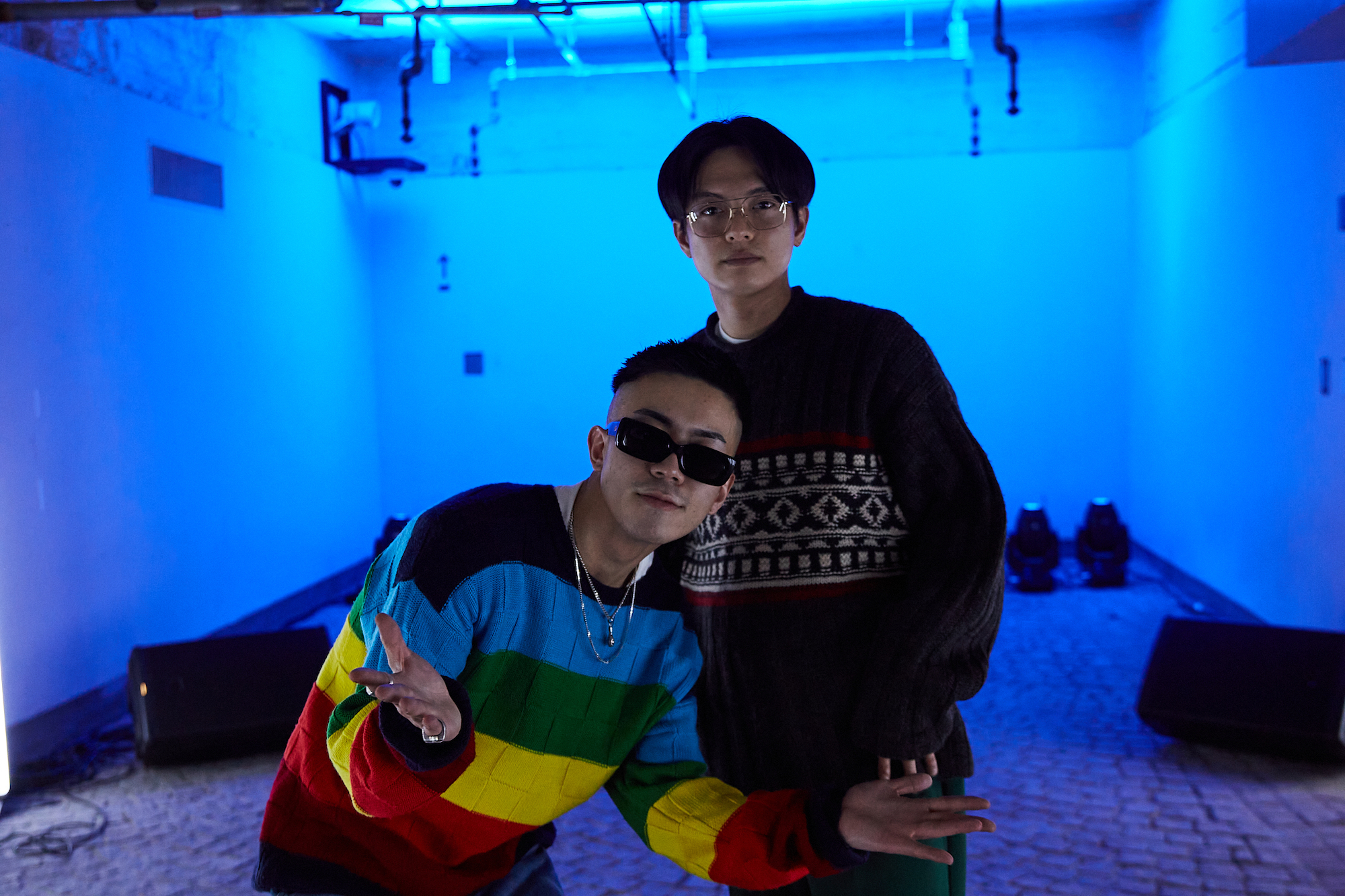 [Sony Corporation]
Ginza Sony Park, which aims to be completed in 2024, will restart "Park Live" on Saturday, December 25, 2021, which will deliver experimental live performances from the site under reconstruction work. did.
The location of the live distribution is a stone pavement that reproduces the promenade of Paris, which was used as a carriage for a full-fledged French restaurant during the Sony Building era. The underground space that has been around for more than 50 years and the artist that co-created this time is the music unit "Dongurizu" that is currently attracting attention. We delivered live performances with outstanding playing ability and a unique world view.
You can see the live performance from the archive of the official YouTube channel of Ginza Sony Park. URL: https://youtu.be/nJqS2M-XfSM
"Park Live" will continue to be distributed in the future.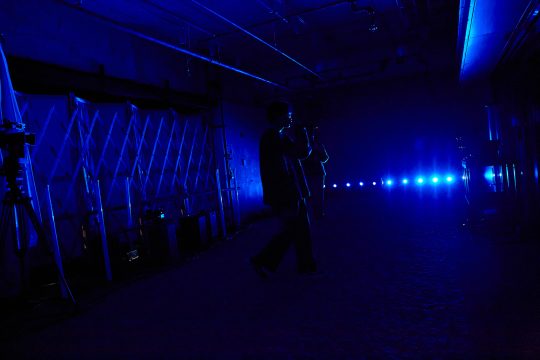 [Live report / writer Kota Igarashi]
The memorable first time of the restart of "Park Live", the venue is the underground space of "Ginza Sony Park" which was temporarily closed at the end of September this year, at the feet of Ginza illuminated by Christmas illuminations. At the venue, which was the parking space of a full-scale French restaurant that was open when the Sony Building was founded, there are stone pavements that reproduce the promenade of Paris, which remains as it was more than 50 years ago, and the ceiling has exposed pipes. So, it forms a decadent rectangular space. Expectations for "Park Live" by Dongurizu will grow with the abundant equipment such as cameras and lighting lined up there.
And live distribution starts on YouTube from 21:00. The beat of "Just do like that" is played, and Chomo's singing voice echoes. Mori shows off a sophisticated rap with a flow with an arrangement unique to live performances. Lock the viewer.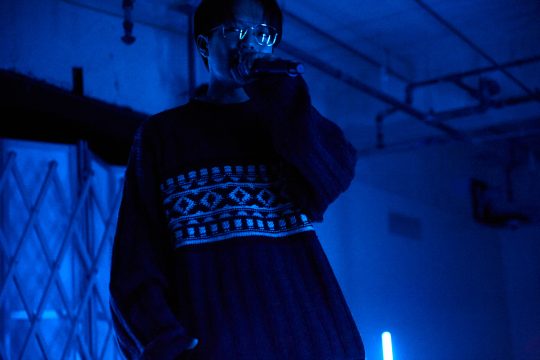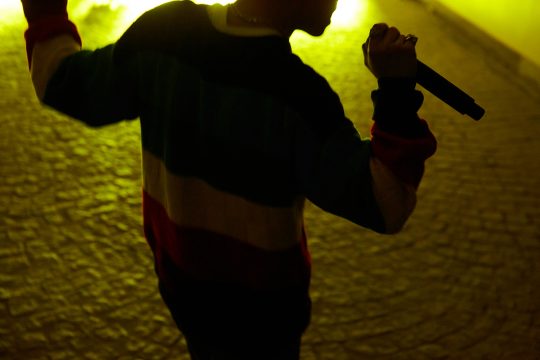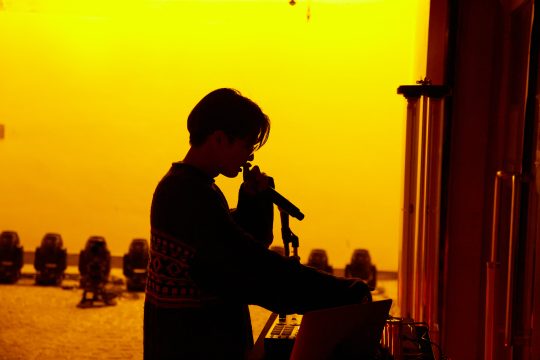 The second song that follows is "NO WAY," which is a viral hit in the world, especially in South America. Illuminated by the blinking lights, the two dance vibes as if jumping on the cobblestones. The third song number "E-jan" also produces a vigorous groove feeling. The effects unique to live distribution such as glitch invite the viewer to further immerse themselves, and the acorns and the unique chemistry of the space are fascinated.
---
---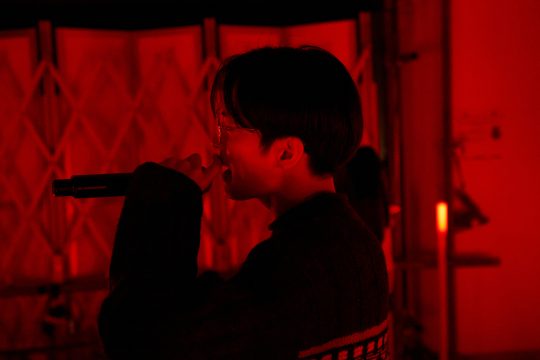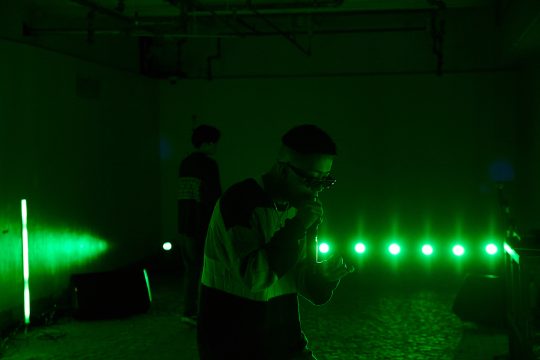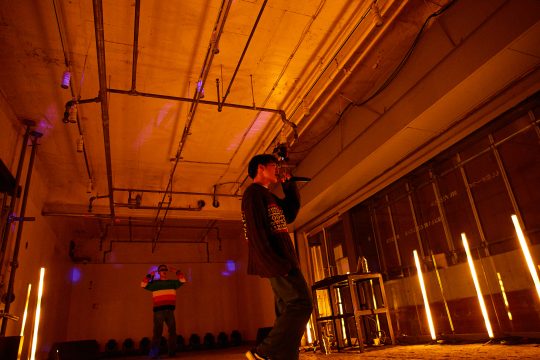 In the next tune "Dilemma", the sound and singing voice reminiscent of 80's house music are echoed, followed by "nadja" and "Woo", and the musicality that is not tied to the acorn-like genre is demonstrated emotionally. In the 7th song "8 hole", the calm beat and the floating rap of the forest create a calm space. After the funk with the following "Babe", "Merry Christmas, let's play" and the final 10th song "Mind Soul". The approximately 30-minute festival came to an end, as the chat section of the broadcast was flooded with comments regretting the end of the live.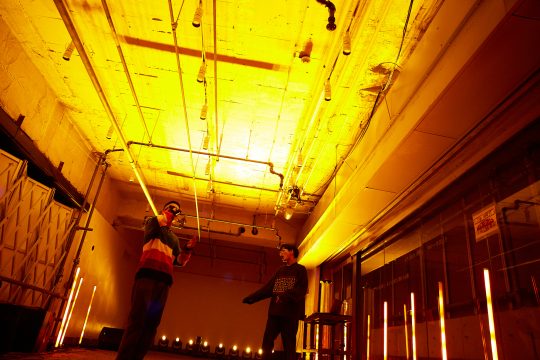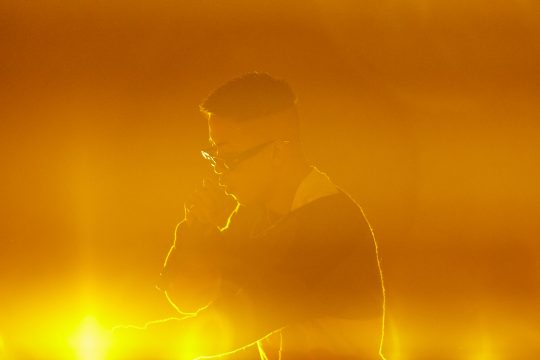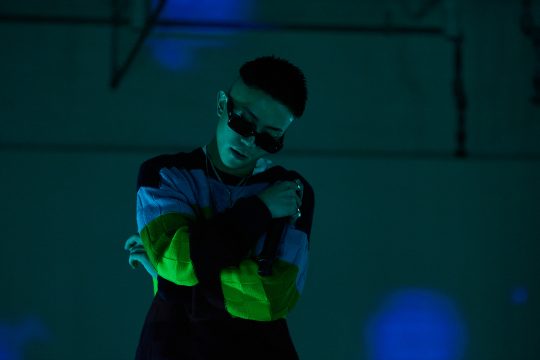 "Park Live" held at the construction site in the midst of change will be held in the future. Unique music that can only be produced here will be colored in 2022.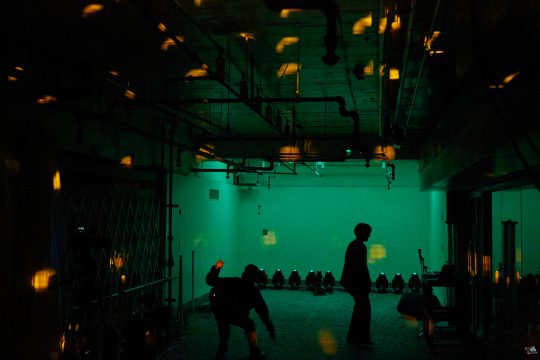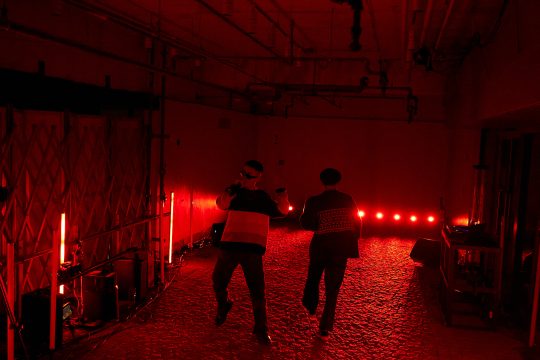 <Interview without acorn immediately after the concert. We asked him about his impressions of this live performance and the outlook for 2022. >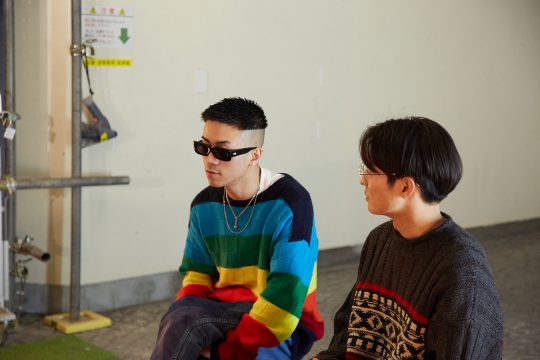 – or live How was of a different environment than usual?
Mori) It was fun. Protuberant.
Chomo) I was given a photo of the scene in advance, and I thought it would be more tattered, but it was really beautiful and I had a lot of cameras and equipment (laughs).
・ You said that you have been interested in Park Live for a long time. Please tell us the reason.
Mori) Campanella-san came out, and I was watching the video by doing gato, a band I met recently.
・ Please tell us what you were aware of during this live concert.
Chomo) You did it like you normally do at a live concert.
So when I checked the video, it was cooler than I expected (laughs) It went up at the time of rehearsal,
Mori), I did it properly as usual (laughs).
・ All songs were seamless, and it was a live performance where the grooves were piled up.
Chomo) Since there is no response from the audience at the live distribution, I thought it would be more fun to play a lot of songs than to talk to the viewers.
Mori) It's a stuffing style.
・ "NO WAY", which was unveiled today, has recorded viral hits mainly in South America. How do you take it?
2) Lucky (laughs).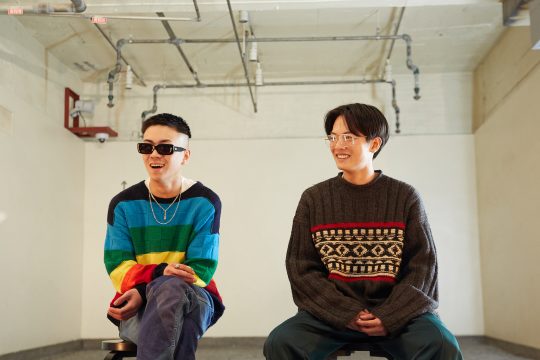 ・ In an interview before, I stated that I was composing in a style that first made a flow and matched the lyrics. Is that the same as before?
Mori) That's right. However, recently, flow and lyric often come out together, and I learned vibes from various seniors such as BIM, Zhen, and NAGAN SERVER.
Chomo) What is freestyle?
-In 2021, you released "4EP1" and "4EP2" of the four-part EP series "4EP". How is the production status of "4EP3"?
Chomo) Along with making the EP, there is a feeling that we are so-called … going ahead and becoming completely different from what we said at the beginning.
Mori) There is a feeling that we are strangling ourselves. Yeah, it seems like I've decided on a strange theme (laughs).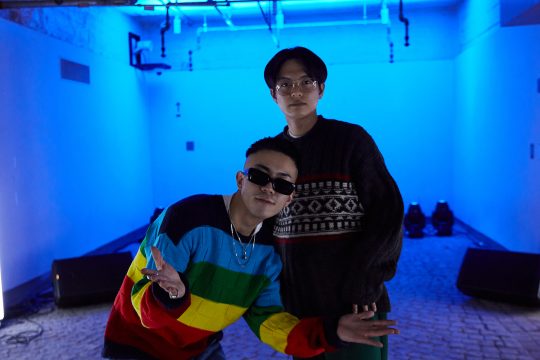 ・ In the previous interview video, you introduced a CD of natural sounds from Africa and the sounds of waves from around the world. Do you have any plans to make use of them in future productions?
Chomo) I don't plan to use it at the moment, but I felt like trying to put it in the opposite way with the current question.
Mori) Fuha, thank you.
・ In 2022, we are planning to hold an independent project "COME ON" in January and February. Is there anything you would like to do for next year at this stage?
Chomo) There is no one who can be said objectively (laughs).
It's a one-man operation … I want to DJ for 2 hours at a one-man after party.
Mori) I want to have an after party! Because we focus on after parties. With an open mic!
Chomo) Open mic, open DJ (laughs).
・ I'm looking forward to holding a one-man operation. Finally, do you have a message for "Park Live" viewers?
Mori) I danced.
Chomo) That's not a message (laughs)
Mori) If you think it's good to see this, the live performance is bad.
Mori) Raw is even worse.
■ Profile
Dongurizu
A duo unit consisting of rapper Mori and track maker / producer Chomo. Consistent self-produced sound source, video, and artwork. Grooves full of wit and deep sounds make addicts one after another.
・ Dongurizu Official HP: https://dongurizu.com/
・ Dongurizu Official YouTube Channel: https://www.youtube.com/channel/UCRusZRTsF7EqCcHGJ_Cgrpw
■ December 25, 2021 (Sat) Park Live Implementation Overview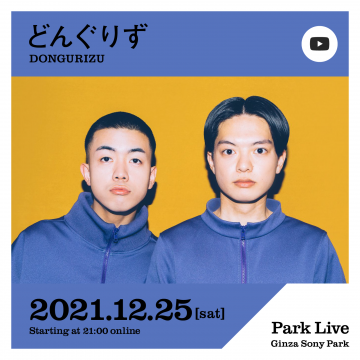 Date and time: Saturday, December 25, 2021 21: 00-⁠
Delivery: YouTube (Ginza Sony Park official channel) https://youtu.be/nJqS2M-XfSM
Cast: Dongurizu ⁠
Free viewing
You can see the live performance from the archive of the official YouTube channel of Ginza Sony Park.
URL: https://youtu.be/nJqS2M-XfSM
■ About Park Live
From the start of 2018 to September 2021, Ginza Sony Park has held Park Live with 249 artists to create accidental encounters with music through 230 live performances. At Park Live, we aim to create a new place where you can come into contact with music, which is a bit different from a live house or a club.
Since April 2020, when Stay home was listed, it will be held online through live distribution. The YouTube channel also publishes archived videos, with the exception of some artists.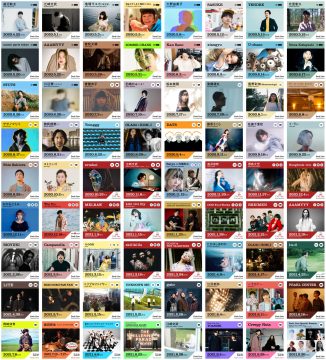 * Click here for a list of all past artists. https://www.ginzasonypark.jp/program/000/archives.html
■ About Ginza Sony Park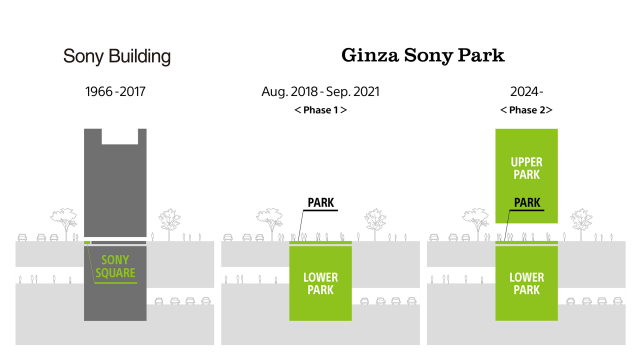 Ginza Sony Park inherited the concept of "a facility open to the city" from the beginning of the Sony Building, and opened on August 9, 2018 during the dismantling work of the Sony Building. As an "experimental park that keeps changing" in the city, which holds various events and live programs that will make you feel surprised and playful throughout the year, 8.54 million people visited the park in three years. (As of the end of September 2021).
Rebuilding work is currently underway, and the new "Ginza Sony Park" is scheduled to be completed in 2024.
Ginza Sony Park Official Website / SNS Account
Web: https://www.ginzasonypark.jp/
Instagram: https://www.instagram.com/ginzasonypark/
Twitter: https://twitter.com/ginzasonypark/
Facebook: https://facebook.com/ginzasonypark/
YouTube: https://youtube.com/ginzasonypark/
@ginzasonypark #ginzasonypark #Ginza Sony Park
* This article is reprinted from the [Sony Corporation] press release published in PR times.
<Related article>
Ginza Sony Park Temporarily Closed, Launched for New "Experimental Park" in 2024
I tried to experience the world of YOASOBI's new song "Taisho Roman" in Ginza as soon as possible! "⑤ Semiconductor is science fiction. with YOASOBI "Venue Report
Sony Park exhibition "⑤ Semiconductor is science fiction" that enters the "world of correspondence that transcends time and space" of YOASOBI's new song "Taisho Roman". 9/2 (Thursday) start | "ONE DAY, 2050" will be held at the same time
Sony Park Exhibition "③ Finance is poetry. Starts on July 30th (Friday) | A new planetarium experience "Planet Poem" has appeared in the basement of Ginza! Skapara's music and Atsushi Yanaka's newly written poem and starry sky are fused