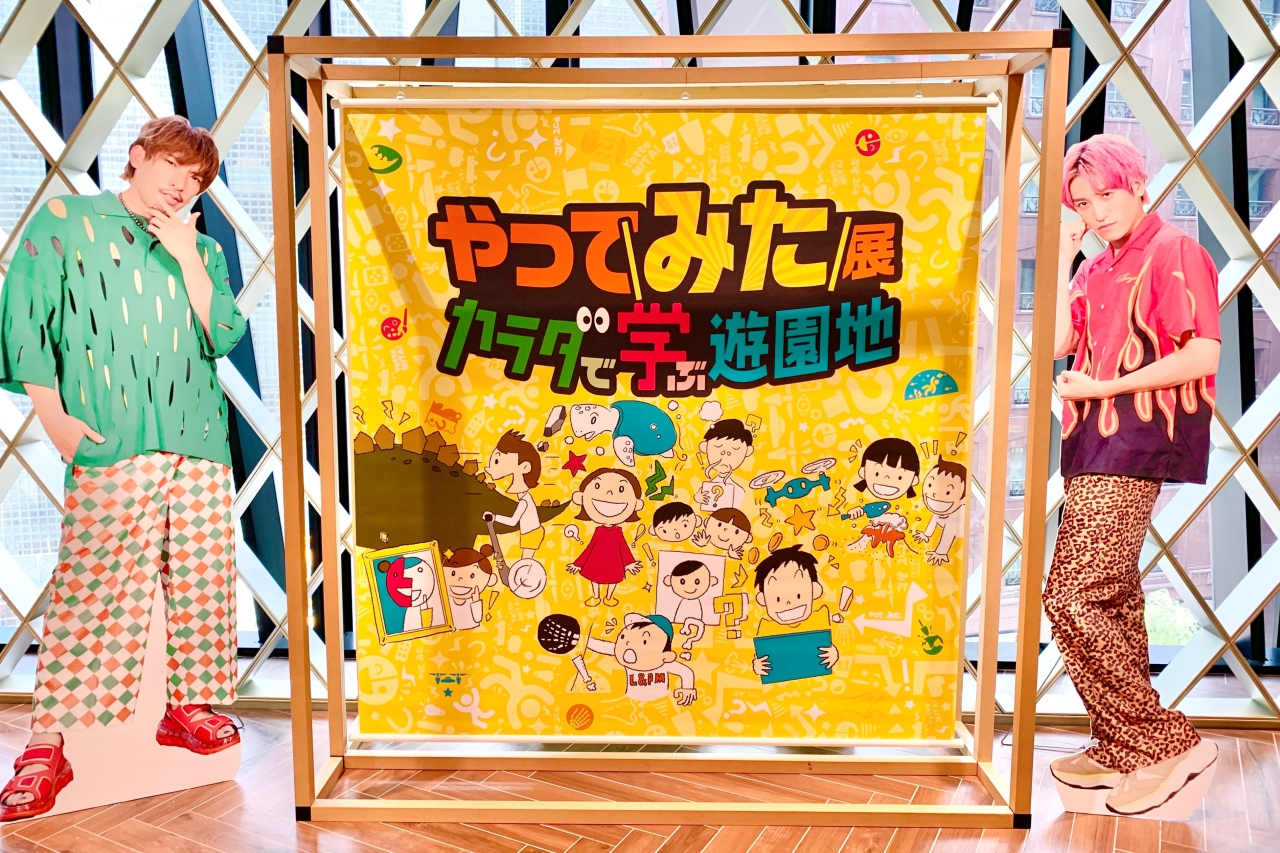 Fathers and mothers of the world. It's about the middle of summer vacation, but have you made memories of summer vacation with your child?
Many people may say, "I want to go out with my children, but I'm worried about the heat wave and torrential rain this year."
The indoor event I would like to recommend to all of you is the "Yatte Mita Exhibition – Amusement Park Learning with Your Body -" being held in Ginza, Tokyo from July 16th to September 4th, 2022 !
You can slip back in time to the age of dinosaurs, try to become a work of art yourself, and try to predict the face of your child who will be born in the future.
I visited this event that stimulates children's inquisitiveness and curiosity, which can be enjoyed in a cool indoor environment.
The "Yat Mita Exhibition" that parents and children can enjoy is being held at Tokyu Plaza Ginza!
The highly popular "Yat Mita Exhibition ~ Amusement Park Learning Through Your Body ~", which was held at Expo'70 Commemorative Park in Osaka from March to May this year, is now available in Tokyo!
The Yatta Mita Exhibition is an event sponsored by Rough & Peace Mother (founded by Yoshimoto Kogyo and NTT Group in 2019), a company that produces a variety of educational content. thing".
It is a small digital amusement park that brings together a variety of experiential content that is filled with learning through fun experiences, and that will serve as an opportunity to broaden the interests of not only children but also adults.
The event venue is the 4th floor of Tokyu Plaza Ginza .
1 minute walk from Tokyo Metro Ginza Station and 4 minutes walk from JR Yurakucho Station.
Admission tickets are 1,500 yen for adults, 1,200 yen for middle and high school students, 800 yen for elementary school students, and 500 yen for preschoolers (free for children under 3 years old) when purchased at the counter.
Meet dinosaurs and become art yourself. Play with 10 types of experiential content!
There are a total of 10 types of content that utilize the latest technologies such as VR (augmented reality) and AI (artificial intelligence). All of them are contents that stimulate the "inquiring mind", "curiosity", and "imagination" that are the driving force of children's learning.
① I took a walk in the sea
First of all, I would like to introduce "I took a walk in the sea" .
This is an attraction called Dome Planet, where you can enjoy 360-degree (full-dome) images inside the air dome.
You can enjoy what kind of creatures live in the sea as if you were walking in the sea.
---
---
From the outside, the Air Dome had the impression of being small, but the inside was surprisingly spacious, with 12 chairs for viewing in a sleeping position.
It's like a secret base and I'm excited!
The narration (spoken by Mr. Tanaka of Cocorico) introduces the marine life and beauty of Okinawa, while also touching on the issue of marine pollution.
During the screening, a boy who seemed to be an elementary school student was excited, saying, "It's a turtle!" It seems to be well connected to learning.
The running time is about 9 minutes. The shape of the dome is the same, but the relaxing images and gentle narration create a planetarium-like atmosphere.
② I tried to convey the feeling of touch
This is the "I tried to convey the sense of touch" corner.
It is performed in pairs, and if one person puts a marble or dice into the cup held by the other person, the feeling of the ball is transmitted to the cup held by the other person. "Why? Why!?"
In recent years, the "digitization of tactile sensations", which simulates tactile sensations, such as sofas that transmit the vibrations of people far away to create a sense of being close to them, have been frequently featured in the media.
It would be a good idea for parents and children to discuss how communication will change in the future if everyone can convey tactile sensations through technology.
③ I sniffed out various smells
Next to the sense of touch is the sense of smell, so in the "I tried to distinguish various scents" corner, you can enjoy a scent test in which you remember various scents sprayed from a digitally controlled aromasulator and answer questions.
At first, it's easy to start with one type of scent, but it's surprisingly difficult to mix two types of scents, three types of scents, and more!
Some people were fighting with their families and friends, and it was exciting.
④ I tried to move the drone freely
This is the "Let's move the drone freely" corner where you can control an AR drone using a tablet.
Fly the AR drone skillfully, avoid obstacles while collecting apples, and aim for the goal.
This was also quite difficult because we had to program all the movements in advance, such as "move forward one square" and "turn left", instead of maneuvering each time like a radio control. I failed many times until I reached the goal.
I think there are many people in my parent's generation who are not familiar with programming, but it's nice to feel familiar with programming like this.
It seems that it will be a good stimulus for learning even for elementary school children who say that programming learning is a compulsory subject.
⑤ I went to see a dinosaur
The "I went to see the dinosaurs" corner, where you can learn about where the dinosaurs lived, is said to be the most popular with children!
In the content of adventuring in the age of dinosaurs on a motion ride, wear VR goggles and run through the dinosaurs with a 360-degree view while feeling the wind and shaking.
Mosasaurus jumps out of the water, and Tyrannosaurus fights up close in a 2.5-minute VR experience.
The standing-type motion ride shakes violently like a roller coaster ride, so I could hear the shouts of "Wow!"
Some children were afraid to get off on the way, but most of the children were very satisfied with their expressions.
The experience wearing VR goggles is for those over the age of 13, and children between the ages of 7 and under 13 can wear the VR goggles and experience it with the consent of their parents.
Please note that children younger than that will enjoy the images displayed on the monitor.
⑥ I met my child
There are also corners where you can feel closer to the world where AI will be realized, such as "I met my child" and "I tried to become art" .
I think many people have imagined, "If I could have a child, what would my face look like?"
"I met my child" is an experience that AI / image processing technology answers such a question and predicts the face of the child "what if" born from the face photo of yourself and the other party.
"Your eyes look like mine!" "You're so cute!"
Even if you participate alone, you can choose your favorite partner because there is face photo data registered in advance.
⑦ I tried to become an art
This is also a corner of "I tried to become art" using AI and image processing technology. It is a unique content where you can experience creating a work of art by using AI to convert the style of the photo you used as a model. Each poses in front of the camera as they like.
The author had an image of Vermeer's "Girl with a Pearl Earring" when shooting, but the AI output was a mosaic-like, stained glass-like image. I also saw other people's photography, but it seems that there are some patterns in the style of painting. I liked the vibrant colors.
The title of the work is "An athlete who throws milk into the sky", which is too mysterious, but the "milk" part has a subtle Vermeer flavor, so it's OK.
It's interesting that the price is set randomly, and this one has a value of 500 million yen.
There is also a proper shooting time, so you can take a commemorative photo with your smartphone without rushing.
By the way, when shooting, I was told that I could remove the mask if there were no people around.
others,
・The image of the bones moves according to the movement of your hand, and you can experience as if you were looking through your own body .
・You can observe the skeleton and movement mechanism of animals "⑨ I tried to see through the animals"
・In a sandbox that makes full use of projection mapping and sensor technology, the images change depending on the state of the sand.
It was a lot of content with a corner such as.
To enjoy all the content, it feels like it takes about an hour if you participate alone.
I think that it will be different again if it is a family. I visited in the morning on a weekday, and it was relatively empty, but please refer to it.
A chance for children to find their "likes"
At the event venue, it was impressive to hear the voices of children asking their parents questions like, "What's going on?" I felt that it was a very good event in terms of improving communication between parents and children.
There may be some parents who have been able to learn about the unknown side of their children, saying, "My child is interested in this area." Children themselves are likely to be able to discover their feelings of "interesting" and "like".
According to the staff, from the actual experience of the "I tried to convey the feeling of touch" corner, there are parents and children who ask, "Can you do this at home?" There was a child who tried to find out how it works.
There may be some children who are thrilled by the mysterious technology and end up saying, "That was fun. " Exhibition ~ Amusement park where you can learn with your body ~".
It also has the advantage of not being affected by the weather, so how about visiting with your family during this summer vacation?
A quiz rally where you can get an original can badge key holder is also underway!
By the way, at the event venue, a quiz rally is being held where you can get cute original can badge key holders.
There are quizzes about 10 types of content, so let's collect the answers while enjoying the content. The answer is hidden at the bottom of the quiz, but it is very detailed and interesting.
In addition, Tokyu Plaza Ginza, where the event venue is located, also houses the hands-on facility "Zukan Museum Ginza," which I previously covered in Kokosil Ginza.
⇒ https://home.ginza.kokosil.net/en/archives/86055
It seems that the content is even more substantial now than at the time of the interview!
This is also a facility that parents and children can enjoy, so be sure to check it out when you visit.
Overview of "Try it!
exhibition period
July 16th (Sat) – September 4th (Sun), 2022
venue
Tokyu Plaza Ginza 4F (5-2-1 Ginza, Chuo-ku, Tokyo)
Opening hours
Weekdays: 11:00 a.m. to 6:00 p.m. Saturdays, Sundays, and holidays: 10:00 a.m. to 6:00 p.m. *Admission until 5:30 p.m.
closing day
open every day during the exhibition
Price (general ticket)
Adults 1,500 yen, middle and high school students 1,200 yen, elementary school students 800 yen, preschoolers 500 yen (free for children under 3 years old)

*Half price for those who have a physical disability certificate (Certificate required / Applies to up to 2 attendants)
*100 yen discount for groups of 30 or more *For other details, please check the official website.

organizer
Laugh & Peace Mother Co., Ltd.
patronage
Tokyo Metropolitan Board of Education
Event official website
https://www.lnp-mother.com/yattemita/
*The contents of this article are as of the publication date (2022/8/8). Please note that it may differ from the latest information.
<Past coverage article>
[Artizon Museum] "Two Journeys for 140 Years of Birth Shigeru Aoki x Hanjiro Sakamoto" Press Preview Report
[Coverage report] The dried flower specialty store "Calon DRY FLOWER Hanare Ginza Yurakucho" opens!
[Interview report] 5 new works appear in public art in Marunouchi! Opening of the 43rd Marunouchi Street Gallery
[Artizon Museum] Three special exhibitions will be held at the same time! Press preview report