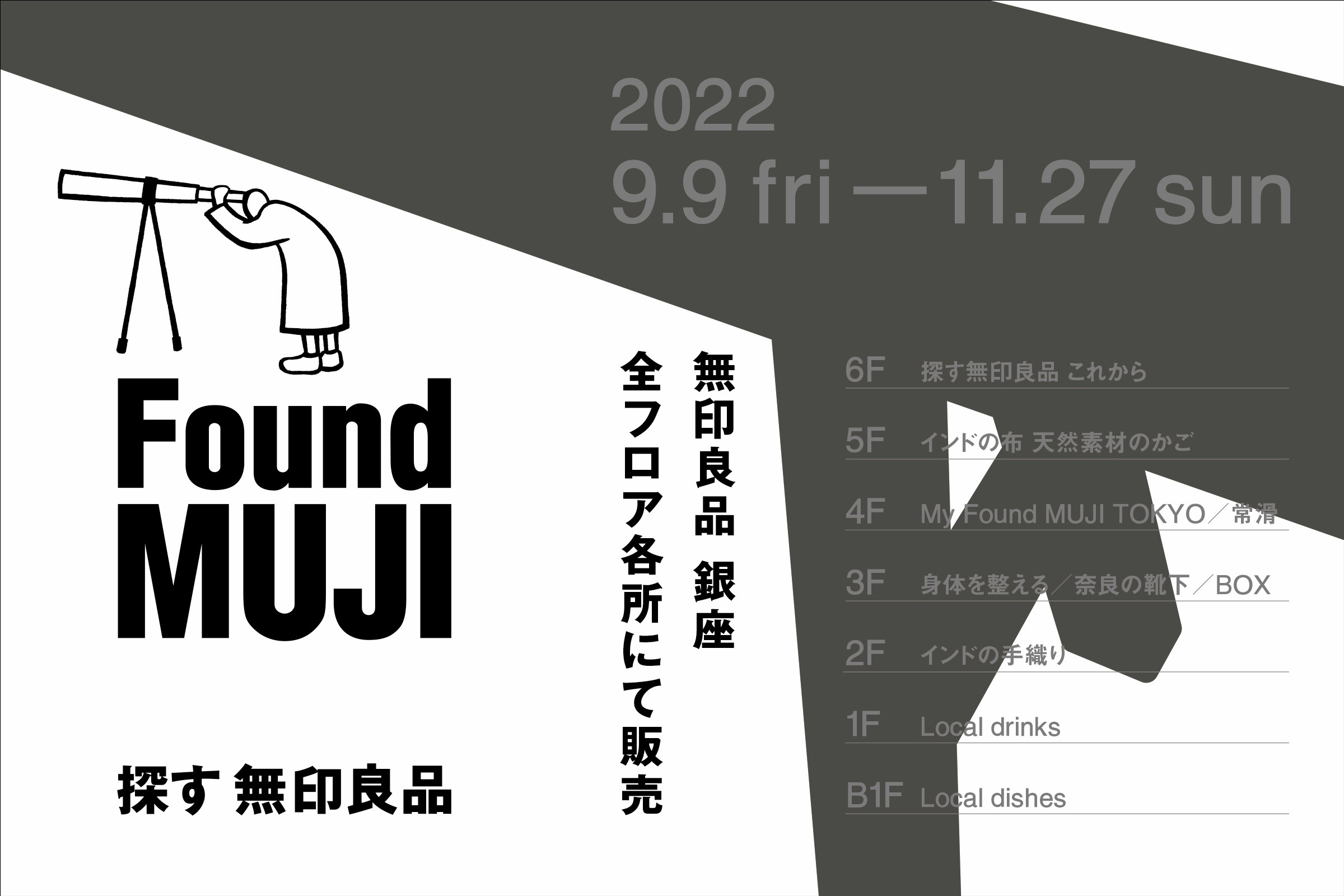 We will sell items that Found MUJI has searched all over the world at various places in the store.
Ryohin Keikaku Co., Ltd., which develops MUJI, will hold "Found MUJI Search for MUJI" on all floors of MUJI Ginza from Friday, September 9th to Sunday, November 27th. .
"Found MUJI" has traveled to more than 30 countries and regions so far, searching for daily necessities that strongly reflect the culture and customs of each region. The tools of life in faraway lands can give us new wisdom and give us a new color and richness in our daily lives. Also, there are times when we become aware of the goodness of things that have been born and used in our own culture, but which we have not even taken for granted before we know it.
MUJI The items that Found MUJI has been looking for are displayed here and there on all floors in Ginza. Explore the museum, open your senses, and look around with brand new eyes and minds. Why don't you find Found MUJI for you?
■ "Found MUJI Search for MUJI"
September 9 (Friday) – November 27 (Sunday), 2022 11:00 – 21:00
Venue: MUJI Ginza B1F – 6F (3-3-5 Ginza, Chuo-ku, Tokyo)
Planning cooperation: Kojiro Nagumo, Reiko Sudo, Fumiko Sakuhara, Nishiki Foods Co., Ltd. (in no particular order)
Graphic design: SARAVAH design Co., Ltd. Construction: HIGURE 17-15 cas Organizer: Ryohin Keikaku Co., Ltd.
*Business hours are subject to change. Please check the event official website.
https://atelier.muji.com/jp/exhibition/4852/
Instagram|@ateliermuji_ginza
Twitter|@ateliermuji
<About each floor>
・B1F |『Local dishes』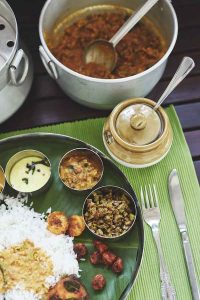 At the MUJI Diner on the B1F, we offer a limited menu that recreates or arranges the home cooking that Found MUJI encountered during his travels to various countries.
[First] Chinese Cuisine I asked the chef of Shanghai's MUJI Diner about memorable dishes "Tonporou", "Crab miso tofu stew", "Mini tomato pickled in sugar" and "Vermicelli salad". Also, tomato and cucumber egg soup and rice.
[Second] Indian cuisine "Thali"
An Indian 'thali' is a platter of several dishes. This time, we will arrange the curry sold at MUJI and deliver a fragrant Indian version curry set meal.
---
---
・1F |『Local drinks』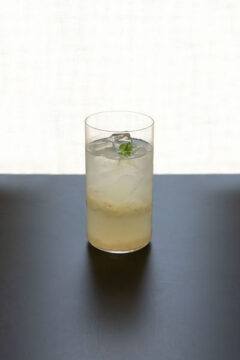 At the 1st floor "juice stand", we propose local drinks that we encountered during our travels.
[First step] China "Longan Cider". Roughly cut fruit similar to lychee so that you can feel the texture. Seasoned with mint and syrup. In addition, we are planning drinks from India and Lithuania.
・2F |"Indian Hand Weaving"-Things Born from Tradition and Wisdom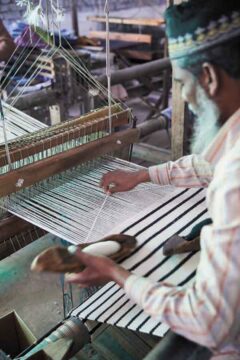 Focusing on shirts, stoles and bags made from traditional Indian hand-woven cloth, we can learn a lot from the ancient wisdom contained therein.
The natural unevenness of hand-spun threads and the irregular and uneven thickness of the threads are woven by hand, so threads of different thicknesses and color depths are mixed, creating a gradual pattern (slab) that can be seen vertically and horizontally. There is a color difference in the horizontal line.
In this way, the traces of handwork that remain on the cloth and the carelessness of the spinner and weaver cause individual differences in the finish even if the type and color are the same. Attractive things will be completed.
・3F |『Fix your body』『Nara socks』『Box』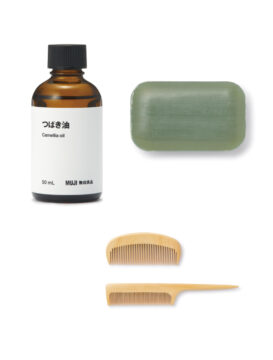 "Fix your body"
Taking hints from our predecessors about maintaining physical and mental health and taking care of our bodies, we will introduce habits and related tools that are easy to incorporate into our daily lives.
[Camellia oil] Manufactured from the seeds of camellias that have grown wild on Izu Oshima since ancient times. It can be used for the whole body, such as edible and hair, scalp, and skin care.
[Soap] A soap that can be used for washing the whole body, washing, etc., containing moisturizing ingredients such as "Mugwort", "Dokudami", "Kakishibu / Tea leaves", plants that have been in Japan since ancient times.
[Tsuge comb] A boxwood comb that has been made since the Edo period. It is made in Kaizuka City, Osaka, a production area of combs, using Satsuma boxwood grown in Kagoshima. It is a reliable tool for everyday use, with a good balance of hardness and stickiness, and a gentle feeling on the scalp.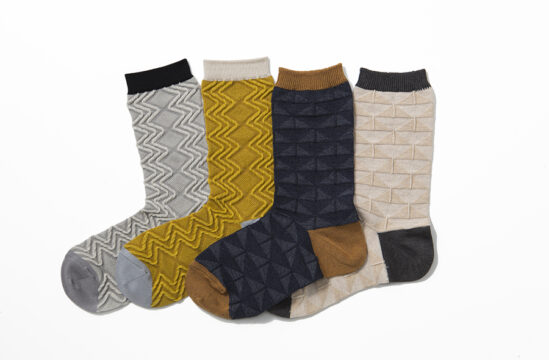 "Nara socks"
Japan's sock production area, Isoki-gun, Nara Prefecture. It all started when I started knitting socks as a side job of agriculture in the Meiji period. At that time, the heel of socks was 90 degrees to match the heel, but with mass production, it changed to 120 degrees. We will deliver "right angle socks" knitted at right angles, reviewing the comfort from the origin of socks.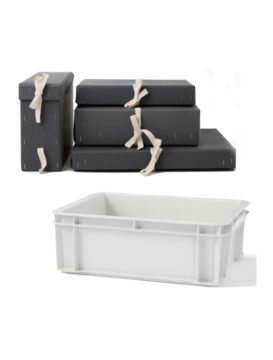 『Box』
Boxes that were designed with specific functions mainly for business use can change the perspective and depending on the idea, can be useful in the home or office as well. This time, the file box "kosher box" used for storing official documents in public institutions and public libraries in France, and the "polypropylene box" used for organizing and transporting parts and materials in factories etc. We will focus on the box and propose arrangements and usage.
・4F |『My Found MUJI TOKYO』『Tokoname』ーThings that have been made and used in Japan
"My Found MUJI TOKYO"
These items were collected by asking shop staff working at MUJI stores in Tokyo to "Find Found MUJI for you" under the theme of "Tokyo."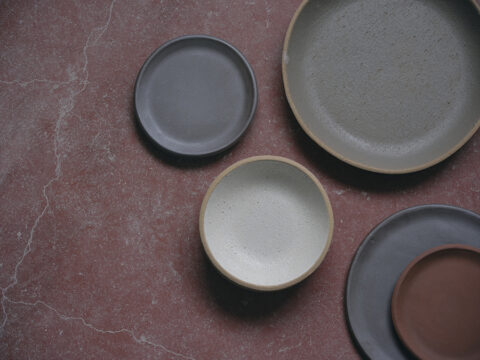 "Tokoname"
The focus is on Tokoname ware from Aichi Prefecture, which is characterized by its reddish-brown color and is one of the six ancient kilns of Japan, whose production continues from the Middle Ages to the present. The clay used for pottery in Tokoname is rich, high-quality clay deposited in Lake Tokai, which sank about 10 million years ago. It contains a lot of iron, so it is easy to bake even at low frequencies, and it has properties such as water resistance and leak resistance even without glazing. This time, we will introduce Tokoname's craftsmanship by focusing on the three processes of "soil making", "molding" and "firing", and adding new experimental elements.
・5F |『Indian fabric basket made of natural materials』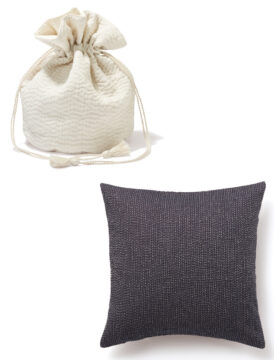 [Indian cloth]
In India, a wide variety of fabrics have been made for daily use, starting with hand-woven fabrics mentioned above, and then printing, embroidery, and quilting. We propose a rich landscape of cloth made and used in India, such as clothes, tablecloths, curtains, and luggage.
[Basket made of natural materials]
Human tools that have been made since ancient times around the world, baskets and baskets woven from natural materials. Functionality such as carrying, storing, and organizing, and beautiful tools with different expressions and aging because they are made from natural materials. This time, we will focus on baskets and baskets woven by craftsmen using materials native to Asia such as bamboo, abaca, and tilob.
・6F |Special Project ATELIER MUJI GINZA Gallery1・2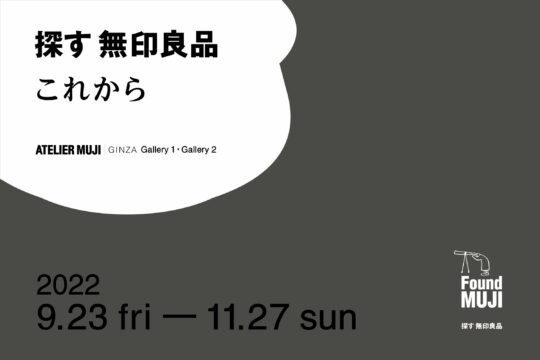 "Looking for MUJI from now on"
Found MUJI has been searching for good things by getting into the details of people's lives around the world.
We live in an era in which things are overflowing and the act of making itself is questioned, but still the wisdom and technology of people, the splendor of things created by hands, and the richness that you feel when you hold them in your hands and use them in your daily life. Also, I think it's important for us. While staying close to the ever-changing environment, people's lives and situations, what kind of viewpoints and methods of activity should Found MUJI look at from now (future) and make proposals to everyone? Based on this theme, we will try to exhibit in collaboration with MUJI staff around the world.
Date: September 23 (Friday) – November 27 (Sunday), 2022 11:00 – 21:00
Venue: MUJI Ginza 6F ATELIER MUJI GINZA Gallery1・2
Planning cooperation: Kojiro Nagumo Graphic design: SARAVAH design Co., Ltd. Construction: HIGURE 17-15 cas
Organizer: Ryohin Keikaku Co., Ltd.
ATELIER MUJI GINZA Official Site | https://atelier.muji.com/jp/
Exhibition page https://atelier.muji.com/jp/exhibition/4848/
Linked Project "Found MUJI: Things to Spin" Exhibition <br /> The people, things, and scenery that MUJI has met on its travels around the world. About 4,000 scenes from the huge number of photographs that have been archived for many years will be exhibited in booklet form. Please take a look at Found MUJI's ideas and perspectives that exist latently in the photographs.
Date: September 9th (Friday) – September 18th (Sunday), 2022 11:00-21:00
Venue: MUJI Ginza 6F ATELIER MUJI GINZA Gallery2
*Business hours are subject to change. Please check the official website of ATELIER MUJI GINZA.
*We are planning to hold an event. Details will be announced on each official website and SNS as soon as they are decided.
*Some of the exhibits may not be available for viewing due to events, etc.
<Related articles in the past>
ATELIER MUJI GINZA "Research! Announcement of the exhibition "Design that attracts the process"
Announcement of ATELIER MUJI GINZA "Life in Art Philippe Weisbecker "HANDMADE" Exhibition"
"Life in Art" TOKYO MODERNISM 2022" will be held at ATELIER MUJI GINZA, IDÉE TOKYO, and MUJI HOTEL GINZA!