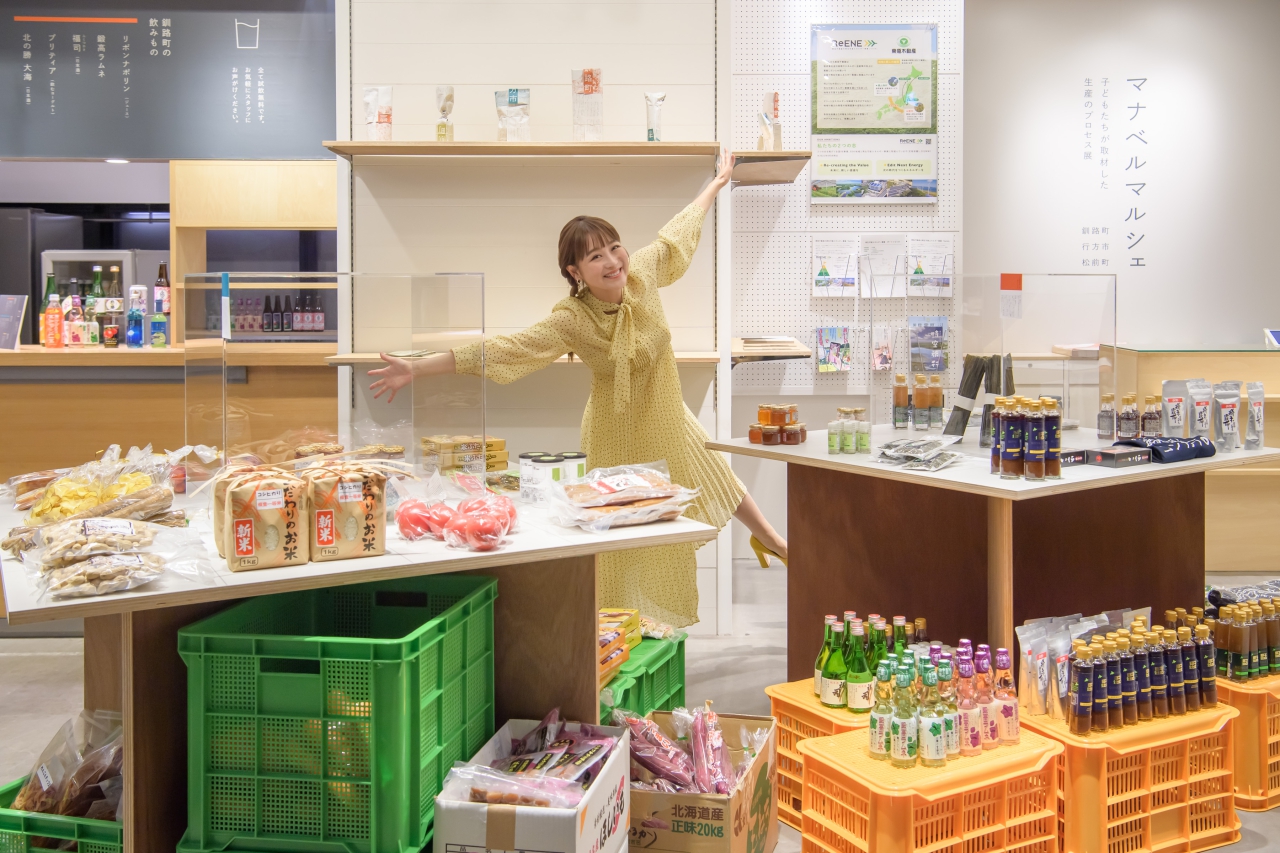 At Tokyu Plaza Ginza, for a limited time from November 30th (Tuesday) to December 28th (Tuesday), 2021, "learning" about the production process and "Marche" where you can enjoy special products sent directly from the production area will be integrated. The antenna shop "Manabel Marche-Production Process Exhibition Covered by Children-" (hereinafter referred to as "Manabel Marche") is open.
At the press conference and preliminary preview held prior to the opening, the talent Nana Suzuki took the stage as a guest and enthusiastically expressed the charm of "Manabel Marche" and her love for the local area, Ibaraki. I will report the pattern.
Manabel Marche, a restaurant that makes eating more enjoyable
The antenna shop "Manabel Marche" opened in a special space on the B1 floor of Tokyu Plaza Ginza in Ginza, Tokyo for a limited time of about one month. The renewable energy business undertaken by Tokyu Land Corporation, which is sponsored by Tokyu Land Corporation, covers three areas: Namegata City, Ibaraki Prefecture, Kushiro Town, Hokkaido, and Matsumae Town, Hokkaido, which aim to realize a sustainable society.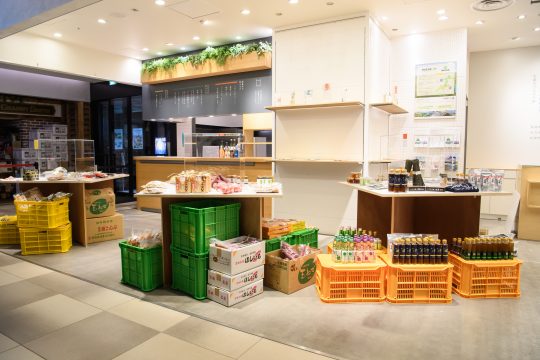 There are many antenna shops around Ginza that sell special products from all over Japan and local gourmet food, but the feature of "Manabel Marche" is that it is an unprecedented store with the element of "learning".
Inside the store, children's reporters who like questions from all over the country can enjoy the production process of special products interviewed by producers in three regions by displaying "voices".
Rice, meat, fish and vegetables. Even if you see something that has already been harvested or cooked, how is it produced, harvested, and distributed?
People in urban areas who are not usually aware of such production stories can eat special products sent directly from the production area while learning about the charm of each region and sustainable society from the fresh awareness of children and the thoughts of producers. , A shop that combines "learning" and "Marche" to make eating more enjoyable . That is "Manabel Marche".
The store is divided into a Marche zone and a Manabel zone.
About 45 kinds of products are always lined up in the Marche Zone where you can buy local specialties such as strawberries in Namegata City, Ibaraki Prefecture, kelp in Kushiro Town, Hokkaido, and Matsumaezuke in Matsumae Town, Hokkaido. The lineup may change in the future.
In the Manabel Zone, you can listen to audio exhibits of children's interviews.
"How do you get kelp?" "When do you have trouble making thorn kisses?" "Is there any effect of global warming?" The people answer in an easy-to-understand and polite manner.
Producers' fun, hard, and painful things. If you look at the special products sold in the Marche Zone after learning the story of how they line up in the sales floor, you may feel a different feeling.
You can also enjoy the installations created by artist Yasuhiro Suzuki, where you can feel the connection with each region.
There is also a cafe counter inside the store where you can sample drinks such as local beer, local sake, and juice recommended by the person in charge in each area. I'm glad that the tasting is free! It's a lineup that you won't have a chance to see when you're in Tokyo, so be sure to pay attention to it.
It's also an interesting idea that the wrapping paper that wraps the purchased product is a document of the exchange of interviews between the child reporter and the producer! If you give it as a gift, it seems that it is devised so that the recipient can enjoy it as a reading material.
As a sustainable initiative, we will collaborate with "NewsPicks NewCafe" on the 7th floor of Tokyu Plaza Ginza to prevent food loss at "Manabel Marche". It is said that a limited number of original menus using special products from participating areas near the expiration date will be sold. Everything looks delicious!
Nana Suzuki, a guest from Ibaraki prefecture, was also impressed by the efforts of "Manabel Marche"!
At the press conference, Mr. Kei Ikeuchi, Director and Managing Executive Officer of Tokyu Land Corporation, and Mr. Ai Seshimoto, Assistant Manager, Smart City Promotion Department, Urban Business Unit, took the stage.
Mr. Ikeuchi commented on "Manabel Marche", saying, "In addition to having each region convey its traditional appeal, it also has the new appeal of producing clean energy and the energy we use every day. By feeling the connection through this, we aim to create a place where the thoughts of customers living in the city center and people in the region who are producing clean energy can be united and circulated. "
Mr. Seshimoto continued, "It is easy to think that rural areas depend on cities, but in reality, a lot of energy generated by the blessings of local nature is brought to cities. Such a connection between rural areas and cities. Focusing on the importance, I think that by strengthening the relationship in which cities and regions support each other, it may be possible to solve various problems in a complex society at the same time. From the place where goods are sold. To a place to convey things. With that in mind, this project was born, "explained the history of the birth of" Manabel Marche. "
Next, Nana Suzuki , a talent, appeared as a special guest.
Nana Suzuki, a talent from Ibaraki prefecture, who is the ambassador of Ibaraki and the director of the promotion department. He says that he still goes to Tokyo from Ibaraki when he is 18 to 33 years old when he made his debut in the entertainment world.
When asked about the charm of the local area by the MC, "The charm of Ibaraki Prefecture is that there are many things that have the highest production and shipment volume. Lotus roots, chestnuts, and melons! There are many things that are the best in Japan, and everyone knows. I'm proud that there are many things that haven't been done yet. "" (To Tokyo) It's easy to go to, it's easy to live in, and there are many delicious things. I really love my hometown! " bottom.
Nana Suzuki repeatedly said "nice!" While shining her eyes when she received an explanation about the efforts of "Manabel Marche". When a child reporter asked a radish farmer in Kushiro-cho, "How many seconds does it take to pull out one (radish)?", The answer is "1 second per hour, about 1,000 per hour." , "Wow! I didn't know!" With a surprised expression.
"You can hear all that in'Manabel Marche', right? It sounds like a lot of fun! I used to eat radish miso soup as usual, but I'm pulling out 1,000 bottles in an hour. I learned that there is a story, "," he said, and he seemed to be able to immediately realize the joy of "learning" at "Manabel Marche."
Finally, Mr. Seshimoto said, "By learning about stories and processes that I couldn't easily know until now, I would like to make the restaurant delicious while being more thankful for the blessings of the regions. Nana Suzuki nods many times as if she was impressed.
Looking back on the first holiday in my entertainment life from August to October of this year, "I've been doing this job for 33 years and I've had some pains and worries, but I'm grateful to each one. (Through the holidays) I really felt. It's fun to live with gratitude, and it's my purpose to live. "" Thank you is important, isn't it? " It seems that he deeply sympathized with ". He expressed his gratitude for being able to experience the connection between the region and the city through such efforts by "Manabel Marche" and to participate in this event as a talent who goes from the region to the city.
Manabel Marche is a new type of antenna shop where you can enjoy special products while thinking about the producers. Please come and visit us.
Outline of "Manabel Marche-Process Exhibition of Products Covered by Children-"
| | |
| --- | --- |
| place | Tokyu Plaza Ginza B1 floor special space |
| Holding period | From Tuesday, November 30, 2021 to Tuesday, December 28, 2021 |
| business hours | 11: 00-20: 00 * Same as Tokyu Plaza Ginza business hours |
| price | Free admission * Purchase of special products is charged |
| Participating municipalities | Namegata City, Ibaraki Prefecture, Kushiro Town, Hokkaido, Matsumae Town, Hokkaido |
| Organizer | Tokyu Land |
| HP | https://ginza.tokyu-plaza.com/news/news.html?_id=2489 |
<Past coverage articles>
[Venue Report] "Japanese Art Direction Exhibition 2020-2021" Many unique advertisements and designs that are creatively inspired are on display!
[Panasonic Shiodome Museum of Art] Budapest National Museum of Crafts Masterpiece Exhibition "From Japonisme to Art Nouveau" (~ 12/9) Preview Report
I tried to experience the world of YOASOBI's new song "Taisho Roman" in Ginza as soon as possible! "⑤ Semiconductor is science fiction. with YOASOBI "Venue Report
[Interview report] Canned dried fish !? Get a rare gourmet dish at the vending machine of Ginza "Skima Department Store"