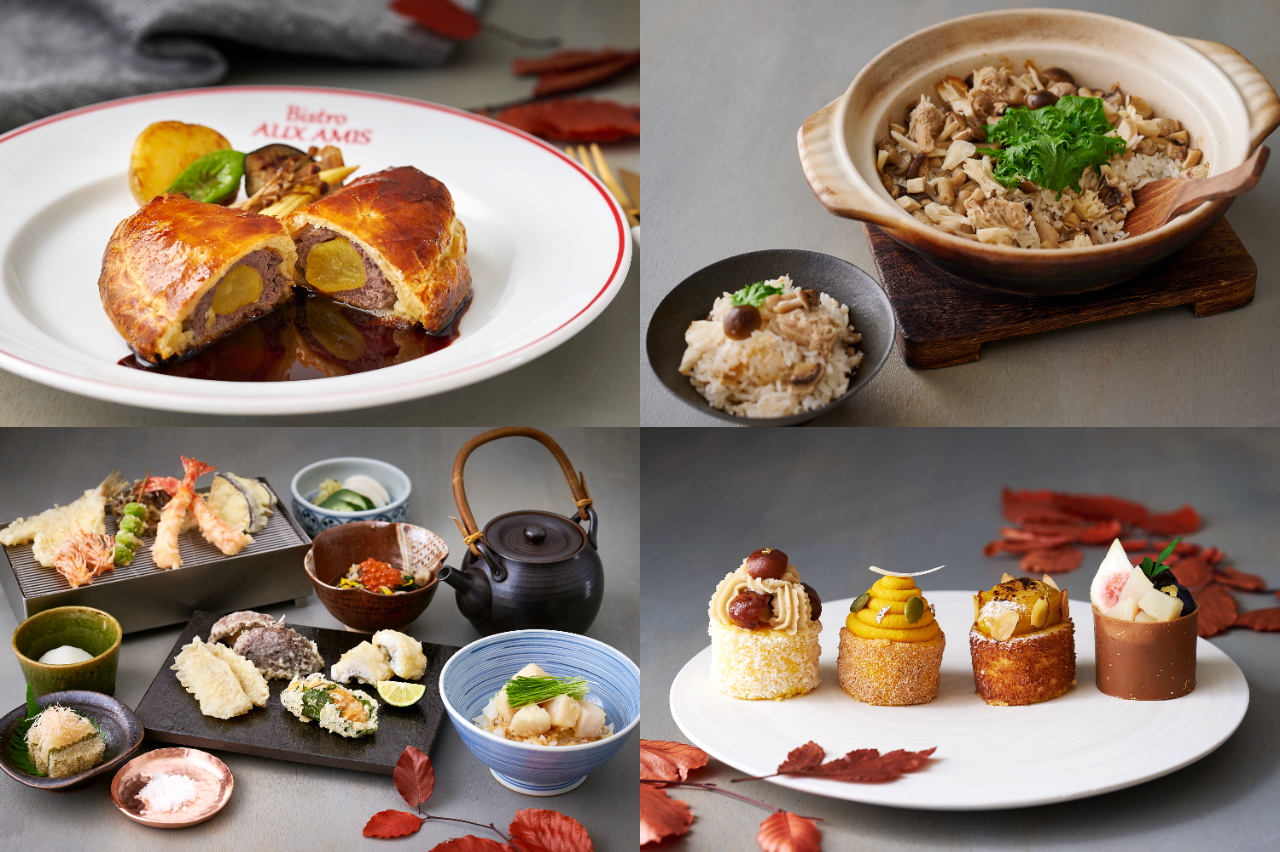 On August 31, 2022, at GINZA SIX , one of the largest commercial facilities in the Ginza area, a tasting event was held for recommended dishes and sweets that will be available this fall at restaurants and shops within the facility.
There are dishes that use plenty of autumn flavors such as salmon and mushrooms, Japanese sweets that arrange chestnuts, a popular autumn ingredient, and sweets that are pleasing to the eye, beautifully colored with seasonal fruits.
We were able to check out a total of 17 carefully selected items, so we will introduce the limited items that can only be tasted at GINZA SIX, along with photos of the actual items.
■Scheduled to open in November! "Signature" of sustainable seafood
GINZA SIX, a commercial facility that celebrates its 5th anniversary in April this year, proposes "things that can only be found here, experiences that can only be experienced here."
On the food floor on the 2nd basement floor, there are about 40 shops that express the theme of "new standard in Ginza", which adds newness to good old values that have not changed over time.
On the 6th floor, there are about 12 restaurants on the 6th floor that can be called "Ginza High Casual Dining". , Sushi, and steak restaurants, as well as a lounge and bar that can be used for parties.
As a luxury mall that represents Ginza, it also has a strong presence in terms of food.
Before introducing the autumn menu of each GINZA SIX store, let's first introduce [Signature] , which is scheduled to open on the second basement floor in late November.
[Signature] develops products using seafood that is safely and securely raised by sustainable methods such as land-based aquaculture, based on the concept of "resting the sea" in order to overcome the current situation of declining marine resources. The world's first permanent store for the farmed fish brand "CRAFT FISH".
It is said that each of the products they sell has been developed in collaboration with experts from various culinary fields.
At the tasting party, I was able to get [Signature] products.
B2F【Signature】
Danish Salmon Ankroot ¥5,378 (1 box)
This "Danish Salmon Ankrut" is a traditional French dish, Ankrut (pie wrapped in a pie) that uses Danish land-farmed salmon.
This product was supervised by Hiroshi Yamaguchi, head chef of Kobe Kitano Hotel.
The colors are sweet and cute.
Salmon wrapped in fragrant pie crust with risotto and eggs is refreshing in a good way without being too fatty.
Overall, the seasoning is suppressed, highlighting the taste of salmon.
It was a fun dish with a difference in texture between the delicately melted salmon and the fluffy risotto.
B2F【Signature】
Happy Shrimp Shrimp Chili ¥2,376 (160g per box)
This is the "Sachi Shrimp Shrimp Chili" created by Masaya Hirosawa, the hopeful chef of Kansai Chuka, based on the "Sachi Ebi" brand of vannamei shrimp produced by land-based aquaculture by Umisachi Yukinoya LLC (a subsidiary of Kansai Electric Power).
The head and shell of happy shrimp that are deep-fried whole are soft, and you can enjoy the umami that overflows with each bite.
The chili sauce, which has a sour taste and is moderately spicy, does not use any commonly used garlic or ginger, so the original taste of shrimp was directly conveyed.
If you have extra sauce, you can put it on the baguette!
I'm surprised that salmon and shrimp are farmed in a clean environment and have such a clean aftertaste with no odor or off-flavours.
Both were products with an elegant taste that would be appreciated at parties and celebrations.
I am looking forward to the opening in November to see what other sustainable seafood products will be lined up.
By the way, the store also handles wine and champagne, and it seems that they will propose pairings.
Scallop tempura, mushroom-filled earthenware pot, and luxurious autumn delicacies
From here, we will introduce the GINZA SIX limited autumn menu that you can enjoy on the restaurant floor.
6F [Ieho Jump Gate]
Autumn taste earthenware pot rice 5,500 yen (service charge not included)
★ GINZA SIX limited offer period: From September 16th to November 30th
[Kapo Choryumon] is a Chinese restaurant where you can enjoy everything from Cantonese cuisine to Dim Sum, led by head chef Yuan Jiabo, who has worked at one of Hong Kong's most famous restaurants. Appearance.
A popular dish in Hong Kong from autumn to winter, the rice is cooked with rice called Bo Jai Fang. It seems that plenty of mushrooms such as mushrooms and white maitake mushrooms are served in autumn.
It is boiled with jasmine rice in top-grade soup and served with sweet tamari soy sauce.
The soup, which is said to be the base of all the dishes in the restaurant, is carefully prepared for 5 hours every day from Jinhua ham, one of the world's three major hams, black pork lean meat, and whole chicken. Something.
The Jinhua ham has a good amount of saltiness, so most of the dishes use less seasoning and have a gentle taste.
When I tasted the soup by itself, the mellow aroma and the rich taste of the meat that makes my throat ring is outstandingly delicious!
The moment you put the fragrant mushrooms and jasmine rice soaked in the hot water soup in your mouth is just a word of bliss.
13F [Tempura Yama no Ue Ginza]
Autumn recommended course (lunch only) 18,500 yen (service charge included)
★ GINZA SIX limited offer period: From September 1st to November 30th Quantity offered: Limited to 10 servings per day
[Tempura Yamanoue Ginza], a specialty store that inherits the tradition of tempura from the "Yamanoue Hotel" in Ochanomizu, has a noteworthy autumn menu, the "Autumn Recommended Course" limited to 10 lunches.
At the end of the autumn seasonal tempura course, a simple yet luxurious tempura bowl with dashi chazuke using large scallops that can only be caught in the Tohoku region, which is in season from September to November.
This is a new proposal not found in the main store in Ochanomizu.
At the tasting party, you can have the scallop tendon soup with chazuke , and first, the tendon with sauce.
After that, it is recommended to pour soup stock made from scallops over it and enjoy it hitsumabushi style.
The thick scallop tempura is lightly battered to make the most of the ingredients. It is not cooked completely and has a rare finish, so you can enjoy the plump texture.
The scallop flavor is so rich in the tea soup brewed with dashi stock, and the sweet sauce on the rice melts out, giving it a strange taste.
The umami of the tempura scallops spread many times over in the soup, and it was exquisite!
When served at a store, you can add wasabi and Japanese pepper to your liking.
6F [Bistro Ozami]
Ezo deer and Tanba chestnuts wrapped in pie wrap Aomori cassis sauce 3,278 yen
★ GINZA SIX limited offer period: From September 1st to October 31st
[Bistro Ozami], where you can casually enjoy French cuisine based on the concept of bistro cuisine that has been in Paris for over 100 years and Japanese orthodox Western cuisine, has introduced "Ezo venison and Tamba chestnuts wrapped in pie wrapped in Aomori cassis sauce" .
A whole chestnut from Tamba and a meat pie wrapped in minced Ezo deer from Hokkaido are topped with a cassis sauce from Aomori.
The meat inside the moist pie crust has no odor, and the sticky texture makes it even more satisfying than it looks. The overall flavor is gentle, including the chestnuts, but the fruity sourness of the cassis sauce is an accent. It was finished with a moderately light mouthfeel.
13F 【THE GRAND GINZA】
Luxurious truffle mushroom risotto 2,600 yen (service charge not included)
★ GINZA SIX limited offer period: From September 16th to October 31st
Don't miss the "luxury truffle mushroom risotto" at [THE GRAND GINZA], a cultural center centered on food, with a main dining room, lounge, and bar where you can enjoy the gastronomy of Japan's 47 prefectures.
A luxurious dish made with truffle shavings on a risotto that uses plenty of domestic mushrooms and is cooked with consommé.
The risotto is infused with the umami and flavor of mushrooms, and the mellow aroma of truffles is added to it.
The creamy risotto, as if you were eating cheese as it is, was so rich that you would want to roll it in your mouth.
■Chestnut sweets such as Mont Blanc and pound cake are abundant!
In the GINZA SIX limited sweets genre that can be purchased on the food floor on the 2nd basement floor, there are many chestnut-arranged products in particular.
B2F [Ena chestnut workshop Ryoheido]
Chestnut Kinton Daifuku Hojicha Mont Blanc ¥950 (1 piece)
★ GINZA SIX limited sales period: From around September 10th to December 31st (planned)
This is "Kurikinton Daifuku Hojicha Mont Blanc" from [Ena Kuri Koubou Ryoheido], a chestnut confectionery specialty store where craftsmen make Japanese sweets that allow you to feel the natural taste of the ingredients.
The two-layered daifuku, which has a chestnut kinton bean paste in the center and a grainy bean paste around it, is topped with plenty of Mont Blanc cream made with chestnut kinton made from domestic Japanese chestnuts cooked in crystal sugar.
It is an evolutionary Japanese sweet for adults with a large astringent chestnut on top and sprinkled with roasted green tea powder.
The presence of hojicha is very strong as well as chestnuts, and it feels like eating Mont Blanc while drinking hojicha. Especially recommended not only for chestnut lovers but also for hojicha lovers!
B2F [GINZA Bashodo]
Japanese chestnut and batachi mochi raw dorayaki 480 yen (1 piece)
★ GINZA SIX limited sales period: From early September to early November (planned)
Sales volume: Limited to 60 per day
At [GINZA Bashodo], which spreads the traditional Japanese confectionery culture of more than 150 years to the world, "Japanese chestnut and batachi mochi fresh dorayaki" that boldly uses Kuma chestnuts will be on sale.
It is a product developed in collaboration with farmers for the purpose of regional reconstruction and regional creation in the Hitoyoshi Harima region of Kumamoto Prefecture, which was devastated by the heavy rain in 2020.
The dorayaki skin made with a blend of mochi flour has a surprisingly chewy texture.
The power of Hokkaido butter is great, bringing together the sweetened crushed bean paste, Harima chestnut puree, and special cheese cream using mascarpone.
This sweet and salty taste is addictive!
B2F [Azabu vegetable sweets]
Grilled Japanese chestnut Ukishima 3,456 yen (1 piece)
★ GINZA SIX limited sales period: From October 22 to the end of March 2023 Sales volume: Limited to 4 per day
[Azabu Vegetable Confectionery], which spreads the taste of new vegetables without being bound by the framework of vegetables equaling health, will release a new product of the Japanese-style pound cake "Yaki Ukishima" series.
Ukishima, which is a castella-like steamed confectionery made with an bean paste, is baked instead of steamed to create a Western-style cake.
Large chestnuts boiled in astringent skin are generously topped, and the surface is caramelized.
Finally, it was said that the whole was covered with rum.
From the appearance, I felt that Japanese chestnuts do not make up a large portion of the product, but the flavor of Japanese chestnuts is surprisingly strong.
The moist dough has an understated sweetness that makes up for the lack of sweetness in Japanese chestnuts.
The balance with the red bean paste was just right. It was a sweet for adults with a faint scent of rum.
B2F [patisserie GIN NO MORI]
Maple pound cake 2,700 yen (one)
★ GINZA SIX limited sales period: From October 1st to around November (planned)
Sales quantity: Limited to 200 during the period
Of course, many sweets other than chestnuts are also available.
For example, from [Patisserie GIN NO MORI], which is lined with sweets that use plenty of the blessings of the forest, based on the concept of "forest sharing", there is a "Momiji Pound Cake" that looks like it is in full bloom with autumn leaves on the top. New appearance.
It is a baked product made by adding sliced cranberries to a dough kneaded with powdered maple and raspberries.
The fabric is quite dense, rather than fluffy, it's more chewy than it looks.
As someone who likes chunky pound cakes, I was captivated by the first bite. The rich sweet and sour taste of cranberries is also irresistible.
The crisp texture of the maple leaves is slightly sweetened, leaving a refreshing aftertaste. You can eat it deliciously rather than just coloring.
In addition, this is the first pound cake from [Patisserie GIN NO MORI] that does not use alcohol, so you can share it with your child.
The cute package makes it perfect for gifts.
B2F [Patisserie Pavlov]
Autumn Assortment ¥2,000
★ GINZA SIX limited sales period: August 31 to the end of October Sales quantity: Limited to 100 during the period * Ends as soon as the stock runs out
This is "Autumn Assortment" , an assortment of 4 kinds of mini raw pound cakes that are as beautiful as art, released from the pound cake specialty store [Patisserie Pavlov] that was born in Motomachi, Yokohama.
Potatoes, Japanese chestnuts, pumpkins, and seasonal fruits are a greedy set that allows you to fully enjoy the fruits of autumn.
A finished appearance that makes you want to look at it for a while before eating. A moist, caramel-flavoured dough topped with fresh grapes, figs, and (probably) pears—all fall fruits—is a refreshing dish.
There was a very high-class feeling that was colored with gold powder here and there.
B2F【Tea Forté】
Harvest Apple Spice Leaf Tea ¥4,190 (110g can)
★ GINZA SIX limited sales period: From September 5th
Although it's not a sweet, the "Harvest Apple Spice Leaf Tea" from the luxury tea brand [Tea Forté] created by MoMA designer Peter Hewit is also available exclusively at GINZA SIX, so please pay attention.
A body-friendly USDA-certified organic rooibos tea with an orange package and tea leaves that are perfect for autumn. Apples contain berries and spices such as cloves and cinnamon.
It's my personal preference, but among the ones I tried, it went particularly well with the [Patisserie Pavlov]'s [Autumn Fruit's Variety] introduced above.
The apple pie-like scent of this product and the marriage of fruity sweets are wonderful, but by mixing the scent of dry cloves, the depth of the pound cake can be felt.
When purchasing sweets at GINZA SIX, how about spending an elegant tea time with this tea?
There are many other autumn sweets that you can't miss, such as La French pudding and grape daifuku that you can compare tastes!
Although it is not a GINZA SIX limited item, at the tasting event we were able to enjoy the following autumn sweets that can be purchased at GINZA SIX.
B2F [Marlowe]
La French pudding 1,080 yen (1 piece)
Sales period: Until September 19th (Monday) * Ends as soon as it runs out
B2F [Kakuozan Fruit Daifuku Benzaiten]
Grape taste comparison 720 yen ~ (1 set of 2)
Sale period: Until around November *2 types from "Shine Muscat", "Pione" and "Nagano Purple" are wrapped in one package.
B2F [Sunny Hills ginza]
Yuzu apple cake 2,400 yen (1 box)
Sales period: From mid-October to December 31 (Saturday) (planned)
B2F【L'ABEILLE】
Honey paste (chestnut) ¥1,188 (1 bottle)
Sale period: From Thursday, September 1 to around December (planned)
B2F [Signifiant Signifié + plus]
Saison marron 3,456 yen (one)
Sales period: From September 1st (Thursday) to December 31st (Saturday) (planned)
Everything was really delicious, and I was filled with the feeling that I wanted to share this excitement with my acquaintances from one end to the other. As expected of GINZA SIX!
In addition to the dishes and sweets featured in this article, the GINZA SIX official website introduces autumn-only menus and special menus, so be sure to check them out.
---
Autumn taste of GINZA SIX which prepared lineup full of variety. If you are looking for a delicious autumn in Ginza, why not visit GINZA SIX?
*All prices include tax. A separate service fee will be charged depending on the store.
* Reservation period, sales period, sales volume, etc. vary depending on the store. Please contact each store for details.
* Due to the spread of new coronavirus infection, the contents may be changed or canceled without notice.
*The contents of this article are as of the interview date (2022/8/31). Please note that it may differ from the latest information.
<Past coverage article>
[Preliminary experience report] "Ginza Town Bar 2022" is the best gourmet event where you can challenge a high-class bar for about 1,300 yen. Attention Ginza Beginners!
[Interview report] Fun leads to learning! "I tried it ~ Amusement park where you can learn with your body ~" is being held at Tokyu Plaza Ginza (until September 4, 2022)
[Artizon Museum] "Two Journeys for 140 Years of Birth Shigeru Aoki x Hanjiro Sakamoto" Press Preview Report
[Coverage report] The dried flower specialty store "Calon DRY FLOWER Hanare Ginza Yurakucho" opens!
[Interview report] 5 new works appear in public art in Marunouchi! Opening of the 43rd Marunouchi Street Gallery
[Artizon Museum] Three special exhibitions will be held at the same time! Press preview report