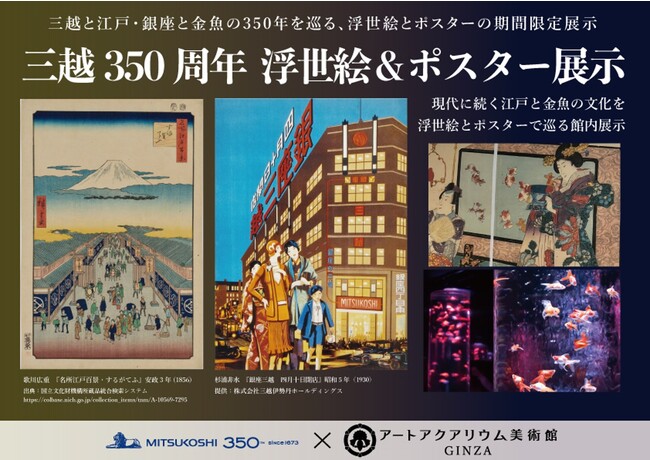 Ukiyo-e and posters will explore Edo, Tokyo, and Ginza, which have progressed along with the history of the 350th anniversary of Mitsukoshi.
ART AQUARIUM MUSEUM GINZA (Location: Ginza Mitsukoshi) is home to Mitsukoshi, which celebrates its 350th anniversary in 2023. To commemorate this, a special panel titled "Ukiyo-e x Goldfish x Ginza" is currently on display at the ART AQUARIUM MUSEUM GINZA. In the special panel, the scenery of Nihonbashi when Mitsukoshi was born, the scenery of goldfish viewing in the Edo period, the stylish scenery when Ginza Mitsukoshi opened in 1930, and the current appearance of Ginza Mitsukoshi. expresses (On display at the Ukiyo-e exhibition corner in the museum)
・Mitsukoshi and Art Aquarium
Founded in 1673 as the kimono store Echigoya, Mitsukoshi has a long history as Japan's first department store, and continues to offer special value to people under the theme of "innovation that goes beyond tradition."
---
---
ART AQUARIUM also continues to build on its history while being innovative, by presenting a new form of "goldfish viewing" that flourished in the Edo period and became a popular culture in modern times.
And now, Mitsukoshi and Goldfish, these two histories are connected in the city of Ginza where tradition and innovation coexist, and we are further evolving as Art Aquarium Museum GINZA to deliver a special experience to everyone.
We would appreciate it if you could experience the history of Mitsukoshi and the beautiful culture of goldfish appreciation in this memorable year of 350th anniversary.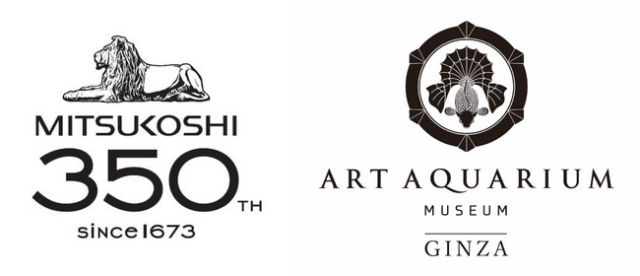 ・Traditional Japanese culture that can be appreciated at the ART AQUARIUM MUSEUM GINZA
In addition to a special panel about the history of Ginza from ukiyo-e and posters, you can also see various exhibits that highlight Japanese culture that has continued since the Edo period.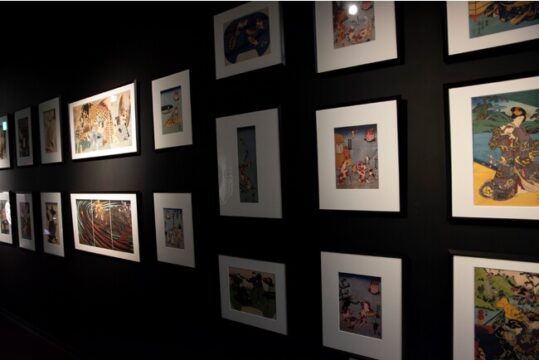 Ukiyo-e collection <br />In the museum, we collect and display koi and goldfish from the works of Utagawa Kuniyoshi, an ukiyo-e artist from Edo. Ukiyo-e is also one of the popular cultures popular with the people of the Edo period. Since goldfish are also drawn in it, it can be seen that goldfish were also loved by people in the Edo period.
Kuniyoshi gained popularity for his humorous style, such as anthropomorphizing goldfish. Please appreciate the goldfish swimming in the ukiyo-e.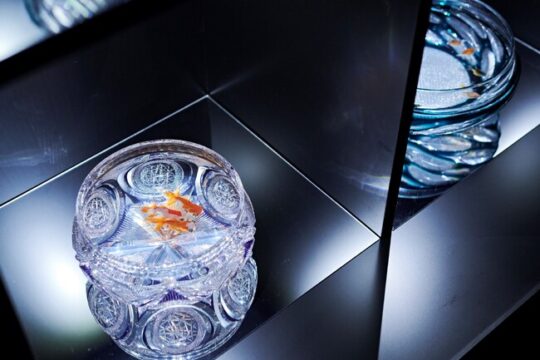 Display shelf of goldfish <br />In the Edo period, when goldfish appreciation became popular among the common people, glass was a precious commodity. It is said that he enjoyed "Mi)".
In the museum's exhibition work "Goldfish Display Cabinet", goldfish swim in a small bucket-sized Edo kiriko glass, and you can appreciate its appearance from above. Edo Kiriko is also a traditional Japanese craft that has been around since the Edo period. You can enjoy the fusion of two cultures with roots in Edo.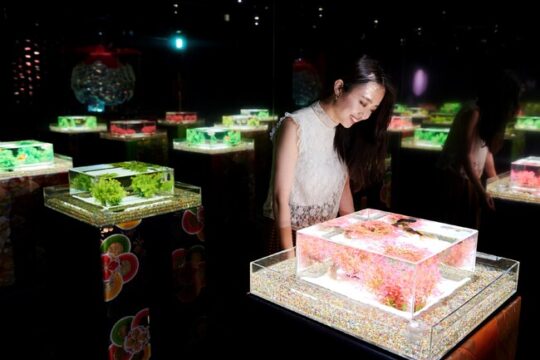 The new goldfish evaluation "New Goldfish Evaluation" is also an aquarium work that allows you to "look at" the goldfish from above. By looking at the goldfish from above, the individuality of each goldfish can be appreciated more clearly, so even today, goldfish are sometimes evaluated by looking at them from above. Here, 24 aquarium works are lined up, and 24 kinds of unique goldfish swim gracefully.
·Equipment outline
Facility name ART AQUARIUM MUSEUM GINZA (English notation: ART AQUARIUM MUSEUM GINZA)
Admission fee WEB ticket 2,300 yen https://ticket.artaquarium.jp/
Same-day ticket 2,400 yen (Same-day tickets are sold on the 9th floor of Ginza Mitsukoshi New Building)
Location Ginza Mitsukoshi New Building 8th floor (entrance is on the 9th floor) (4-6-16 Ginza, Chuo-ku, Tokyo)
Access Directly connected to Ginza Station on the Tokyo Metro Ginza Line, Marunouchi Line, and Hibiya Line Five-minute walk from Tokyo Metro Yurakucho Line, Ginza-itchome Station (Exit 9) Toei Asakusa Line, Tokyo Metro Hibiya Line, Higashi-Ginza Station 2 minutes on foot via underground passage towards Ginza Station 9 minutes on foot from JR Yurakucho Station (Central Exit / Ginza Exit) Business hours 10:00 to 19:00 (subject to change)
Closed days Same as Ginza Mitsukoshi closed days (In addition, it may be closed irregularly due to maintenance etc.
Please check the official website for details)
Official HP http://artaquarium.jp/
Official SNS Twitter https://twitter.com/artaquarium_tm
Instagram https://www.instagram.com/artaquarium_tm_official/
Facebook https://www.facebook.com/artaquariumofficial
Notes Strollers, suitcases, and pets are not allowed inside.
There are no lockers for luggage.
Organizer AQUA ART RELATIONS Co., Ltd.
Planning and Production Amuseum Parks Co., Ltd.
Operated by Amuseum Parks Co., Ltd.
Cooperation Isetan Mitsukoshi Ltd. Ginza Mitsukoshi
[Art Aquarium Production Committee] From the press release
<Related articles in the past>
1st Anniversary Celebration! ART AQUARIUM MUSEUM GINZA Early summer special production "Hydrangea Zukushi" will start from April 26th!
Have a fantasy experience at the Art Aquarium Museum during your family's spring break! All children will receive a "Goldfish Encyclopedia"
"Mecha Sakura ~SAKURA Special~" will be held from today! ART AQUARIUM MUSEUM GINZA Spring special project