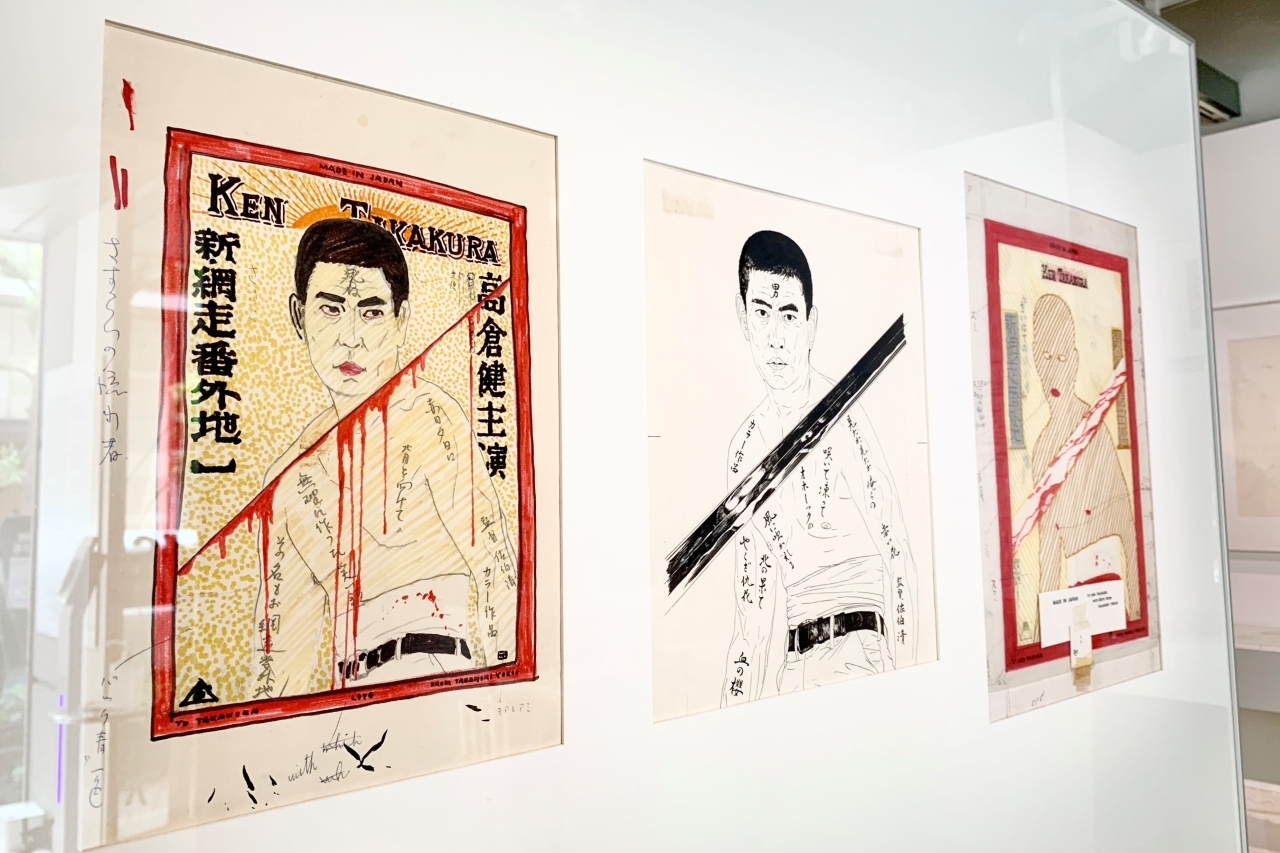 In the 1960s, he came into the limelight as a graphic designer and illustrator, and since the so-called "painter declaration" in 1981, he has been at the forefront of creating free-style paintings that are not bound by themes or styles, and is a creator all over the world. Tadanori Yokoo (1936-), who has had a great influence on
In February of this year, his many years of achievements were evaluated, and he was selected as a new member of the Japan Art Academy, a national honor institution. Even at the age of 86, he continues to create with a furious momentum, and for the exhibition "Tadanori Yokoo Kanzan Hyakutoku" scheduled to be held at the Tokyo National Museum this fall, he has completed 101 works in three years. It can be said that he is one of the Japanese artists that I would like to pay attention to again in 2023, such as creating new works.
Currently, an unusual exhibition "Tadanori Yokoo Ginza Bangaichi TADANORI YOKOO MY BLACK HOLES" , which collects Mr. Yokoo's works, is being held at the Ginza Graphic Gallery (ggg) in Ginza, Tokyo.
The exhibition period is until June 30, 2023. Admission is free.
At ggg, an art gallery specializing in graphic design, we have held the "Tadanori Yokoo Poster Exhibition Drawn for Good Fortune and Prosperity! ! (1997), "Tadanori Yokoo's First Book Design" (2012), and "Genka Fantasy Gengatan 1974-1975" (2018). We have introduced the attractiveness of Yokoo's graphic design in three areas: posters, book design, and illustrations.
The 4th "Tadanori Yokoo Ginza Bangaichi TADANORI YOKOO MY BLACK HOLES" is, as the name suggests, an extra edition. This exhibition was planned as the final chapter of Tadanori Yokoo's big graphic design story, focusing on the "process of design expression" rather than finished posters and books.
At the venue, one of each of the materials created from the 1960s to the 1980s, such as rough sketches before the work was completed, idea notes, drawings as expression elements, original drawings, collages, block copies for finishing prints and posters, and colored paper. About 250 works are exhibited.
These archives are under the Yokoo Tadanori Museum of Contemporary Art, which houses 3,000 works donated and entrusted by Mr. Yokoo himself. It was stored and organized in 80 cardboard boxes called.
In holding the exhibition, the people in charge of planning and galleries carefully selected exhibits by checking more than 18,000 photographs of works, materials, storage conditions, and about 2,500 copies of paper output from them. . Surprisingly, many of the works on display are the first public exhibitions, making it a very valuable content.
The exhibition is divided into two floors, the 1st floor of ggg and the B1 floor. On the B1 floor, the space was created with the image of the universe, and the works appeared in the darkness like beautiful celestial bodies.
As mentioned above, none of the finished products have been introduced. The content is not about the finished product, but rather the expression output at a certain stage of the process.
A major feature of the exhibition is that there are no captions attached to the works. There is no information other than the actual product, such as the title of the finished product, the year of production, and the production background.
(*Some of the images in this article contain information from the list of works and materials in the pictorial record)
When I asked Ms. Azusa Ozawa, who is in charge of the exhibition at ggg, about this exhibition method that excludes information, Ms. Yokoo repeatedly said, "Don't think too much (in the exhibition). Don't make it conceptual." I will say what I was told.
Mr. Ozawa: For example, there is an idea sketch for the poster of "MIRANO: 5" displayed here. This time, however, I wanted to let you enjoy the work without revealing it. I think it's natural, so I wonder if it's wrong to put the title of the finished product there.
In response to Mr. Yokoo's request, the exhibition did not have a clear concept, and the exhibitors and gallery staff consulted and chose what they wanted to show intuitively. The arrangement of the works can be said to be almost random.
Even the author, who is not particularly familiar with Yokoo's works, saw things such as the idea sketch for the poster for Chinsetsu Yumiharitsuki, the original poster for the 6th Tokyo International Print Biennale, and the original jacket for Opera Yokoo Tadanori. While there is an archive of a certain famous work, there are many works that even hardcore fans cannot associate with the finished product.
This is because, in fact, even the organizers do not know what materials are related to some of the exhibits. Such a chaotic place where rules are unnecessary is also a characteristic of "Bangaichi".
With no support for appreciation, relying only on my own memories and experiences, I was able to deepen my thoughts as my senses dictated. Hall" title.
The drawings with an unusual touch, the high degree of perfection of the sketches that seem to have been drawn casually, and the scribbled ideas are too many highlights, but what was particularly interesting was the fact that manuscripts are exchanged with data these days. It was a color specification paper that I no longer see.
The color specification paper is a sheet of tracing paper that is placed on top of the manuscript for platemaking, such as a block copy or original drawing, and an instruction on what color you want to print. It seems that you specified by pasting a color chip or writing in letters what color you want to make with % (multiplication) of CMYK.
The work at that time is vividly felt. At the same time as confirming the detailed instructions and bold color selection, Mr. Yokoo's carefully calculated psychedelic art designs ran through my head, and Mr. Yokoo painted these works directly. No, I was shocked to find out that I was coloring graphics filled with such a huge amount of information in my head.
In addition, the color-designated paper for the record jacket of "Tokyo Wasshoi" (Kenji Endo) (later used as the album jacket), and the original cover art of "Boogie Woogie Waltz" (Katsuhiro Otomo) are on display. and. Once again, I realize the breadth of Mr. Yokoo's work.
Before seeing the exhibition, I had imagined that "there is no finished product, so it must be a plain exhibition," but that was completely unwarranted, and I couldn't believe that admission was free.
The catalog of the exhibition quotes the following text written by Megumi Hirabayashi, curator of the Yokoo Tadanori Museum of Contemporary Art, for the exhibition "Yokoo Manialist vol.1" (2016).
"For Yokoo, what is called a 'work' is not the final form. A work once considered "completed" is nothing more than an archive for future works. In other words, everything that exists in the production process has equal value as a material. "
A group of archives that captures the inspiration of the young Mr. Yokoo. If it is Mr. Yokoo who repeats past motifs and creates new works, it is possible that these old archives may be rediscovered, edited, and connected to new unfinished works. existed.
The exhibition "Tadanori Yokoo My Black Holes", where you can experience Mr. Yokoo's black holes that suddenly appeared in Ginza, will be held until June 30, 2023 (Friday). Please come and visit us.
■Overview of the special exhibition "Tadanori Yokoo My Black Holes"
exhibition period
May 15, 2023 (Monday) to June 30, 2023 (Friday)
venue
ginza graphic gallery (ggg)
DNP Ginza Building, 7-7-2 Ginza, Chuo-ku, Tokyo
Opening hours
11:00-19:00
closing day
Sundays and public holidays
Admission fee
free
edit
Ryoichi Enomoto and Eiji Kitazawa
cooperation
Yokoo Tadanori Museum of Contemporary Art
inquiry
03-3571-5206
*The content of this article is as of the interview date (May 26, 2023). Please note that it may differ from the latest information.
<Past coverage article>
[Venue Report] Makoto Shinkai's "Suzume no Toshimari" exhibition will be held at Matsuya Ginza. Relive the movie story and immerse yourself in the charm of "Shinkai World"
Is the city of Tokyo pixelized? ! I have experienced "Pixelized Adventure in Japan" with Sony Park Mini.
[Venue report] Chikawa's first original painting exhibition "Nagano Exhibition" opens at Matsuya Ginza. More than 200 original drawings, as well as behind-the-scenes settings that fans must see! ?
[Interview report] DJ live 6 times a week! The Royal Park Canvas Ginza Corridor, a new hotel in Ginza where you can get drunk with alcohol and entertainment