Maiko Kitagawa depicts a monochrome fantasy world where animals and flowers live happily.
This exhibition, his first solo exhibition at this gallery, will feature approximately 40 new works.
Galerie Tamenaga October 28th (Sat) – November 26th (Sun), 2023
Maiko Kitagawa's solo exhibition "Hanakajo'' will be held at Galerie Tamenaga from October 28th (Saturday) to November 26th (Sunday). At our gallery, Kitagawa has gained popularity at numerous exhibitions both domestically and internationally, starting with his participation in the group exhibition "Nouvelle Ère du Japon III" at our Paris store in 2018. This exhibition will be a memorable first solo exhibition.
Using only black dermatographs (oil-based pencils), Kitagawa continues to draw monochrome worlds in black on white paper as a medium. Animals appear as the main characters in the painting, with Japanese wild flowers in the background. Dressed in human costumes, they sometimes sing, dance, perform puppet shows, and imitate battles, inviting viewers into a fun and mysterious world of darkness. If you listen closely, you can almost hear the whispers of animals. What do the creatures playing on the screen say to you?
---
---
For Kitagawa, black and darkness are "the gateways that arouse curiosity and imagination." It is said that when fragments of memory connect with imagination in a black world and you follow the contours that appear in a phantasmagoric manner, there is a moment when a flower suddenly blooms on the screen. Flowers act as triggers, creatures appear, and a fantasy world unfolds. The title of the solo exhibition, "Hana Kansho,'' reflects the artist's desire to wish and celebrate the arrival of these flowers.
In this exhibition, which will display approximately 40 new works, you will surely feel as if you have wandered into a dark fantasy world. We would like to invite you to take this opportunity to enjoy the work created by Kitagawa's precise depiction power backed by his unparalleled imagination and ability.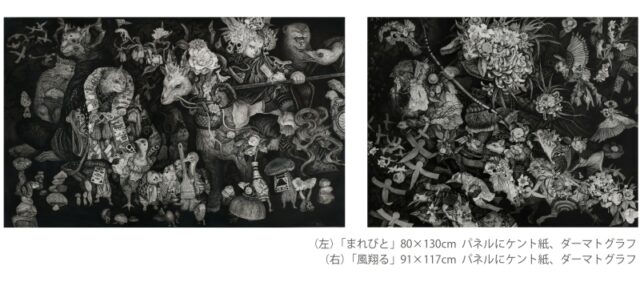 ・Maiko Kitagawa ~Maiko KITAGAWA~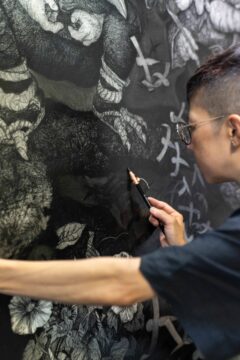 Born in Saitama Prefecture in 1983
2012 Completed doctoral course at Tokyo University of the Arts Graduate School Oil Painting Laboratory
2006,07 Solo exhibition (Gallery Ginza Forest)
2008, 10 Ballpoint Pen Painting Exhibition (TAIMEI Contemporary)
2011,13,14,15 Solo exhibition (Taimei Gallery)
2013 Solo exhibition (Nikei Fine Art / Singapore)
2018 "Nouvelle Ère du Japon Ⅲ" (Galerie Tamenaga Paris)
2020, 21, 22 "Nine Japanese people who charm Paris" (Galerie Tamenaga)
2020 "Flower Exhibition – Hundred Flowers" (Galerie Tamenaga)
2021 "Nouvel Horizon Japon" (Galerie Tamenaga Paris)
2021, 22 "Japanese Eight Artists Captivating Paris" (Galerie Tamenaga Kyoto)
2023 "Merry Cherry Blossom" (Galerie Tamenaga Kyoto)
In addition, he has exhibited at numerous art fairs including Paris, Tokyo, Brussels, the Philippines, Singapore, and Taiwan.
・Exhibition Overview « Maiko Kitagawa Solo Exhibition "Hanakajo" »
Date: October 28, 2023 (Sat) – November 26, 2023 (Sun)
Venue: Galerie Tamenaga 7-5-4 Ginza, Chuo-ku, Tokyo TEL: 03-3573-5368
Time: Mon-Sat 11:00-19:00 Sun/Holiday 11:00-17:00
Official website: http://www.tamenaga.com
[Gallie Tamenaga Co., Ltd.] From the press release
<Past related articles>
Galerie Tamenaga ≪ Dufy and Laurencin ─ Two people touched by fashion ─ ≫ Event information (September 16th – Ginza, Tokyo)
Galerie Tamenaga Tokyo ≪Tom Christopher Exhibition≫ Information (May 13th – Ginza, Tokyo)
Galerie Tamenaga "Takehiko Sugawara Exhibition" Information (Ginza, Tokyo)