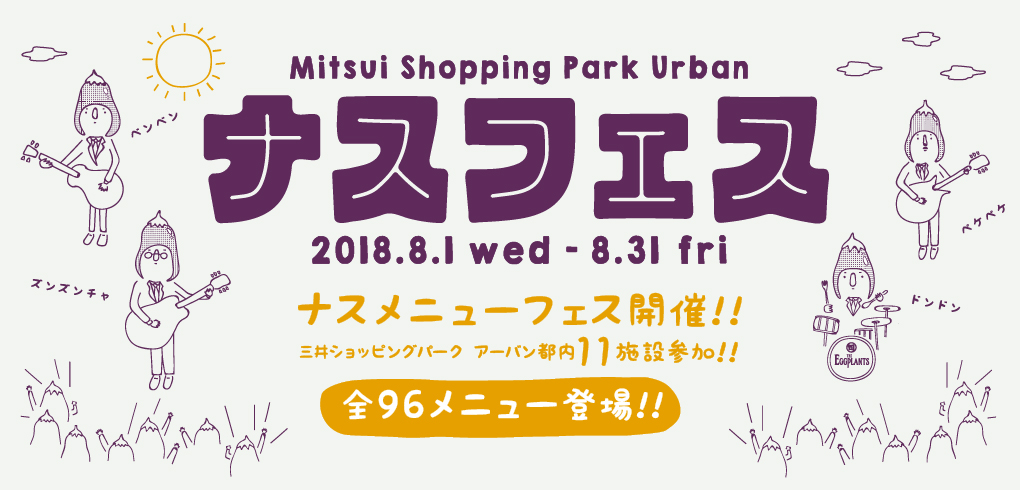 This year the delicious season of "eggplant" has been done.
Tomatoes, green peppers, corn · · · It is an eggplant that tends to be stamped as a "supporting role" by virtue of colorful summer vegetables. But never such a thing. Eggplant can be baked, boiled or well, even if it can be pickled, as a "all-purpose vegetable", it holds the potential to become the leading role of the table!
This summer's noteworthy food event " Nasfès " is a "festival of eggplant" that is carried out at 11 stores in Tokyo including Ginza, Nihonbashi and Akasaka. The limited-time original dish using the freshened eggplant that the topic of the greengrocer "Shun Hachiku Shrine Store" that has expanded to 14 stores in the capital has appeared appears.
The holding period is from August 1st to 31st, 2018. It just overlaps the eggplant season.
This time, we will introduce three stores recommended by the editorial department from inside of Nasphere participating stores in Ginza.
Belgian Brasserie Court Antwerp Six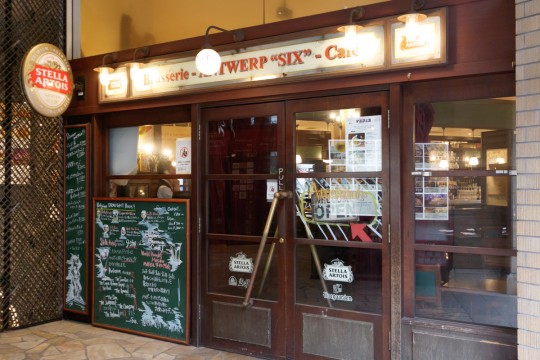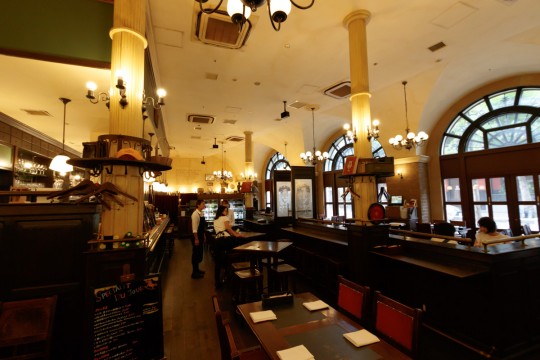 It is 5 minutes on foot from Ginza · Shimbashi station. In "Antwerp Six" you can enjoy authentic Belgian beer cafe style, authentic Belgian beer and traditional Belgian cuisine marriage. The height of the ceiling, which is 5 meters, is impressive, and the inside of the shop makes you feel the atmosphere of the home from the wall to the decoration.
Nara

Prefecture round eggplant

A

Sshepantie

Here is the "Nasphez" special menu provided by Antwerp. It is a dish that baked grilled eggplant with beef and mashed potatoes and cheese. Ideas that make use of the characteristics of Marunui made from Nara Prefecture, which is hard to collapse, as a device is characteristic.

Palmantie refers to French home cooking using potatoes and ground meat, and it seems that there is a possibility to use tomato as a vessel. This time, I tried using eggplants for seasonal vegetables, and the response of the customers was excellent. He seems to call a reputation.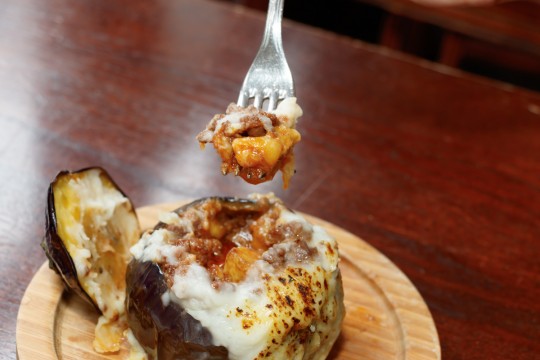 Plenty of potatoes and minced meat in plenty of thick cheese. When I try it, I feel that I can eat it every day with somewhat gentle taste that is reminiscent of the French countryside. The round eggplant serving as a vessel is crisp and good compatibility with mashed potatoes that have been made into a hollow.
Sum

song Yamagata Sansui eggplant and raw ham Parmesan cheese
Wakayama prefecture-produced water eggplant, which has thin skin, sweetness, plenty of moisture and plenty of fresh water. It is this dish that made this water eggplant that is utilized for both raw and salad carpaccio. Including a bite, it was just as fruity like a fruit "I am surprised that this is an egg?" The flavor is also plus with raw ham and cheese, and it is a perfect dish as a pair of sake. Why do not you enjoy it with wine or Antwerp's proud Belgian beer?
Grill and wine bar Arosa Ginza store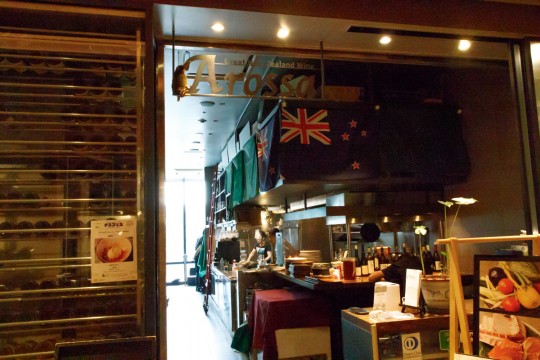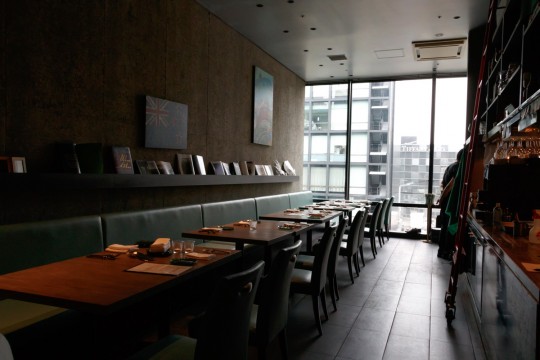 The next "Nasfaise" store is a contemporary, Oceanian · cuisine " Arossa" which has a shop in the Ginza Vervia hall. Meat dishes using New Zealand beef and rum cultivated with abundant nature, and New Zealand carefully selected New Zealand wines are offered cooking that sticks to the taste of authentic New Zealand authentic.
Eggplant

child tart

This is how sweet with eggplants. It is a dish packed with eggplant pulp and crouton under ice cream using Kochi prefecture rice eggplant. I make use of the creamy flavor of the white eggplant from Ibaraki prefecture to make a compote (preservation method of traditional European fruits) and use rice eggplant having richness for ice cream to stand out presence.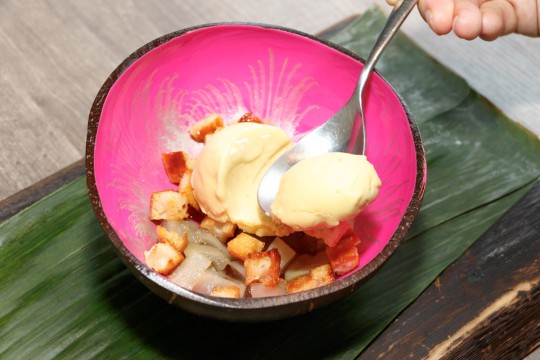 This sweet which is divided into two layers of ice cream and bass, but when you put it together, you can enjoy the texture of tart when you put it together. In addition, Ice cream is deep fried once by getting inspired by Japanese "fried soaking", and it is also characteristic that Japanese eat and feel the nostalgic feeling somewhere. You can feel a refreshing feeling of Japanese style from the vessel, too.
Mariage played by each layer in his mouth is a touching impression. Please come and take a look.
Pinpyonza GINZA UNA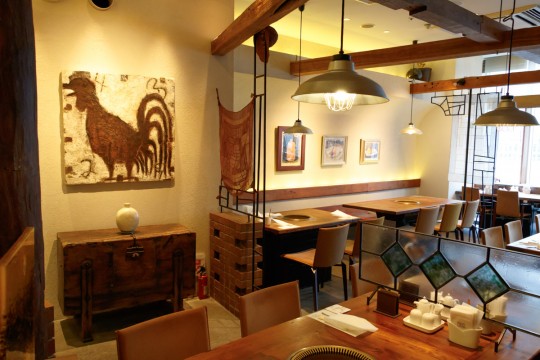 The last thing to introduce is "Ponpyon-cho" which develops 13 stores in Miyagi prefecture, mainly in Iwate Prefecture, Kanto. I am offering the meat roasted meat of Iwate brand beef and Korean cuisine including famous "Morioka cold noodles" in the high-rise window seats overlooking the city of Ginza.
Shrinkage of
Na

Graphics and cheese

Special menu devised to participate in 'Nasphez', eggplants and cheeses. Juicy and slightly sweetness is felt, and if it is a baked eggplant, it is using delicious Kumamoto prefecture red eggplant. Although it is said that compatibility with cheese is outstanding as it passes through the flesh as it flours, it seems that there was trial and error using various varieties of eggplants up to this red eggplant.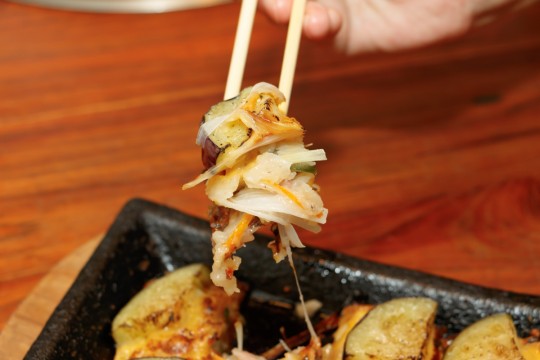 I tried it quickly, but I was surprised that the flavor of eggplants was firmly shown, although the pulp was not cooked at all though it was coarse. A gem that further "evolved" the classic cheese shijimi, the taste is already about to push the drumming saying this from a child to an adult if hesitating.
Na

scan namul of

This is a dish seasoned baked eggplant and steamed egg with special sauce. In contrast to the eggplant chisudi of eggplant challenging a new element, Korean food is a dish of "standard" in contrast. What is being used is a long eggplant produced in Kumamoto Prefecture, a variety characterized by a slightly harder skin and a soft meat quality. It seems that this long eggplant is normally used as a namul.

I tasted it, but it is just simple, high purity deliciousness that tastes meal. Personally, I definitely wanted to enjoy pairing with sake.
Memories of
summer

, memories of eggplants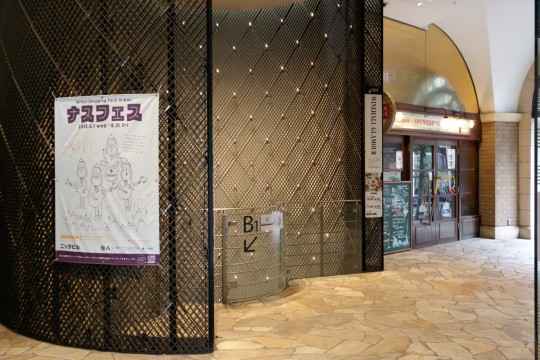 This time, we introduced the special menu "Nasfaes" Recommended by Kokosil Editorial Department, how was it?
When asking each shop about the eggplant of the Shinka 8 fruit shop that is used in this festival, "It is firm, glossy, fresh, very good quality is very good" and it is appreciated as a different mouth It was impressive. Also, looking at nutritional aspects as well as its high quality, it is packed with attention points unique to hot summers, such as body temperature adjustment and summer prevention.
Is the key to overcome this hot weather in "eggplant"?
Why do not you discover the charm and taste of the new eggplant with 'Naspheres' where unique chefs wield their skills.
|

Hosting

information
Holding period: Wednesday, August 1, 2018 to Friday the 31st (Friday)
Venue: Ginza Velubira Hall, Ginza Glacé, Nitaville, Kolding Muromachi, Nihonbashi Sanshua, Credo Nihonbashi, Akasaka Biz Tower, Iidabashi Sakura Terrace, Masaki Dining, Okachimachi Yoshike Head Office Building
Over 11 restaurants in the facility 63 restaurants
https://mitsui-shopping-park.com/urban/special/18-113/18-113.pdf