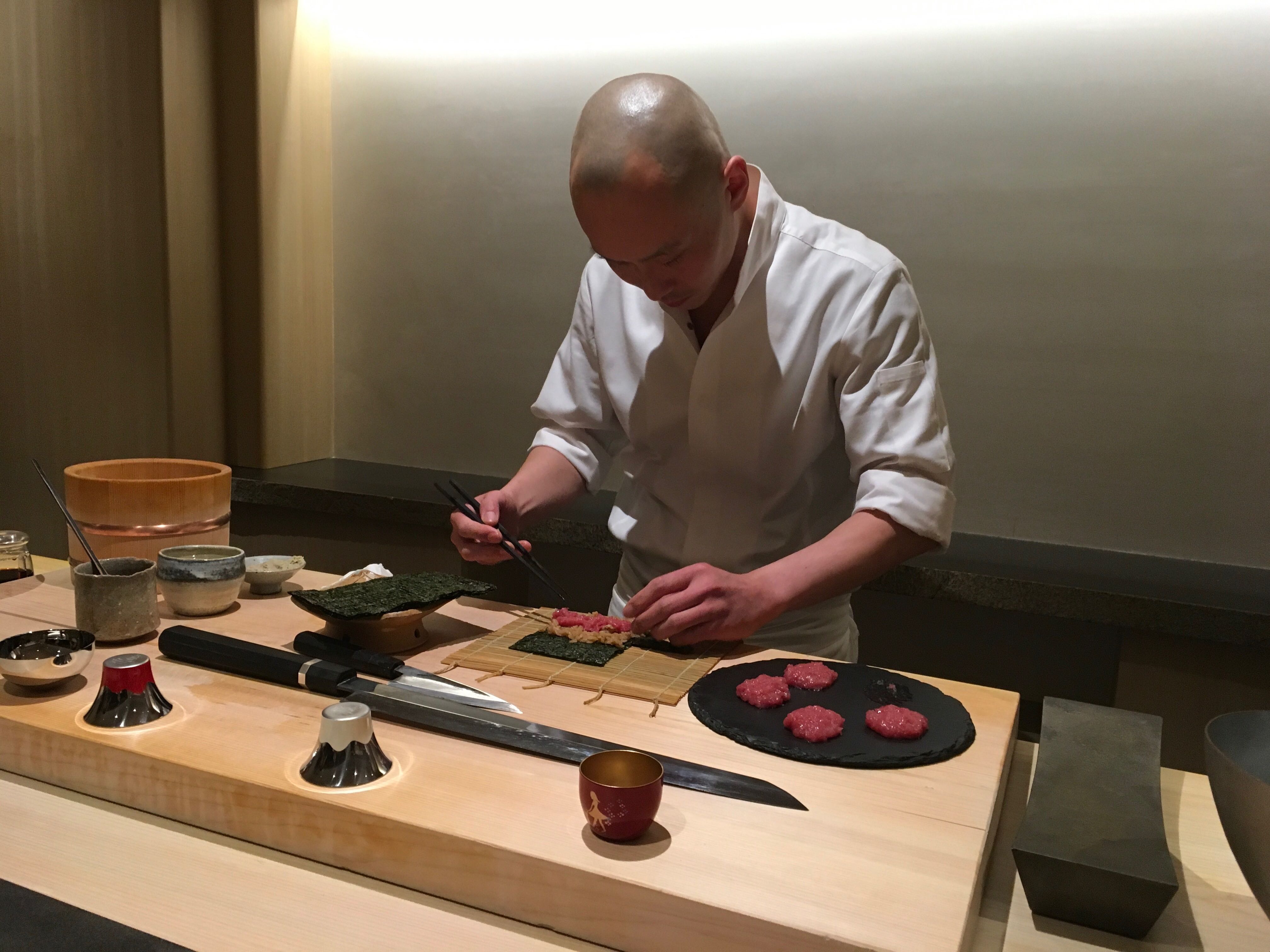 Tsubamesanjo is the area combined with Tsubame-shi and Sanjo-shi located in the center of Niigata prefecture.
Metal processing technology has been developed since ancient times, and we are still producing high quality metalware.
The Tsubame Sanjo Local Industry Promotion Center, which aims to revitalize local culture with its Tsubame Sanjo as a base for industry and tourism, is surrounded by 4th floor of the Ginza Six, the largest commercial facility in Ginza area <Niigata · Tsubamesanjo products We will open a pop-up store "Tsubame Sanjo style shop" with the concept of "life to be live" for a limited time period from Wednesday 26th December 2018 until January 15th (Tuesday) 2019 .
We participated in a hospitality experiences meeting for the media held according to it, so I will tell you how it is.
---
The venue of the hospitality experiences party is Sushiya smelly . It seems that parents of Hiroyuki Sato of the general are from Sanjo city. Mr. Sato held a Niigata experience with Edo-front Sushi, Tsubamesanjo's alcoholic drinker, and Niigata sake.
---
---
The first cup is cold at the Daiginjo Hakkaisan which boasts the highest quality among the many Hachikai mountains. The liquorware is a bronze cup of Tamagawa-do . Copper has high thermal conductivity, so the liquor becomes cold as soon as you poured the cool wine. It is a characteristic that alcohol temperature is difficult to change.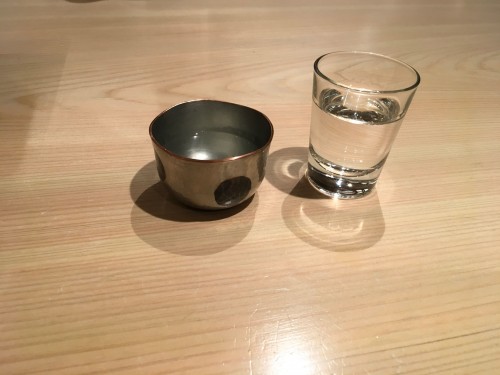 To make you feel the difference with the copperware, we also prepared what we put in a glass sake bottle. Although the contents are the same alcohol, the strange thing is that the taste differs completely when the vessel is different. It seems to work on copper to melt the taste by taking the sauce of sake.
And, according to Daisuginjo Hakkaisan, a hand-rolled sushi of a rare part called "Tsukasa" of tuna was offered. Vinegared rice vinegar using sticky vinegar and rolled with laver of Ariake. It is a dish boast that is always offered as a preliminary in a greasy course. Tuna with strong umami and alcoholic without spicy taste well.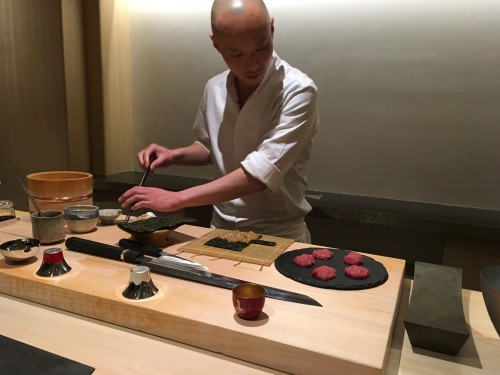 The 2nd cup was offered in a special sake brewed Hachikaiyama with a stainless steel (double) sake bottle. It seems that local Niigata people are drunk often from usual times. I received it with the best season for the present season, but by warming it will make the taste more mellow and can enjoy the original taste of sake. The liquor unit is painted to eliminate stainless steel metal odor, and has a double structure to block heat. It seems to be good to have tea or ice cream as well as hot sauce.
It is a handful of liver to match. It seems to be one of the most popular items on the course. Since liver is a little chilled, it was possible to enjoy the temperature difference between cold neta and warm liquor after including a handful as it is in the word of the general.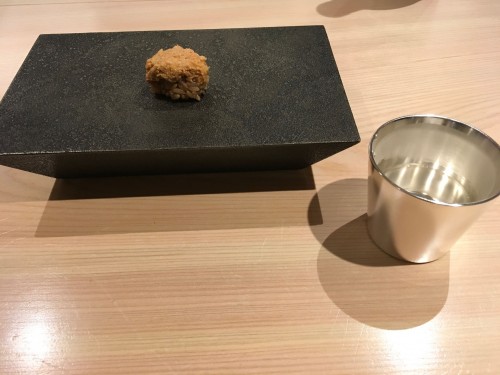 The last cup is Jun Rin Ginjo Hachihama Mountain Shiborishi Hakuhaku Echigo with stainless steel + Chen Zhen and Makie 's sake bottle. Makie is drawn after treating the surface of the metal and overlaying the noises. Metal odor is suppressed by plating on the inside. This sake is freshly squeezed rice wine and the alcohol degree is also high, but stainless steel which is thinned thinly tells direct brewing intact taste without disturbing the taste of sake.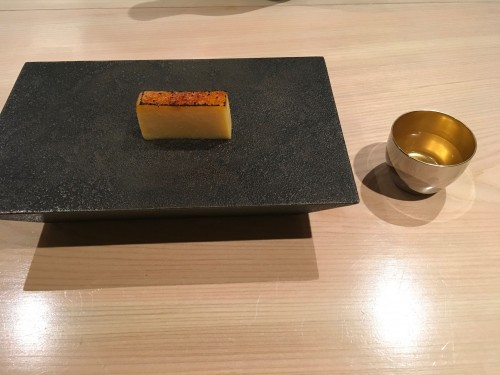 It was Tamagoya that the general chose as the last shime. Because it is a caramelize to finish, you can enjoy a crisp texture. I was able to get it in a dessert sense.
---
After the experience sessions I broke into the "Tsubame Sansho style shop" of GINZA SIX.
Starting with liquor equipment used when you received sake, you will find a variety of tools ranging from knives and pots to nail clippers.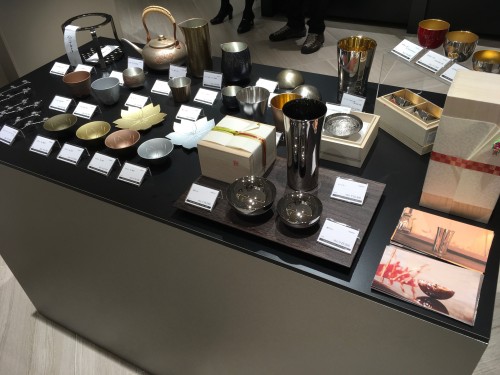 The hospitality experience meeting this time was held as a proposal "How can we use new products to create new value in our life?" I was able to see the best hospitality with the finest sushi and alcohol and liquor equipment.
Tsubame Sanjo's metalworking products are drawing attention overseas as well. Various events will be held even at the style shop opened at GINZA SIX this time and you will get hints to make use of the product in your life. Because it is limited for a limited time, please be careful not to miss it.
Tsubamesanjo style shop overview
Duration: Wednesday, December 26, 2018 to Tuesday, January 15, 2019 10: 30-20: 30
※ Monday December 31 (Monday) 10: 30 ~ 18: 00
Closed on January 1 (Tuesday · Tuesday)
Wednesday, 2nd January 10: 30-20: 00
Venue: GINZA SIX 4F POP – UP (10-1 Ginza 6 – Chome, Chuo – ku, Tokyo 104-0061)
For details about the event please check the official website of the Tsubame Sanjo Local Industry Promotion Center .