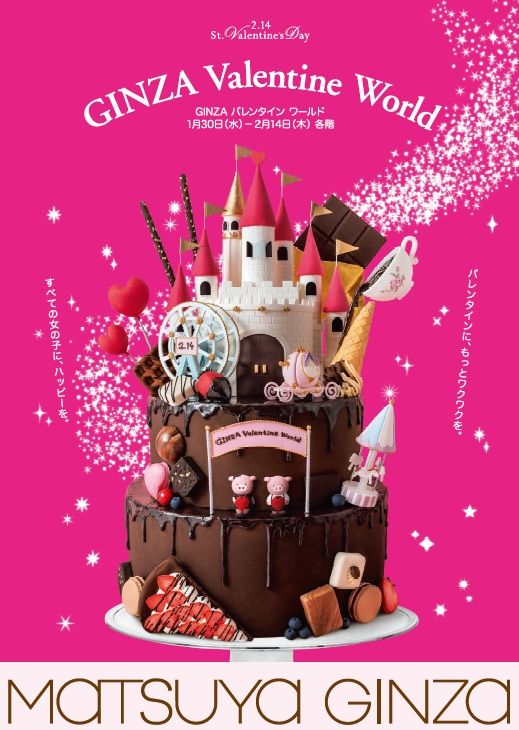 Duration: January 30 (Wed) – February 14 (Thu)
Matsuya Ginza will hold the Valentine Fair from the 30th of Wednesday at the 8th floor event square "GINZA Valentine World" in the whole building.
Matsuya Ginza Valentine Official Website
http://www.matsuya.com/m_ginza/sp/20190130_valentine_e.html
This year's concept is "Theme Park." On the 8th floor main venue, we expanded popular chocolate tree bonbon chocolat selected from domestic and overseas, including baked sweets and Japanese confectioneries by area as a theme park. In addition, we focused on demonstration sales more than last year, 5 popular soft creams, other parfaits and waffles, collaboration tea ceremony etc. with two old Japanese sweets that you can drink Matcha or coffee together with the top sweets made by Japanese cake maker on the spot etc. We will enrich the venue with a variety of lineups.
Rotary sushi is nothing, Rotary chocolat!?
Chocolate Go Round Party – ◆ 8th Floor Special Square in Event Square
Elegant all-you-can-eat half-hour match for 30 minutes, with more than 10 kinds of chocolate swinging luxuriously around.
It has been over the past 2 days full of stomach in the blink of an eye in a blink of an eye! Because it is a reservation system of 20 people each time, please make a reservation as soon as possible.
Date and time of opening: Wednesday, February 6, Thursday, February 7
Each time start time (30 minutes replacement system):
From 11: 00 to / 11: 30 to / 13: 00 to / 13: 30 to / 15: 00 to / 15: 30 to / 17: 00 to / 17: 30 to 19:
Capacity: 20 people each time
Participation fee: 1,000 yen (tax included)
How to make a reservation: Please make an entry from "Application" on the site from 10:00 on January 30 (Wednesday).
* The content of chocolate varies depending on the times. For each chocolate content, please check on the reservation page after January 30 (Wednesday) 10: 00.
Also, in the basement floor food floor, Matsuya Ginza Limited Pizza Stand appeared for a limited time. (Friday, February 8) Five kinds of luxurious chocolate pizzas are prepared with the concept of pizza stands that adults can enjoy. Let's break up elegantly with a drink in a cute bottle! In addition, we have a large selection of Valentine gifts at the underground 1 sweet confectionery store, and we will develop gift items that we would like to present together with chocolate at the 5th floor gentleman's special space.
Valentine 2019 Happy Pigs Disappearing Incident! – Looking for Happy Pig! –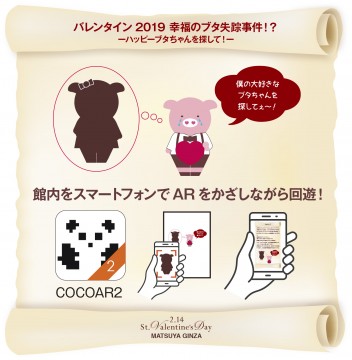 The two characters "GINZA Valentine World" main character "happy pig" are always known for good together, but an incident occurred before Valentine's Day!? A girl's happy pig became suddenly It's gone. Lucky baby kid with a bumpy boy. "Does anyone look for pigs?" This case of pig disappearance that a search wish was issued. For Lucky Pig, please make sure you become a detective and find Happy Piga! For those who have found it wonderfully, I will hand you a coffre COURT Tokyo Brownie (1 bottle) underground. Also the opportunity to win gorgeous prizes by lottery!
Other items and events that can enjoy Valentine 's day!
This year 's Valentine' s in Matsuya Ginza Tocotton! Please be fun!
This year's cake is here!
<Japan landing in Japan from Brazil! Matsuya Ginza Limited>
● "Diego Rosano"
Bonbon chocolat assortment (5 pieces) 2,160 yen (tax included) <200 points limited>
From Brazil, the taste of the popular chef that dominates the world's sweets scene lands in Japan for the first time. In the filling, there are plenty of Brazilian ingredients such as Cupuas and Kasha, which are characterized by refreshing acidity, and Amazon fruits, nuts etc. which are not yet familiar to Japan. Enjoy the taste of Only One in Japan.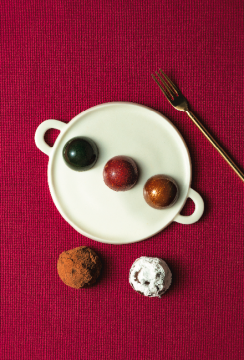 <Walking eating a signature sweets! >
● "La Maison du Chocolat"
Corne Maison 540 yen (tax included)
<End as soon as each day runs out>
Condensed plenty of the high quality cacao. It is a chocolate soft cream of rich flavor that deeply fulfills adults satisfying.

● "Compartes"
Love Smear 594 yen (tax included)
Decorate chocolate soft cream with almonds and freeze dried strawberries. With rich chocolate sauce and baked marshmallows.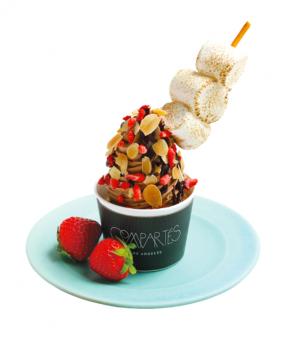 <The pizza indispensable for the theme park is on the basement floor>
● Pizza and Valentine and Adult Luxury Chocolate Pizza (5 types in total) 1 piece 810 yen (tax included) ※ Limited quantity
A pizza stand produced by the popular bakery "bread and espresso" at Omotesando appeared. Chocolate pizza with plenty of fresh cheese of "CHEESE STAND" and "Yokohama smoked workshop" smoked nuts is a sticking commodity that incorporates the popular bread "Mu" of bread and "bread and espresso".
● Bread and Espresso and Freestyle
Bottle Coffee Mocha 551 yen (tax included) / Strawberry White 601 yen (tax included)
(1 bottle / 280 ml)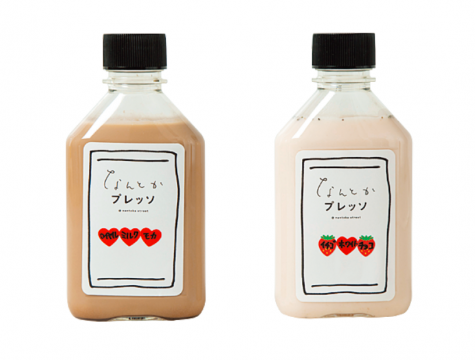 <Fair Information>
Matsuya Ginza's Valentine 'GINZA Valentine World'
Venue: Matsuya Ginza 8th Floor Event Square
Duration: January 30 (Wed) – February 14 (Thu)
---