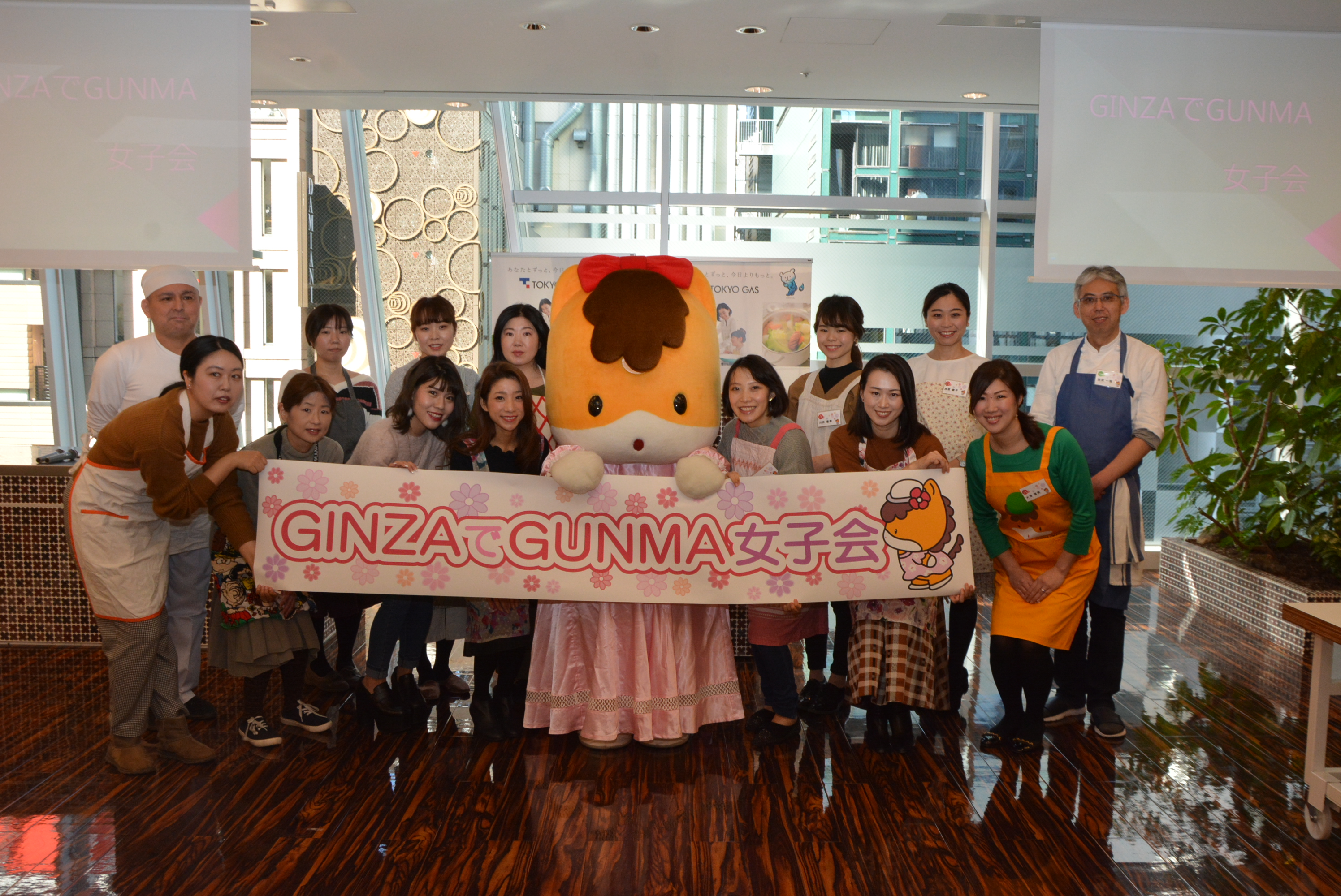 Gunma prefecture, "GUNMA GUNMA Women's Association" to be experienced by women living in the metropolitan area to experience the attractiveness of Gunma at Gunza's "Gunma General Information Center (Gunma chan)" · "Tokyo Gas Studio + G GINZA" It was held on February 4th.
Twelve people selected by more than 70 applications to the girls' association participated. After the event, the participants will send out the state of the girls' society with "# ginzade gunma" with instagram or twitter.
We also covered the editorial department of Kokosil, so I will tell you how it is.
---
First of all we got together "Tokyo Gas Studio + G GINZA". It is a cooklab equipped with state-of-the-art gas appliances located in the direction of Gunma Prefecture's antenna shop, "Gunma General Information Center (Gunma chan)". Here we invite two chefs from Kiryu City, one of the best eating doors in Gumma Prefecture, as lecturers and lecture on local cuisine using Gunma's ingredients.
This menu includes stewed noodle dishes using wide noodles called "birthmarks" which is a representative regional cuisine of Gunma, " Shishu chicken with chili strawberry and yayoshi beans of Gemma in Osaka , Yayoi Hime's Braze (steamed boiled) " , " Shimonita Negi's Gratin " .
Mr. Toshinobu Shimizu is the third shop owner of Shimizuya, a 85-year-old noodle shop. "Shimizuya" seems to be popular with Western style "tomato break down" menu.
---
---
"Iso Kiri Soba Matsumoto" where Mr. Kazuya Nishisu serves as the shop owner of the third generation offers a variety of noodle dishes. Mr. Nishi who has a background as a French chef suggests a French menu using Gunma's ingredients besides making a big bite this time.
First of all, there is a lecture on making noodles from Osamu Shimizu. Participants listen while taking notes.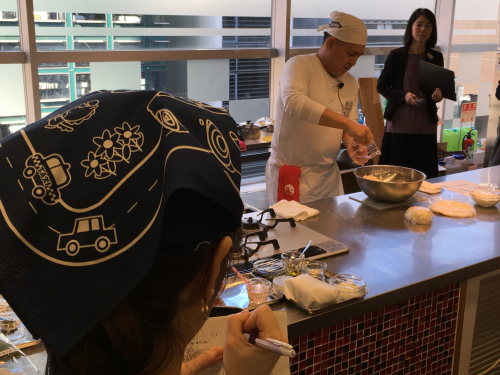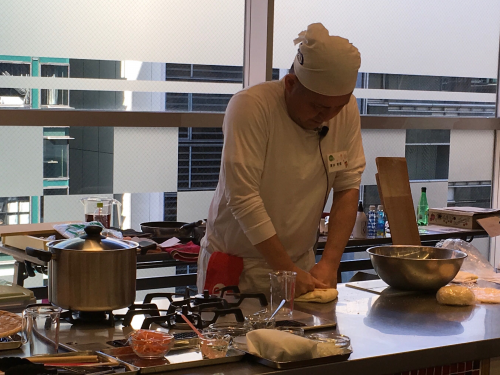 I will use a wide range of noodles like this for making a bite.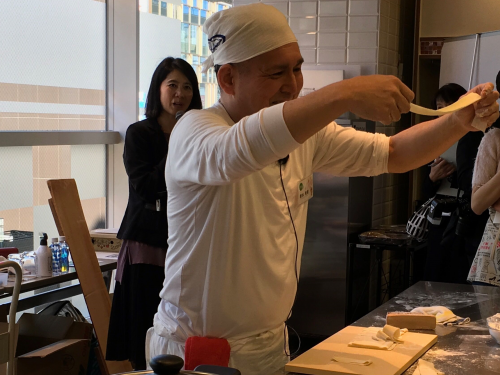 After that participants actually experienced noodle making. It is a valuable opportunity to tell professionally.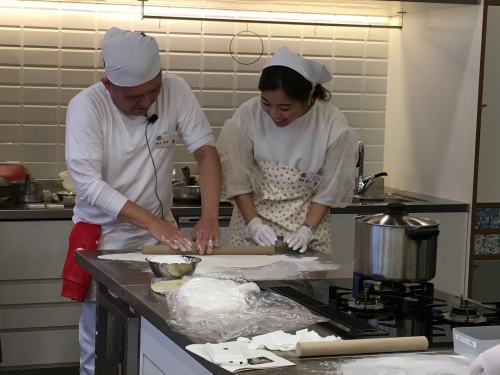 Next, there was a demonstration of French menu by Mr. Nishi. In the photo below, what Nishisuke is holding is Shimonita Negi used for gratin. It is perfect for gratin because it can enjoy a mellow texture with unique sweetness and aroma appearing by heating.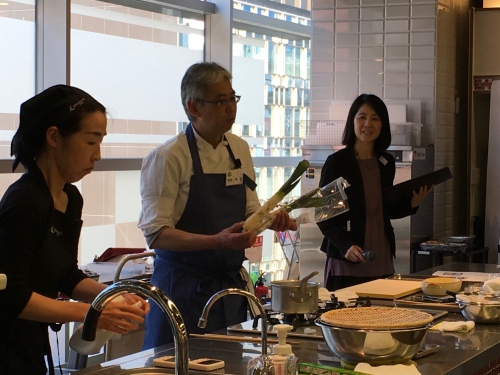 Participants will enter the cooking training again. We work on three items for each team at each group.
And finally it is finished. We tasted from the team that we made.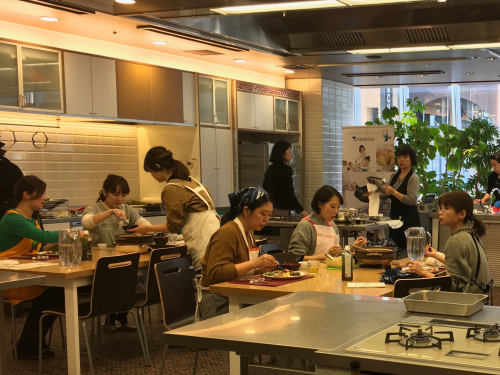 As a dessert, "apple ball" using prefecture-made apples by vegetable sweets specialty shop "Pasisuri Potazie" in Tokyo / Nakameguro has appeared.
---
After that participants moved to "Gunma General Information Center (Gunma Chan House)" to experience the shop.
In addition, "Gunma General Information Center (Gunma Chan house)" had items full of charm of Gunma such as Gunma chan goods. On the second floor restaurant "GINZA Tsuru" you can also enjoy dishes and local sake which used abundant ingredients from Gunma prefecture.
---
The girls' party of this time progressing in a friendly atmosphere. Participants could actually feel Gunma very close by touching the Gunma ingredients and cooking and speaking with it. Because "Gunma General Information Center (Gunma chan)" can experience Gunma casually in Tokyo, please drop in when you visit Ginza.
Gunma Chan house (Gunma General Information Center: http://kikaku.pref.gunma.jp/g-info/index.php