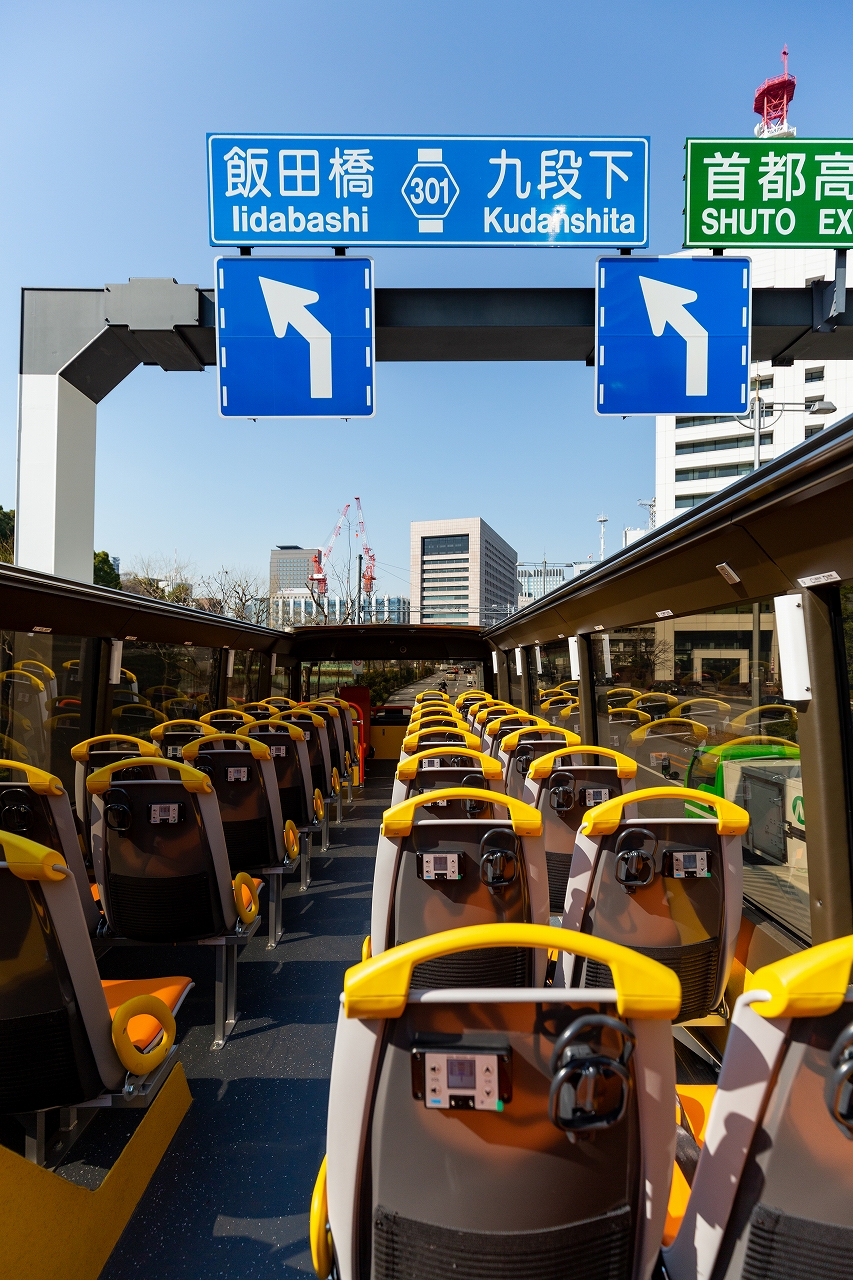 Two courses: "City Course" and "Bay Course" on Rainbow Bridge
Heisei Enterprise Co., Ltd., which operates VIP liners and VIP tours for high-speed night coaches and sightseeing bus tours, has a two-story open top bus "VIP VIEW TOUR" ( http://vipview.jp/ ) from March 29, 2019. The service of will start.
"VIP VIEW TOUR" is a two-story sightseeing bus that departs from "Tokyo Station" in the center of Tokyo and travels to major tourist attractions in Tokyo. There are 2 courses, "City Course" and "Bay Course". Both courses will tour Tokyo in about 70 minutes.
The number of foreign visitors to Japan in January 2019 was 2,869,000, an increase of 7.5% from the same month last year. More than 250,000 people in January 2018, which is about 180,000, recorded a record high as January (JNTO survey). However, as the travel market to Japan is diversifying year by year, it is necessary to meet various needs. We will introduce an open top bus as a new tourism tool, strengthen inbound handling, and anticipate inbound demand of 50,000 people a year.
---
---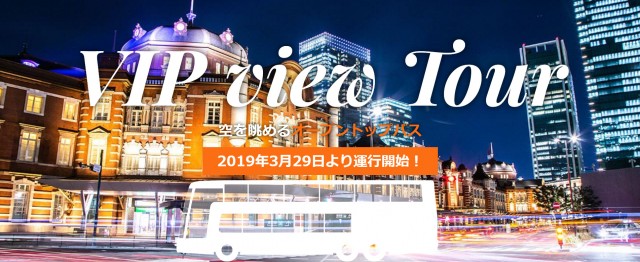 <Features>
1. View a 360-degree Tokyo view from a height of about 3, 8 meters.
As it is an open top type bus, there is no ceiling (roof). Because there is nothing unobtrusive, it is the greatest attraction that you can see the city view while looking at the sky. While running through the middle of Tokyo, you can feel the scent of trees and flowers with the change of wind and subtle seasons. In addition, the thrill that runs just under the traffic lights and signs coming in front of you is a masterpiece. You can experience the feeling of floating and feeling of being on a ride in an amusement park. The recommendation for early spring is the "cherry blossom tunnel" where the Imperial Palace Chidori is a cape. As you extend your arms, you will pass under the cherry blossoms that you expect to reach. You can expect a truly exciting experience.
2. An elegant and bold design based on red and black was given as a lapping with the image of "Japanese kimono" of a Japanese-style kimono with luxuriously designed lapping design gold thread depicting traditional Japanese beauty appropriate for the city of Tokyo. We adopted traditional beauty of Japan such as gosho cars, fans, Japanese umbrellas and handcuffs as motifs, and also drew cranes and cranes that appear in Japanese folk tales so as to have a movement that seems to jump out now, with a sense of movement. You can enjoy sightseeing in Tokyo with a bus that is vivid even if you just want to shoot to commemorate your ride.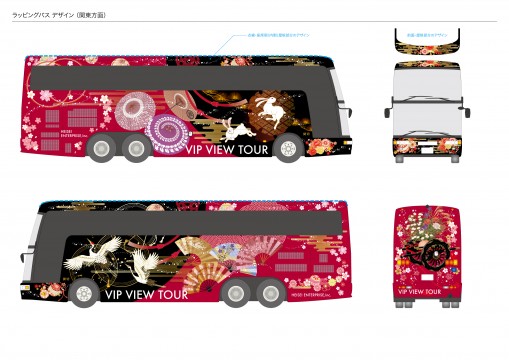 3. Two courses, "City Course" and "Bay Course" are available. Two courses have been prepared for arrival and departure from Tokyo Station. "City course" is an orthodox course that goes around famous spots called so-called famous spots in Tokyo, and "Bay course" is a course where you can enjoy the feeling of attractions running through the rainbow bridge at high speed after looking at the rainbow bridge. is.
"City course" includes Imperial Palace, Tokyo National Museum of Modern Art, Chidorigafuchi, Akasaka Guest House, Roppongi, Tokyo Tower, Ginza, etc. "Bay course" from Tokyo Station Red Brick Station Building to Imperial Palace, Hibiya Park, Tokyo Tower, Fuji TV, Rainbow I go around the bridge, Ginza, etc.
The service schedule is two daily flights departed at 12:40 and 16:30 on the city course, and three daily flights depart from the bay course at 10:30, 14:50 and 18:00.
4. Multilingual support with an automatic voice guidance system with GPS
A receiver mounted on the bus captures GPS position information of the running bus and automatically distributes tourist information at each point. Currently there are 3 languages of Japanese, Chinese and English, but up to 8 languages can be supported. We plan to release a guide system for Korean, Thai, Spanish, etc. from time to time, assuming multilingual for foreigners visiting Japan.
The travel time is 70 minutes for both "City Course" and "Bay Course".
The fee is 1,800 yen for adults (12 years and over), 900 yen for children (3 to 11 years old), and infants (0 to 2 years old) free (but on parents' knees).
The capacity is 45 people.
The service day is from Friday to Tuesday (Wednesday / Thursday Thursday).
[About Heisei Enterprise Corporation]
With the "VIP Liner" brand, the largest number of operations between Tokyo and Osaka. The first introduction of women-only vehicles in Japan, installation of its own VIP lounge and accommodation facilities "Wasabi" at various locations in Tokyo, Nagoya, Kyoto and Osaka, and entry into the private residence business, starting with the bus business Services to achieve convenience and cost reduction. We have also entered into sightseeing bus tours, and we offer low-cost, full-scale tours, taking advantage of the strengths that can be implemented in-house from tour planning to dispatch.
<About the company>
Heisei Enterprise Co., Ltd. representative: Takara Takura Location: 1-45 Mizuhodai Higashi, Fujimi City, Saitama Prefecture Establishing the second floor of Grand Shario: December 11th, 1992 Business: Private sightseeing bus and shuttle bus・ Transportation bus ・ Welfare lift bus ・ Travel business ・ Car maintenance business ・ Fitness club business ・ General care business ・ Accommodation business official site: https://busde.com/