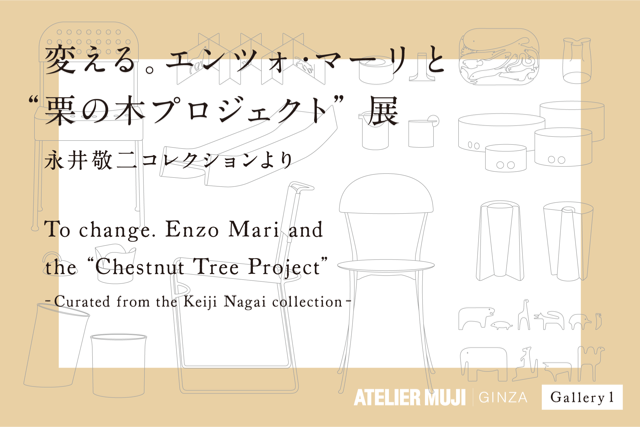 ATELIER MUJI GINZA is newly opened at Muji Ginza 6F, which will open from April 4, 2019.
ATELIER MUJI GINZA is the same 6F as MUJI HOTEL front , holding two exhibitions and events on various themes related to manufacturing and design, "Gallery" and "Salon" where people talk while drinking good coffee and alcohol We will develop "Library" with books related to design and art , and "Lounge" to hold events and workshops .
In the opening project, two exhibitions will be held simultaneously in an effort to explore the possibilities of design under the name of the "Kuri Tree Project".
'Change. Enzo Mari and "The Chestnut Project" Exhibition-From Keiji Nagai Collection-
Thursday, April 4, 2019-Sunday, July 21
---
---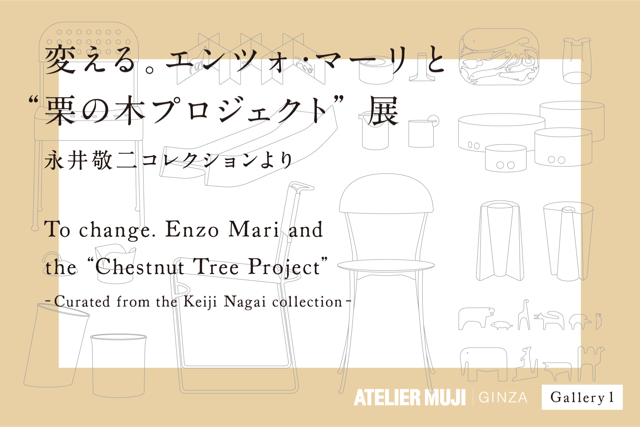 Plant the "chestnut tree project".
Why is it an exhibition by Ms. Enzo Mari, a master of the Italian design world?
In 2002, MUJI presented a total of 19 projects by Marly, tables and chairs. Since then the relationship between them has continued, and one day Mary told us:
"In the past, design has played a role in creating superior standards in the name of equality, but after high growth, it has become a means to sell the immediate product. I'm ashamed of being a designer What I propose from now on is not a near-term economy, but a project that will plant a chestnut tree, grow the tree, and eventually enjoy the fruit in the shade of the tree, lasting for a long time into the future. Shouldn't companies have that perspective? "
We agree with this and would like to think with you what we can do from here. This exhibition introduces the roots of Enzo Mari's work as an attempt to plant the first chestnut tree. From there, while imagining the way branches and leaves grow slowly and slowly.
-Enzo Mari
Born near Novara, Italy in 1932. He studied at the Brera Academy of Arts in Milan and worked on visual arts, and started designing with the introduction of Bruno Munari since the 1950s. With a career of over 50 years, the number of projects is over 1000. It has influenced society by continuing to talk about commercialism criticism not to be afraid of the client's backlash, and its own design philosophy, utopia.
– About Nagai Keiji Collection
The exhibits in Gallery 1 have been borrowed by interior designer Keiji Nagai for some of the vast collection of postwar modern designs that he has collected from around the world with his own eyes, hands and feet for 50 years. Mr. Nagai was born in 1948 in Karatsu, Saga Prefecture. In 1982, he established his own studio <K and Design Associates>. Contributing to cultural exchange both at home and abroad, the "Furniture Prize" was awarded from the Kingdom of Denmark. Gallery1 will hold an exhibition while borrowing Mr. Nagai's collection.
time:
10:00-21:00
Venue:
MUJI Ginza 6F ATELIER MUJI GINZA Gallery 1
Entry fee:
Free admission Hosted by: MUJI Planning cooperation: Keiji Nagai (interior designer) Cooperation: Studio Enzo mari Venue configuration: Kayo Keisuke architectural design office Graphic design: 6D Shogo Kizumino Construction: HIGURE 17-15 cas Guest curator: Kaoru Tashiro planning・ Operation: Planning for quality goods planning Inc., General Goods Department Planning and Design, Muji Ginza ATELIER MUJI GINZA
"Design starting with words: Chestnut Tree Project" Exhibition
Thursday, April 4, 2019-Sunday, June 23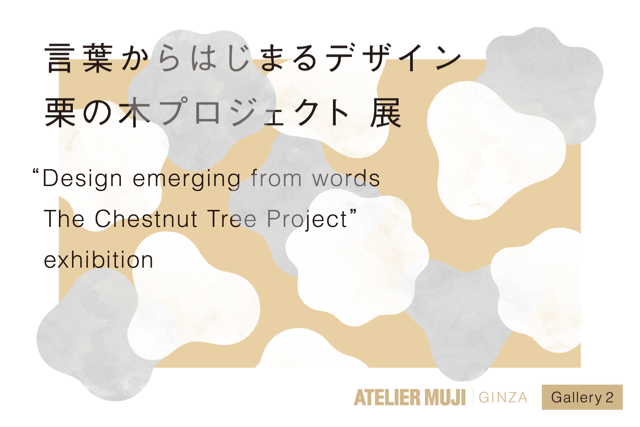 What is design? What a simple challenge.
The question is "design is ()".
People in various regions, generations and occupations expressed () in short words like haiku. The words are crowded in the hall.
In this exhibition, we will start with the words "Christian Tree Project" to expand the possibilities of design. By planting chestnut seedlings and raising them with compassion for their growth, the trees will eventually become shady, produce fruit, leave off descendants, become tools, furniture and homes, and support people's lives from time to time. It is a project that let's practice such activities in the way that person is through design.
Well, why don't you start with words too?
time:
10:00-21:00
Venue:
MUJI Ginza 6F ATELIER MUJI GINZA Gallery 2
Entry fee:
Free admission Hosted by: MUJI Venue: Kayo Keisuke Architectural Design Office Graphic Design: 6D Shogo Kizumino Construction: HIGURE 17-15 cas Senior Curator: Suzuki Junko Planning and Management: Good Goods Planning Co., Ltd. , MUJI Ginza ATELIER MUJI
ATELIER MUJI GINZA
See information and reviews