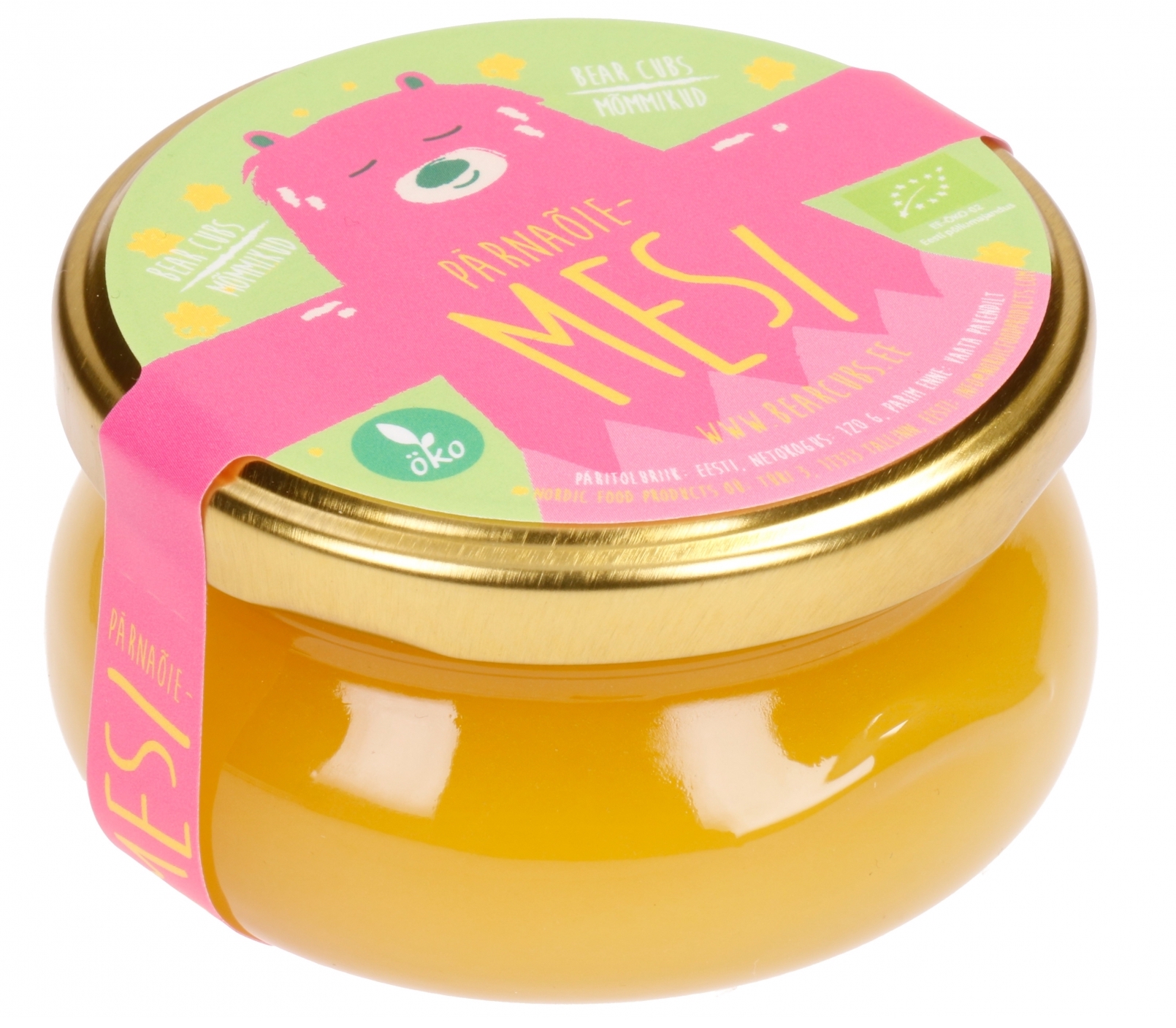 All seven types of Kuma-san characters from April 26 (Fri)
Next Innovation O Inn (Tallin, Estonia), based in Estonia, will renew seven BEAR CUBS (Bear Cubs), an organic honey from Estonian honey food company Nordic Food Products, at Ginza loft store I will release it.
" Honey " formulated with Bee Pollen ※ 1 and Bee Bread ※ 2
So far, the first organic "non-heated juicing honey 120g" to be released in Japan is made by combining Hyakuhana Honey, Bee Pollen, Bee Bread and Bee Wax.
※ 1 Bee Pollen: Rolled pollen collected by honeybees, which contains vitamins, minerals, proteins, enzymes, etc., has been popular as a "super food" in recent years.
※ 2 Bee bread: Bee Pollen collected by bees and honey are naturally fermented in the nest.
---
---
110% increase <br /> Yano Research Institute of increasing 2022 1,964 billion forecast 2017 domestic organic food demand was announced in October 2018, "Organic food market scale transition and predicted" According to the 2017 Japanese organic market scale Is projected to be ¥ 178.5 billion, up 102.3% from the previous year, and ¥ 196.4 billion in 2022. With the increase of items in the organic market and the expansion of sales channels, the awareness of organic foods is rising with the holding of Tokyo Olympics and Paralympics in 2020, and the demand for organic foods of general consumers is expected to increase.
Japanese distribution amount of about 46 thousand tons of honey, domestic about 6% 2.8 thousand, according to import about 96 percent 43 one thousand tons <br /> Ministry of Agriculture, Forestry and Fisheries in November 2018 of the "circumstances surrounding the beekeeping" Japan 2017 Honey is distributed about 46,000 tons, of which about 2.8 thousand tons is 6% and imported about 43,000 tons is 93%. About 55% of imported honey is for household use, and about 45% is for processing of confectionery, baking and cosmetics.
● For "BEAR CUBS (Beakabusu)" seven
※ All prices are without tax
Sales place <br /> Ginza loft store Location: Ginza 2-4-6 Ginza Belvia Hall, Chuo-ku, Tokyo Opening hours of the first floor: 11 am-21:
E U organic certification and Estonia of certification, developed in the world in nine countries "Nordic Food Products (Nordic Food Products)" is the producer of the largest organic honey in Estonia. All apiaries are located in nationally designated nature reserves and are EU certified organic. It produces 200 tons of honey a year and supplies 100 tons. According to EU's organic certification, "areas within 3km radius around honey must be uncontaminated and covered with natural plants" "hives must be made of natural materials" "Beehivery is There are criteria such as "Don't prohibit honey consumption by honeybees".
Organic honey "BEAR CUBS (bear cubs)" by Nordic Food Products has eight flavors: "Hundred Flowers in Forest", "Hundred Flowers in Great Plains", "Creamy Honey", "Unheated Juice", "Soba Fruit Honey" " We sell Dandelion honey, Heather flower honey, Linden flower honey and Beepaulen in 9 countries: Finland, Sweden, Norway, Denmark, England, the Netherlands, Germany, Russia, and Korea.
● Nordic Food Products (Nordic Food Products) for <br /> Headquarters: Harjumaa, Tallinn, Türi tn 3 , 11313, ESTONIA
TEL: + 372-5684-1490
Established: February 2011 Representative Director: Antero Nesterenko
Project Description: Bee keeping
http://www.bearcubs.ee/en/
◆ Next Innovation OÜ  
Head office: TORINIMAE 5, 2ND FLOOR, 10145 TALLINN, ESTONIA
TEL: + 372-615-5583
Established: March 2018 Representative director: Hiroto Kumagai Business: Import and export business
https://next-innov.ee