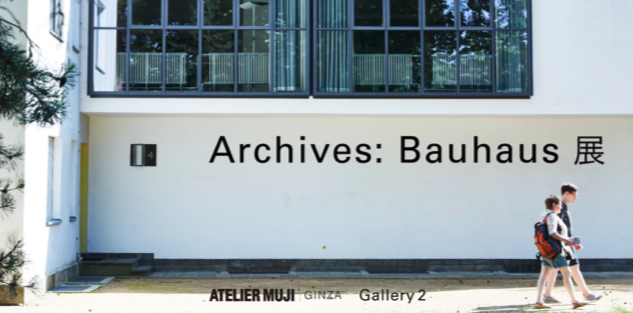 Dates: June 28 (Fri)-September 23 (Mon) ATELIER MUJI GINZA Gallery 2
This year marks the 100th anniversary of the founding of the comprehensive arts school Bauhaus in Weimar in 1919.
In the midst of the defeat of the First World War, in Germany, a spirit for the fusion of art and industry was fostered, and eventually artists, architects, etc. who are not countries but in cooperation led to fruition in the Bauhaus. It solved the challenges of popular culture in Europe after the Industrial Revolution and was also the pursuit of an ideal for a new era. At the time when world politics were at a standstill, Bauhaus closed in 1933 with the aim of expanding the new society. The activity was a short 14-year period between two world wars, but it still has a strong impact not only in Germany but in many parts of the world.
At ATELIER MUJI GINZA Gallery 2, we take up the Bauhaus in the series: Archives as an attempt to preserve and utilize important records related to design and communicate them to the future.
---
---
Bauhaus aimed at innovation in a unique form of school education that crosses diverse areas in the trend of modern design. What will we give us in this first century and what will we bring to the future? In this question, baton is taken over by us who can live now.
Send to the exhibition
In 2017, I visited Germany on a Found MUJI project. I visited various cities, went to the factory to observe the production process of the product, visited the craftsman's workshop and saw the environment and technology. What I saw in that was the attitude towards a straightforward and polite work, and that there were a lot of parts that sympathize with Japanese people.
Visiting the Bauhaus was special during the trip. The Bauhaus is located in the town of Dessau, which is about an hour's drive from Berlin. It is also known that there is an aircraft manufacturing company called Junkers near the Bauhaus, and there may have been a sense of air as a place where new technologies and ideas come to fruition and new movements emerge. The Bauhaus was born in a time of great turmoil, and it was a new integrated arts school that is unprecedented in the world, where various experimental activities are conducted to look at the new era and change life better. It was done.
Although there is a difference between Bauhaus and MUJI at school and at work, I think there are a number of areas where both can create the products required in the era and produce a new lifestyle.
Archiving is the act of communication to the future. In this exhibition, together with experimental photographs and lighting fixtures by Marianne Brunt who exhibited outstanding talents among Bauhaus students, works by Wilhelm Wagenfeld, etc., together with products selected from Muji according to the theme Arrange. We hope to share the archive with you here and reaffirm the importance of doing things from what you can think of together.
Landscape Products Founder / Producer Shinichiro Nakahara
【Related Events】 As Bauhaus was an experimental educational institution, various events such as talks and workshops will be held not only in architecture and design but also in education, art, food and other cross fields.
■ Gallery Talk "Archives: Bauhaus"
Date and time | Saturday, June 29, 2019 18:00 to 19:30
Lecturer Hitomi Kitamura (Senior Research Fellow, Tokyo National Museum of Modern Art Museum), Kato Koji (Freelance writer / Photographer), Nakahara Shinichiro (Landscape Products Founder / Producer), Kataoka Yoshihiro (Corporate Product Planning Co., Ltd. Planning and Design)
Venue | MUJI Ginza 6F ATELIER MUJI GINZA Lounge
■ Workshop "How to use the Egg Coddler ~ Cooking class using egg codler ~"
Date and time | Saturday, July 13, 2019 14:00 to 15:30
Instructor | Cold water Nozomiko (cooker / food coordinator)
Venue | MUJI Ginza 6F ATELIER MUJI GINZA Lounge
■ Summer vacation workshop "Thinking about the architecture of the Bauhaus"
Date and time | August 9, 2019 (Fri) 14:00 to 16:30
Lecturer | Igarashi Taro (architarian architect / Tohoku University graduate school professor) Venue | Muji Ginza 6F ATELIER MUJI GINZA Lounge
■ Talk "Architecture, Education and Bauhaus"
Date and time | August 9, 2019 (Fri) 19: 30-21: 00 Lecturer | Taro Igarashi (Architectural architect / Tohoku University Graduate School Professor)
Venue | MUJI Ginza 6F ATELIER MUJI GINZA Lounge
■ Workshop "Visual Study: Bauhaus and Photography ~ How to enjoy Bauhaus-like photo editing ~"
Date and time | Sunday, September 15, 2019 13:00 to 16:00
Lecturer | Shingo Wakagi (photographer)
Venue | MUJI Ginza 6F ATELIER MUJI GINZA Lounge
【Planner Profile】
Shinichiro Nakahara (Landscape Products Founder / Producer)
Born in Kagoshima Prefecture in 1971. In addition to developing "Playmountain", which handles original furniture, and "Tas Yard", it also works on housing and store design, event production, and brand consulting / direction.
【Basic information】
Session period | June 28 (Fri)-September 23 (Mon), 2019 ※ In the case of store closure, it will conform to it. Time | 10:00 to 21:00
Venue | MUJI Ginza 6F ATELIER MUJI GINZA Gallery 2
Hosted free of charge | Muji Graphic Design | Shimoda Rie Planning Cooperation | Landscape Products Co., Ltd. Construction | Tokyo Sadaide Co., Ltd. Planning & Management | 0061
Ginza Chuo-ku, Tokyo 3-3-5 Mujiyoshi Ginza 6F ATELIER MUJI GINZA Gallery 2
※ ATELIER MUJI GINZA related events will be announced on the official website from time to time. (Official site https://atelier.muji.com/jp/)
---