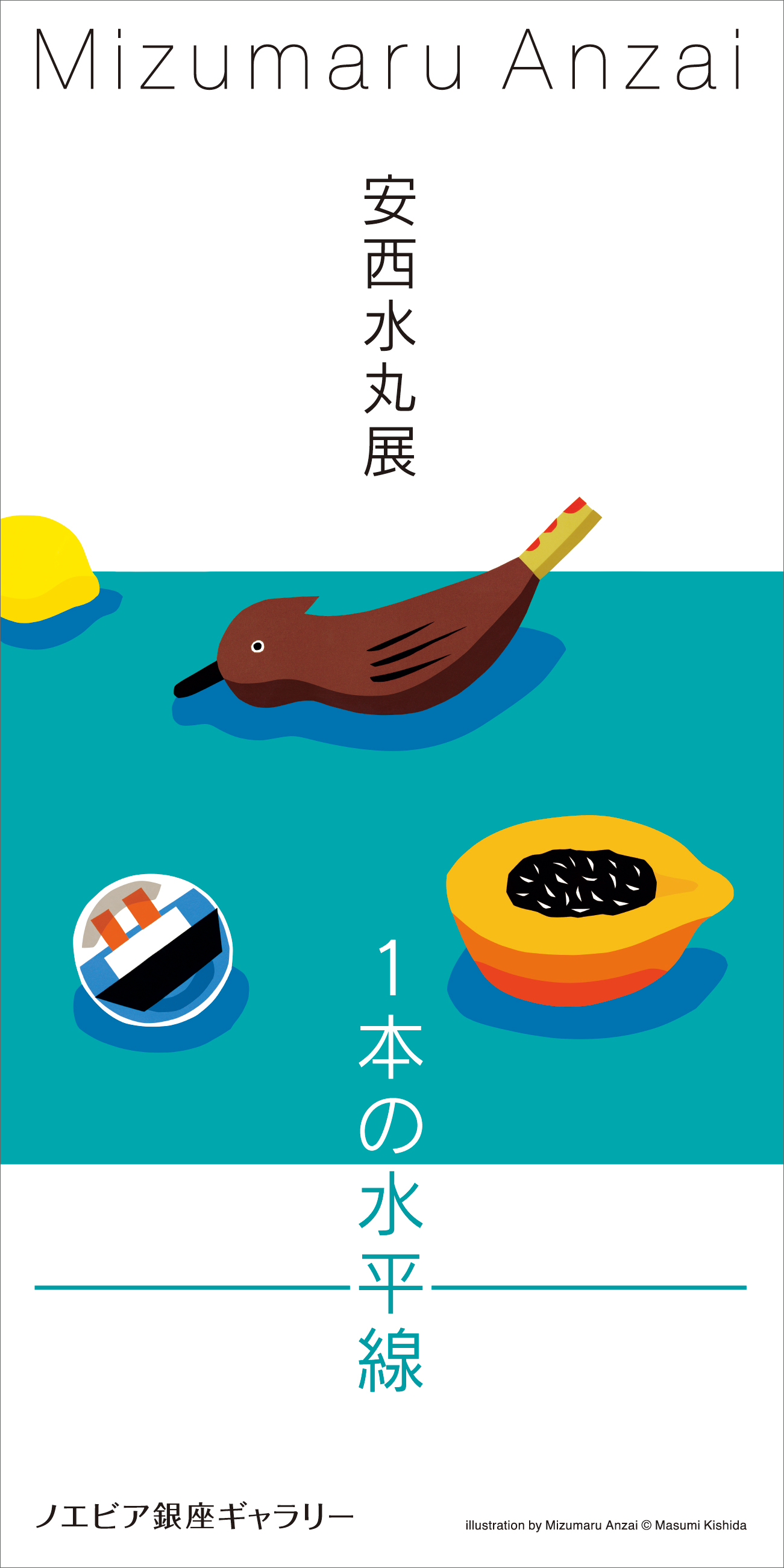 (Period: June 3-August 23, 2019)
As an illustrator, Mizuki Anzai has been active in various fields, such as the cover and illustrations of Haruki Murakami and other books, picture books, cartoons, and advertisements. One line across the screen is called "Horizon (horizontal line)", and it is said that drawing a horizon can bring out the image that coffee cups and vases are properly placed on a table or bay window. In this exhibition, Anzai's works stuck to the horizon were collected from the posters and illustrations. Please enjoy Anzai's work world, "I became an illustrator straight."
---
---
[Anzai Mizumaru exhibition "one horizontal line"]
Admission Free Period: June 3 (Mon) to August 23 (Fri), 2019
Holding time: 10 am to 6 pm (Saturday, Sunday, and public holidays until 5 pm)
Venue: Noebia Ginza Gallery (7-6-15 Ginza, Chuo-ku, Tokyo Noebia Ginza Building 1F)
Organized by: Noebia Co., Ltd.
"Anzai Mizumaru Exhibition" One Horizontal Line ""
Site URL: https://gallery.noevir.jp/
■ Anzai Mizumaru (1942-2014) Profile Born in Tokyo. Graduated from Nihon University College of Art, Art Course, Art Course. After working as an art director for Dentsu, ADAC (design studio in New York) and Heibonsha, he became a freelance illustrator. Worked on the cover of books and magazines, illustrations, corporate advertisements such as newspapers and posters, as well as a large number of illustrations, and was active in many fields beyond the framework of illustrators such as comics, novels, essays, and picture books. He received many awards such as the 1985 Semi-Asahi Advertising Award, the Daily Advertising Award, the 1987 Japan Graphic Exhibition Annual Writer Excellence Award, and the 1988 Kinema Jyunpo Reader Award. He has written many books such as the novels "Amarilis", "The Rough Beach", Essays "The Blue Sky of Aoyama", "Traveling a Sketchbook", and the picture books "Gattangantantanban" "Picky and Pocky"
■ Contact from the customer
TEL: 0120-401-001
(Mon-Fri / 9 am-5 pm Sat, Sun, holidays, New Year holidays excluded)
---