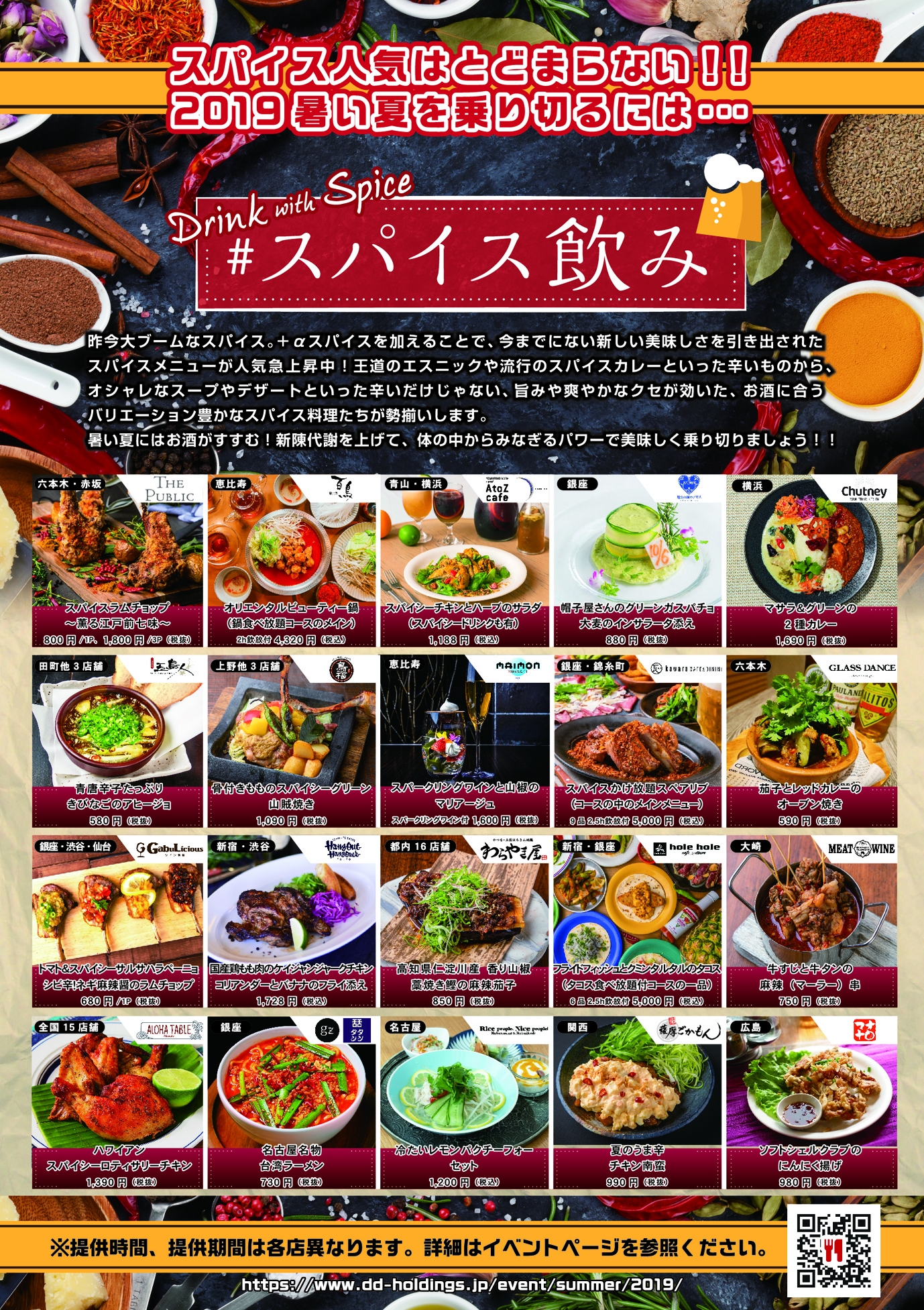 From royal ethnic and trendy spice dishes to fashionable soups and desserts to drinks, it goes with all kinds of genres!
DD Holdings Co., Ltd. has collected a wide variety of spice menu items that meet a wide variety of alcoholic beverages at 67 stores in Tokyo, Osaka, Nagoya and Hiroshima within the group "# Spice The Drinks Fair will be launched sequentially from July 8, 2010.
Drink with Spice "# spice drinker"
A big boom spice nowadays. By adding the + α spice, the spice menu, which has been unleashed by new tastes, is gaining in popularity!
In addition, the spice menu that has become more and more familiar has become a dish that meets alcohol this summer and will appear in all genres! !
The food is from spicy things such as royal ethnic and trendy spice curry,
Not only spicy soups and desserts, but also a variety of spice dishes suitable for liquor, with taste and refreshing habits.
The spices used are also from major spices such as "cumin", "coriander" and "nutmeg"
"Turmeric" = "turmeric" familiar as a hangover prevention, and Kochi Prefecture "Kinarigawa Sansho" that gives a refreshing scent,
And since there are various spices such as "galangal", "cafe lime" and "caslimete", which are rare spices that you can not usually see inside, this fair is fun to choose a menu from your favorite spices.
Drink in hot summer!
With the power to raise metabolism and go out of the body,
Let's get over deliciously! !
※ Delivery time, offer period are different each store. Please see the event page for details.
https://www.dd-holdings.jp/event/summer/2019/
Attention to menu with surprise and impact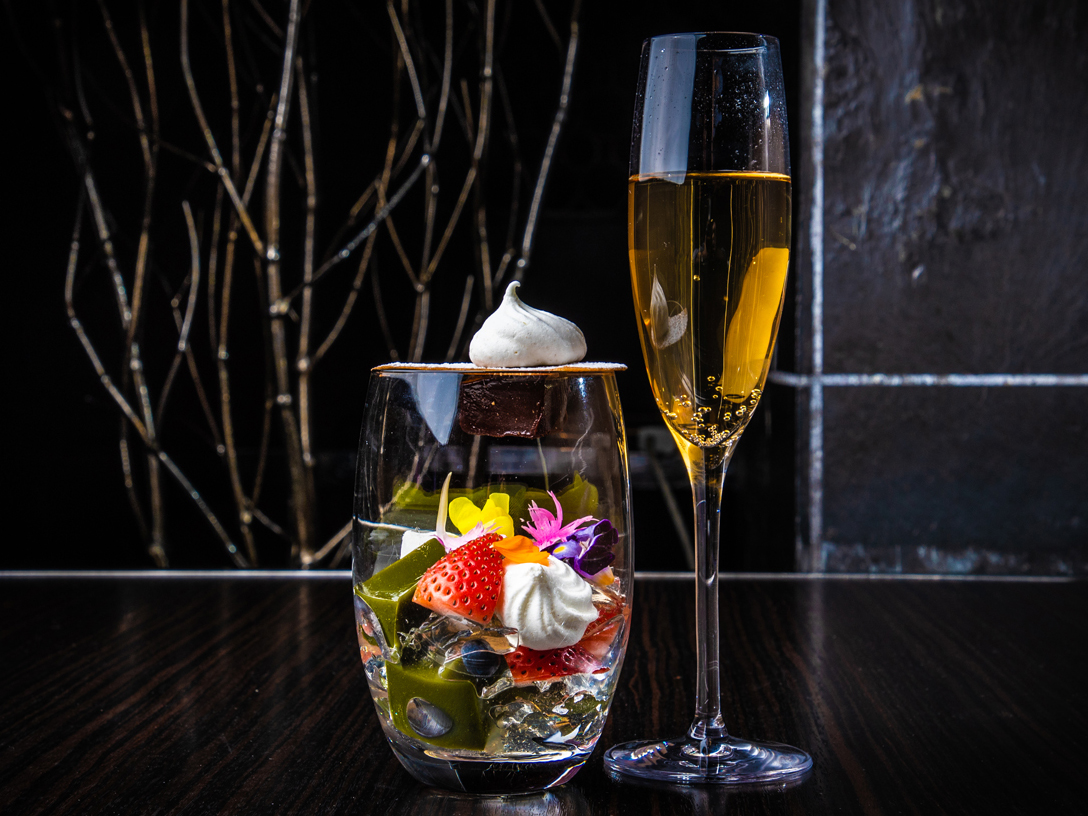 A new adult dessert with yam cake is now available!
With sparkling wine and mariage sparkling wine of the mountain foot 1600 yen (excluding tax)
First taste the ganache in the glass, the meringue in the yam, green tea agar, and the sparkling jelly in the glass, and finally pour the sparkling and enjoy in mariage.
■ Use spices: yam, cinnamon, nutmeg ■ Recommended drink: Sparkling wine to enjoy with the menu
Luxury dining "MAIMON" Ebisu
https://www.dd-holdings.jp/event/summer/2019/index.html#S005
---
---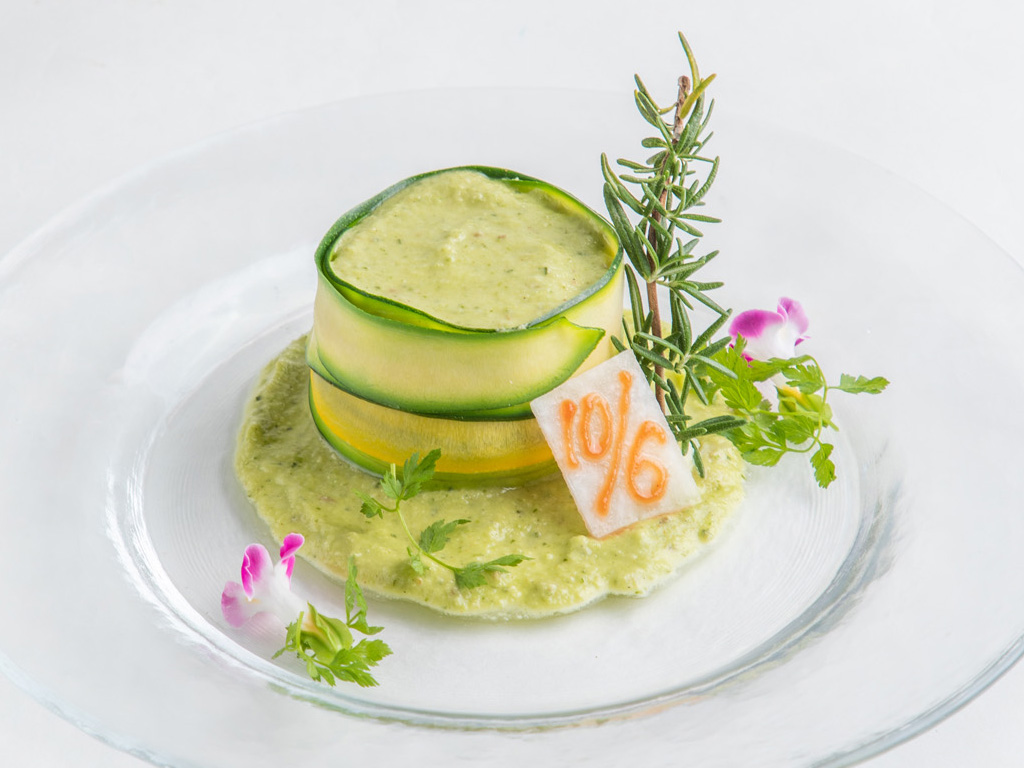 There are plenty of spices for fashionable gazpacho
Hatter's Green Gazpacho with Barley Insalata 880 yen (excluding tax)
The spiced melon gazpacho and barley salad are regarded as the mad hatter's hat shop.
In addition, refreshing spice sweets of soup and mousse are simultaneous start.
■ Use spices: cumin, cardamom, coriander, ginger
■ Recommended drink: An original cocktail "Lon's haunted tea party with liqueurs of fragrant tea"
Fantasy restaurant "Alice in the country of labyrinth" Ginza
https://www.dd-holdings.jp/event/summer/2019/index.html#S004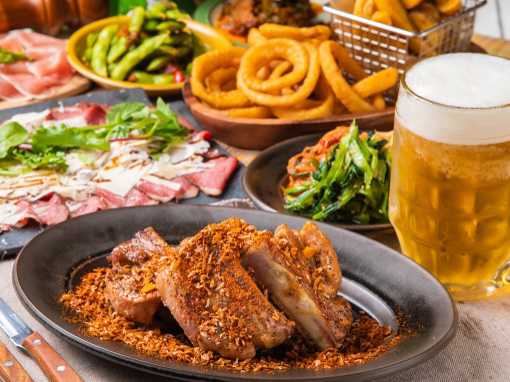 Perfect for beer! Unlimited original spice
Spiced all-you-can-eat spare rib (main menu in the course)
9 items 2.5 h drinking 5,000 yen (tax included)
The thick and juicy spare ribs are marinated in barbecue sauce and grilled, so they have a slightly sweet and savory taste! After applying 3 kinds of curry powder, pepper spice and BBQ sauce, it changes to different taste.
■ Use spices: turmeric, coriander, cumin, fenogurik, pepper, red pepper, chimney, yam ■ Recommended drink: beer
"Kawara CAFE & DINING" Ginza / Kinshicho
https://www.dd-holdings.jp/event/summer/2019/index.html#S009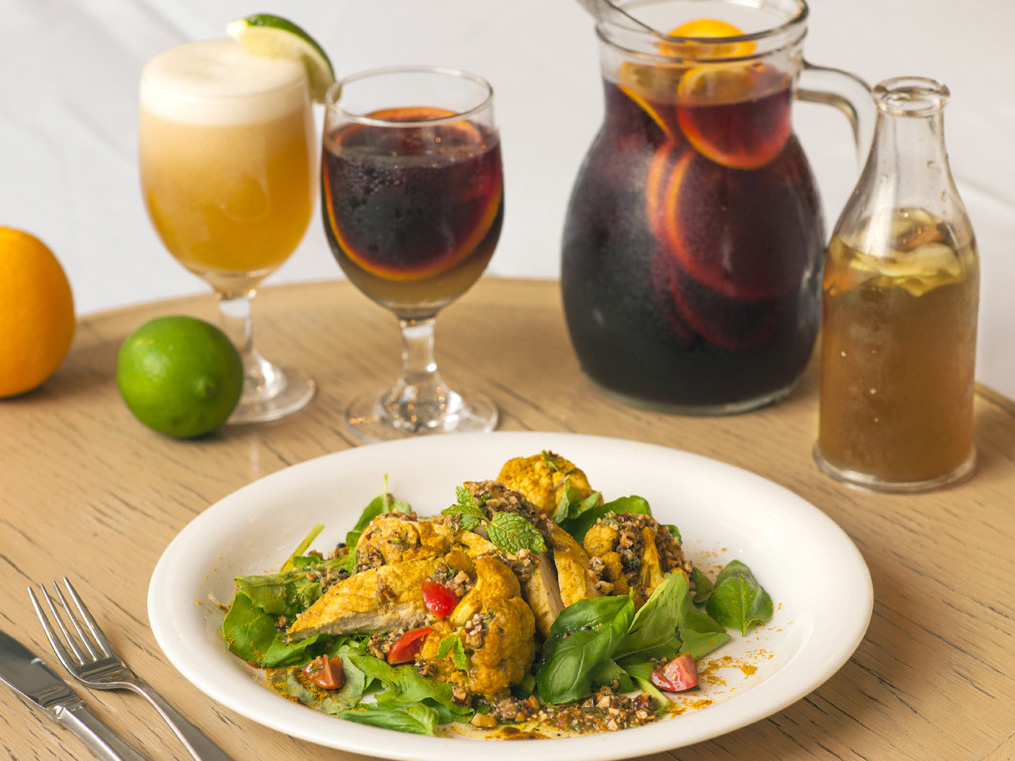 Spicy Link also appeared together! !
Spicy Sangria 702 yen (tax included)
Spicy chicken and herb salad 1,188 yen (tax included)
A delicious sangria-like dish with ginger cordial and spices is a salad-styled dish in which the chicken soaked in spices and yoghurt is baked in the oven and put on herbs!
■ Use spices: Sangria: clove, cinnamon, ginger, Takanotsume Salad: chili powder, curry powder, garlic ■ Recommended drink: Spicy Sangria others Spicy Shandy Gaff or beer
"A to Z cafe" "chano-ma Yokohama" Aoyama / Yokohama
https://www.dd-holdings.jp/event/summer/2019/index.html#S003
Spice spreads in Japanese cuisine and taverns
Yakitori restaurant proposes! Summer pots with spice
Oriental Beauty Nabe (main of all-you-can-eat pan course)
2h drinking with release 4,320 yen (tax included)
Shirayu herb pots with rich sesame oil and soy sauce served with spices and ginger.
A slim pot with the beauty and knowledge of the Iwate-produced fresh-flow chicken.
If you eat it once you become addicted! Various taste changes with set spices! !
■ Use spices: turmeric, cumin, kaeng pepper, black pepper, cinnamon, coriander, nutmeg ■ Recommended drink: Oriental beauty offered at the end of the course (Toho beauty Taiwan Oolong tea)
Yakitori restaurant "Ebisu Hyakutori" Ebisu
https://www.dd-holdings.jp/event/summer/2019/index.html#S002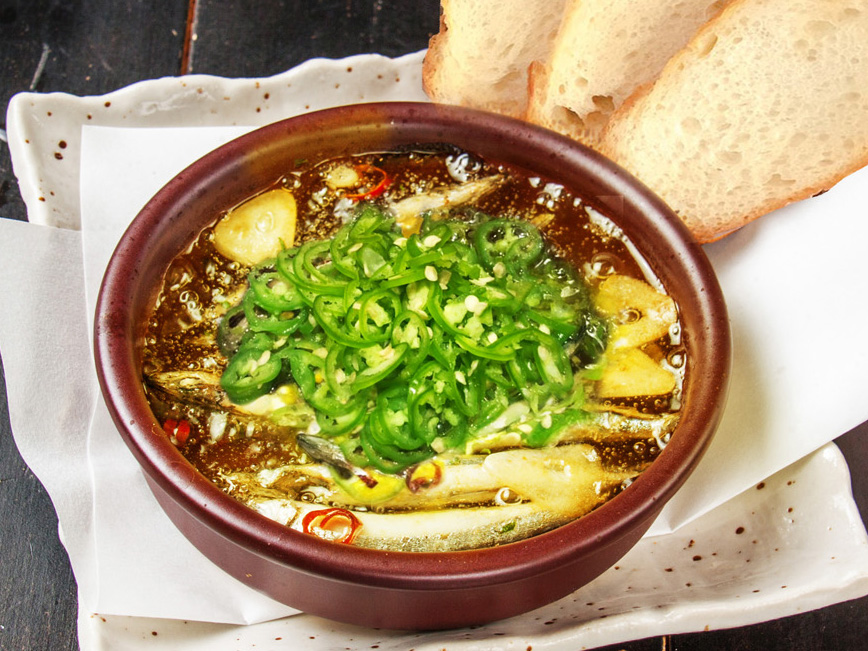 Goto City, Nagasaki Prefecture, is proud to be a spice!
Ahijo 580 yen (excluding tax) with plenty of green pepper
Gonoshima, a fish from Goto, which boasts the highest catch of Kyushu.
This summer, in Goto, we made a plump crispy Ahijo with plenty of Japanese and Asian spices!
The heat of becoming jealousy is addictive.
■ Used spices: Green pepper, turmeric ■ Recommended drink: "Gojima mochi tea high" that the sweetness and sweetness of mochi tea are gently wrapped
Goto City, Nagasaki Prefecture Official Tavern, Gotojin, Tokyo 4 stores (Tamachi, Hamamatsucho, Jimbocho, Nishi-Shinjuku)
https://www.dd-holdings.jp/event/summer/2019/index.html#S006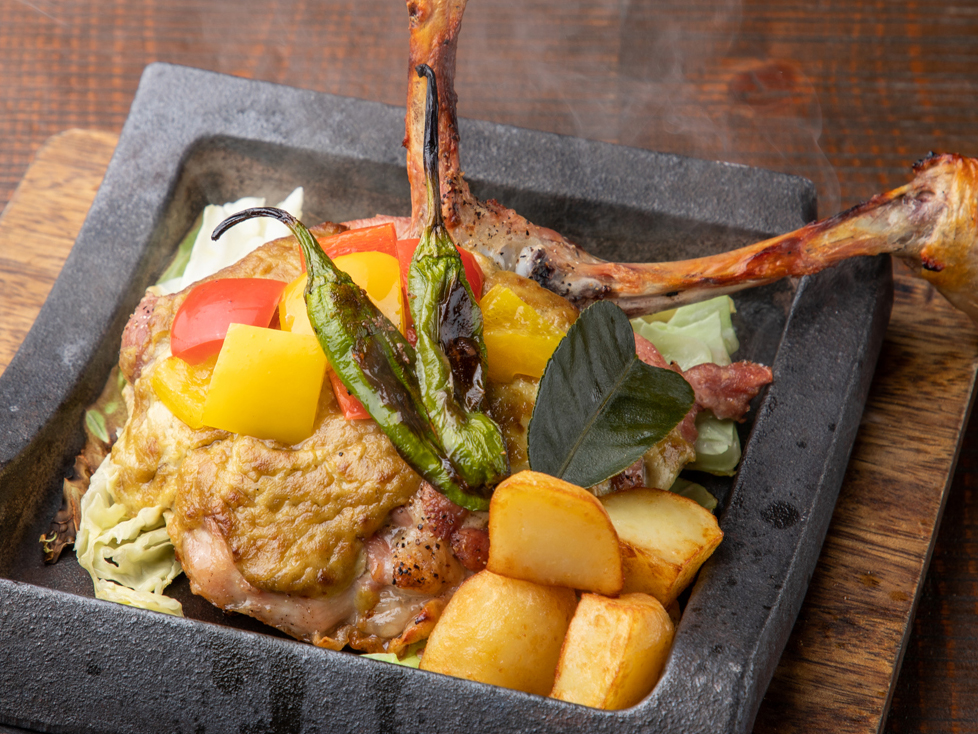 Green is a new product for the famous Spicy Bandits!
Spicy green bandits grilled with bones 1,090 yen (excluding tax)
20 kinds of blended spice are put on the oven and baked slowly in the oven A new item "spicy green bandits grilled" appeared this summer limited to spicy bandits grilled popular in Torifuku! The taste was adjusted with mayonnaise based on green curry and coconut milk.
■ Used spices: Red pepper, lemongrass, garlic, galangal, caffe lime, coriander seed, pepper, cumin, turmeric ■ Recommended drinks: beer, highball, cinnamon lassi (spice menu)
Chicken tavern "Torifuku" 4 stores Suidobashi, Kudanshita, Ochanomizu, Ueno
https://www.dd-holdings.jp/event/summer/2019/index.html#S007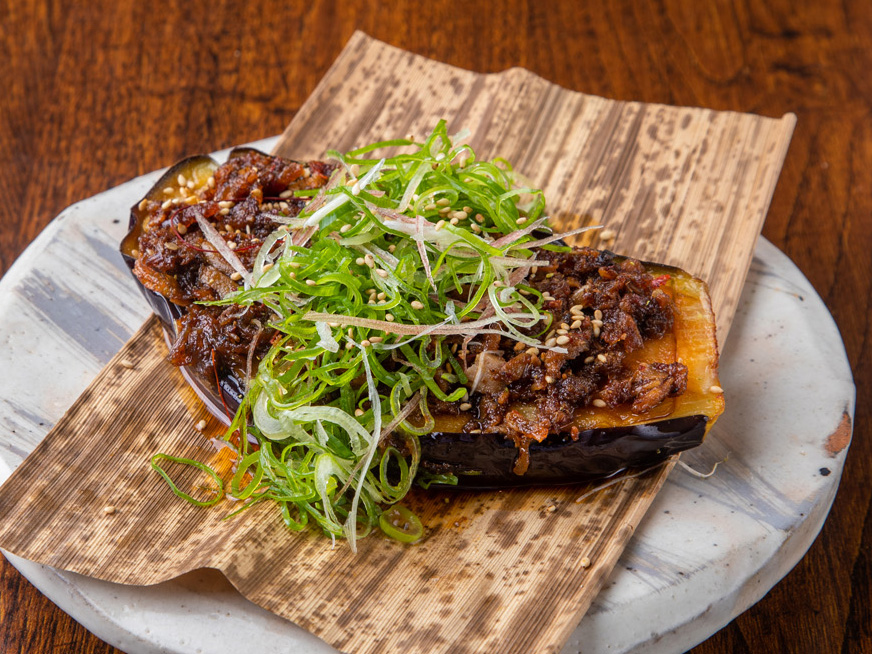 Miso grilled with sweet potato skewer and spicy
Kashi-ken Ninjino-gawa fragrant eel, sweet potato grilled with sweet potato 850 yen (excluding tax)
It was finished exciting with a marinated mackerel sauce made by grilling gyoza from Kochi Prefecture.
Please enjoy it along with the fragrant citrus fruits of Kochi.
■ Used spices: Niyodogawa Yamakoshi, flower buds ■ Recommended drinks: draft beer, eggplant highball, Naoichi sour
Tosabaki-yaki specialty store "Warawa-ya" "Shimantogawa" and other 16 Tokyo stores (Roppongi, Akasaka, Ginza, Tamachi, Shinagawa, Shinjuku, etc.)
https://www.dd-holdings.jp/event/summer/2019/index.html#S013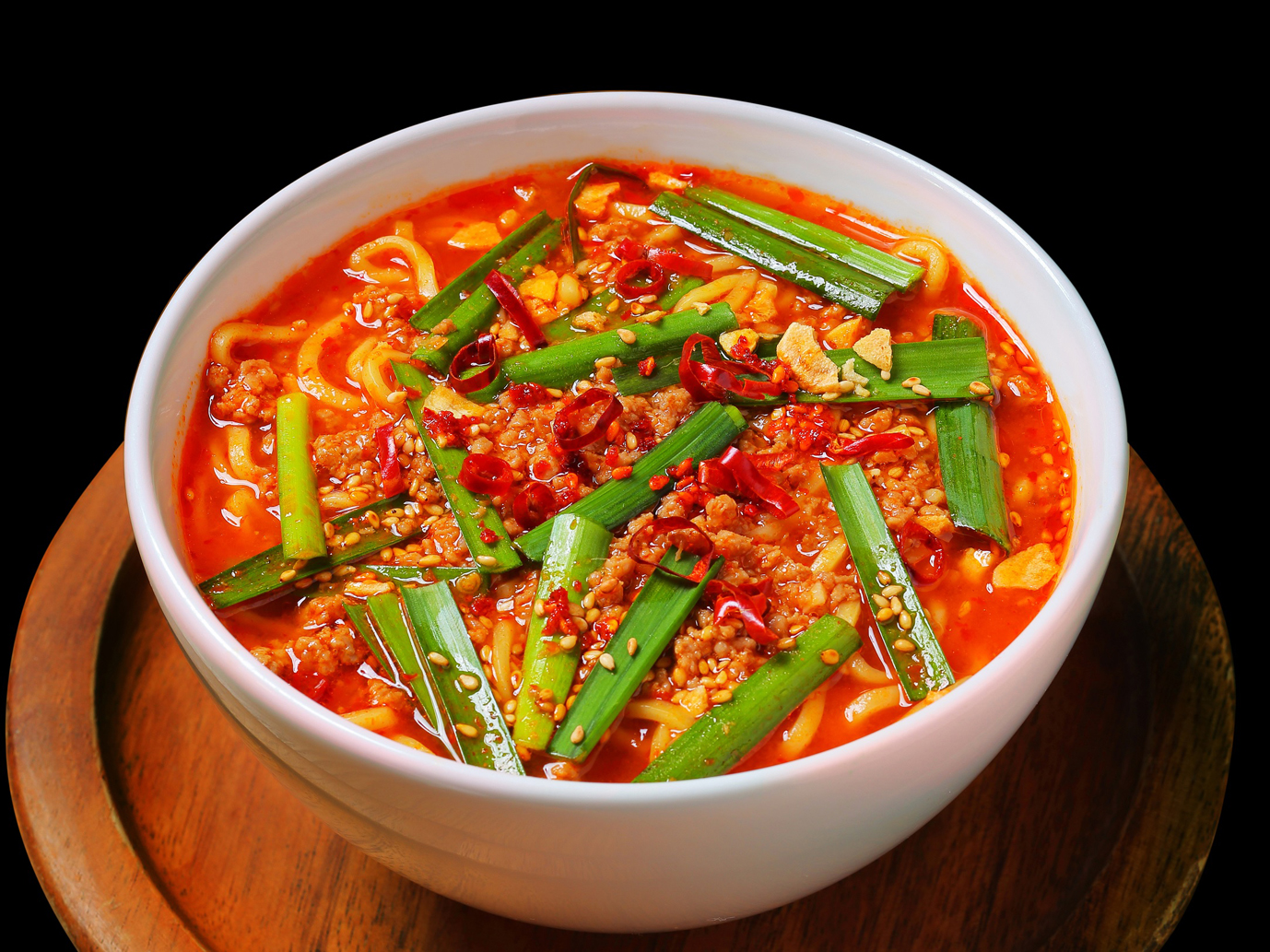 Plenty of spices for Nagoya's specialty dishes
Nagoya specialty Taiwan ramen 730 yen (excluding tax)
Menu which arranged Taiwan ramen which is Nagoya specialty.
Not only hot one, you can feel the taste of chicken meat and minced beef.
■ Use spices: red pepper, bean paste, grated ginger ■ Recommended drink: Highball
Nagoya Meshi "Gz (Guz)" "Tonton (Tin Tan") Ginza
https://www.dd-holdings.jp/event/summer/2019/index.html#S017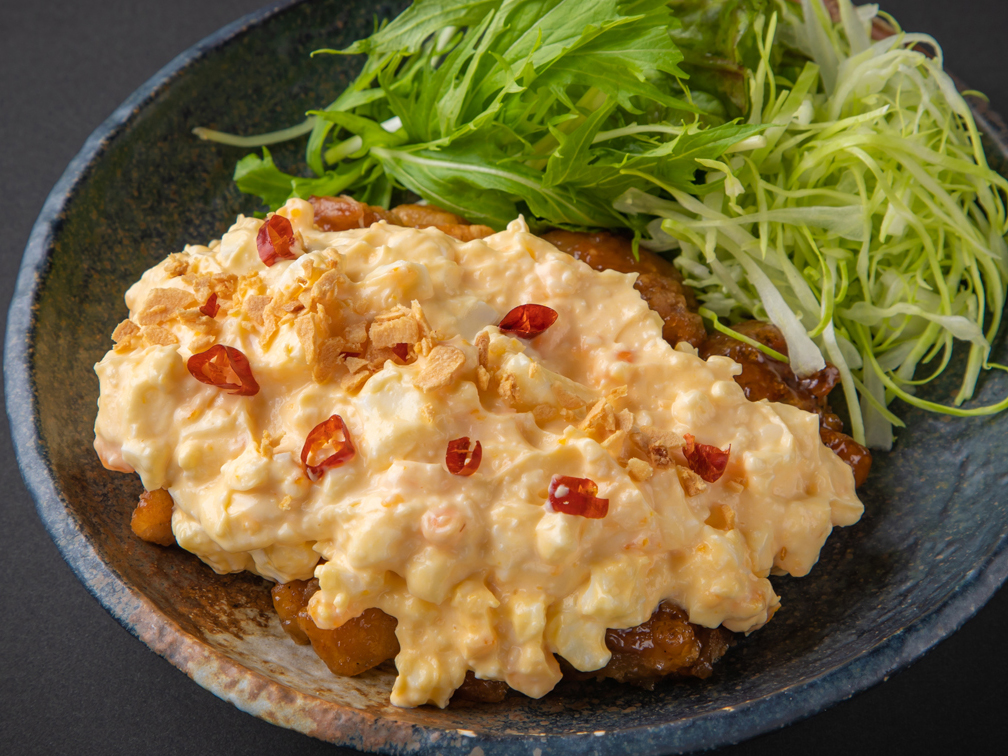 I've also put some spices in Miyazaki's local cuisine!
Umami spicy chicken Nanjo 990 yen (excluding tax)
The local specialty of Miyazaki Prefecture "Chicken Nanban" It is natural for the domestic chicken breast meat to be juicy, and it has added hanabanose sauce to the tartar sauce to bring out more spicy than it looks. Garlic chips and round pepper with topping! Please enjoy as a summer exciting stamina dish ■ Use spices: Habanero pepper sauce, HOT (Marie Sharps ■ recommended drink: excellent compatibility with beer and gatsuzen Kyushu shochu
Kyushu cuisine "Satsuma Gokmon" Kansai 5 stores (Umeda Chayacho, Kyobashi, Nishi Umeda, Tenmabashi, Shijo Karasuma
https://www.dd-holdings.jp/event/summer/2019/index.html#S019
Royal Road Ethnic and Other Western Foods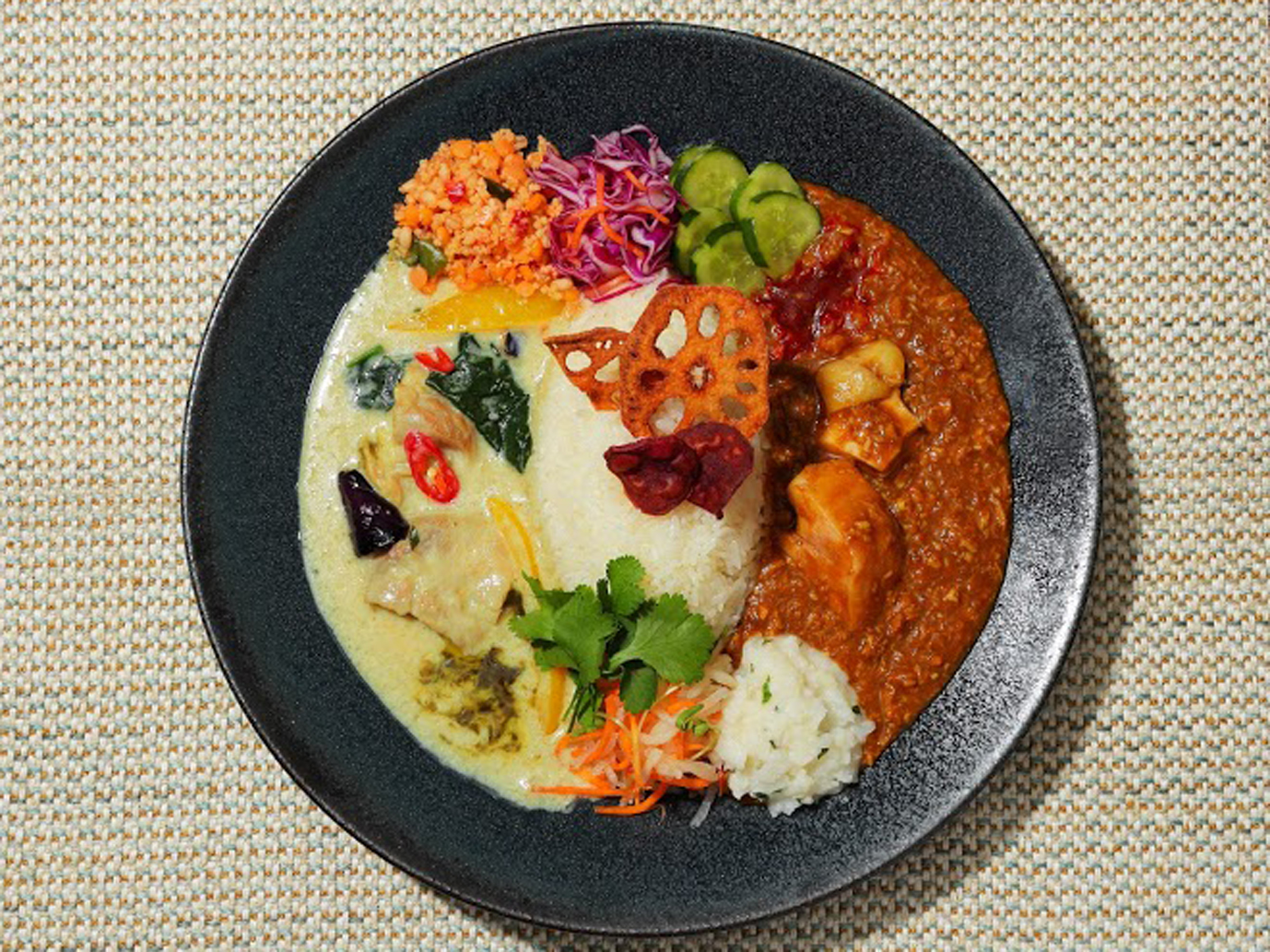 The real curry of the shop which made the chutney
Masala & Green's 2 type curry 1,690 yen (excluding tax)
A store with a chutney opened in March this year.
It is a luxury spice curry where you can enjoy authentic chicken masara and green curry mixed with 13 kinds of spices at one time.
■ Use spices: turmeric, caslimetti, cumin, fenoguriku, clove, all other 13 types ■ Recommended drink: Tiger beer and Leo beer, etc., bottles in Asian countries BEER
Ethnic food "CHUTNEY" Yokohama
https://www.dd-holdings.jp/event/summer/2019/index.html#S008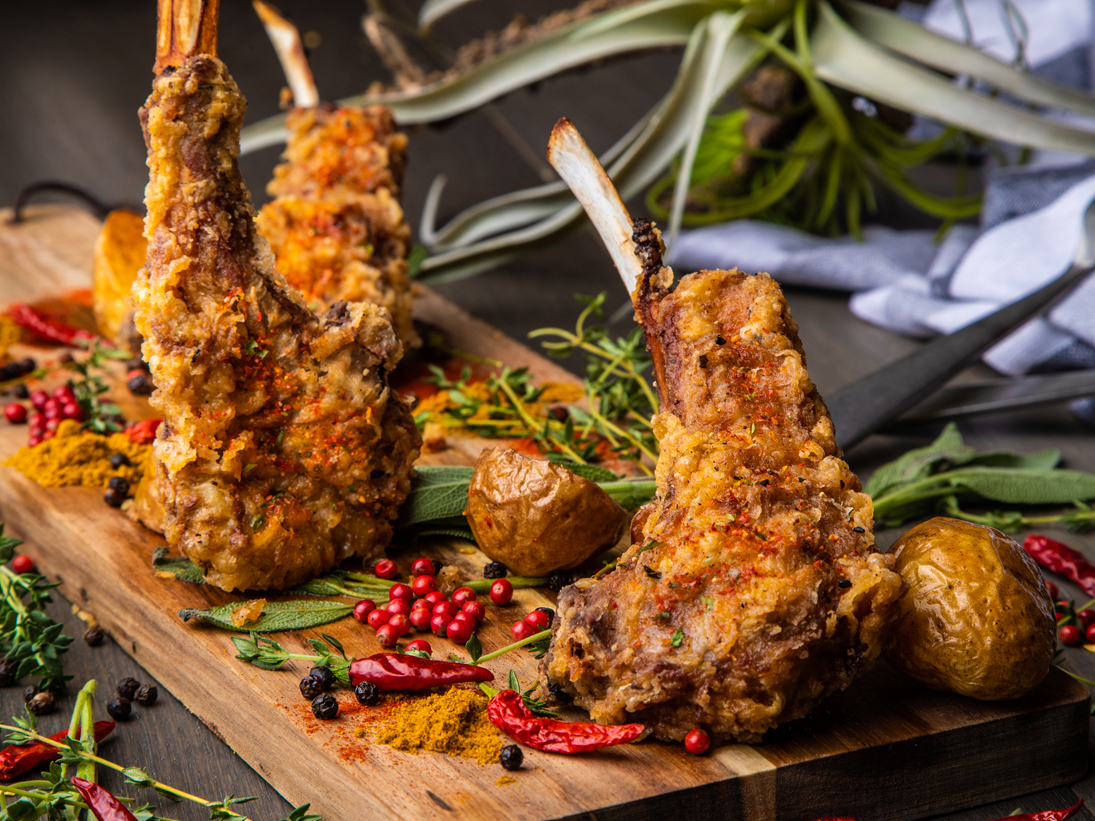 The fusion of Japan and various spices
Spa Islamic chop
800 yen / 1P, 1,800 yen / 3P (excluding tax)
Lamb chops marinated in original sauce and fried in a mix of 20 spices.
It is a spicy and juicy appetizer that brings out the finished "Edomae Shichimi".
■ Used spices: Cinnamon, coriander, fennel, star anise, cardamom, laurie, chili powder, garlic, basil, cumin, turmeric, all other 20 types ■ Recommended drinks: beer, champagne, highball
Gastropub & sports bar "THE PUBLIC" Roppongi, Akasaka
https://www.dd-holdings.jp/event/summer/2019/index.html#S001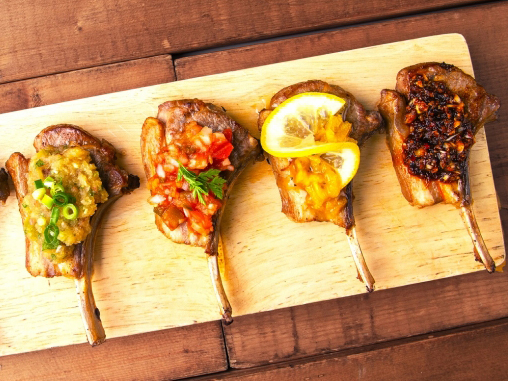 Lamb chops who can enjoy various tastes
Lamb chop 680 yen / 1P (excluding tax)
"Tomato & spicy salsa halapeno" which has an acidity source that the flavor and spices of the tomato are intoxicated, and "spiky green onion", and the lingering spiciness is a habit
In addition to the above, you will also find "Deep-fried yam and Japanese-style flavor grated", "Umeshio yuzu lemon" and more!
■ Use spices: black pepper, red pepper, yam ■ Recommended drink: wine
Wine bar "GabuLicious" Ginza, Shibuya, Sendai
https://www.dd-holdings.jp/event/summer/2019/index.html#S011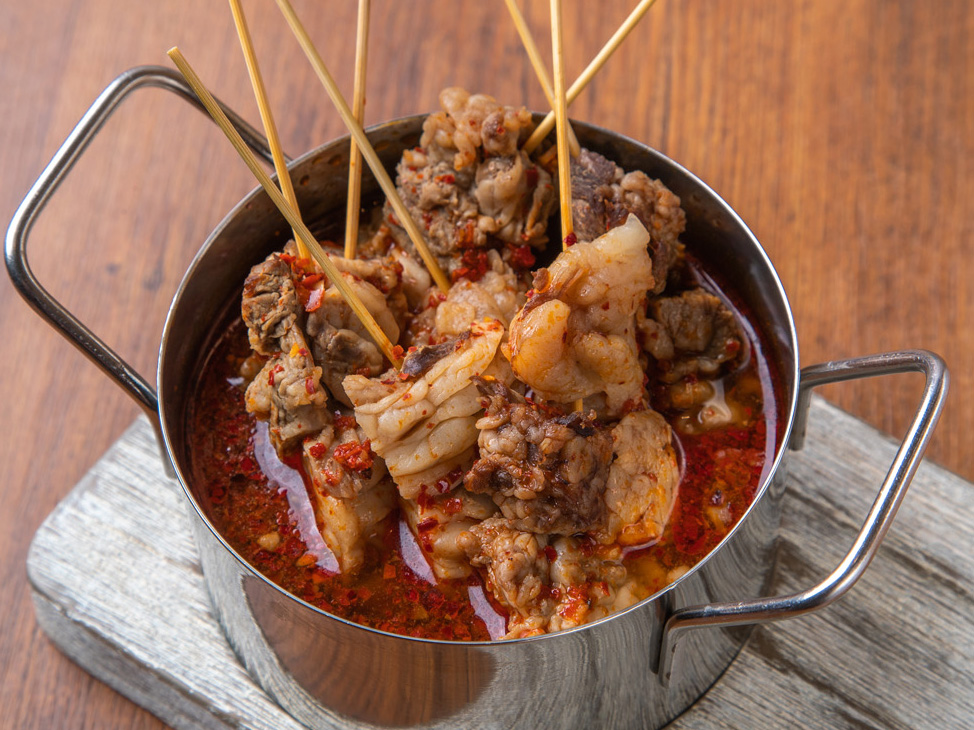 The compatibility between Makoto and sake is endless!
Beef streaks and beef tongue linen (Marla) 串 750 yen (excluding tax)
We arranged the popular Chinese-style "meat oden" with Chinese style food in a bal-like style.
■ Used spices: Garlic, yam, caen pepper, turmeric, nutmeg, coriander, black pepper, cinnamon, cumin ■ Recommended drink: Devolto Lori Lomer (red wine), super lemon sour
MEAT & WINE "Wine Hall Grammar" Osaki
https://www.dd-holdings.jp/event/summer/2019/index.html#S015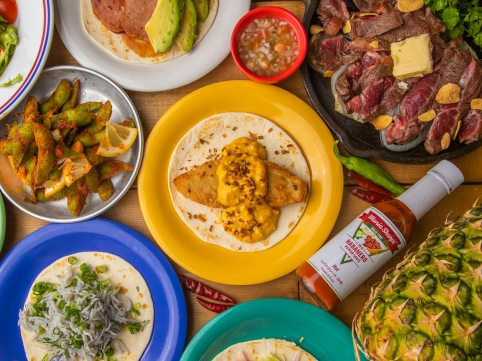 Spices that increase your appetite for all-you-can-eat tacos!
Taco with fried fish and cumintaltal
6 dishes 2.5 h drinking 5,000 yen (tax included) with release
The fried fish that makes a crispy sound at the moment of biting, with a slightly curry flavor, taste Tacos eat with a tartar accented with the smell of cumin!
Tacos is an item of course with all-you-can-eat ■ Use spices: Cumin ■ Recommended drink: beer
Hawaiian "hole hole cafe & diner" Ginza / Shinjuku
https://www.dd-holdings.jp/event/summer/2019/index.html#S014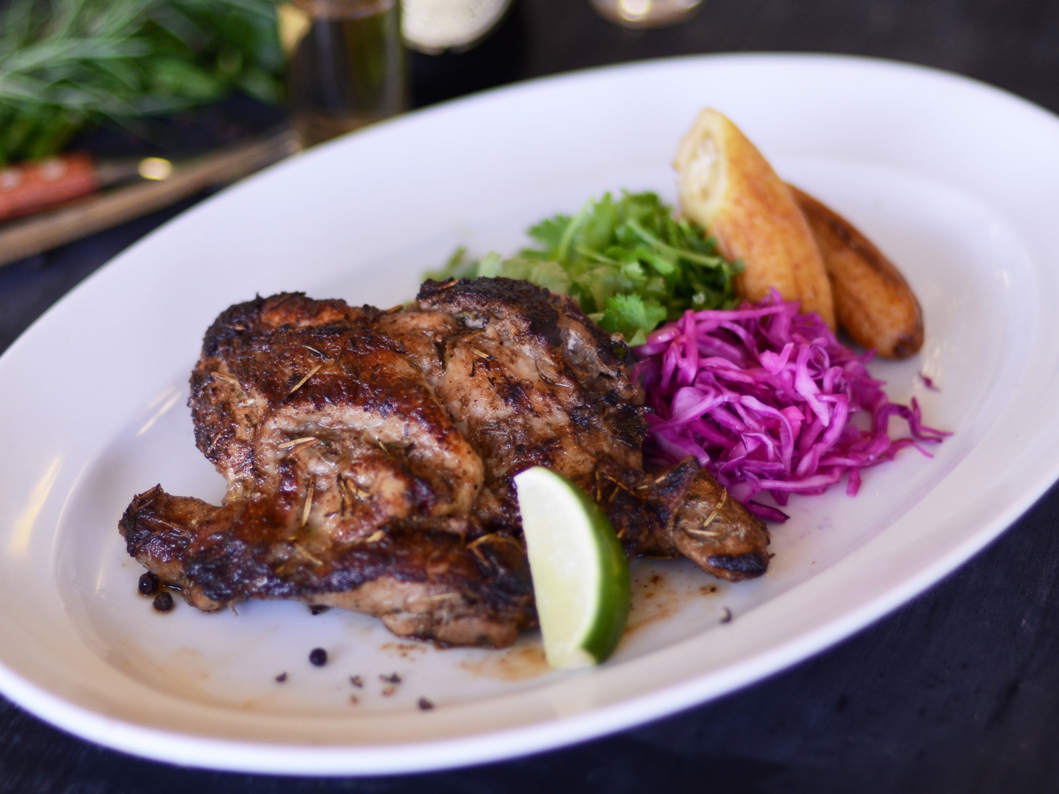 Gatsun and spice-flavored American menu
Domestic chicken thigh meat with cajun jerk chicken with coriander and banana fry 1,728 yen (tax included)
Thick and tender chicken thighs are marinated with several kinds of spices and grilled on the grill.
The flavor of spice spreads softly when put in the mouth ■ Used spices: Turmeric, cumin, red pepper, oregano, thyme, escarion, cinnamon ■ Recommended drink: Not only draft beer, but also the flavor of orange and coriander craft beer "Blue" Compatibility with the moon is also outstanding.
American Diner "HangOut HangOver" Shibuya, Shinjuku
https://www.dd-holdings.jp/event/summer/2019/index.html#S012

The left beer is sooo!
Oven-baked 590 yen (excluding tax) of dumplings and red curry
Curry spice with fried eggplant and bake it!
It is a refreshing gem by having pacchi topped with delicious yummy gyoza dumplings.
■ Spices: Cumin, coriander chilli powder, garam masala, turmeric,
■ Drinks: General beer
"Glass dance" Roppongi
https://www.dd-holdings.jp/event/summer/2019/index.html#S010
Right Hawaii representative menu
Hawaiian Spicy Rotisserie Chicken ¥ 1,390 (excl. Tax)
Hawaii North Shore specialty fri chicken with original blended spices.
As it is roasted slowly, the skin is crisp and juicy inside.
■ Spices: Seasoning, Garam Masala, Cumin, Black Pepper ■ Drinks: Kona Beer, Original Beer Cocktail, etc.
"ALOHA TABLE" 15 stores nationwide
https://www.dd-holdings.jp/event/summer/2019/index.html#S016

Left refreshing summer limited menu
Set of cold lemon pache four for 1,200 yen (tax included)
This is a spiced chicken broth called Pho, a vitamin-rich Asian cold noodle with lemon and pakuti. A set with spring rolls, salads and sweets.
■ Spice: Thai ginger, octagon ■ Drink: Thai Singha beer
"Rice people, Nice people!" Nagoya
https://www.dd-holdings.jp/event/summer/2019/index.html#S018
Right garlic plenty
Garlic fried soft shell club 980 yen (excluding tax)
Popular menu of our restaurant that serves Thai food with garlic effect!
Crisp fried soft shell club with spiced sweet sauce!
■ Spice: Red pepper, garlic ■ Drink: Beer
"Ninnikiya Manao" Hiroshima
https://www.dd-holdings.jp/event/summer/2019/index.html#S020
※ Delivery time, offer period are different each store. Please see the event page for details.
https://www.dd-holdings.jp/event/summer/2019/
—————————————————————
<Food Trend Department> -During gourmet information dispatch-
■ Instagram: https://www.instagram.com/food_trend_bu/
■ FACEBOOK: https://www.facebook.com/foodtrendbu/
—————————————————————