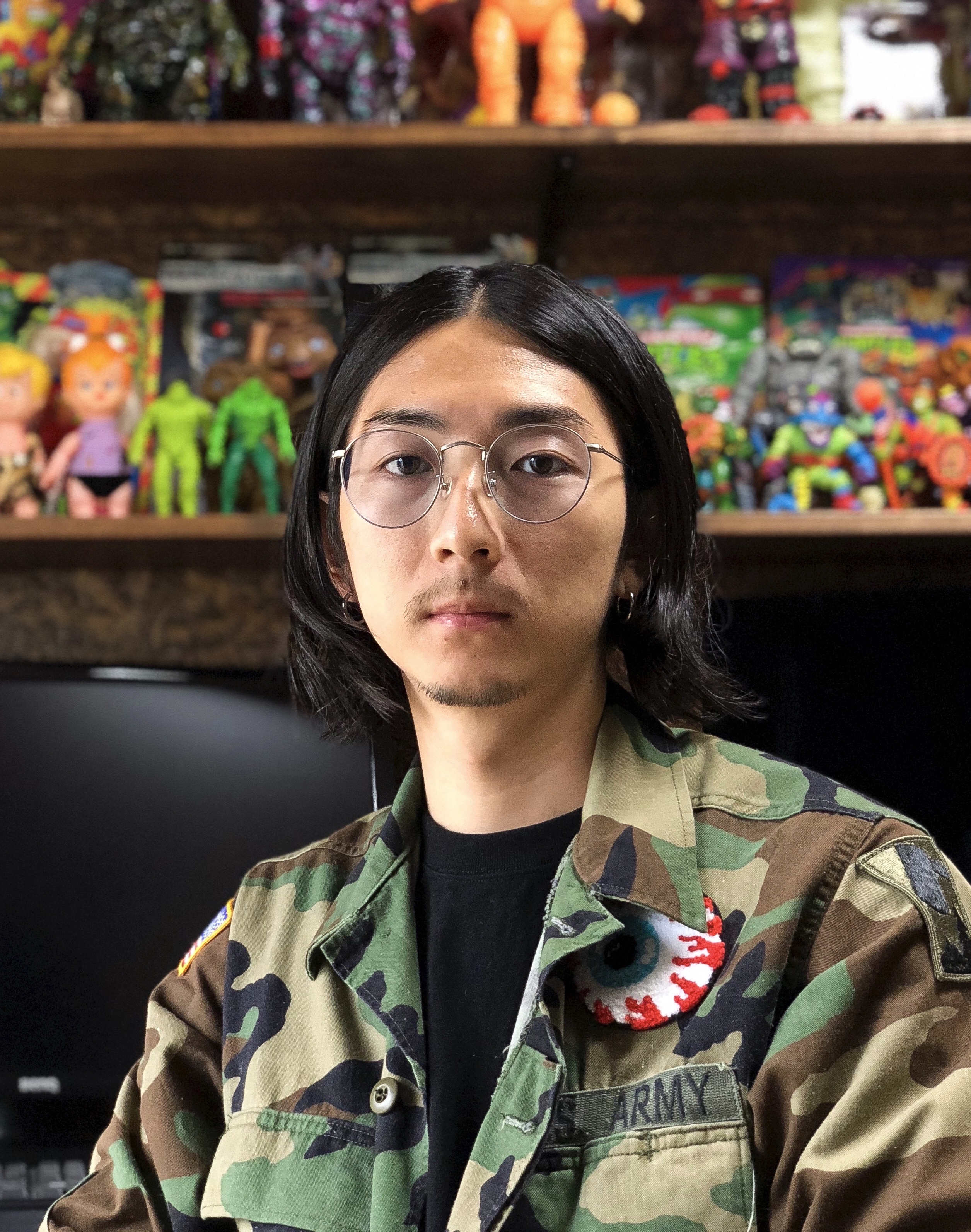 We are pleased to announce that the event space "GINZA ATRIUM" (Ginza Atrium) in the store at Ginza Saya (in Chuo-ku, Ginza) within GINZA SIX, from August 6, 2019 (Sun) to August 25, 2019 We will hold an exhibition "Vortex" by Mr. Takahiro Komuro.
Commuro Takahiro was born in Tokyo in 1985, and completed a master's degree major in sculpture in Tokyo Art University Graduate School of Fine Arts in 2011. In addition to exhibitions in Tokyo and the United States, he is a sculptor who has been widely recognized and acclaimed both domestically and internationally, participating in the alternative art project "SIDECORE".
This exhibition will display a series of woodcarving works that will be unveiled for the first time.
---
---
Mr. Komuro has focused on the unique presence hidden in pop forms and the animistic energy that dwells in objects. At the same time, Komuro's sculptures incorporating action figure designs carry elements reminiscent of the formation of ancient religious sculptures, such as balance of movement and motility, and in the dynamism of sculpture history, 'Idol' We are presenting the possibilities.
In this exhibition entitled "Vortex", the creatures of the different world are brought to the real world on an overwhelming scale through the medium of sculpture. The energy emitted by the sculptures arranged in the hall will draw us into a spectacle of a different world as a spiral that transcends space-time.
I think art is a kind of magic that embodies thinking.

Above all, sculpture is a very thrilling medium that makes free and dangerous fantasy world (other world) exist as an entity in one corner of the real world, and the thing that separates the two worlds is only one thin skin existing on the surface of the sculpture is there. Just as the innumerable invisible particles are constantly vibrating inside of any substance, the story of the alien world, which extends infinitely inside the sculpture, is constantly swirling.

The exhibition resembles a magical ritual. But this ritual is not about a particular religion. It is an attempt to transform everyday space into a giant galaxy-like energy vortex "Vortex" by sculpture. In the uroborossic ring movement where fantasy, reality, and all opposing two elements make their tails sway, the sculpture returns to the front as a divine image with mysterious power. Innumerable myths will begin to regenerate from the magical energy set and degeneracy that occur there. (Kumuro Takahiro)
Ginza Yodoya Bookstore connects art and Japanese culture and living through books, and proposes "living with art". We hope that this exhibition will be an opportunity for many people to experience Mr. Komuro Takahiro's world.
Guidance of opening reception
The opening reception will be held on the first day of the exhibition on August 6 (Tuesday). In addition to the presentation of the work by Mr. Komuro Takahiro, we offer a place for a chat with you around the person. By all means, I hope you will enjoy your time by participating.
Date: August 6 (Tuesday) 19:00-(Admission free)
Place: GINZA ATRIUM (event space in Ginza Ashiya bookstore)
※ You can also participate in general customers.
Komuro Takahiro / TkoM
Born in Tokyo in 1985, lives in Tokyo.
Graduated from Tokyo University of the Arts, Graduate School of Fine Arts, Master's Degree Sculpture Course.
Participated in the Alternative Art project "SIDE CORE" in 2012 and 2014. Held a solo exhibition in Tokyo 2013. Since then, he has been engaged in a wide range of activities, both domestically and internationally, focusing on exhibitions in Tokyo and the United States.
<Main Exhibition>
2018 "Juxtapoz Clubhouse" (Superchief Gallery Miami)
2016 "Masks" (Diesel Art Gallery Tokyo)
2015 "Dichotomy-Doublethink" (Toy Art Gallery Los Angeles)
2014 "SIDECORE-Expression of public sphere-" (Seibu Shibuya Tokyo)
2013 solo exhibition Dystopia (Over the Border Tokyo)
2012 "SIDECORE-Sensibility of Japanese art and street" (Ba-Tsu Art Gallery Tokyo) etc.
・ Exhibition name: Commuro Takahiro solo exhibition "Vortex"-Ginza Art Exhibition
・ Periodium: Tuesday, August 6, 2019-Sunday, August 25
・ Hour: 10:00 – 22:30 / No-Hall ・ Venue: GINZA ATRIUM
・ Address: 6-10-1 Ginza, Chuo-ku, Tokyo GINZA SIX 6F
・ Organizer: Ginza Yodoya Bookstore ・ Telephone: 03-3575-7755
・ WEB: https://store.tsite.jp/ginza/event/art/8183-1048390711.html
・ Others: We are planning to sell our edition limited edition figures. Details of the product and purchase application will be announced later at the Ginza Ashiya Bookstore Store and on the website. We do not accept inquiries by phone or email. Please note.
※ Company names and product / service names mentioned in this press release are registered trademarks or trademarks of their respective owners.
Ginza Yodoya Bookstore <br /> Address: 〒104-0061 6-10-1, Ginza, Chuo-ku, Tokyo GINZA SIX 6F
Phone number: 03-3575-7755
Opening hours: 10: 00-22: 30
Website: https://store.tsite.jp/ginza/
Facebook: https://www.facebook.com/GINZA.TSUTAYABOOKS/?ref=bookmarks
Twitter: https://twitter.com/GINZA_TSUTAYA
Instagram: https://www.instagram.com/ginza_tsutayabooks/
---