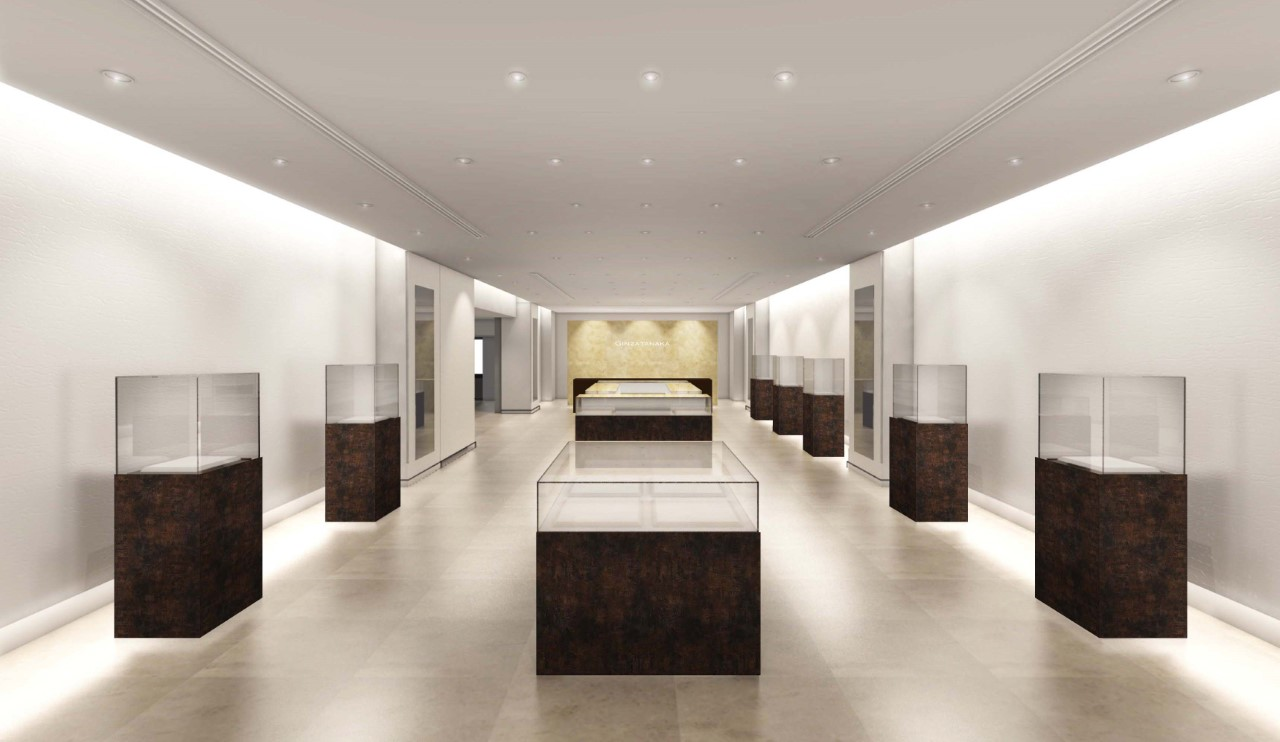 Proposing ways to enjoy precious metals based on the concept of "Gold is more freedom"
Established in 1892, GINZA TANAKA, a long-established precious metal company, has established its flagship store, GINZA TANAKA Ginza Main Store (1-7-7 Ginza, Chuo-ku, Tokyo) based on the concept of "Gold is more free" The store will be renovated and reopened on September 5, 2019 (Thursday), so that you can feel the splendor closer.
---
---
Since its establishment, GINZA TANAKA has consistently provided high-quality precious metal products. The reopened Ginza main store offers gold and platinum jewelry that shines with high-quality precious metals, and gold crafts that make full use of craftsmanship. In addition to handling Tanaka Kikinzoku gold and platinum asset bullion and coins such as "Vienna Gold Harmony", precious metal jewelry purchase service "RE: TANAKA" and Tanaka Kikinzoku's pure gold reserve We also provide a service as a window.
The refurbished Ginza main store is a bright and open space, and visitors can enjoy the space where they can enjoy gold freely, such as "hold, wear, view, use, give". Since its establishment in 1892, GINZA TANAKA has always been with Gold. With that pride in mind, we will deliver "exciting moments" in a more free way to enjoy. The entrance is easy to see inside the store, and the interior is white with marbled walls and floor. As a new attempt, a cafe counter is installed at the back of the floor so that you can enjoy the space more comfortably. The idea of renewal opening is to continue being "there is always there when you seek gold".
In line with the reopening, GINZA TANAKA will develop a new collection that proposes various ways to enjoy "Gold" based on the concept of "Gold is more free." In the first collection of the new collection, we will release adorable pure gold objects with the theme of nature motifs, and objects that represent animals by up-and-coming artists in pure gold. In the second installment, we are planning sophisticated gift accessories that add richness to everyday life. The store has also been renewed and the new GINZA TANAKA will continue to offer various ways to enjoy it by expanding the collection that maximizes the charm of precious metals.
― Overview of GINZA TANAKA Ginza Main Store ―
[Store name] GINZA TANAKA Ginza main store [Opening date] Thursday, September 5, 2019
[Location] 1-7-7 Ginza, Chuo-ku, Tokyo 104-0061
[Access] Yurakucho Line "Ginza 1-Chome Station" Exit 7 Immediately 3 minutes on foot from Ginza Line "Kyobashi Station" Exit 3 5 minutes on foot from Ginza Line "Ginza Station" Exit A13 [Business hours] 10: 30-19 : 00 * Open all year round (except year-end and New Year holidays)
[Phone number] 03-3561-0491
[Handling Products] Gold / Platinum Jewelry Bridal Jewelry Precious Metal Crafts Purchase of precious metal bullion / coin precious metal products Various souvenirs, renovations, etc.
<Reference: About GINZA TANAKA>
Established in 1892, GINZA TANAKA (Tanaka Kikinzoku Jewelery Co., Ltd.) is a long-established precious metal store with a history and tradition that gives each individual lifestyle a sparkle by providing high-quality jewelry and crafts. is. Using high quality precious metals such as pure gold and platinum, we make and sell jewelry and crafts that are rich in design and have high asset characteristics by making full use of craftsmanship techniques.
[Company name] Tanaka Kikinzoku Jewelery Co., Ltd. [Headquarters] 1-7-7 Ginza, Chuo-ku, Tokyo 104-0061 TEL: 03-3561-0491
[Representative] Kazukazu Tanaka, President and Representative Director
[Business Overview] Sale of jewelry and precious metals [Directly managed stores]
Ginza Main Store, Shinjuku Store, Hotel Chinzanso Tokyo Store, Isetan Tachikawa Store, Isetan Urawa Store, Yokohama Motomachi Store, Sendai Store,
Nagoya store, Nagoya Mitsukoshi Sakae store, Shinsaibashi store, Takamatsu Mitsukoshi store, Fukuoka Nishitetsu Grand Hotel store
[Handling products]
Gold / platinum jewelry, diamond jewelry, bridal jewelry, precious metal craft jewelry remodeling, purchase and sale of precious metal bullion and coins, purchase of precious metal products * Some stores are not available.
[Founding] 1892 [Capital] 380,000,000 yen
<About Tanaka Kikinzoku Group>
Since its establishment in 1885 (Meiji 18), the Tanaka Kikinzoku Group has been developing a wide range of activities in business areas centered on precious metals. Boasting top-class precious metal handling in Japan, we have been manufacturing and selling industrial precious metal products and providing precious metal products as jewelry and assets for many years. As a group of specialists engaged in precious metals, domestic and overseas group companies cooperate in manufacturing, sales and technology to provide products and services. Tanaka Kikinzoku Jewelery Co., Ltd. is a member of the Tanaka Kikinzoku Group and is responsible for the jewelry sales business. In order to further promote globalization, in 2016 we welcomed Metalor Technologies International SA as a group company. We will continue to contribute to a comfortable and affluent lifestyle through our business as a precious metal professional.
■ General Inquiries / GINZA TANAKA TEL : 0120-556-826
https://www.ginzatanaka.co.jp
---