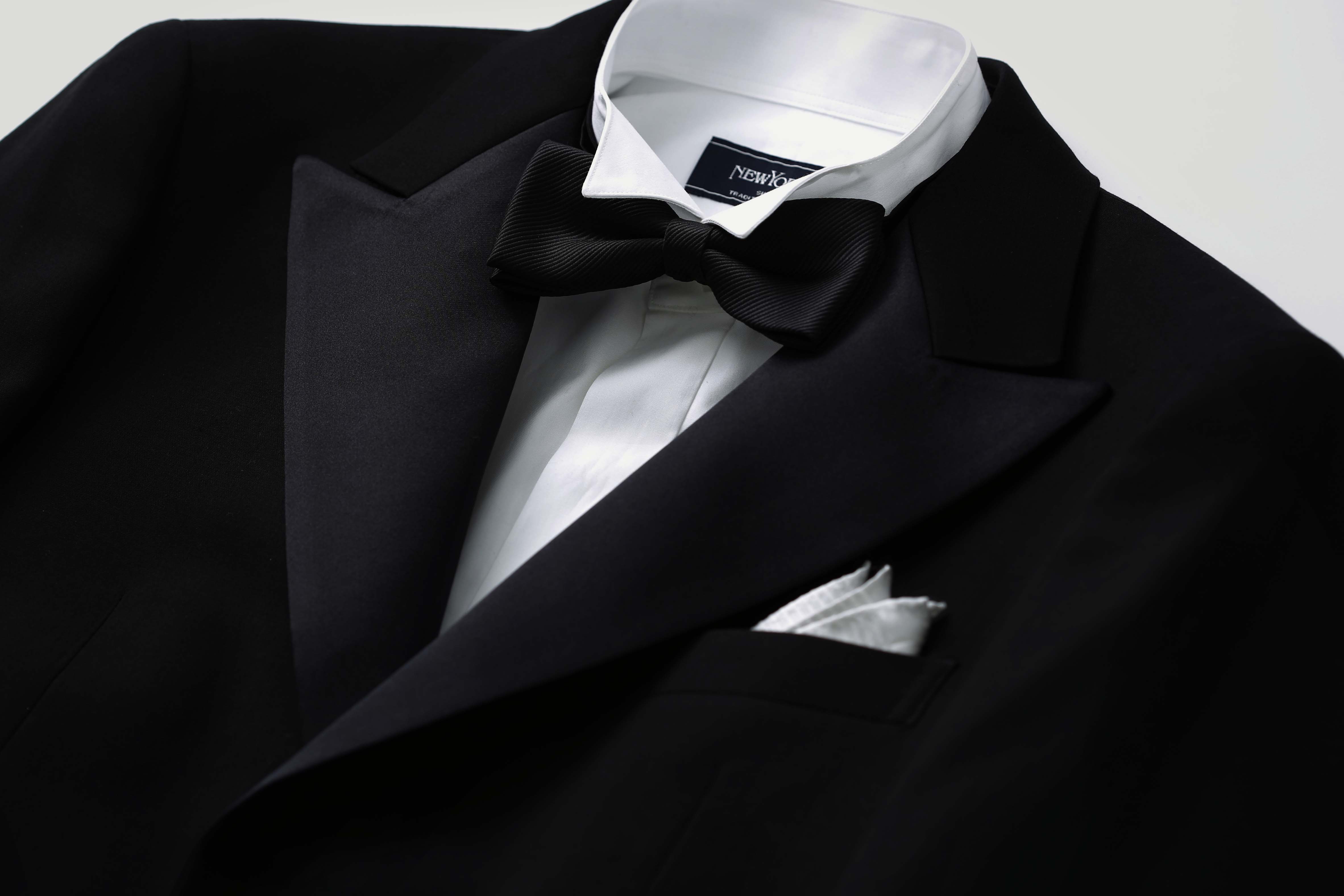 Tuxedo (Black)
Pattern order early order reception held from August 23 (Friday) to September 30 (Monday)
In "NEWYORKER" which proposes a traditional and sophisticated style, "Tuxedo" will be newly developed from August 16, 2019 (Friday).
In addition, director suits, solid (solid) suits, and formal accessories are also available to propose a formal dress-up style for adults.
Furthermore, an early ordering event for pattern orders tailoring formal wear into a more personalized wearer will be held from August 23 (Friday) to September 30 (Monday), including the New Yorker Ginza Flagship Shop, nationwide. Will be held at the New Yorker Men's store.
---
---
* The official online store [ https://www.ny-onlinestore.com ] will introduce tuxedo in detail from Wednesday, August 14th.
Please take a look.
■ CERUTTI FORMAL Tuxedo
The evening dress "Tuxedo" is an indispensable part of the suit style.
The "New Yorker" tuxedo is based on Cerutti's doskin fabric, and uses an executive formal fabric with limit concentration dyeing in Oshu.
Natural stretch and suppleness are exceptional.
A slack with a single drapery with a peaked lapel with silk and a side chapter.
Navy blue dough is available for pattern orders only.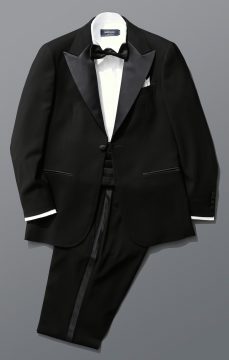 Price: ¥ 120,000 + tax / Pattern order ¥ 140,000 + tax Material: 100% wool, separate fabric 36% silk, cupra 64% Color: Black, Navy (pattern order limited color) Release date: August 16 (Fri)
■ Director's suit <br /> Director's suit that is perfect for daytime celebrations.
A high-class style that combines a dark black jacket with light gray striped pants.
Only pattern orders are accepted this season.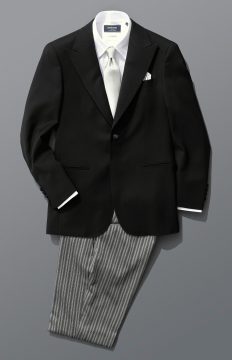 Jacket ¥ 58,000 + tax ~ Trousers ¥ 27,000 + tax
■ Solid Suit <br /> New Yorker's solid (plain) suit for a wide range of official scenes such as occasions and business.
For more formal occasions, we recommend using solid ties and shirts, and in the casual scene, it is recommended to incorporate a playful pattern.
Jacket ¥ 52,000 + tax Trousers ¥ 21,000 + tax
■ Formal Accessories <br /> Accessories essential for dressing up only as a dress.
You can coordinate with elegant items such as silver color, black color, and silk.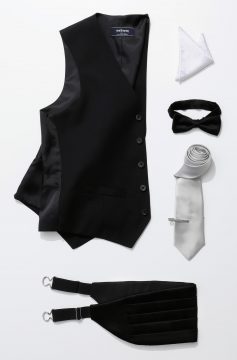 Best ¥ 21,000 + tax Pocket Chief ¥ 3,800 + tax Bowtie ¥ 11,000 + tax
Tai Tai Bar Cummerbund ¥ 9,500 + tax ¥ 7,500 + tax ¥ 16,000 + tax
Pattern order early order reception
A pattern order for "NEWYORKER" that adds a customer's attention and combines it to create a first-class suit that is different from a ready-made suit.
You can choose a ready-made suit at the store as the basic model, combine your favorite fabrics and details freely, and perform size correction to complete a more personalized first place.
Special offers for early orders are available, so please make formal wear tailored to pattern orders.
■ Period:
August 23 (Fri)-September 30 (Mon) 2019
・ Stores held:
47 New Yorker Men's stores * Excluding Odawara and Otakanomori stores
・ Bonus:
1 If you order a suit including setup for all fabrics, you will receive a discount of 8,000 yen.
2 Limited number of special fabrics for early orders.
・ Tailoring period:
About 4 weeks
WEB:
http://www.newyorker.co.jp/pattern_order/men/19aw/
[Flow to pattern order suit completion]
Step1 Choose your favorite fabric.
Step2 Choose your favorite model based on the silhouette of the ready-made suit.
Step3 Select details. (Stitch: 5 types, chest / waist pocket: 7 types, cuffs: 3 types, vent: 3 types, back specification, look back, Marvel 3 types)
Step4 Select options. (Button, lining, belt stay loop, watch pocket, suspender button, shirt slip, heart chic, pocket chief specification 5 types)
Customer Inquiries Daido Forward Co., Ltd. Toll Free 0120-17-0599
Homepage www.newyorker.co.jp
---