"Tadao Sato Solo Exhibition-The World of Wood Painting" will be held at Ginza Kanematsu Hall for 4 days from September 20th (Friday) to 23rd (Monday / Holiday).
Tadao Sato is a talented artist who has been involved in illustrations for numerous famous corporate advertisements, including the main visual poster of the musical "CATS" and the jacket of the "LUNATIC LION" album by Keiji Yoshikawa.
In this exhibition, about 40 works, including new works of "wood paintings" that reconstruct the natural ecosystem using the grain of old trees that are over 1000 years old, will also be exhibited and live painting Will be shown.
In addition, some of the exhibited works can be purchased.
◆ "Mokusaiga" which draws nature on the old tree Live painting is also held at the exhibition, where you can actually see the production process.
---
---
A wood painting by Tadao Sato for over 20 years.
Traces carved on old trees over the years, withstanding various natural environments, appear as a beautiful landscape that is rich in change.
It is a painting that directly depicts the scenery of the water and flora and fauna on the tree as if it were a sparkle or a stream of water.
It's an expression technique unique to Tadao Sato that makes you feel nature on the old tree, like an aquarium that expresses nature in the aquarium.
Tadao Sato's choice of wood as the material for the wood paintings is a rare item with very beautiful grain, such as Yakusugi and Tochi, on which animals and plants are depicted with overwhelming descriptive power.
And when harmonized with the scenery of trees, a completely new world of beauty emerges.
In addition, at this exhibition, live painting of wood paintings by the artist himself will be held on some dates.
You can take a close look at how wood paintings are drawn, as well as Tadao Sato's breathtaking depiction.
* The grain that is highly decorative and artistic and rich in change is called "Mokume" or "Moku".
● <Overview of wood painting live painting>
From September 21st (Sat.) to 23rd (Mon./holiday), the artist will visit and perform live painting.
◆ Profile of Tadao Sato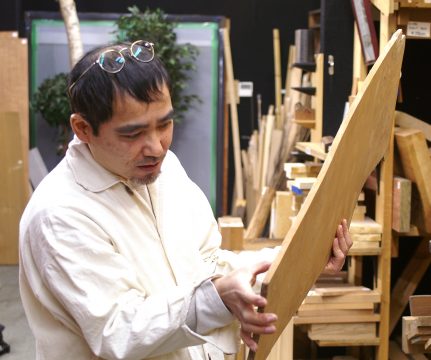 Born in Nagano Prefecture in 1959.
In 1980, he began producing graphic arts such as advertisements and packages, and at the same time, began creating original paintings with motifs of living creatures that coexist with nature.
Established Blast Co., Ltd., a painting and illustration production company, in 1996.
In 1998, he started producing "Kisai" art.
Started free activities in 2006 and is in charge of graphic art for Hitachi, NEC, Daiwa House, Lotte, Kao and Mazda.
In 2009, won the "Bird in Art Exhibition" sponsored by Rayleigh York Woodson Museum of America.
In 2010, he won the 61st National Calendar Exhibition Japan Printing Industry Federation Chairman's Award.
In 2011, he produced "Kisai" works for the entrance of Kyoto Aquarium and the display of the guest room.
In addition, many group exhibitions, special exhibitions, and many industry advertising awards (in charge of illustrations)
◆ Part of the exhibition works
◆ "Tadao Sato Solo Exhibition -The World of Wood Painting"
Date: September 20 (Fri)-23 (Mon / holiday), 2019
Time: 11: 00 ~ 19: 00 (Closed at 17:00 on the last day)
Venue: Ginza Kanematsu Hall (Ginza Kanematsu Ginza 6chome Main Store, 5th floor, 6-9-9 Ginza, Chuo-ku, Tokyo)
Admission: Free Official Website: http://art-eventcollection.info/satoh/index.html
<Implementation>
・ Exhibition of about 40 works centered on wood paintings ・ Latest of wood paintings ・ Live painting by Tadao Sato Artist visit September 21 (Sat), 22 (Sun), 23 ( (Monday / holiday) Every day 13:00
・ Mr. Motoharu Murayama, who was active as a tree appraiser for "Good luck! Rare Sato's selection corner selected by Mr. Sato ・ For those who presented the event HP on their smartphones, they presented a "wooden painting, spring, summer, autumn and winter 2020 calendar poster"
~ Contact information for events ~
■ Art Collection House, Inc.Address: 6-15-14 Sotokanda, Chiyoda-ku, Tokyo Sotokanda Stoke Building 7F
TEL: 03-5846-1971 (Reception hours 12: 00 ~ 19: 00)
* Closed on Tuesdays and Wednesdays