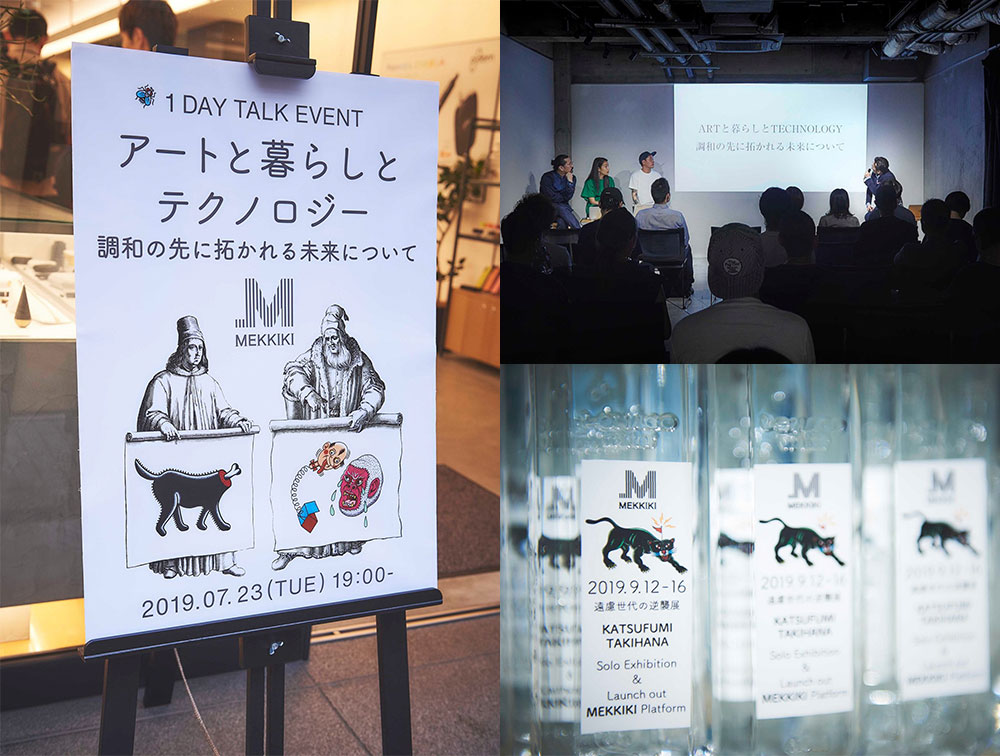 Innovation for Art Tech. Aiming for "art democratization" Start-up × Artist joint project started
Arttech startup MEKKIKI started with "art democratization" as its core concept. We will hold a demonstration experiment for practical application of a platform that visualizes the value of art as a joint project with artists at BASEMENT GINZA on September 12-16, 2018. During the period, it is an event where you can actually experience the visualization of value. Please experience the fusion of art and technology. Event information: http://basementginza.jp/ev20190912_20190916/
Arttech startup MEKKIKI PROJECT supported by tensorX Co., Ltd. (reading: Mekiki, hereinafter referred to as MEKKIKI) will conduct a proof-of-concept experiment on the practical use of the "Mekkiki" platform for visualizing art values from Thursday, September 12, 2019 It will be held at "BASEMENT GINZA (Chuo-ku, Tokyo)" until Monday (holiday).
This project will be held as a collaborative project with Katsufumi Taki's first solo exhibition in Japan, "The Struggle of Strikes".
During the period, visitors can leave impressions and give value points to Mr. Taki's work via the platform MEKKIKI. This is an opportunity to actually experience "visualization of value".
Katsufumi Takihana Solo Exhibition powered by MEKKIKI
"Retrogression of the Reluctant Generation"
Event information: http://basementginza.jp/ev20190912_20190916/
---
---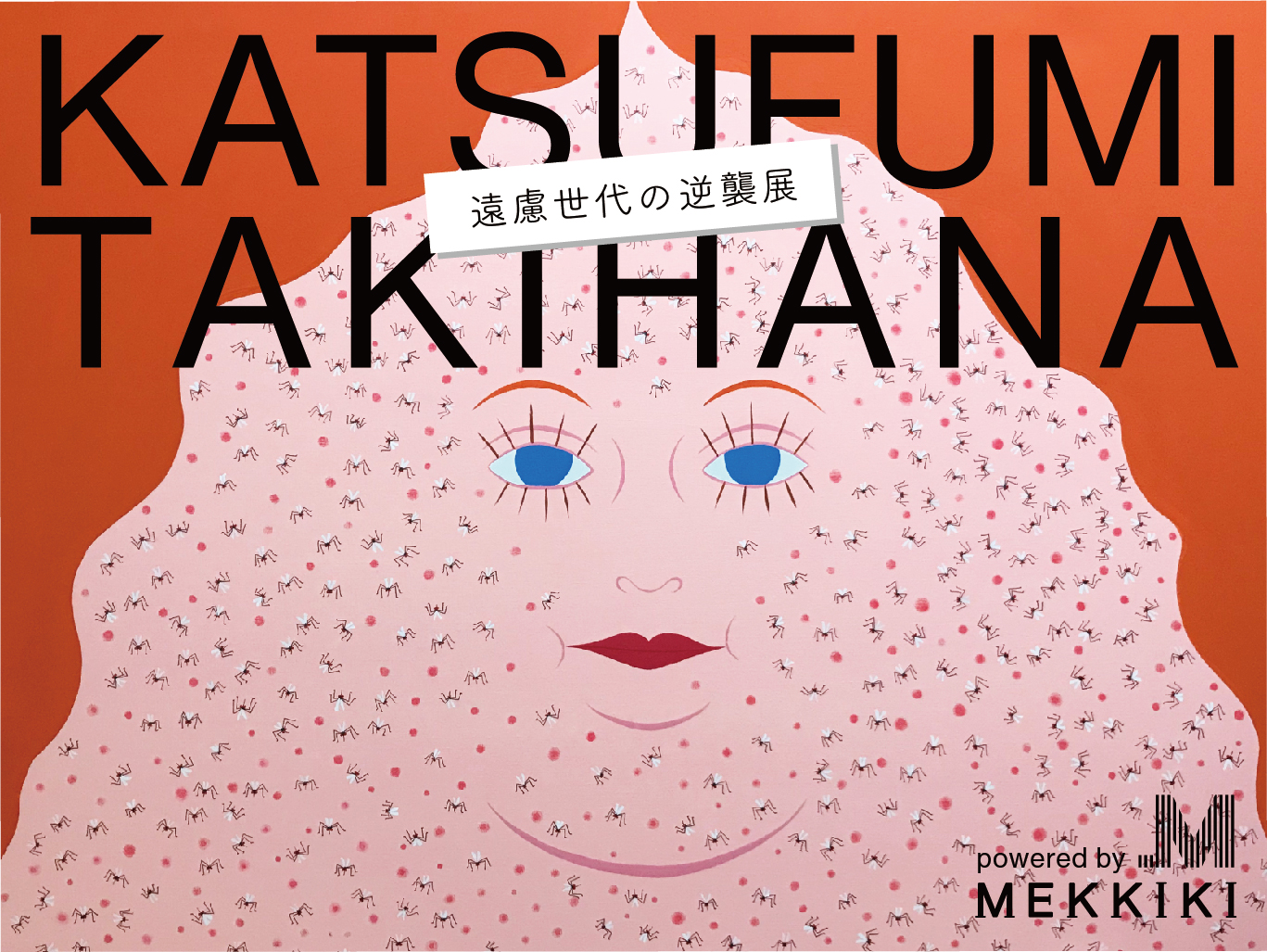 MEKKIKI is an art tech startup and platform that was formed following the Japanese " connoisseur " based on the concept of "art democratization".
Art has been "for some privileged classes" in its long history. And technology has evolved only in the way of art.
The fusion of art and technology that MEKKIKI considers is not for artistic expression but for market activity. And we started to make art that was allowed only by the privileged class, with the power of technology, "anyone interested can enjoy it".
"Tokimeki" born from his "connoisseur" raises the value of art. MEKKIKI is a platform that visualizes its value and enables a new art appreciation experience.
Platform mechanism <br /> The development concept is "the value of the work is enhanced by" cognition "and" purchasing desire ".
When the smartphone camera is pointed at the displayed work, the target work is automatically recognized based on machine learning.
A unique point called "Mek" can be attached to the target work page on the MEKKIKI site. By adding this Mek to a work you like, you can increase the value of that work. It becomes. In addition, by posting the comments of viewers to the work, we aim to build a new community and interest and revitalize in the art market.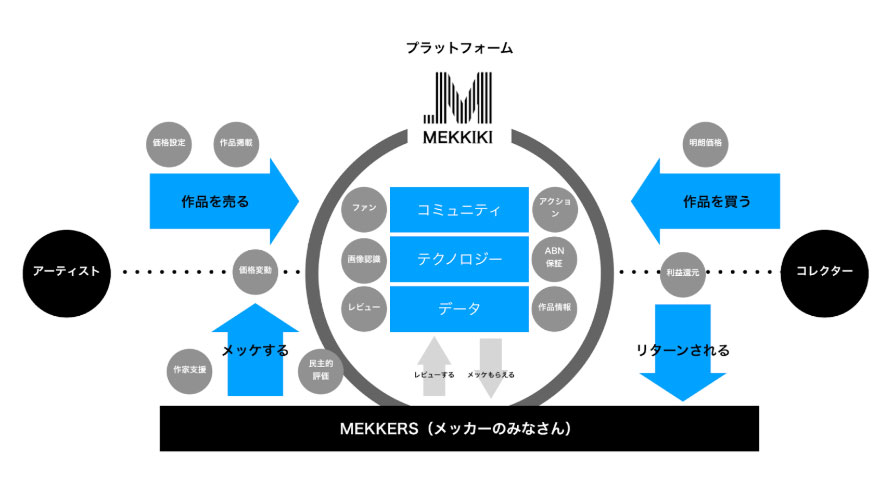 * Mek (points) will be distributed to visitors when they enter.
[1day Talk Event] Art, Life and Technology
Prior to the start of the verification experiment, many people attended the teaser event held on July 23 at the same venue and received a lot of high evaluation.
This was not only an interest in MEKKIKI, but I felt that there were many people who were interested in the art and art market in the same way as ours.
Taking the needs of the times by repeating experiments and verifications toward commercialization, we will take the first step toward building a universal platform in the future.
Katsufumi Takihana Solo Exhibition powered by MEKKIKI
"Retrogression of the Refusal Generation" Event Information <br /> Event Information: http://basementginza.jp/ev20190912_20190916/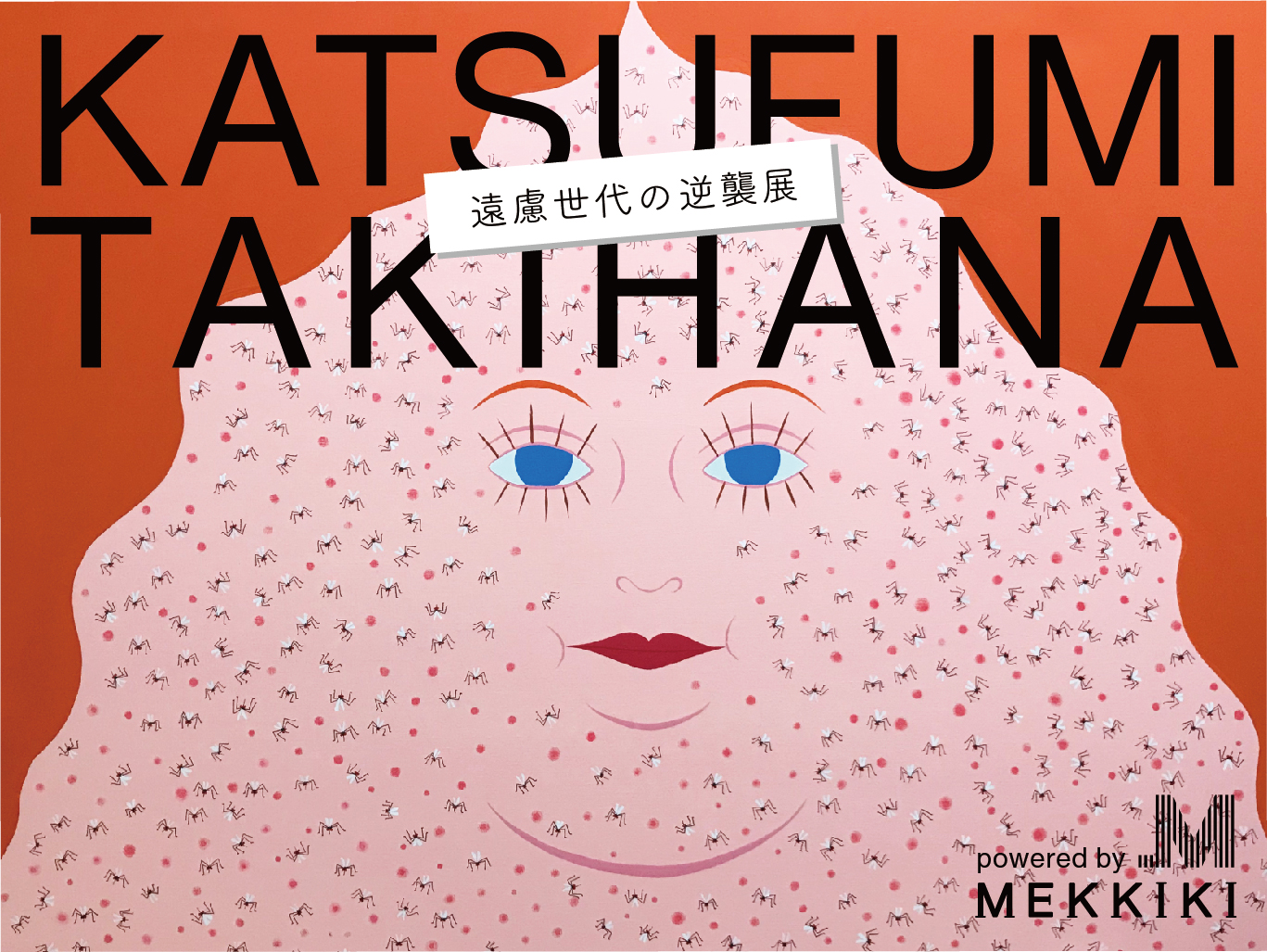 Date: September 12 (Thu)-September 16 (Mon / holiday), 2019
Time: 11: 00-21: 00
* September 12 (Thursday) 17: 00-21: 00 / September 16 (Monday / Holiday) 11: 00-20: 00
Fee: Free admission Venue: BASEMENT GINZA
URL: http://basementginza.jp
Address: Tokyo, Chuo-ku, Ginza 4-5-3 Ploom Shop Ginza B1F
Access: 1 minute walk from Ginza Station Exit B2
<Schedule>
September 12 (Thursday) 18: 00-21: 00 Opening party * Opening is scheduled for 17:00
September 13th (Fri) 19: 00- Katsufui Takihana Talk show: Katsufumi Takihana & Secret Guest
September 15 (Sun) 14: 00-21: 00 TACOAGE PARTY
Cast: Hiroshi Nakamura (i-dep) / Tanny Montana (GUTSON inc) & more
For inquiries about the event: mekkiki.tokyo@gmail.com
* For details and changes, please visit https://www.instagram.com/katsufumitakihana/
Will be updated from time to time.
Artist profile <br /> Katsufumi Takihana | Katsufumi Takihana
Department of Print Arts, Osaka College of Arts
World-wide production of CD jacket artwork and other illustrations. He gained the support of New Yorker as a notable artist from SNS and held his first solo exhibition at the New York City MISHKA Head shop. 50 works are sold out.
Following New York, he has received high acclaim overseas, including participating in BE STREET "BOOTLEG BART" held in Los Angeles and Paris. And this time, the first solo exhibition in Japan, "Retrogression of the Unreserved Generation" is held.