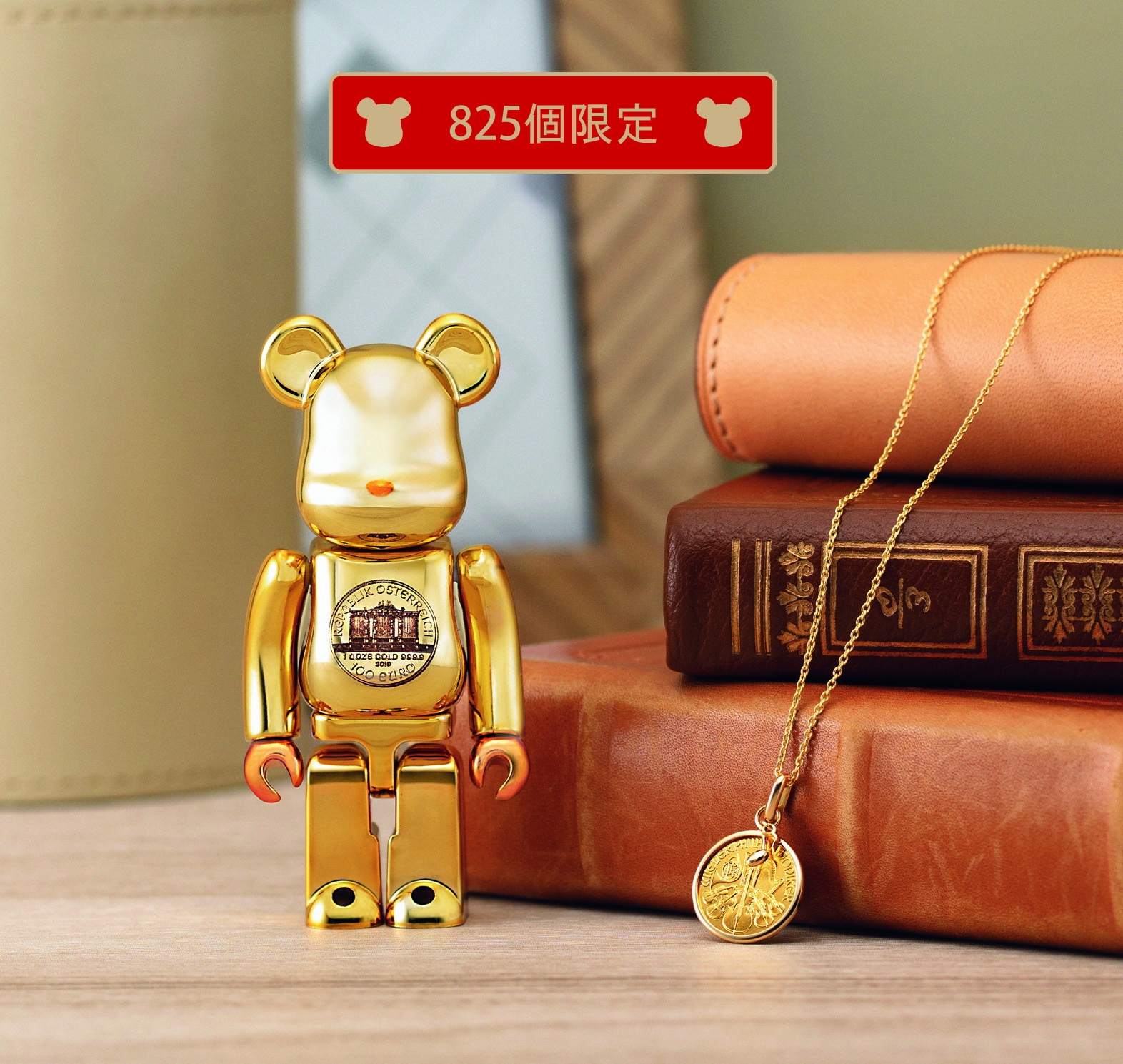 -Limited jewelry in collaboration with "BE @ RBRICK" popular in Japan and overseas, and gold leaf interiors worthy of Christmas gifts, etc.-
Ginza Tanaka, a long-established precious metal company founded in 1892 (Headquarters: Tanaka Kikinzoku Jewelry Co., Ltd. Head Office: Ginza, Chuo-ku, President and CEO: Kazukazu Tanaka) November 15 (Fri)-December 25 (Wed), 2019 Until then, "Christmas Jewelery Fair-113th Seibikai" will be held at 12 stores nationwide. Enjoy beautiful jewelry and crafts that add glamorous to the Christmas season and special events only during this period.
* All products are sold at Ginza Tanaka's directly managed stores and online shops.

■ Ginza Tanaka and "BE @ RBRICK" are the first collaboration!
Limited to 825 "Vienna Gold Coin Harmony Coin Pendant with Original Bearbrick"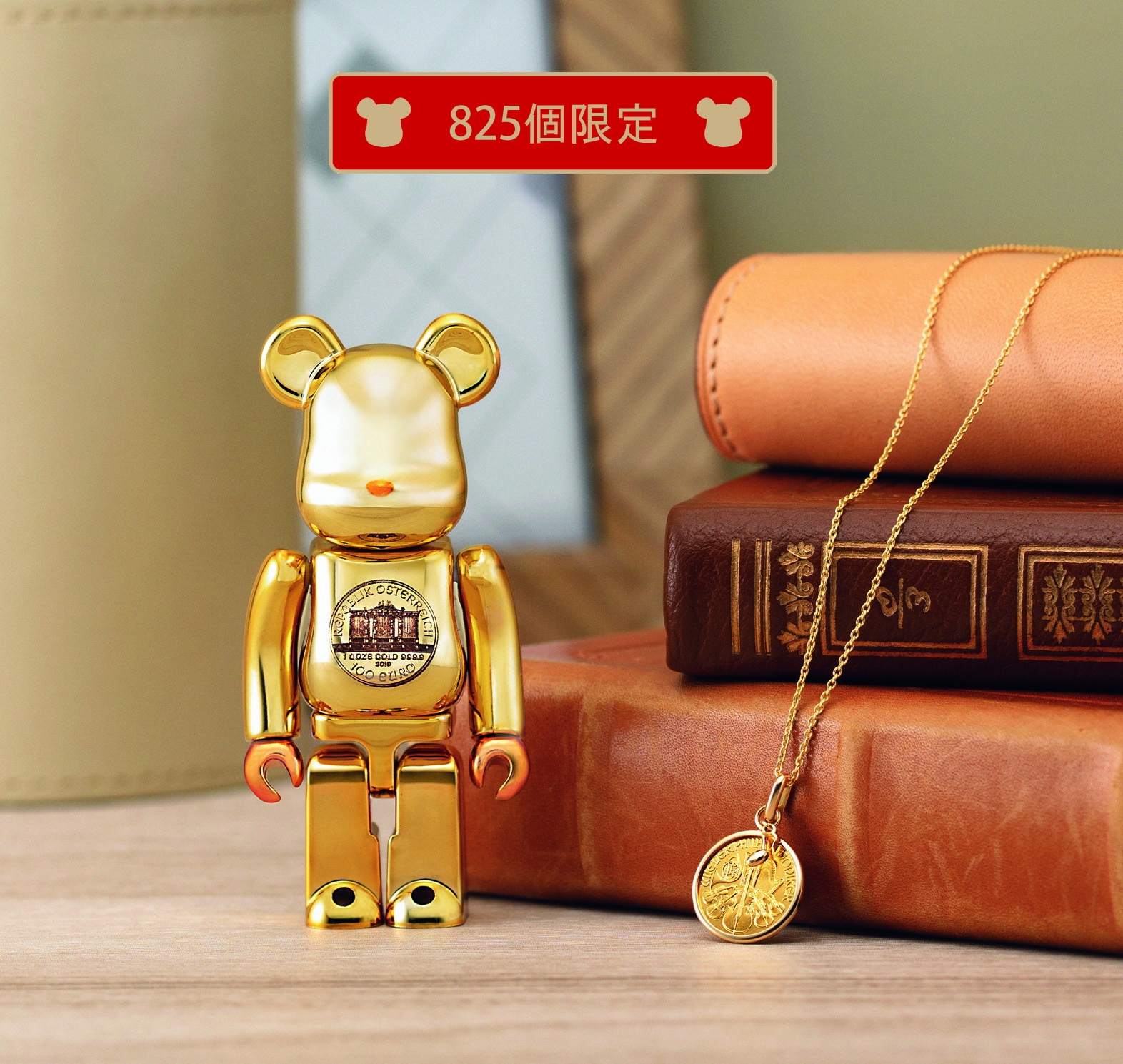 The "Vienna Gold Harmony" is a gold coin with a delicate relief of orchestral instruments from the city of Vienna and is very popular in Europe and Japan due to its beauty. This year will be the 825th anniversary of the Austrian Mint and the 30th anniversary of the 30th anniversary of the launch of the Viennese Gold Harmony Japan, so we will be selling a special limited edition coin pendant (1/25 ounces), combined with Ginza Tanaka's original design Bare Brick. .
Ginza Tanaka's gold-colored metallic bare brick abdomen and back are each designed with the front and back of the Viennese gold harmony.
The simple coin pendant has a lovely note charm that adds an accent to the design.
---
---
BE @ RBRICK TM & (c) 2001-2019 MEDICOM TOY CORPORATION.
[Product name] Vienna gold coin harmony with original bear brick Coin pendant [Tax included] 55,000 yen [Material size]
Coin pendant: K24 (Vienna gold harmony 1/25 ounce) / K18 / 45cm long
Bearbrick: Approximately 7cm in height, with a special gift case
* Limited to 825 units sold and will be discontinued as soon as it disappears.
BE @ RBRICK TM & (c) 2001-2019 MEDICOM TOY CORPORATION.
* (C) is Marcy notation
■ Art amount that is perfect for Christmas gifts, with plants as a motif
Since 2018, Ginza Tanaka has gained popularity by selling gold leaf and platinum leaf art amounts designed and produced by paper artist Kazuyoshi Kanno, who has received a great deal of attention from both Japan and overseas due to his delicate style. . In this Christmas season, we will respond to customer requests for a larger art amount than before, and we will sell a limited amount of 100 pieces each, which is higher than conventional products.
Art motifs include pine cones (immortal longevity), holly (immortal shine), laurels (glory, victory), olives (peace), mistletoe (overcoming difficulties), blueberries (fruit) Life), birds, reindeer, etc. are designed.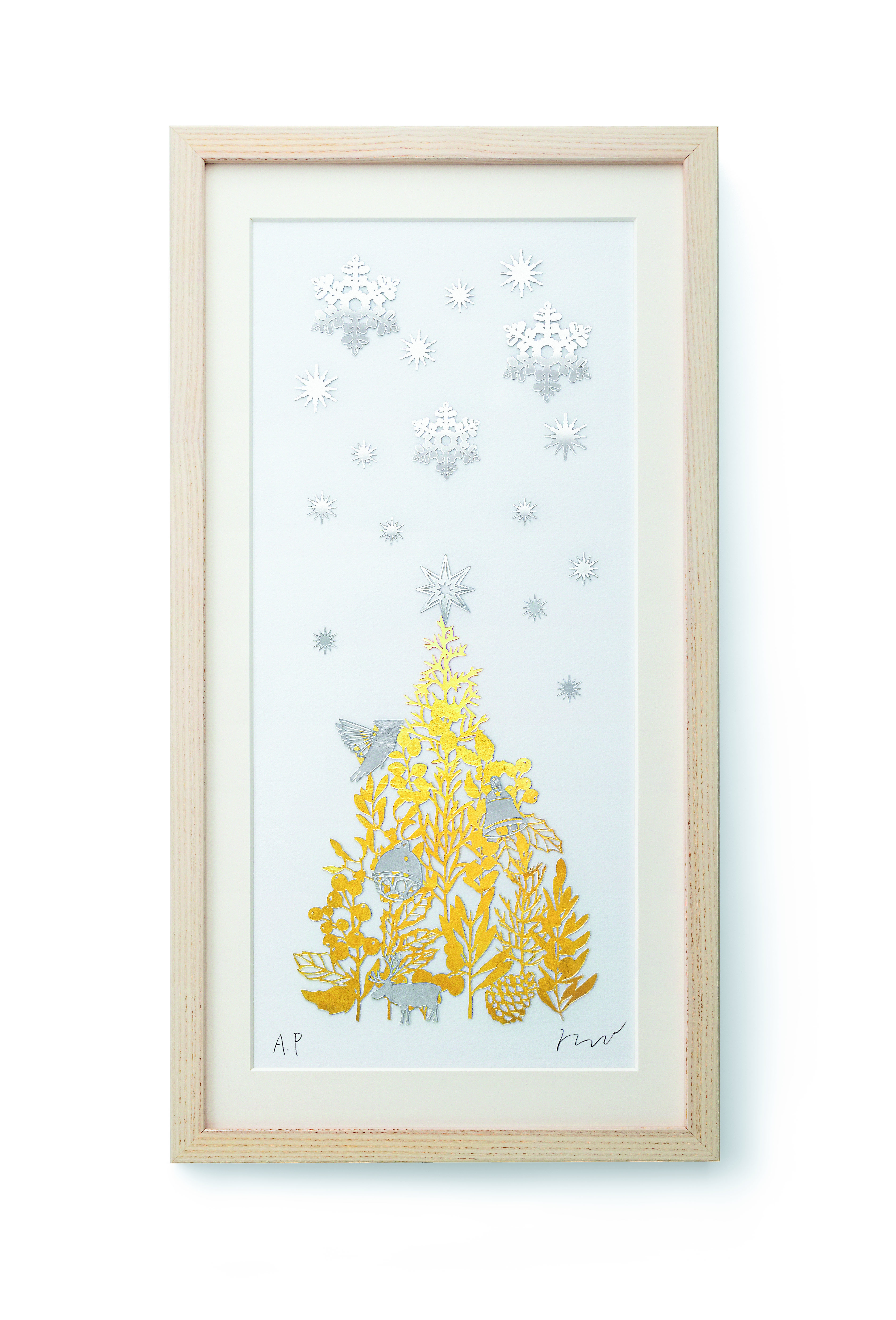 [Product Name] Gold leaf & Platinum leaf art "Christmas tree"
[Tax-included price] 55,000 yen [forehead size] width approximately 24 * height approximately 45.5cm
* Limited to 100 sold * Serial number is included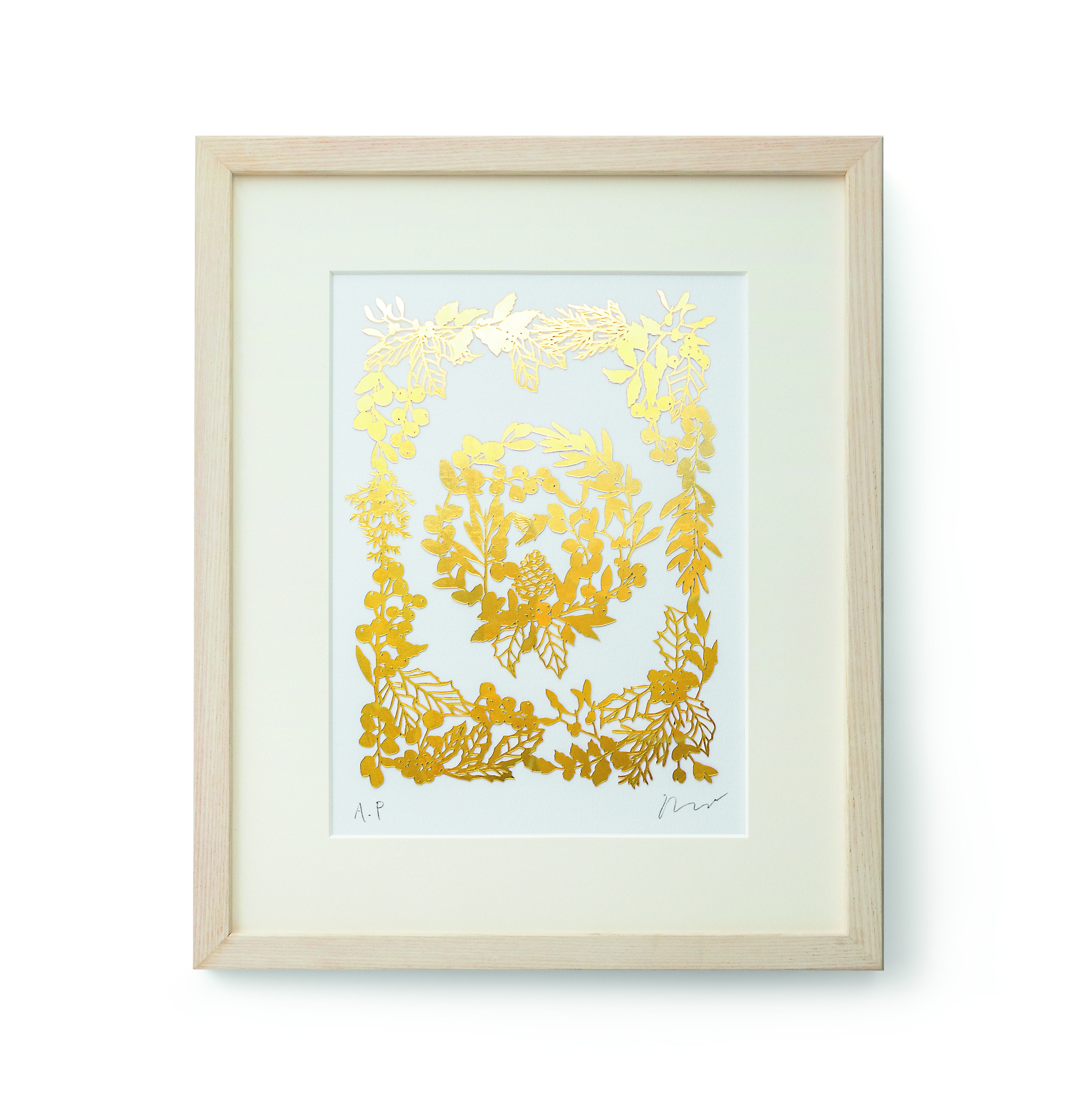 [Product name] Gold leaf art "Christmas wreath"
[Tax-included price] 55,000 yen [forehead size] width approximately 28 * height approximately 34cm
* Limited to 100 sold * Serial number is included
■ Ginza Tanaka Ginza Main Store Limited Event
Express the fantastic world of Christmas with gold and paper art!
In the 6th floor of the Ginza Main Store, a Christmas display by Kazuyoshi Kanno, a paper artist who designs and produces gold leaf and platinum leaf art pieces sold at Ginza Tanaka, is being developed.
A special Christmas tree with gold leaf, made possible by collaboration with Ginza Tanaka, brings out a delicate expression of paper and a further sparkling and fantastic Christmas world view by directing light. In addition to the tree, you can see many paper arts that decorate the interior of the fireplace and table setting with Christmas designs.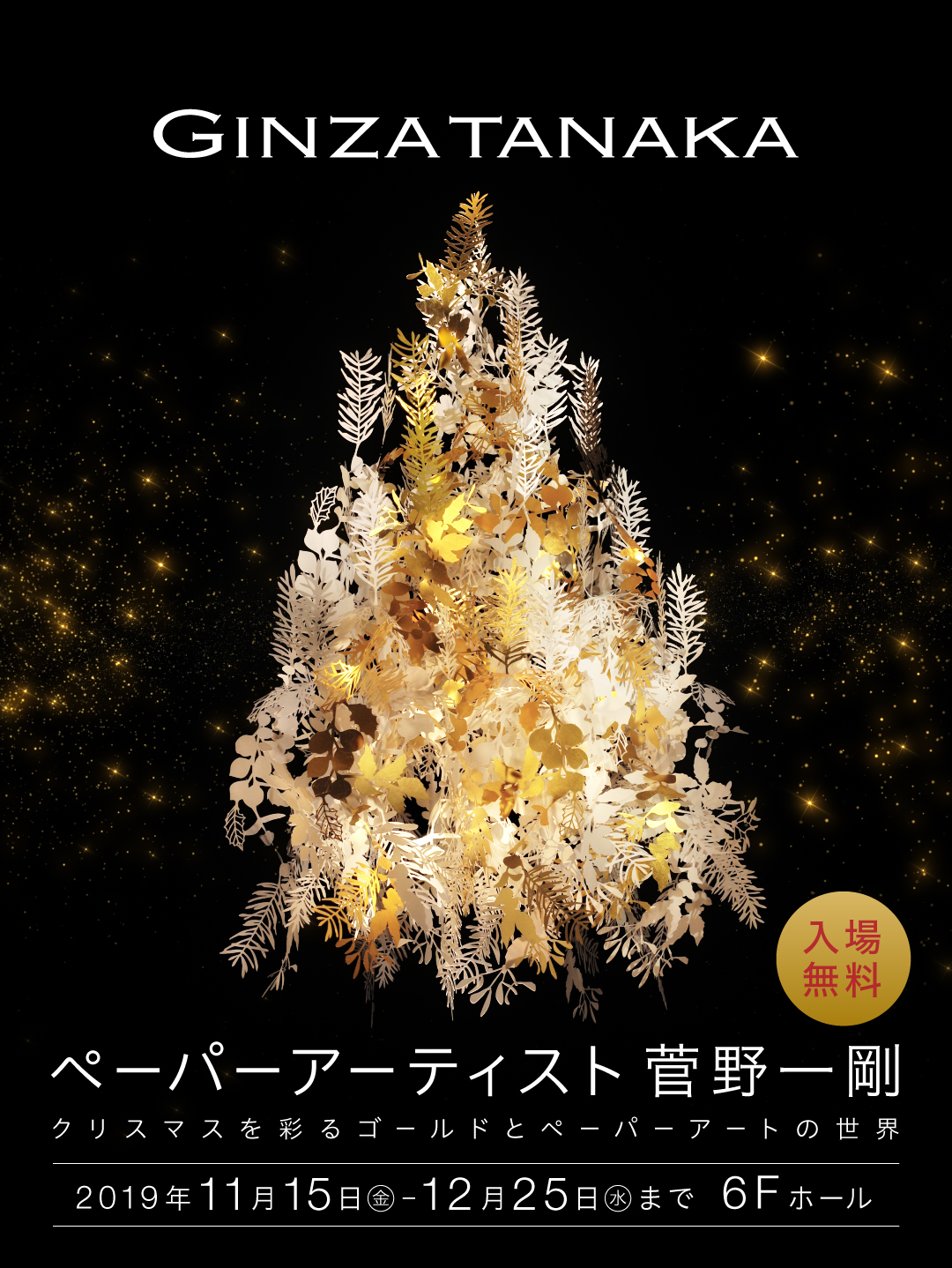 "Paper artist Kazuyoshi Kanno, the world of gold and paper art that colors Christmas"
November 15 (Friday)-December 25 (Wednesday), 2019 10: 30-19: 00
Ginza Tanaka Ginza Main Store 6F Hall * Admission free
<Profile of Kazuyoshi Kanno>
Born in 1978. Lives in Kanagawa Prefecture. After graduating from the Meiji University Faculty of Letters, he worked for a gallery and apparel design company. He is involved in numerous brand clothing and textile designs. In recent years, he has worked as Paper Artist with his own style of "sew and cut paper". Launched "nekonekodesign PAPER ARTS" independently in April 2018. Mainly in overseas luxury brands and major department stores, the company handles paper window displays and table coordination products.
* Product prices (including tax), product information, store information, etc. are subject to change without notice.
[About Ginza Tanaka]
Established in 1892, Ginza Tanaka (Tanaka Kikinzoku Jewelery Co., Ltd.) is a long-established precious metal store with a history and tradition that gives each individual lifestyle a further sparkle by providing high-quality jewelry and crafts. . Using high quality precious metals such as pure gold and platinum, we make and sell jewelry and crafts that are rich in design and have high asset characteristics by making full use of craftsmanship techniques.
[Directly managed stores]
Ginza Main Store, Shinjuku Store, Hotel Chinzanso Tokyo Store, Isetan Tachikawa Store, Isetan Urawa Store, Yokohama Motomachi Store, Sendai Store, Nagoya Store, Nagoya Mitsukoshi Sakae Store, Shinsaibashi Store, Takamatsu Mitsukoshi Store, Fukuoka Nishitetsu Grand Hotel Store
<About Tanaka Kikinzoku Group>
Since its establishment in 1885 (Meiji 18), the Tanaka Kikinzoku Group has been developing a wide range of activities in business areas centered on precious metals. Boasting top-class precious metal handling in Japan, we have been manufacturing and selling industrial precious metal products and providing precious metal products as jewelry and assets for many years. As a group of specialists engaged in precious metals, domestic and overseas group companies cooperate in manufacturing, sales and technology to provide products and services. Tanaka Kikinzoku Jewelery Co., Ltd. is a member of the Tanaka Kikinzoku Group and is responsible for the jewelry sales business. In order to further promote globalization, in 2016 we welcomed Metalor Technologies International SA as a group company. We will continue to contribute to a comfortable and affluent lifestyle through our business as a precious metal professional.
■ Inquiries from the general public / Ginza Tanaka TEL: 0120-556-826 https://www.ginzatanaka.co.jp