In Ginza Ashiya Shoten (Chuo-ku, Tokyo), GINZA ATRIUM (GINZA SIX6th floor Ginza Ashiya Shoten) will hold a beautiful painting exhibition "Ryowa / Kyo / Beauty".
Ginza Ashiya Shoten proposes a "life with art" by connecting art, Japanese culture and life through books. We hope that this exhibition will provide you with an opportunity to discover the new charms of modern beauty painting exhibitions.
This time, we will hold a gorgeous beauty painting exhibition by contemporary artists in Kyoto, suitable for decorating the first New Year.
About beautiful pictures
---
---
In Kyoto, beautiful paintings are said to have started in the middle of Edo. By the time of the Taisho period after the Meiji era, the beautiful Ukiyo-e style changed from before until now, and beautiful realistic paintings that incorporate Western painting techniques came to be drawn. The flow of modern beauties formed a big peak in the first half of the Showa period and continued until the end of the Showa period.
Now, there is a new trend of beautiful paintings among young writers in Kyoto. While taking over the genealogy of beautiful paintings so far, we have prepared a number of beautiful paintings drawn with a fresh and modern sense.
Mr. Kozo Shioe (former director of the Kyoto Municipal Museum of Art), who contributed to the plan, gave us a comment on the exhibition.
-In this exhibition, young Japanese painters who are working in Kyoto are gathered, with the female image as the key. They are not only painters who are trying to pay attention to their writing skills, but they have developed their own unique worlds, and their skills are highly evaluated. However, because of the uniqueness of the world, there may be something that does not fit the image of a normal "beautiful picture". However, if I can feel the beauty of a woman as a mirror, I think it is a beautiful "beautiful picture". Because it is a woman image that is reflected in the eyes of a young Imadoki and is moving behind the scenes, let's stop measuring with the old frame. They are undoubtedly immaculate, but they are surely connected to the "Kyoto Bijin" "centennial lineage" with good thread.
Previous Kozo Shioe, Director, Kyoto City Museum of Art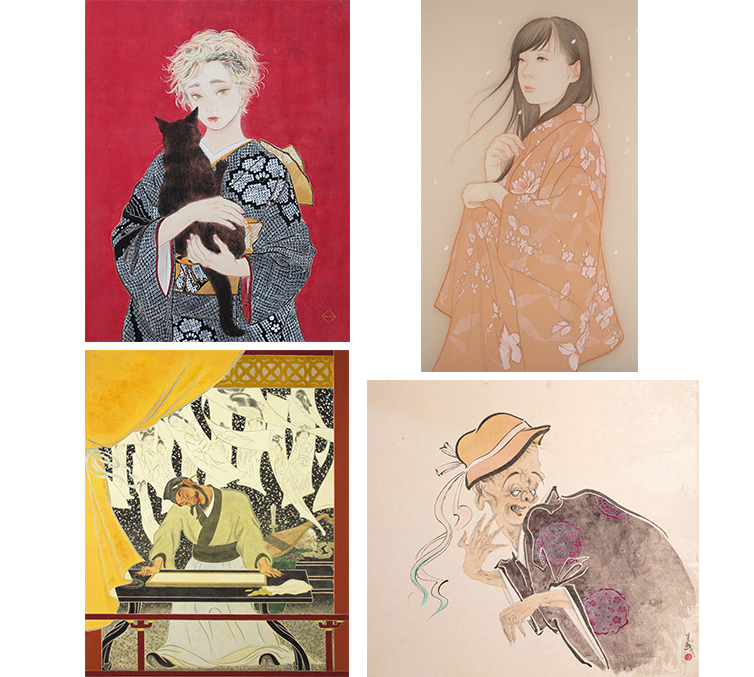 Exhibiting artists
Kazuho Imaoka
Born in Osaka Prefecture (1991-) Draws the tradition of Izumi City, where he was born, as a life work. A work born from thinking and connecting people in distant eras and people is a brilliant depiction of the connection between the world where classic and present are mixed. Major exhibitions include solo exhibition "Ikushinomiya" 2017 (Kyoto), "KIZUNA2018 exhibition" 2018 (Tokyo), followed by "Kyoto Japanese Painting New Exhibition" 2017 (Kyoto) and many others.
Koji Okutani
Born in Ishikawa Prefecture (1971-) Draws meek and nostalgic everyday life and scenery. The work that celebrates the brilliant moments of everyday life shows a clear appearance combined with the texture of Japanese art supplies. The main exhibitions include solo exhibitions "Daily Joy" 2019 (Kyoto), "Okiya Koji, Maeda Atsuko, Uozumi Kyoko Japanese Painting Three Exhibitions" 2019 (Kyoto), "Kyoto Japanese Painting New Exhibition" 2018 (Kyoto), etc. Many.
Shiori Hattori
Born in Kyoto (1988-) He is good at character figures with ink lines using classical techniques. Unraveling the traps that are inherent in them, the Japanese beauty nurtured by life and the devious state of people are put on "Ossan" and developed. His main exhibitions are "Let's Go for the Code" 2016 (Kyoto), "Japanese Strikes Back" 2017 (Gifu) and many others. In 2018, he devoted lacquer work to Tensyu-ji Temple, Nagasaki Prefecture.
Kiyo Fukuda
Born in Nara Prefecture (1985-), draws a portrait of a silk painting using the traditional technique of coloring. By carefully layering thin coats on silk, we aim to express delicately and strongly even the texture of skin and hair, the model's fragrance and the flowing time. Major exhibitions include solo exhibition "ART KYOTO 2019 / Umeken Gallery" (Kyoto), "Beautiful Painting Genealogy II" 2018 (Tokyo), "Kyoto Japanese Painting New Exhibition" (Excellent Award) 2017 (Kyoto) and many others.
Reina Matsudaira
Born in Hyogo Prefecture (1989-) Referring to classical techniques, the story of painting techniques with " types '' that draw anecdotes and stories and chasing phenomena that change the appearance as the times and places change, so explore new narrative paintings doing. In his main solo exhibition, "Seeing bad news-Painting a Japanese ghost story" 2018, (Kyoto) and many others. Awards include "Vocaloid Exhibition 2015", "Kyoto City New Artist Award" 2019.
event information
"Ryowa / Kyo / Beauty" Exhibition
From December 27, 2019 (Friday) to January 13, 2019 (Monday)
* Closed days are according to GINZA SIX 10:00-22:30
Venue Ginza Ashiya Shoten GINZA ARTIUM
GINZA SIX 6F, 6-1 Ginza, Chuo-ku, Tokyo
Organizer Ginza Ashiya Shoten Telephone 03-3575-7755
Web: https://store.tsite.jp/ginza/blog/humanities/11481-1138121204.html
Opening reception
The opening reception will be held on December 27 (Friday) on the first day of this exhibition.
At the opening reception, there will be presentations of works by exhibitors.
Date: December 27, 2019 (Friday)
Time: Scheduled from 18:00 to 19:30
Participation: Free / Admission Free Place: GINZA ATRIUM
store information
Ginza Ashiya Shoten
Address: 6-10-1 Ginza, Chuo-ku, Tokyo 104-0061, GINZA SIX 6F
Phone number: 03-3575-7775
Business hours: 10: 00-22: 30
Homepage: https://store.tsite.jp/ginza/
Facebook: https://www.facebook.com/GINZA.TSUTAYABOOKS/?ref=bookmarks
Twitter: https://twitter.com/GINZA_TSUTAYA
Instagram: https://www.instagram.com/ginza_tsutayabooks/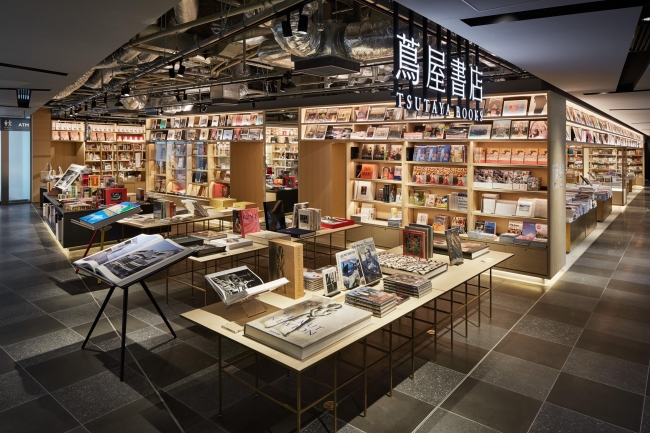 ---