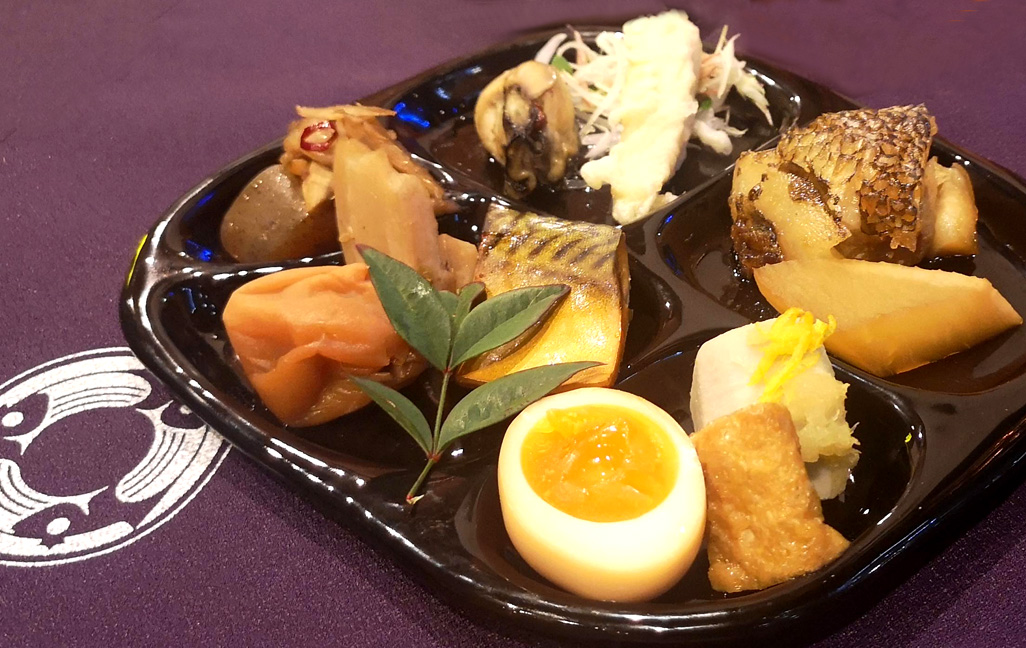 "Ryotei Ginza Uogatsu" Reopened on December 20
Ginza Uogatsu Co., Ltd. will open "Ryotei Ginza Uogatsu" on December 20, 2019, where you can taste authentic Japanese food at ease, with take-out and eat-in at the site of Ginza Uogatsu.
Yatsuhashi Katsuhiko will develop the menu for "Ryotei Ginza Uokatsu", but will be doing his best at the newly introduced restaurant "Kitsune" (closed to the public).
Starting with "Yaza Emon Inari" dedicated to Hodo Inari Shrine, which protects Ginza 4-chome during the renewal, "Renkon Shio Kinpira", "Oita Toriten", and "Smoked mackerel" were popular among Ginza Uosho. Along with the "Monthly Kabuki Story", we will offer a gem that incorporates the seasons like Kabuki.
Anyone can easily enjoy a dish where you can cherish yourself, such that an empty day becomes a little better day.

---
---
[About Ryotei Ginza Uosho]
The word "food" means the cuisine of the time of ke and the daily food that is the source of daily energy, even in the traditional Japanese hare and ke culture, while the word "tei" is open-minded. It means a place to rest. At "Ryotei Ginza Uokatsu", anyone can easily enjoy a dish where their casual daily life is a little better and they can cherish themselves.
Store name: Ryotei Ginza fishery business hours: From 10:30 to 21:00 (regular holiday Monday)
Location: 4-3-7 Ginza, Chuo-ku, Tokyo Ginza Subaru Building 2F Reservation / Contact: 03-6264-4774
Official site: https://ginzauokatsu.jp/
[About Yazae Inari]
It is a popular menu of "Ginza Uogatsu".
This is a sushi bar that you want to develop for Hodo Inari Shrine, which protects Ginza 4-chome located behind the store, and there are many long lines in the daytime to buy this sushi bar.
There are two types, "Fragrant Gomoku", which leaves a refreshing impression of yuzu, and "Wasabi Anago", which passes through the throat so that the fluffy eel melts. In "Ryotei Ginza Uogatsu", you can enjoy Inari sushi with one in each and a set of drinks, and with three pieces each, you can enjoy watching and attending a theater. A folding box is also available.
[About Ginza Uogatsu and the chef Katsuhiko Yanagihashi]
Ginza Uogatsu is an authentic Japanese cuisine restaurant where cook Katsuhiko Yanagihashi offers delicious fish and appetizers.
It is a prime location in Ginza, has a good cost performance, offers hospitality with surprising techniques, and is known as a restaurant with difficult reservations.
In this renewal, "Ryotei Ginza Uogatsu" has been made so that you can enjoy souvenirs and casual dishes and sake. Also, at the new store "Kitune", you can enjoy special dishes created by Katsuhiko Yanagihashi.
Kanahiko Yanagihashi Profile
1977 Born in Tsukiji, Chuo-ku, Tokyo His father was a middleman in Tsukiji and his mother was the second son of a small restaurant in Takahashi, Koto-ku. Through helping her mother's shop, she became an aspiring chef, and began training at a high-class obanzai shop in Ginza. After that, he went to teppanyaki, popular tsutsuyaki, sanuki udon shop, and izakaya, and in 2010, founded appetizers and fish wins in Kyobashi. Relocated to Ginza 4-chome from 2015 and opened Ginza Uogatsu. "Yazae Inari Inari," which was developed to dedicate to Dodo Inari Shrine at the back of the store, made a line up, and this popular product was pulled by the media.
Katsuhiko Yanagihashi Greetings <br /> The son of a fishmonger born in Tsukiji and raised in Chichibu, from Kyoto cuisine to training, has a border at this Ginza 4-chome, and the gentleness of the eastern taste and dashi soup as rice goes on. In February 2015, we opened a restaurant where you can taste the good taste of the West, both of which you can feel.
As people say, "people are eating information," these days, the popularity of media, critics, and word-of-mouth websites, and the fact that they shine in photos, tend to make the evaluation of taste higher than they actually are. Everybody has been trying to provide a salty plum seasoning that they feel nostalgic for, "I can't get tired of eating every day, I think it's delicious even if my eyelids are closed, and I want to eat it everyday." Feel free to enjoy Ginza Uogatsu's unique fish dishes and obanzai in pursuit of a taste that can only be tasted at the restaurant, which is simple without being strange.