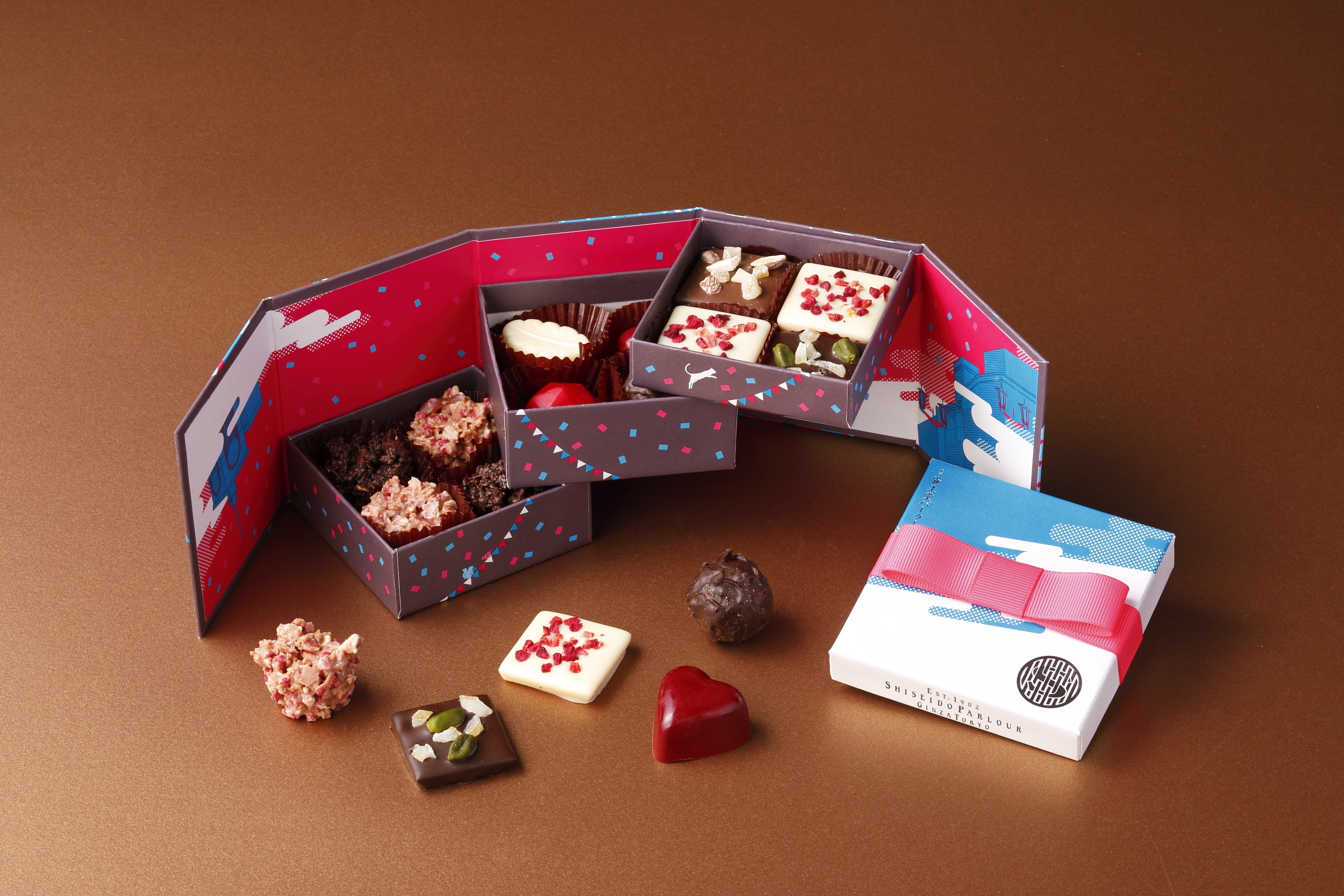 Shiseido Parlor will sell 5 items of "Valentine Collection 2020" and a total of 8 items from January 14 (Tuesday), 2020 for a limited time and quantity. We have a wide variety of items that can be selected according to the recipient and purpose. This year's package design theme is "Étape Valentine". The city of Ginza is gently carved out of steps, cutting out the scenery of the people who come and go and expressing them with illustrations. With love, appreciation and friendship on Shiseido Parlor's special chocolate, add compliments to yourself and enjoy this season of dancing.
"Shiseido Parlor Valentine Collection 2020" ≪Sale period: January 14 (Tue)-February 14 (Fri) ≫
"Le Chocolat"
-An intersection where the fruit and the flavor of sake meet unexpectedly-
Bonbon chocolate for adults, matching fruit and sake. A cute package that looks like a flower with an expanded skirt.
---
---
● 594 yen for 2 pieces (1 each for citron and apple)
● 1,485 yen for 5 pieces (apple, fig, white peach, strawberry, citron)
● 2,592 yen for 9 pieces (2 figs, 2 strawberries, 1 citrus, 2 peaches, 1 apple)
Strawberry: Red diamond-shaped chocolate wrapped in strawberry ganache with strawberry brandy in white chocolate.
Apple: Apple ganache flavored with apple wine Calvados, heart chocolate wrapped in milk chocolate.
Figurine: Shiny truffle chocolate with figurine ganache with port wine and cognac flavors.
Yuzu: Truffle chocolate wrapped in sweet chocolate with a citrus ganache with a rich flavor of sake.
White peach: Feather-shaped chocolate, white peach ganache flavored slightly with rose wine and gently wrapped with white chocolate.
"Cube chocolate 8 pieces" 594 yen
~ Meeting with melting happiness, tea time ~
A small cube-shaped chocolate with cocoa powder. Wrapped in the mellow flavor of milk chocolate. Package that spreads the story of tea time.
"Care Chocolat"
-Colorful, gorgeous like a parade-
A cute chocolate with a rich aroma spread every bite. Treated nuts and dried fruits are like beautiful confetti. A package inspired by people who parade lightly.
● 999 yen for 5 (sweet, ruby, milk, white, caramel each 1)
● 10pcs 1,998 yen (2 sweet, milk, caramel, 3 white, 1 ruby)
Sweet: Smooth sweet chocolate topped with refreshing dry lemon and pistachio.
Milk: Tropical chocolate with milk chocolate and dry mango and almonds.
White: Chocolate that matches sweet and sour dry strawberry and dry framboise with white chocolate.
Ruby: Chocolate with a ruby flavor added to vivid colored ruby chocolate.
Caramel: A mellow chocolate in which caramel chocolate melts gently on the tongue.
"7 pieces of mille-feuille" 1,782 yen
Happiness piled up in layers as lightly as snow
The pie wrapped in sweet chocolate is crisp and fragrant. The balance between praline cream and pie is also exquisite. A gorgeous design package where modern girls in Ginza dance.
" Chocolat Varie 2020 '' 3,240 yen
~ A sweet crush found on a street corner ~
The three-tiered box packed with chocolate gives a sense of excitement as if you were looking at a Ginza show window.
Three-stage total 12 pieces [Upper] Carrechocola (sweet, 1 for each milk, 2 white)
[Middle] Le chocolate (white peach, apple, citron, strawberry for each one)
[Lower] Roche (2 sweet and 2 strawberry)
Roche Suite: Dried fruits such as almonds and lemons coated with sweet chocolate are light and quick.
Roche Strawberry: Dried fruits such as almonds and strawberries are entwined with ornate pink chocolate.
* All photos are images.
* All prices include tax.
* All products will be discontinued as soon as the limited quantity is reached.
■ Shiseido Parlor 8-8-3 Ginza, Chuo-ku, Tokyo
Toll-free: 0120-4710-04 <Monday to Saturday 10:00 to 17:00 * Excluding New Year holidays and public holidays. 〉
URL: https://parlour.shiseido.co.jp/?rt_pr=pl295
Online shop: https://parlour.shiseido.co.jp/food_products/onlineshop/
---