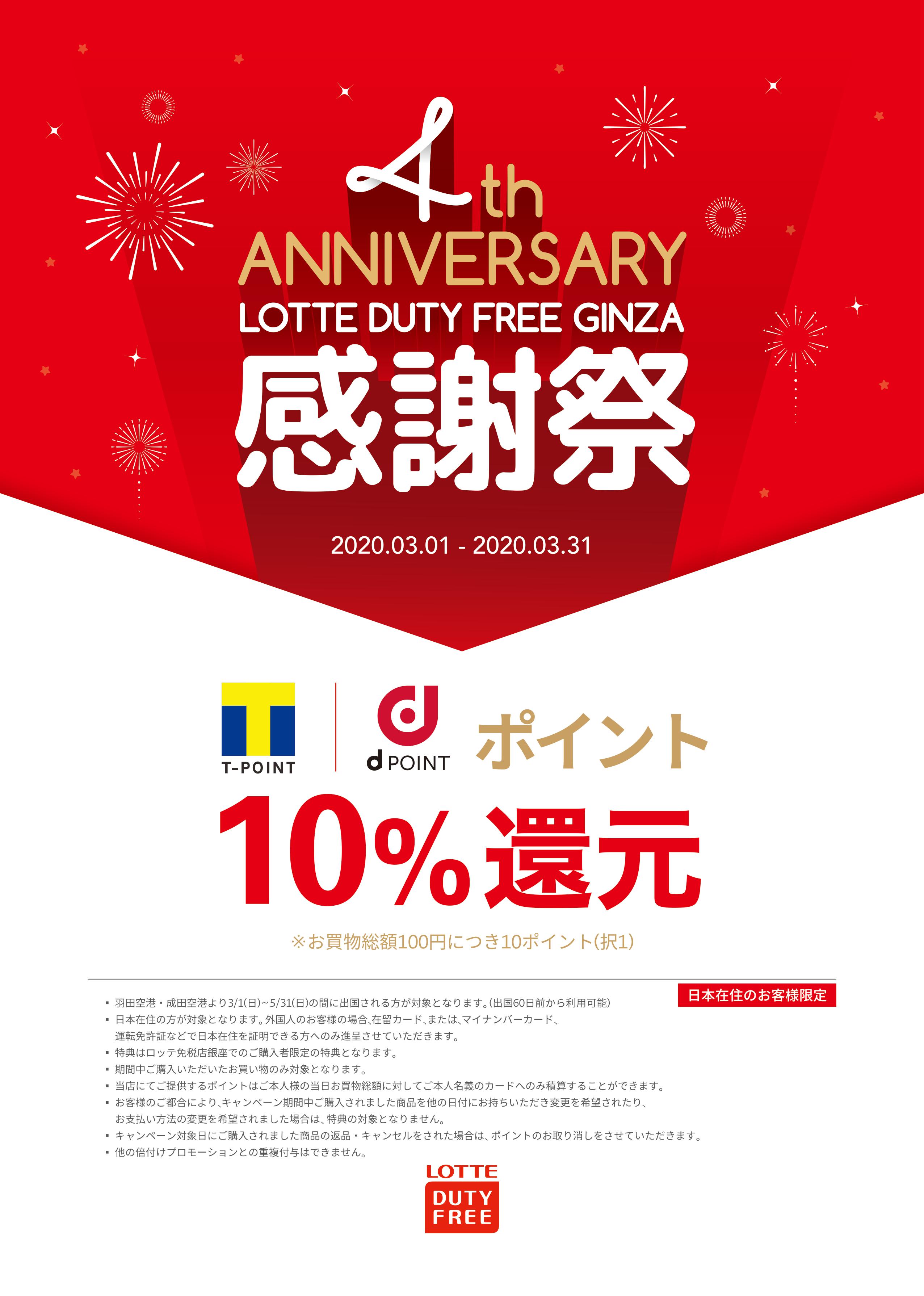 Lotte Duty Free Ginza will hold "4th Anniversary Thanksgiving Day-10% point reduction" from March 1, 2020 (Sun) to March 31, 2020 (Tue).
Lotte Duty Free Japan Co., Ltd. will hold a "4th Anniversary Thanksgiving Day – 10% point reduction" from March 1, 2020 (Sun) to March 31, 2020 (Tues) at Lotte Duty Free Shop Ginza, which is operated by the Company. Will be implemented. At Lotte Duty Free Ginza, you will receive 10 points (T points or d points) for a total purchase of 100 yen on the day.
For example, if you purchase cosmetics for 20,000 yen, you will get 2,000pts.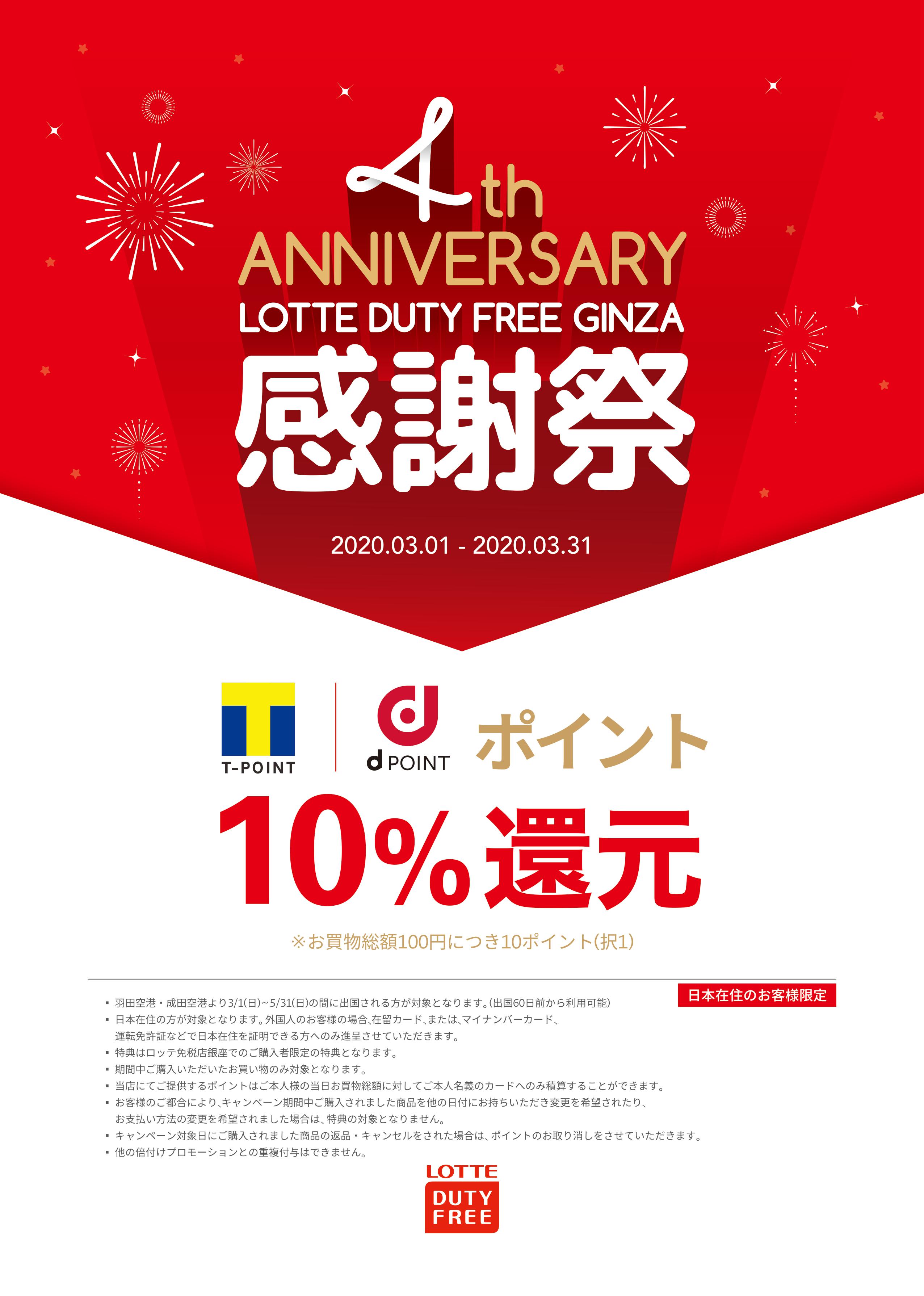 ---
---

■ Target
-Those departing from Haneda Airport / Narita Airport between 3/1 (Sun)-5/31 (Sun) are eligible. (Available 60 days before departure)
-Limited to T-members living in Japan or d-point club members.
■ How to participate <br /> Please present your purchase receipt and T card or d point card at the information desk (9F) on the day.
Notes ▪ benefits will be the privilege of the purchaser limited at the Lotte duty-free shop in Ginza.
▪ Only purchases made during the period are eligible.
▪ The points offered at our shop can be earned only on the card in the name of the person for the purchase amount on the day.
▪ If you wish to change the product purchased during the campaign period on another date or change the payment method at your convenience, you will not be eligible for the benefit.
▪ If you return or cancel the product purchased on the day of the campaign, the points will be cancelled.
▪ Cannot be duplicated with other doubling promotions.
■ You can carefully examine the products without worrying about the time until boarding <br /> Purchase at the store, on the day of departure, simply receive the goods at the dedicated counter before boarding. Even if you leave early in the morning or late at night, you can use your time effectively if you have completed shopping in advance.
■ Various campaigns are being held to make shopping more affordable. <br /> There are also campaigns that allow you to enjoy shopping more, such as cashback of gift certificates according to the purchase amount.
Ginza, the largest airport-type duty-free shop in Tokyo and Lotte Duty-Free Shop in Tokyo, requires purchases to be taken overseas, so you can enjoy shopping at a lower price than regular domestic prices. Furthermore, if you use discounts and limited promotions for in-store announcements wisely, you can save even more on duty-free prices! If you decide to go abroad, first check out Lotte Duty Free Ginza.
https://jp.lottedfs.com/branchGuide/145/intro
* Lotte Duty Free Ginza is an airport-type city duty free store. Products can be purchased 60 days before the departure date from Haneda / Narita Airport. When purchasing a product, you will need to present your departure passport and airline ticket.