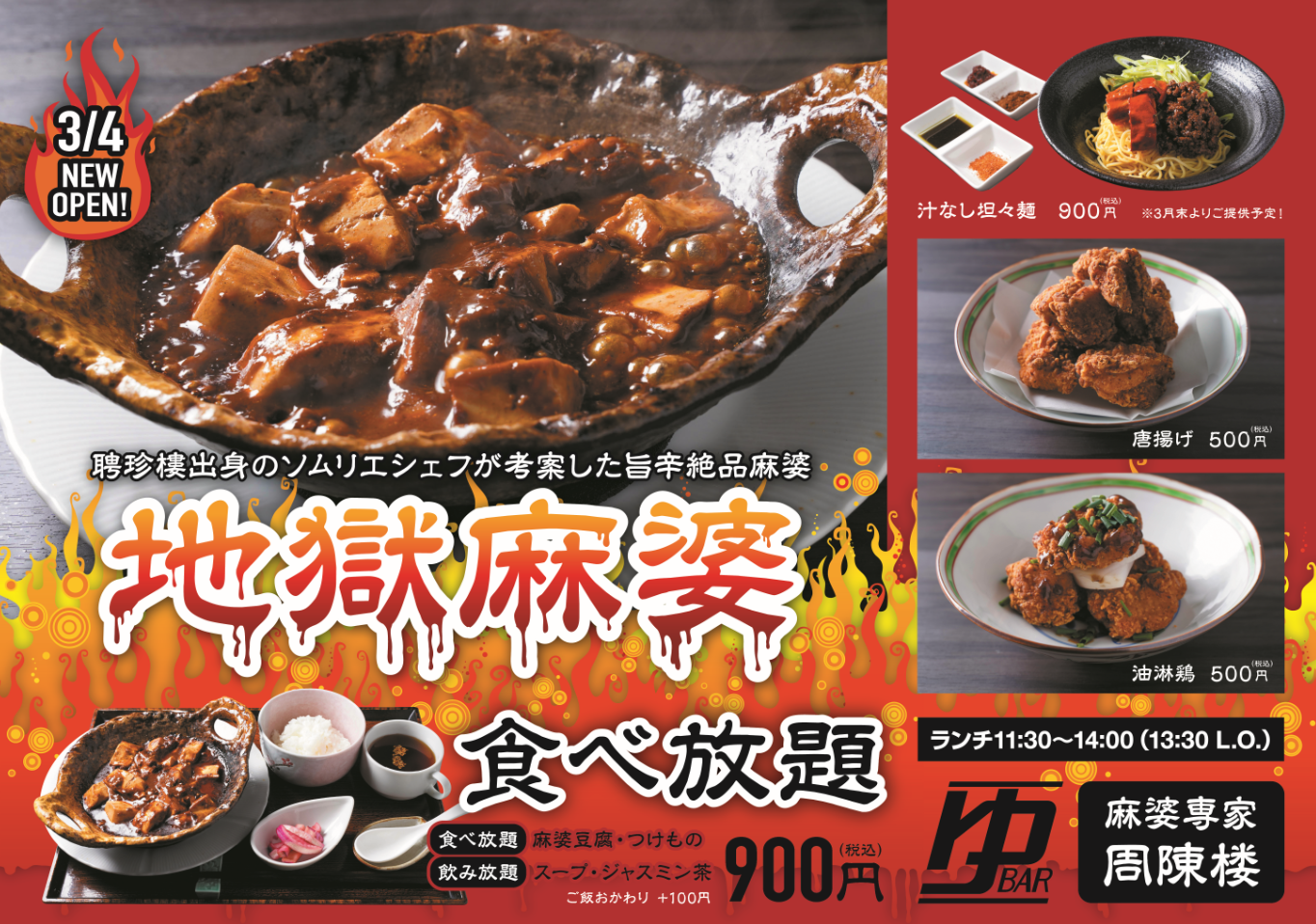 Twitter:
◆ Mapo Specialist Zhou Chenlou Business Hours: Monday to Friday 11:00 to 14:00 * 13: 30LO Saturdays, Sundays, and holidays
Menu: Mapo beans all-you-can-eat lunch set 900 yen (tax included)
Jigoku Mapo Tofu (Dampening) Radish Pickles Today's soup rice is included.
Jasmine tea: Free drink place: 1-6-5 Uchisaiwaicho, Chiyoda-ku, Tokyo Back corridor 2F Ode love side Yubar

Mapo tofu specialty store "Zhou Chenlou" has decided to offer all-you-can-eat unlimited miso mapo tofu for 900 yen (tax included) in the lunch corona support project in Yubar in the back corridor.
Zhou Chenlou Mapo Tofu is a long-established Chinese brand, and is a numbness mapo tofu devised by a genius sommelier chef who has 10 years experience of creative Japanese food and 5 years experience.
As a support project for people working in this corona riot, we have all you can eat and drink for 900 yen (tax included) .
※ All you can drink Jasmine tea ※ We have 3 cups of rice due to the cooking jar. In addition, if a large number of customers visit the store and there is a shortage of mapo tofu due to lack of ingredients, etc., it may close early.
痺旨Mapo tofu in the circumferential Chen Lou is basic to the effect that the secret of hemp辣醤of. Numbness and spiciness are more spicy than normal little spicy, and numbness is a bit numb tongue. Why don't you take this opportunity to experience the paralysis mabo experience?
From April, we will provide Mabo tofu that can adjust numbness. looking forward to! !
Juice-free tantan noodles using secret macho soy will be offered from late March for 900 yen (tax included) .
All-you-can-eat lunch will continue until the end of corona as a corona support project.
We look forward to your visit.
Also , at the Yunoyu BAR, you can also buy "Zhou Chen Lou" Mapo Tofu for 1,000 yen (including tax ).
◆ Mapo expert Zhou Chenlou Business hours: Monday to Friday 11:00 to 14:00 * 13: 30LO Saturdays, Sundays and holidays Regular holiday menu: Mapo beans all-you-can-eat lunch set 900 yen (tax included)
Jigoku Mapo Tofu (Dampening) Radish Pickles Today's soup rice is included.
Jasmine tea: Free drink place: 1-6-5 Uchisaiwaicho, Chiyoda-ku, Tokyo Back corridor 2F Ode love side Yubar