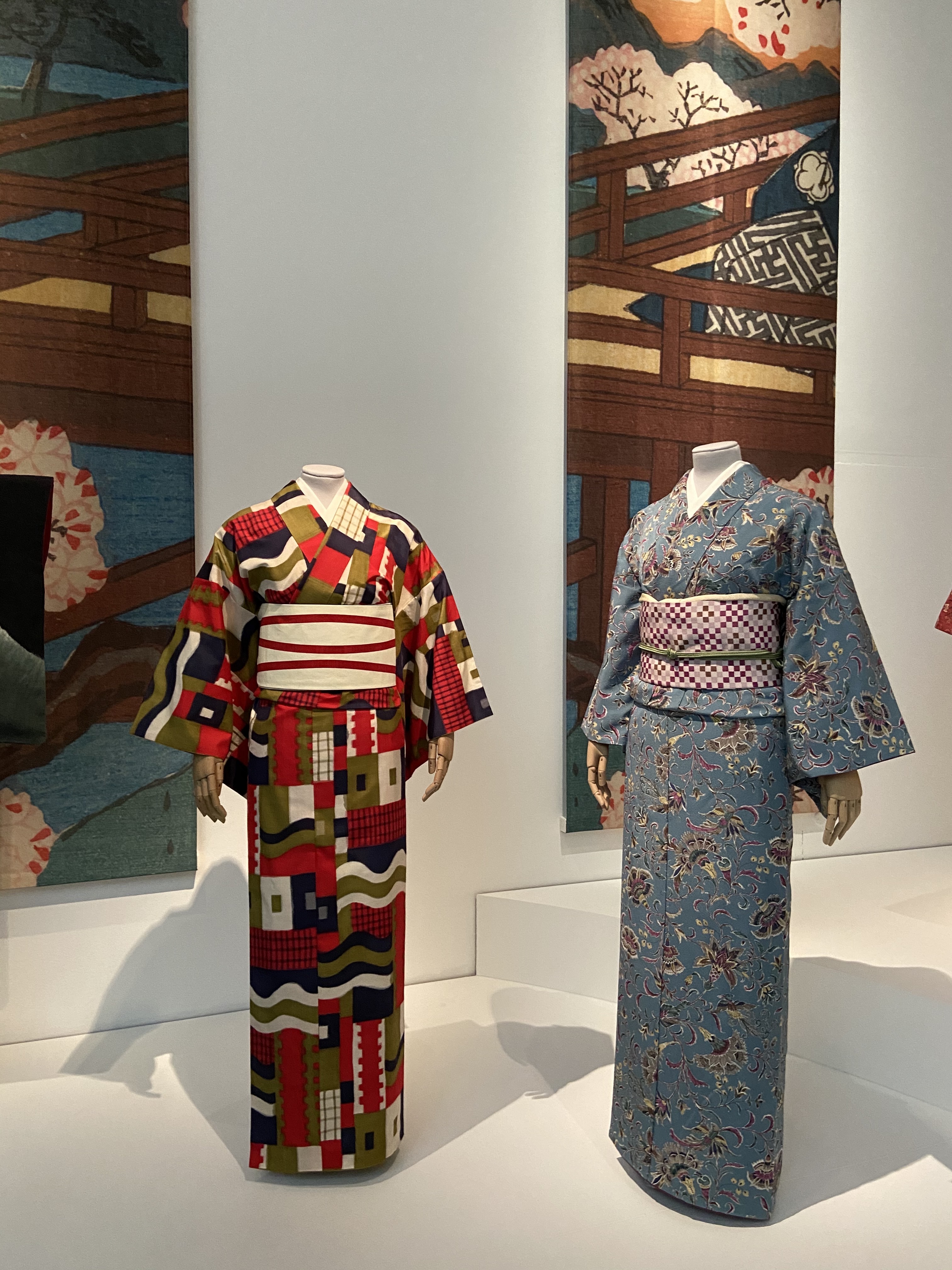 The Japan Design Committee is holding the 764th Design Gallery 1953 Special Exhibition "Isesaki Meisen-Meisen Will Die Again" until March 23 (Mon).
Meisen is a daily wear of silk fabrics that gorgeously colored women from the Meiji era to the early Showa era. This exhibition focuses on the advanced technique "Heiyoga-suri", a technique unique to the world, produced in Isesaki City, Gunma Prefecture, which is a representative production area. This is a valuable opportunity to see many of the Meisen collections. In recent years, Meisen has gained a reputation overseas as it has influenced famous fashion designers. The "21st Century Meisen" exhibited at this exhibition is currently being held at the Victoria & Albert Museum (V & A) in England. It will be released simultaneously at the exhibition Kimono: Kyoto to Catwalk . Please take this opportunity to enjoy the world of Isesaki Meisen's amazing technology and novel design that the world is paying attention to now.
"21st Century Meisen" designed by Reiko Sudo
The first thing you will notice in this exhibition is the "21st Century Meisen," a miraculously restored Kasuri technique that was created in 2016. Kasuri Kasuri is a technique that uses a pattern to dye both warp (weft) and weft (yokoito) in the form of a thread and weaves the thread to express a complex pattern. Due to its height, other production areas could not be easily copied, and it was produced only in Isesaki from Taisho to Showa, but once it was completely completed due to the westernization of Japanese people and its complexity Will be obsolete. The "21st Century Meisen" exhibited this time was led by Michiko Sugihara and Tamyo Kanai (both from Isesaki City) who rediscovered the overwhelming beauty and uniqueness at one time, together with craftsmen It was miraculously restored over the course of three years. For the restoration, textile designer Reiko Sudo, who is active around the world, provided the designs with volunteer designers such as NUNO members.
Meisen's Techniques Read from Photos and Illustrations <br /> This exhibition focuses on Meisen's techniques. We introduce variations of Meisen by technique such as "Kasuri". Meisen, a yarn-dyed fabric, is appealing for its soft design contours created by the subtle misalignment of threads called reeds, but the exhibition conveys the rich expressiveness of each technique along with its characteristics. In the venue, there are 14 photos and illustrations that introduce the production process of Kasuri, and tools such as brushes and patterns are on display, so you can see the craftsmen's passion for advanced technology and manufacturing.
The fast fashion of the Taisho and Showa eras, the world of Meisen's masterpiece <br /> In the early Showa era, one of two women who traveled around the city of Ginza was said to have dressed as Meisen. The climax of this exhibition is the Meisen collection at the time, which was a panel of 32 items lining the wall. Meisen, whose Japanese aesthetic sensation has developed into its own worldview under the influence of European and American cultures such as Art Deco, has boldly incorporated the breath of the times, and could be said to be the fast fashion of the time. You can get a glimpse of the women at the time who are enjoying the coming of a new era, from Meishen, where the world of various designs has blossomed, from flowers and birds to geometry reminiscent of modern art.
At the end of the 21st century Meisen exhibited this time, it was decided to store it in a V & A, and in Isesaki, a number of tools indispensable for its production were scattered, and the " Kashiri Kasuri '' died for the second time. welcome. Now that the resurrection has been entrusted to the future, it is of great significance to let many people know the existence of the technology and passion that created "Isesaki Meisen" through this exhibition. Please enjoy the world of Meishen's amazing technology and creativity in this exhibition with valuable collections and materials.
● Exhibition summary
Title: # 764 times Design Gallery 1953 Exhibition "Isesaki Meisen over Meisen is twice Shinu"
Dates: Wednesday, February 26-Monday, March 23, 2020
Holding time: http://www.matsuya.com/m_ginza/info/open.html according to the business hours of Matsuya Ginza
Venue: Matsuya Ginza 7F Design Gallery 1953
〒104-8130 3-6-1 Ginza, Chuo-ku, Tokyo Phone 03-3567-1211 (main representative)
Organizer: Japan Design Committee http://designcommittee.jp
Co-sponsored: "Isesaki Meisen Day" Commemorative Event Executive Committee
Cooperation: 21st Century Meisen Project (Michiko Sugihara, Tamai Kanai) Jomo Shimbun
Isesaki City Library Isesaki Meijikan
Exhibition charge: Reiko Sudo
● Design Salon Talk
The Design Salon Talk scheduled on March 13 (Fri) will be canceled to avoid the spread of the new coronavirus. We apologize for any inconvenience this may cause.
● Podcasts Reiko Sudo and other interviews with people involved in the exhibition are distributed via podcasts.
For details, go to the website http://designcommittee.jp/2020/01/20200226.html
● Contact (About Design Gallery 1953) Japan Design Committee Secretariat 4-6-1 Matsuya Kitakan, 3-6-1 Ginza, Chuo-ku, Tokyo 104-8130
TEL.03-3561-2572 FAX.03-3561-6038 Email: jdcommit@yb3.so-net.ne.jp
URL: http://designcommittee.jp
Contact: Mariko Tsuchida, Shisuko Hirasaka
…
Related project: "21st Century Meisen" is housed in the Victoria and Albert Museum in the UK and is being exhibited at the following exhibitions being held at the museum.
Title: Kimono: Kyoto to Catwalk
Dates: February 29 (Sat)-June 21 (Sun), 2020
Venue: Victoria & Albert Museum (London)
For details, go to the website https://www.vam.ac.uk/
* The following exhibitions will be canceled to prevent the spread of the new coronavirus. We apologize for any inconvenience this may cause.
Title: From now on Meisen-The origin and transition of Meisen-
Dates: March 24 (Tue)-April 5 (Sun), 2020
Venue: Spiral Garden (Spiral 1F)
---