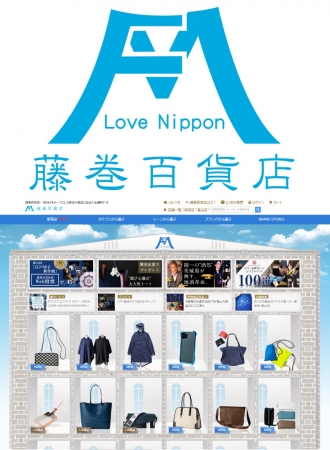 Sale from May 21st (Thursday)!
The EC site "Fujimaki Department Store" ( http://fujimaki-select.com ), where you can encounter gems with the theme of "Japan", is a guideline for the new coronavirus infectious diseases. In the "Special featured original design masks", "Sports masks for the WITH corona age", "Quick drying! Sports masks" (1,320 yen / tax included) of the sock brand "OLENO" will appear.
Recently, news that the risk of splash infection is high on the back of those who run for the purpose of maintaining good health while avoiding three-way traffic, but running with wearing a mask, most of them are normal masks. I am worried about my breathing difficulty and my skin getting rough because my sweat is not absorbed.
This OLENO sports mask was developed as a manner mask for running by utilizing the technology of our main business, socks. We have developed a product by utilizing the technology of our original Made in Japan.
It will be available for sale on the Fujimaki Department Store ( http://fujimaki-select.com ) site from Thursday, May 21, 2020.
Comfortable fit with zero seams during exercise! Socks brand "OLENO" quick-drying sports mask
Japan's No. 1 "Socks Town" The production of the "OLENO" brand by Masakazu Kousho in Koryo-cho, Nara.
Popular for their comfortable and seamless design and stylish design, they propose the "dry-use mask for sports". Made of polyester, which has excellent sweat absorption and quick-drying properties, and is produced with the latest sock circular knitting machine, it is light and stretchable.
Double structure that can be filled with non-woven fabric. By forming a mesh structure on the lower and back sides of the cheeks and nose, you can maintain a dry feeling even in a hard working environment and reduce suffocation, and the stress caused by misalignment is alleviated.
It is easy to fit the curve of the face, and it is possible to firmly prevent splashes.
It is an eco-friendly material and an excellent eco mask that can be washed and used repeatedly. An item that is perfect for today when etiquette is essential even when running. It does not prevent viruses and pollen, but it is an etiquette mask that prevents splash infection.
* This product is not a medical device and does not have the function of cutting viruses and pollen.
* The purpose of use is to prevent splashes and reduce exposure to allergens.
What is Masakazu Mogyo

Founded in 1935, "Masawa Kousou (Masaha Knitting)" is a sock maker in Nara prefecture. Koryo-cho, Nara Prefecture, is also known as the "town of socks" and boasts the largest socks production in Japan. "Masawa Modai Kojo" has released a brand "OLENO", which has a unique sensibility and is not bound by socks, and "Clear", which is a sock with basic wit. All of the knitted items of "Masawa Kousaku (Masaha Knits)" are playful.
Feature design mask full of individuality by craftsmen creators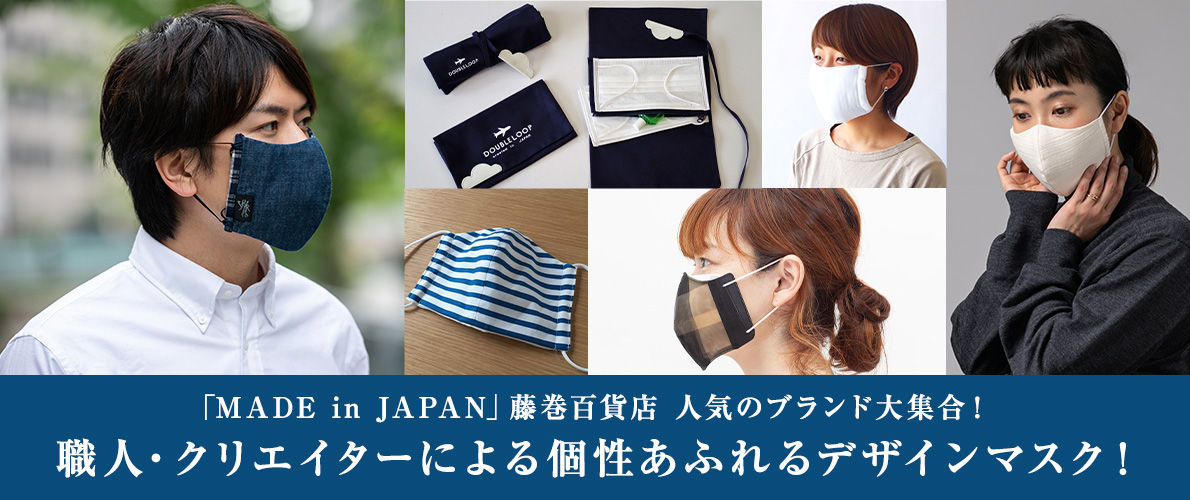 We started with the little things we can do.
While demand for masks has increased as part of measures to combat new-type coronavirus infections, it remains difficult to obtain. Meanwhile, at Fujimaki Department Store, we started with small things that we can do at such times.
A design mask produced by craftsmen and creators of the Fujimaki Department Store, demonstrating the individuality of the brand. We hope you can use the materials, designs, and usability that are unique to each brand.
What is a design mask? <br /> A design mask is a mask that is designed to prevent splash infection and has added functionality and fashion from a creator with design and fashion. (* Not for medical use)
Not only disposable but also cloth that can be washed repeatedly, it is environmentally friendly.
At Fujimaki Department Store this time, popular brands, craftsmen, and creators have created unique design masks.In addition to the original functions, you can also enjoy denim materials, materials and designs unique to each brand, and usability. ..
We will donate a part of the proceeds.
A portion of this proceeds will be donated in support of the activities of medical professionals nationwide fighting against the new coronavirus.
List of 10 participating brands (as of May 21, 2020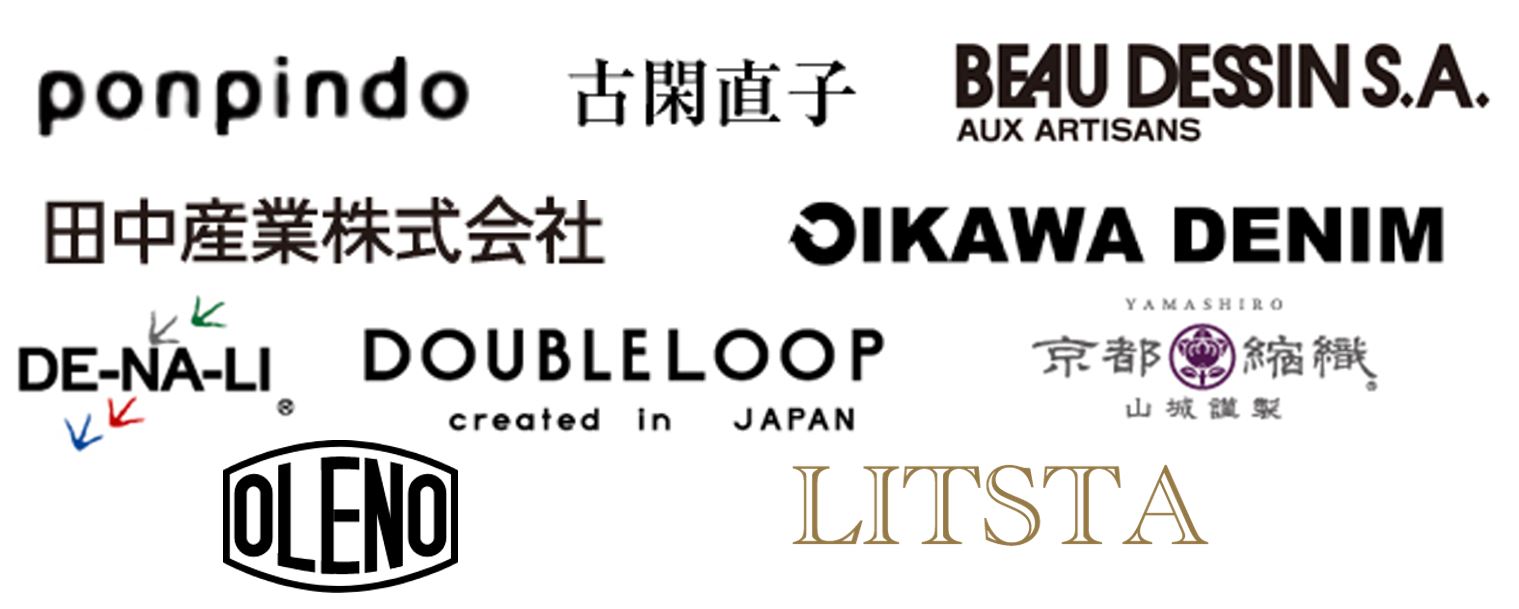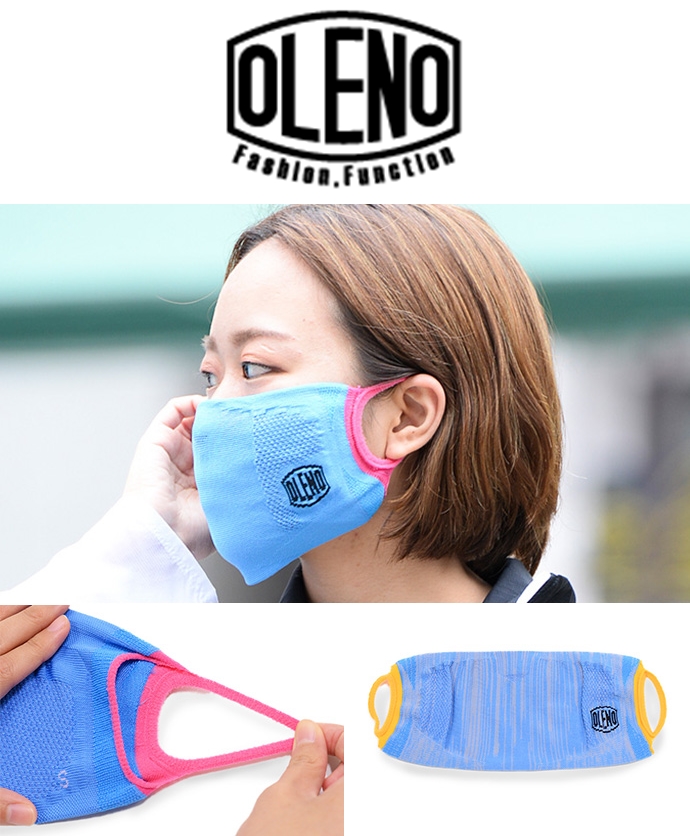 During exercise in the seam zero also comfortably fit!
Socks brand "OLENO" quick-drying sports mask
"OLENO" quick-drying sports mask made by Masakazu Kousho, the largest socks town in Japan.
Light and stretchy, it fits comfortably. Ideal for splash prevention during running!
Mask for exclusive use of quick-drying sports
1,320 yen (tax included)
https://fujimaki-select.com/item/314_0004.html
---
---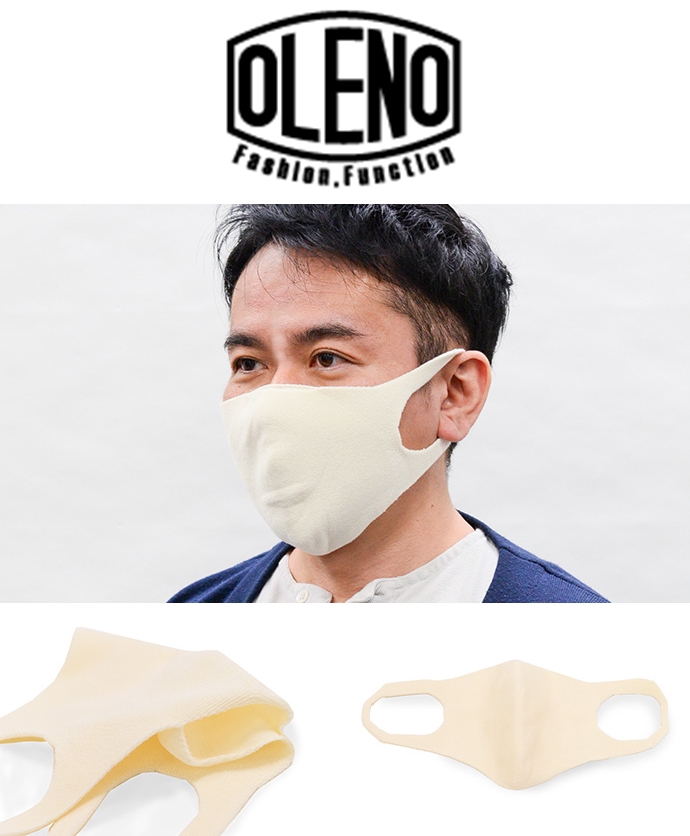 "Washable 3D knit mask" made by "OLENO" socks sommelier for a comfortable fit
A mask that can be washed by sock sommeliers from the sock brand "OLENO" in Koryo-cho, Nara, which is known as the city of manufacturing and has the highest production volume of socks in Japan.
A gentle finish that fits easily to the curve of your face.
Washable 3D knit mask
990 yen (tax included)
https://fujimaki-select.com/item/314_0005.html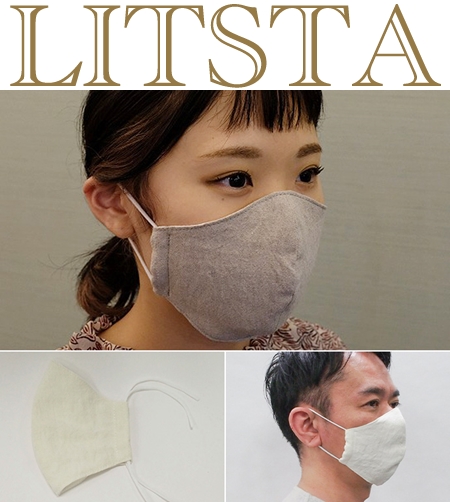 "LITSTA" Handmade gentle and cool
"Linen mask" that can be washed with
A cool and comfortable mask that uses linen and cotton.
With gentle colors and materials, and a pleasant design that can be washed and used repeatedly, the warmth and kindness of the handmade brand "LITSTA" are plentiful.
Linen mask that can be washed and used
1,760 yen (tax included)
https://fujimaki-select.com/item/154_0011.html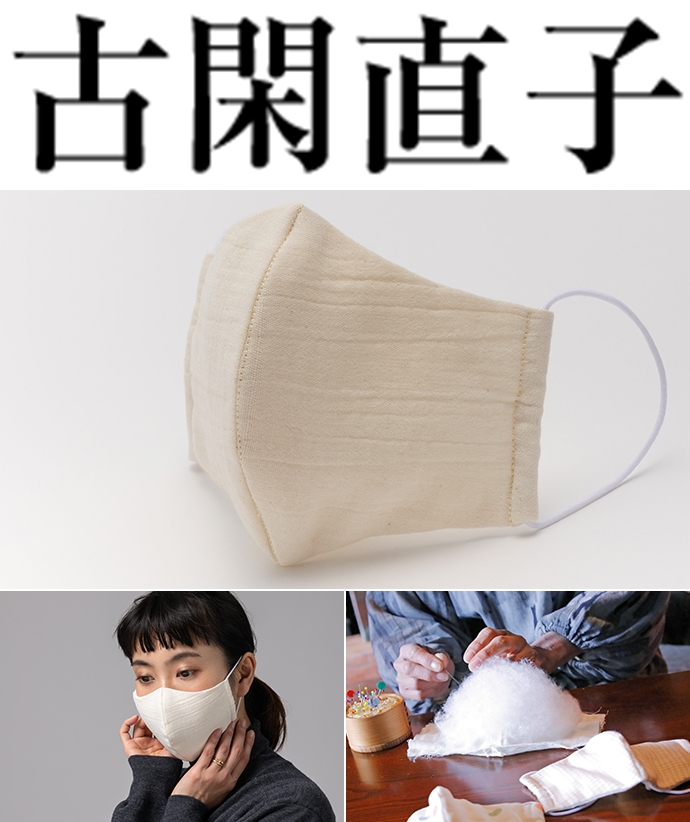 Naoko Koga's "handmade cocoon mask", which is made by softly wrapping domestic silk in cotton.
A cocoon mask made of organic cotton wrapped in domestic silk, which is now difficult to obtain.
As it absorbs and desorbs moisture, it always keeps comfortable breathing in response to outside air and expiration.
A "superb mask" that is surprisingly soft to the touch. Can be used after washing.
Cocoon mask
1,601 yen (tax included)
https://fujimaki-select.com/item/299_0001.html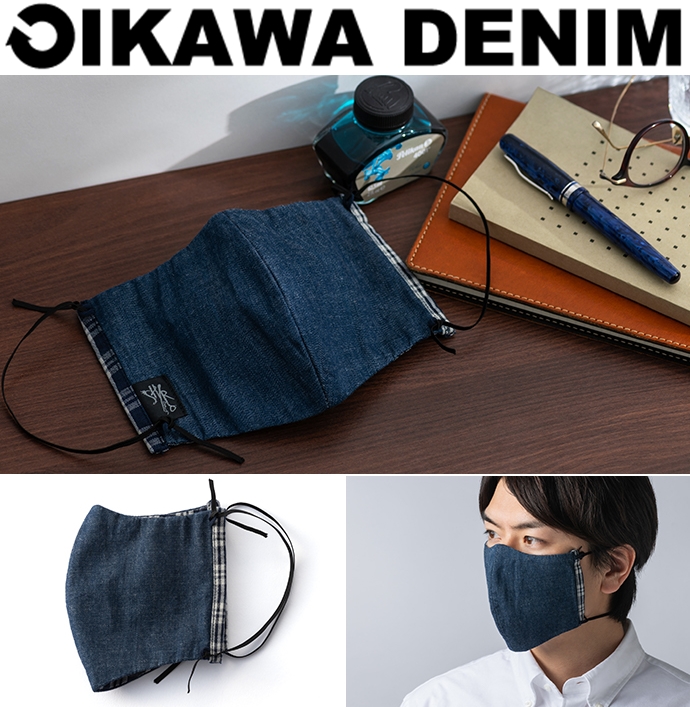 Antibacterial denim mask of "miracle denim" loved all over the world with amazing durability
Kesennuma's Oikawa denim, which is supported by people around the world, is durable enough to be called "Reconstruction Denim", and an antibacterial coated denim mask handmade using its high sewing technology to give back. 2WAY specifications that rubber can be fixed not only on the ears but also on the back of the head.
2WAY antibacterial denim mask
880 yen (tax included)
https://fujimaki-select.com/item/143_0018.html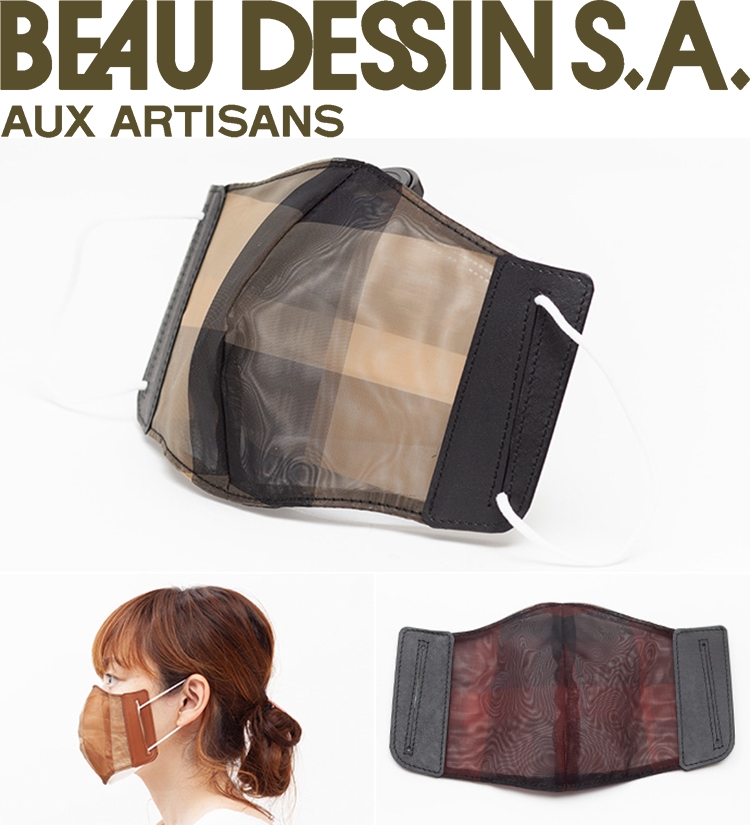 Mask cover of pioneer "BEAU DESSIN" of high-quality casual leather bag
A new proposal for the "BEAU DESSIN" that continues to lead the casual bag industry with its unique material selection and tailoring techniques. With a skillful leather use, the mask cover can be used to make disposable masks more fun and fashionable!
Tulle mask cover
1,980 yen (tax included)
https://fujimaki-select.com/item/192_0078.html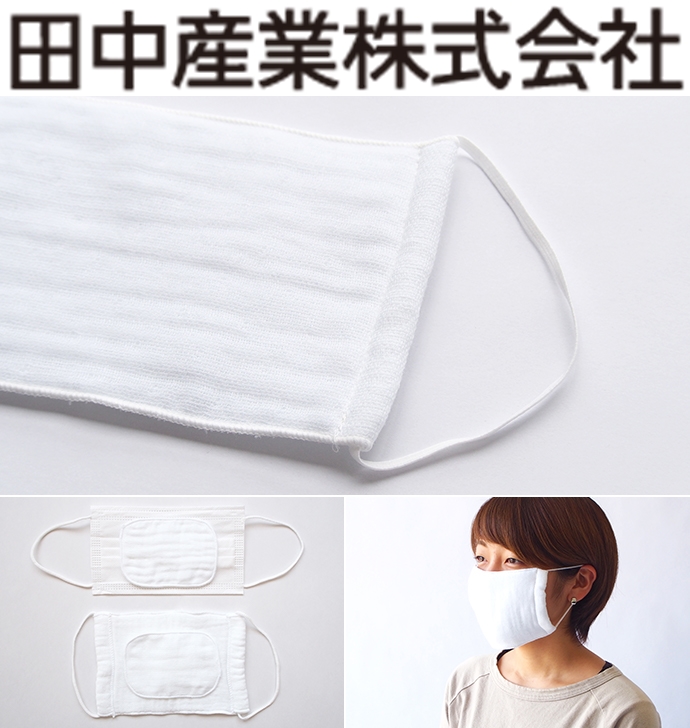 A gauze mask from Tanaka Sangyo, an Imabari towel maker relied on by the world
A gauze mask that can be washed and used by Imabari towel makers. Large size with a 100% cotton feel that is easy to use for adults and children and a sense of security.
As a cough etiquette for when you need to go out, such as when shopping, "to prevent splash infection from yourself".
A safe large-format gauze mask made by a towel shop
From 1,188 yen (tax included)
https://fujimaki-select.com/item/157_0016.html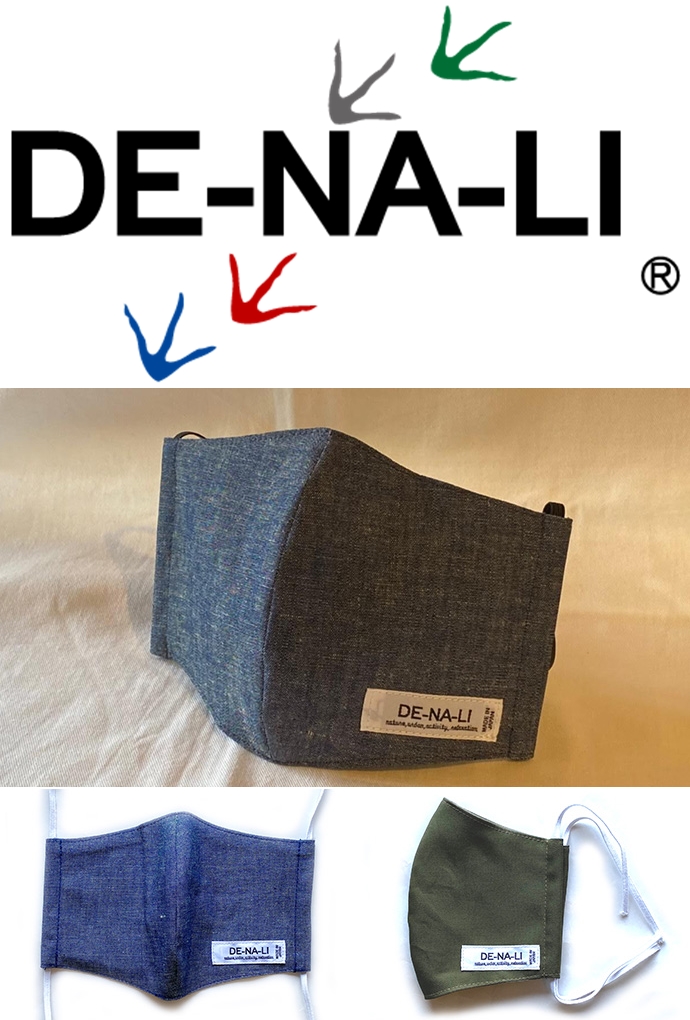 A mask that can be machine washed with a "Made in Nara" brand "Denali" that is particular about functionality
A washing machine-washable mask from the brand "DE-NA-LI", which is based in Koryo-cho, Nara, and has all the processes completed in the surrounding towns.
Not only does it look and feel good, but it also has a functional finish that has antibacterial and deodorant effects.
Machine washable mask
1,100 yen (tax included)
https://fujimaki-select.com/item/364_0005.html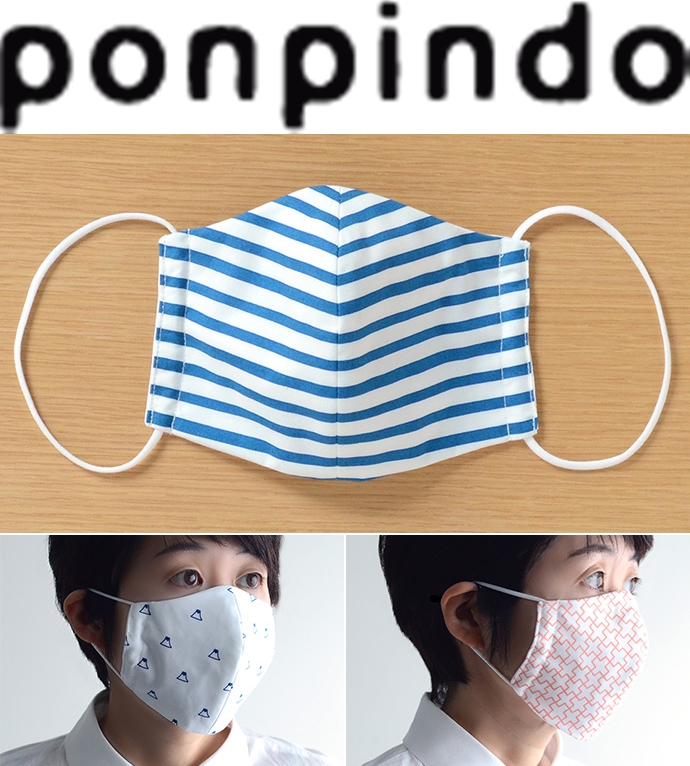 Handketch mask of the "Pomping temple" that conveys the warmth of handicrafts from Edo to the present age
The "Hankeki Mask" made of 100% high-quality domestic cotton from the textile brand "Pompindo", which was started by a stencil dyeing shop founded in 1867.
A lovely finish that makes you feel the warmth of handwork, including hand-drawn striped textiles that take advantage of subtle handwriting fluctuations.
Handkerchief mask
1,100 yen (tax included)
https://fujimaki-select.com/item/039_0044.html
"Kyo Chimi contact cold feeling summer mask" of Kyoto "Yamashiro" which gives "comfort" and "energy"
Kyoto's sewing shop "Yamashiro" is a summer mask with a cool contact feeling that uses "Kyochimi" on the front and back, which has excellent moisture absorption and quick drying properties. Because it is a mask for midsummer, it is free from stuffiness. An excellent item that can be comfortably made of 100% cotton and can be washed many times.
Kyo Chimi Touch Cool Summer Mask 2-Piece Set
1,980 yen (tax included)
https://fujimaki-select.com/item/193_0005.html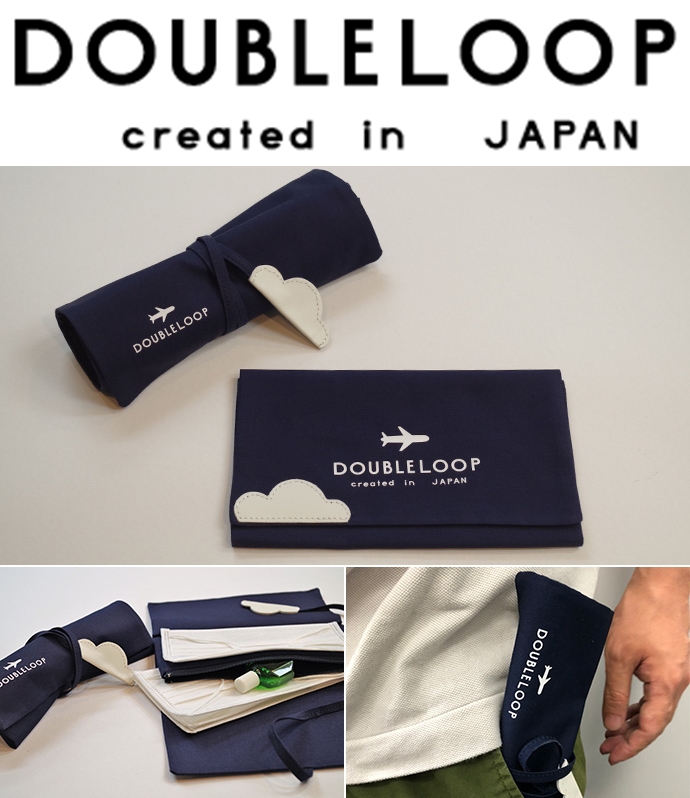 Reliable "antibacterial mask case" that will become a new necessity in the future
"Antibacterial mask case maspokke" that allows you to carry a mask that has become an indispensable existence with peace of mind and in a fun and comfortable way!
"DOUBLE LOOP", which has been entertaining us with its unique design, is a new essential item in the future.
Antibacterial mask case maspokke
From 1,650 yen (tax included)
https://fujimaki-select.com/item/015_0486.html
Fujimaki Department Store Fujimaki Hyakkaten
http://fujimaki-select.com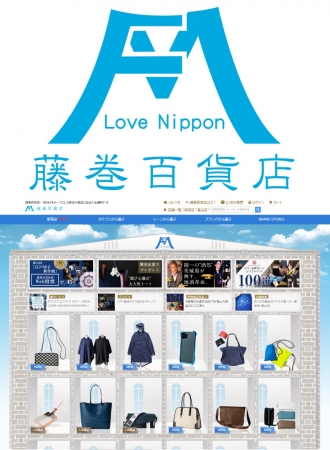 Operated by caramo Co., Ltd. (Headquarters Shibuya-ku, Tokyo / President and CEO Ryo Nakamura).
It was opened in May 2012 as "an EC site that delivers only selected gems with a Japanese theme," produced by the late Yukio Fujimaki (1960-2014), a famous Isetan buyer. The products we handle are gems full of originality that are "amazing" that combine high design with ease of use.
We have over 400 business partners such as excellent craftsmen and creators, and it is one of the largest e-commerce sites in Japan that handles only carefully selected Japanese products.
The main customers are men and women in their late 30s to 50s who are highly interested in "things" and want a little richness in their daily lives. Currently, there are about 230,000 Facebook members and about 100,000 e-mail magazine members, which are loved by many fans.
In March 2016, the first physical store opened in Ginza (Tokyu Plaza Ginza 6th floor / 5-2-1 Ginza, Chuo-ku, Tokyo).
* The number of business partners and members are as of April 2020.
Caramo Co., Ltd.
http://www.caramo.jp
Operating company of "Fujimaki Department Store".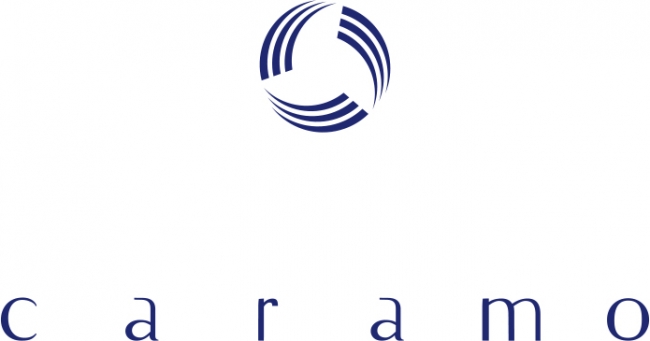 Ryo Nakamura, President and CEO, along with the late Mr. Kodai Fujimaki, Fujimaki
I started a department store with two people.
With the vision of "slightly enriching daily life", we will create new satisfaction and value for our customers. The company name derives from its own way of aiming to be a company loved by customers, craftsmen, and the world, and will continue to evolve with the aim of creating services with high customer satisfaction.
Company name: caramo, Inc.
Location: 3-25-18 Shibuya, Shibuya-ku, Tokyo
President and CEO: Ryo Nakamura Capital: 10 million yen