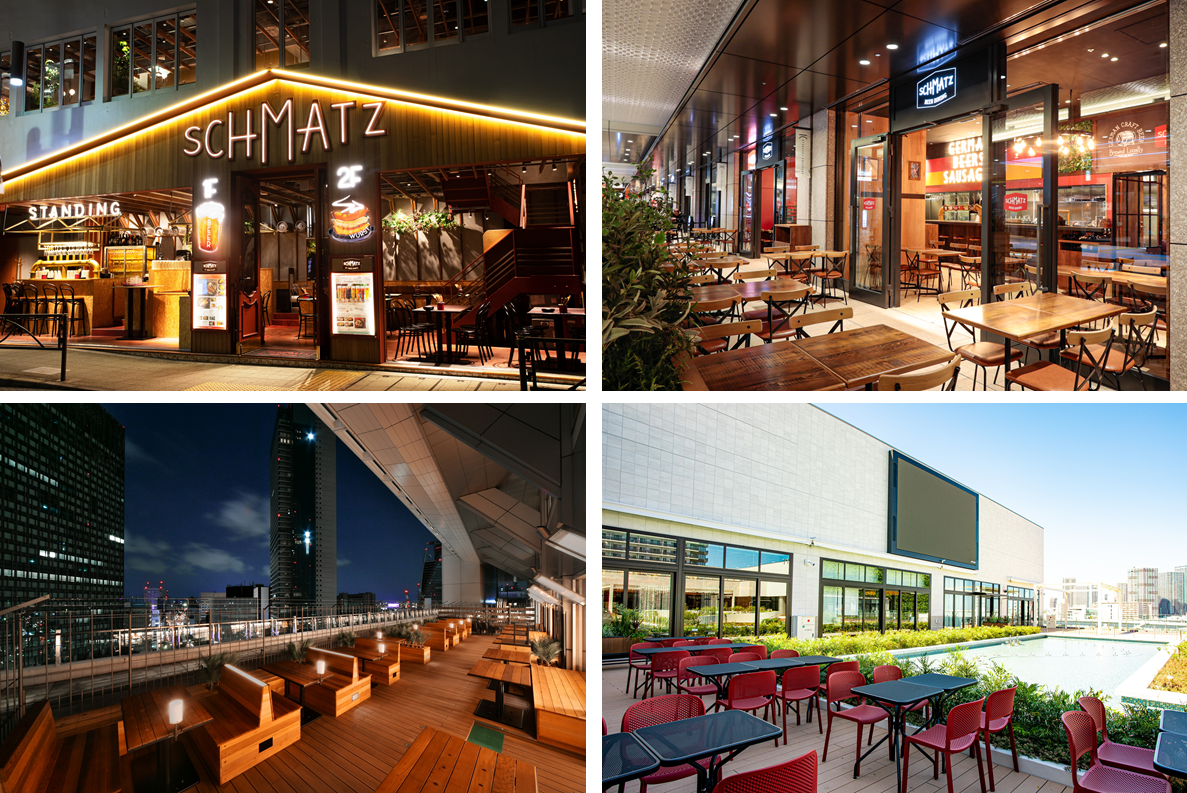 Beer service at "Biabitte!"
Modern German Cuisine and Crafts German beer SCHMATZ has opened a website featuring Schmatz's terrace seats where you can enjoy meals in the open air while avoiding crowds.
https://mailchi.mp/699b994e8b4a/drink-beer-outside
In commemoration of the site's opening, "Biabitte" campaign will be held today from July 27th (Mon) to August 16th, in which the first 5 pairs of Schmatz original beer will be free with the secret word for the first 5 pairs of terrace seats It will be held until (Sun).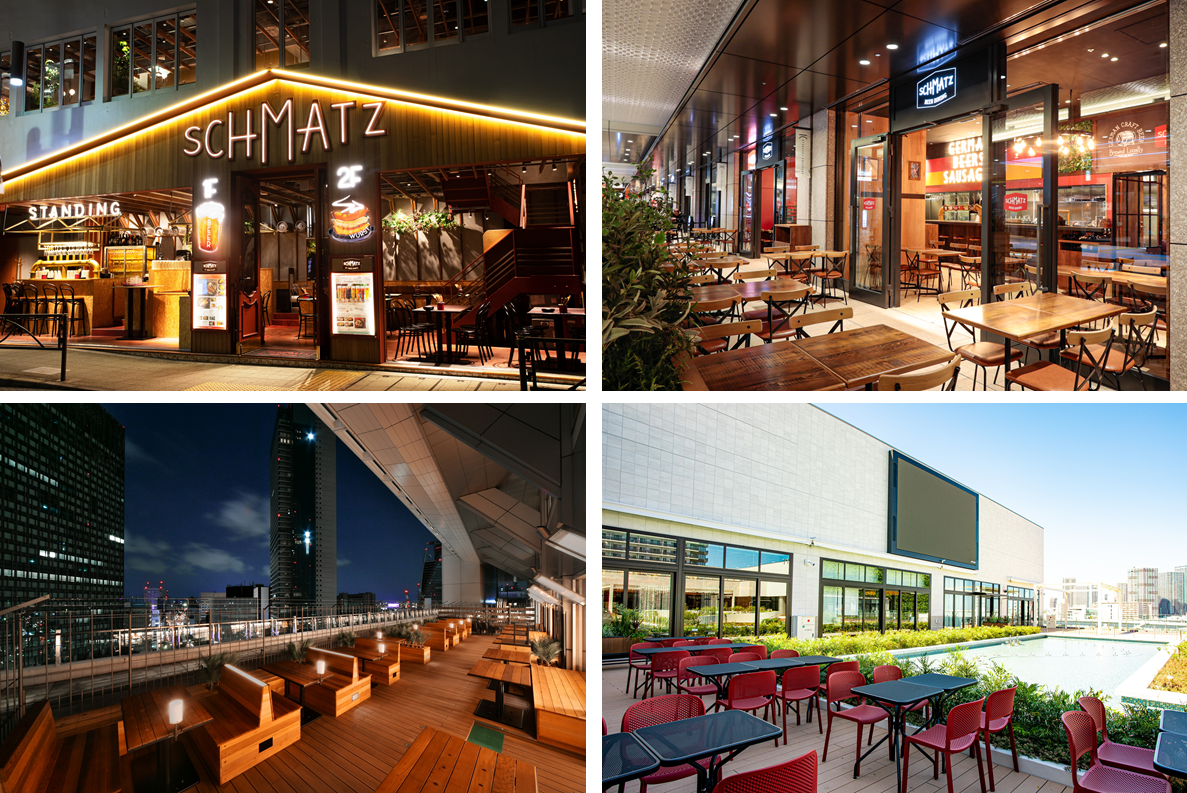 ---
---
△ Nakameguro store (upper left), Nagoya JR Central Towers store (lower left), Kyobashi store (upper right), Ariake Garden store (lower right)
Biavitte Campaign Overview
When you use the terrace of the target store, the staff at the time of your order "Biabitte (" beer please "in German)" and intends saying Gerhard Mats original beer "Wald ring (usually 650 yen excluding tax)." I will serve one cup .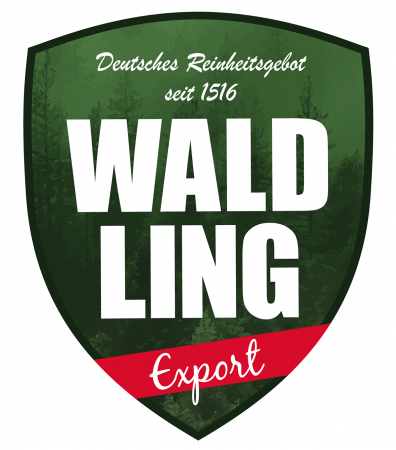 Period: Monday, July 27th to Sunday, August 16th
Target stores: Terrace seats of the following stores of Schmazz Beer Dining
https://mailchi.mp/699b994e8b4a/drink-beer-outside
Ginza Shochiku Square Store | Ariake Garden Store | Kyobashi Store | Nagoya JR Central Towers Store | Nakameguro Store | Musashikosugi Store | ARK Hills Store | Akasaka Store *Limited to 5 groups on a first-come-first-served basis at each store (maximum 20 people per store per day) !)
*To avoid crowding, use is limited to a group of 4 people *Cannot be combined with other services *Temporary closures and business hours may be shortened. Please contact the store for details.
For Wald ring 650 yen (excluding tax export | Alc 5.0% | 24IBU)
The style is "export". Export is one of the lager that was born in Germany in the early 19th century and has a strong taste and carbonation so that it can be transported. A Schmatz original beer with a well-balanced aroma of hops and wheat and a full-bodied taste.
Efforts to prevent the spread of new coronavirus infection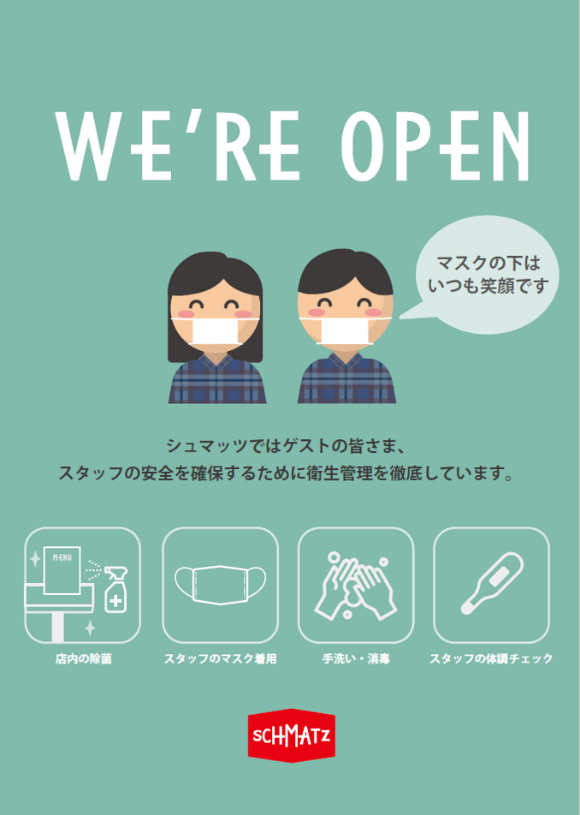 1. Staff wearing masks <br /> For the safety of our customers, all staff wear masks to serve customers.
2. Staff health management <br /> Staff thoroughly gargle, wash hands, and measure body temperature before work.
3 . Installation of disinfectant <br /> We have installed alcohol disinfection at the entrance of the store and ask customers to disinfect their hands.
4. Wiping with alcohol disinfectant <br /> We regularly wipe alcohol disinfectant on tables and menus.
5. Ensuring seat spacing <br />We guide passengers by considering seat spacing to maintain a social distance.
6. Ventilation <br />Ventilation in the store is carried out regularly.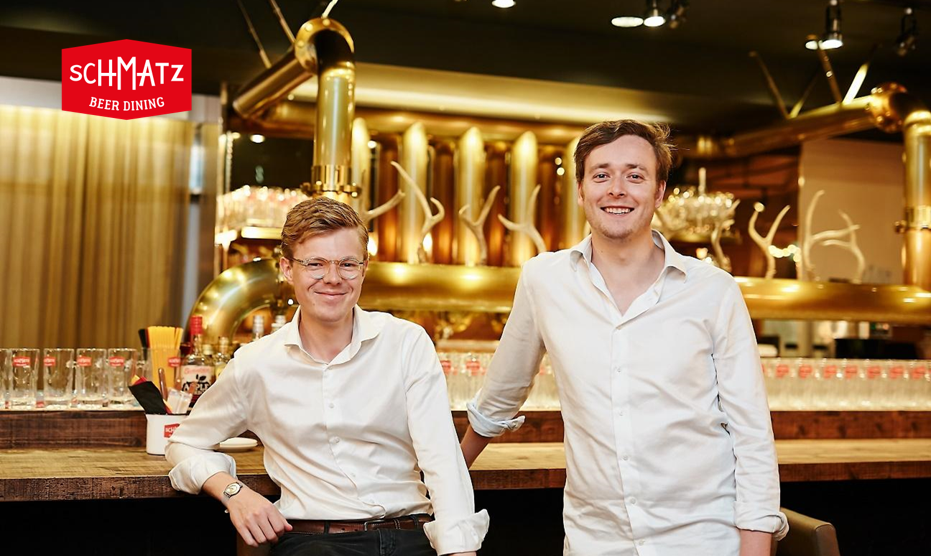 What is SCHMATZ?
https://www.schmatz.jp/
SCHMATZ is a brand started by the founders Christopher Ax and Mark Rütten, who started a food truck selling German beer and German sausage. In 2015, we opened a long-awaited beer dining in Akasaka, where you can enjoy modern German cuisine and authentic German beer brewed in Japan using authentic German methods and ingredients. The new concept of "modern German cuisine" became popular with word of mouth, and the store quickly expanded. We are currently operating in the Tokyo metropolitan area and Nagoya. It will be the 36th pave at the CIAL Yokohama ANNEX store that opened on July 17.
Store development: "Schumatz Beer Dining" Akasaka store / Ark Hills store / Kanda store / Kawasaki store / Kichijoji store / Q Plaza Ikebukuro store / Ginza Corridor store / Gotanda store / Shibuya Jinnan store / Shinjuku 3-chome store / Musbutamachi store / Nakameguro store / Nihonbashi Takashimaya SC store / Musashikosugi store / Yurakucho store / LUMINE Ikebukuro store / Nagoya JR Central Towers store / Shonandai store / Shibuya PARCO store / Ginza Shochiku Square store / Kyobashi store / Lalaport Toyosu store / Shinjuku Sumitomo Building Store / Ariake Garden Store / Sakanishiki Store / CIAL Yokohama ANNEX Store <<Schumatz Beer Stand>> Tokyo Dome City Store / Wing Takanawa Store / Perrier Kaihin Makuhari Store / Minamimachida Granberry Park Store / Otemachi Place Store / Marui Family Mizoguchi Store / Haneda Airport Terminal 2 Building "Schumatz Bakery & Beer'' Shimokitazawa Store / Shinagawa Konan Exit Store "Schumatz Beer Hall'' Hibiya Gourmet Zon Store 《Limited Time》 BBQ Beer Garden at LUMINE Ikebukuro