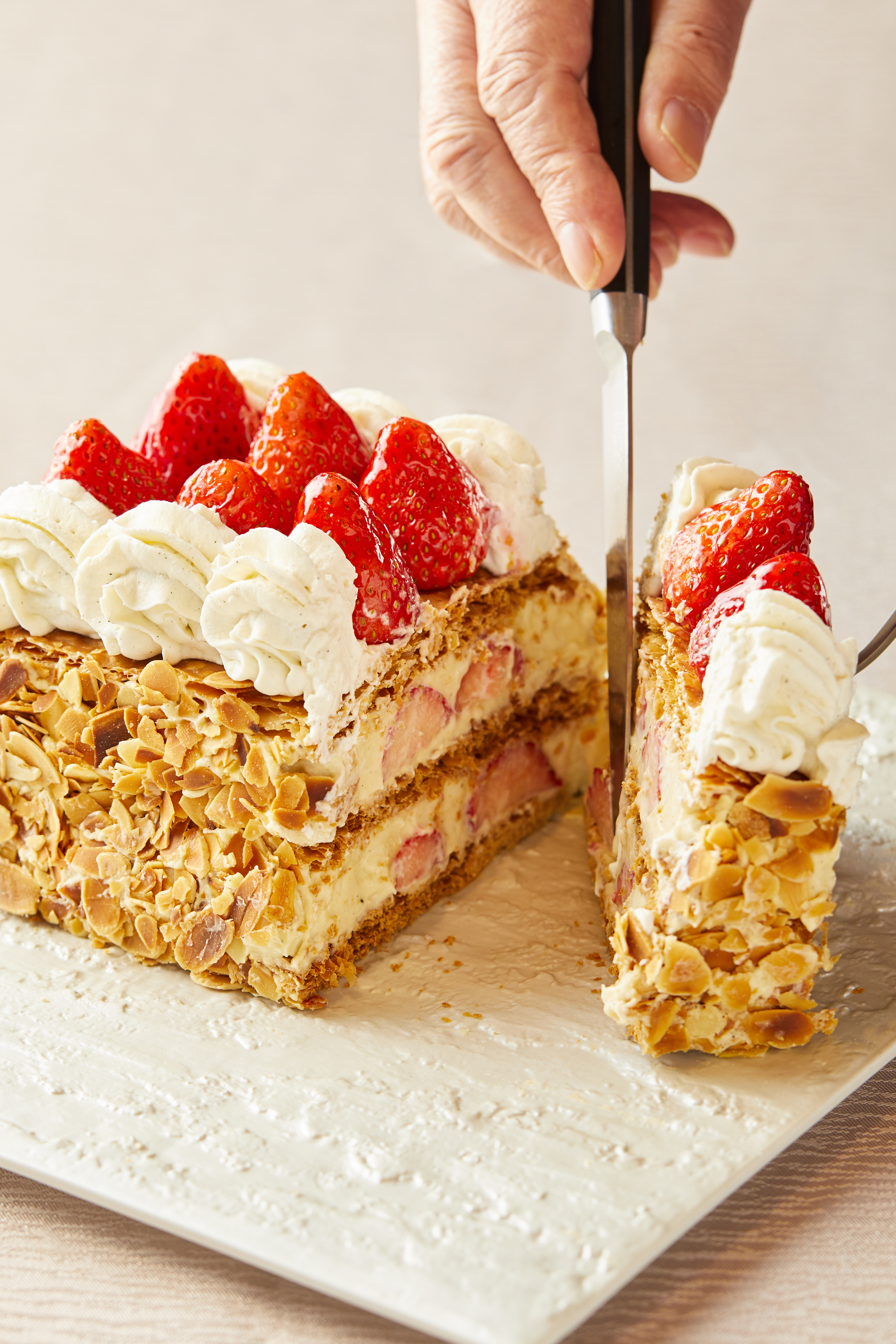 Even though the restriction on going out due to the new coronavirus has been lifted, the days have remained calm.
Every day, in a changing and uncertain situation, the world is overwhelmed by heavy air and tends to look downward.
However, even in such a situation, there are many shops and facilities who are doing their best to do their best.

The Kokosil editorial department will introduce such stores and facilities as "Store Support Project" .
We will introduce the outline of stores and facilities, recommended menus, services that are devised because of this situation, what we value.
This time, "THE GRAND GINZA " will be featured.
See it!
---
◎About THE GRAND GINZA, a value management public relations officer, takeout sweets, impressions of actually eating, shops, "Summer Carnival" afternoon tea set, shop listening information, this corona is important I asked about what they are doing and messages to customers.
Please tell me about takeout sweets.
"Strawberry millefeuille" is a reproduction of the recipe of the original pastry chef of Ginza Maxim de Paris, a long-established French restaurant.

Sandwiched with crispy pie dough, along with refined custard cream with plenty of strawberry and cointreau scent.
Surrounded by cream and savory sliced almonds, the top is a luxurious dish with two rows of juicy strawberries.

Basically, women in their 40s and older who know Maxim's Millefeuille are the most popular age group for purchase, but women in their late 20s to 30s who have enjoyed afternoon tea etc. We are increasing the number of people who purchase and say that it is a special day such as "no-day" or "anniversary".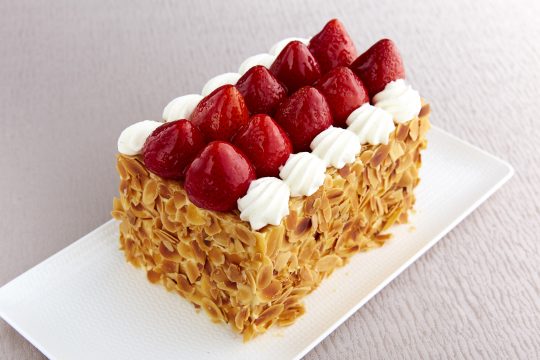 I got takeaway sweets!
This time, I took out a size of 8 cm x 11 cm x 12 cm. (3,240 yen (tax included))

When you open the white box with a simple design, the luxurious strawberries of bright colors and the layers of puff pastry will make your eyes entertaining.

"This is the strawberry millefeuille of the legendary Ginza Maxim de Paris!"

Put a knife in the puff pastry, keeping the motivation low.
Saku Saku
Just insert a knife and you can feel the comfortable texture of the fabric.
Expectations will increase.
"I will"
---
---
The soft texture of crispy pie dough, the sweet and sour accents of strawberries, the scent of custard cream mixed with orange liqueur "Cointroll" and the refined taste, the aroma of almonds.
All of them will balance your mouth and satisfy your tongue.


"It's a treat"
It was a luxurious afternoon of strawberry millefeuille, tasted bit by bit .
Please tell us about THE GRAND GINZA.
THE GRAND GINZA is a food complex with a large and small banquet room, a multipurpose hall, and a private room that can meet all needs in an area of about 1,500 m 2 .
Each place develops a different concept.

THE GRAND 47 is a restaurant where you can enjoy "local production" that is ordered from all over Japan, using ingredients that are not yet known from branded ingredients in Japan .
Also, THE GRAND Lounge can be used as a meeting place in Ginza, so you can spend your adult time in a luxurious yet relaxing space.
The menu has a casual lineup, and afternoon tea is especially popular with women .

For the future development of THE GRAND GINZA, we will strengthen takeout as a product that you can feel safe and secure in your daily life and spend it, and if you order it, you can enjoy our taste at home Efforts are also underway.
In the future, we would like to offer you products that will give you time to visit our stores and celebrate your anniversary at home.

By all means, please use THE GRAND GINZA.

What is the "Summer Carnival" afternoon tea set?

Speaking of Japanese summer, it is the "summer festival".
This summer, summer-like events such as summer festivals and fireworks festivals will be canceled due to the influence of corona, but at least I can enjoy the fun projects such as yo-yo fishing, takoyaki, and watermelon splitting, both in the afternoon tea and with my eyes. We have prepared "Summer Carnival" afternoon tea set.
The second tier of the set is lined with savory and sweets that express the image of overseas summer carnival, colorful and vivid colors, and the taste of the chef's original punches added to represent "one summer memory".
Please spend an elegant time with TWG's iced tea.
In addition, as a menu to enjoy, enjoy ice royal milk tea blended with TWG's English breakfast and chamomile tea, strawberry millefeuille and red velvet cake.

["Summer Carnival" afternoon tea set]
[Period]: July 1st to August 31st, 2020
[Price]: 4200 yen (excluding tax and service charge)
*5200 yen with champagne (excluding tax and service charge)
If you have any other news information, could you tell me?

For three days only from August 7th to 9th, we will hold the "TANABATA Night in THE GRAND GINZA" , an adult summer festival 《Tanabata Dinner/Planetarium Discount Voucher》 that invites the starry sky image supervised by Konica Minolta Planetarium to extraordinary I will.
As a limited-time event named after the Tanabata of the old calendar, you can enjoy the limited French buffet (provided individually) while watching the realistic night sky image supervised by Konica Minolta Planetarium . In addition, free flow of wine and beer is included.
This is a special event planned in the hope of spending a romantic gastronomical time in Ginza, where you can love the "starry sky" this summer, with a lot of refraining from summer festivals and events.
[TANABATA Night in THE GRAND GINZA]]
[Period] August 7th (Friday)-9th (Sunday), 2020 3 days limited
[Business Hours] Start at 19:00 and end at 21:00 (18:30 reception)
[Price] 7,000 yen per person (tax and service charge included)
[Number of people] Limited to 30 groups
[Included in the price]
・Video viewing of "Starry Sky" supervised by Konica Minolta Planetarium
・Cooking *For this event only, a menu with the image of a summer festival is prepared
・Free drink (120 minutes)
・Konica Minolta Planetarium Appreciation Discount Gift
Please tell us what you value as a store because of this situation.

From June, the restaurant and lounge operations will be gradually resumed.
Until we got back to normal , many customers who put up with various celebrations and stayed at home celebrated their anniversary at the restaurant.
It is often used by married couples, and I saw the appearance of celebrating the anniversary that I could not do, eating out after a long time thinking of the other party, and the staff got time to feel happy, so I spend time and time only now In some cases, we may ask the customer to tell us who they are.
In order to help you create your precious time, first of all, keep the store safe and secure.
Various measures such as daily cleaning, management of staff health condition (temperature is measured at home every morning, staff with 37.5° and sickness stop working), daily uniform cleaning, disinfection of cutlery and plates used by high temperature cleaning I am doing.
From the perspective of social distance, if it is lunch, after 13:30 on weekdays,
If you use the afternoon tea, you can use it with peace of mind because it is relatively open from 11:00 to 14:00 and from 17:00 to 19:00.
Finally, please give us a message.
To all of you who come to such an important day in this kind of coronal disaster.
For those who are looking forward to our dishes and afternoon tea set, we will create a safe and secure environment so that all the staff can welcome you with a smile with the chef's heartfelt preparation ..
Please come to THE GRAND GINZA.
Summary
Introducing THE GRAND GINZA's take-out sweets, impressions after actually eating, about the shop, "Summer Carnival" afternoon tea set, information on the shop's attention, what is important for this corona warrior, message to customers, etc. I've been.
At the time of the interview, it was impressive that the customers spent their precious time relaxing with a smile at THE GRAND Lounge.
THE GRAND GINZA, a luxurious space in Ginza Six.
Why don't you visit our store to spend time in this luxurious place or to enjoy takeaway sweets at home?
Kokosil editorial department will continue to support THE GRAND GINZA.
store information
■Store name: THE GRAND GINZA LOUNGE
Business hours: 11:00-23:00 (LO 22:00)
■Number of seats: 100 seats *All seats are non-smoking/Regular holidays: According to the facility
Phone number: 03-6263-9740
---
■ Store name: THE GRAND 47
■Business Hours : 11:00-16:00 (LO 14:30) / 17:00-22:30 (LO 21:00)
■Number of seats: 60 seats *All seats are non-smoking
■Dress code: None Guidance in order of visit
■Regular holiday: According to the facility
Phone number: 03-6280-6129