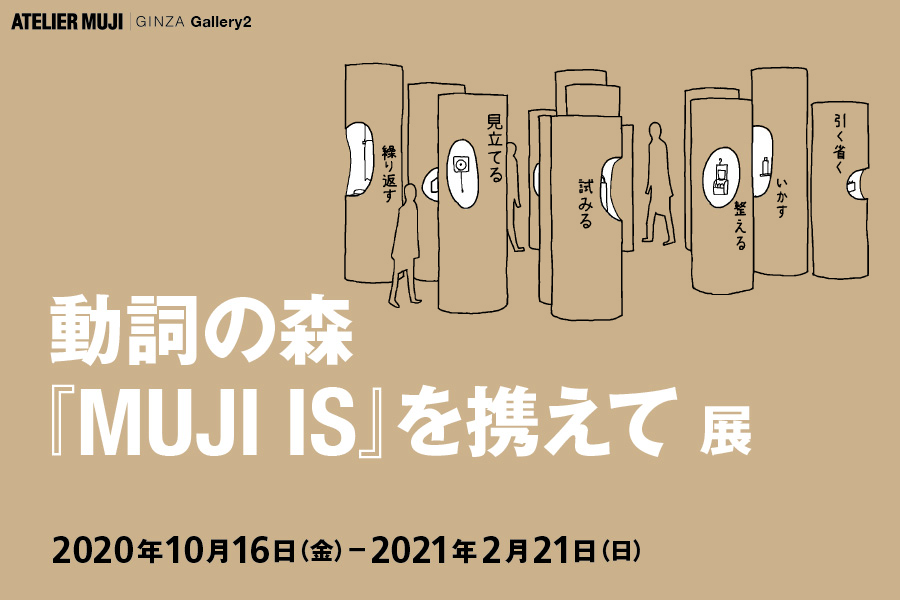 ATELIER MUJI GINZA will hold "Exhibition with Verb Forest" MUJI IS "" at Gallery 2 from October 16, 2020 (Friday) to February 21, 2021 (Sunday).
With "MUJI IS"
MUJI was born in Japan in 1980 with an antithesis against the consumer society where the logic of capital is excessively preceded.
From the standpoint of "MUJI," the activities of the Earth University, which show "good products" and aim for "comfortable living" as a specialty store of life aesthetics, expand the area not only to things but also to things, people, and social systems. I am. That is, small seedlings grow on trees, and eventually the trees become forests and spread over the earth.
---
---
In this exhibition, we will introduce products and activities along with the 15 verbs featured in this book in conjunction with the book "MUJI IS MUJI Archive" published in 2020, which is the 40th anniversary of the birth of MUJI. Take this book and take a walk through the verb forest.
Draw / Omit / Use / Do not decorate / Learn / Ask / Receive / Put together / Arrange / Get closer / Notice / Leave / Repeat / Match / Consider / Try
From birth to death, always staying close to a life with verbs,
The ever-deepening ideas and activities of MUJI
We have been and will continue to work with you all over the world.
ATELIER MUJI GINZA
—————————-
When things are born, the verbs breathe
Mujirushi Ryohin. MUJI has evolved into MUJI in the world, including the EU and Asian countries, starting with getting used to kanji like four-character idioms. The reality is that it is a collection of things that are useful in daily life, nothing more than that, and supports the basics of a more pleasant life.
As we celebrate our 40th birthday in the year 2020, which started with 40 items, we have begun work to check the reasons for the survival of more than 7,000 items. It is also the creation of an archive of MUJI products. There are many ways to organize the archive, such as timeline of release, classification by product category, etc., but we closely adhered to the motive of manufacturing and came to the conclusion that will be the chapter of this book.
You can use "verbs" to sort out how each MUJI product was made. There is a reason unique to MUJI in the origin of things, and the reason is based on verbs. I thought that expressing the thoughts and ideas of the user from the side of making with verbs would bring out the whole picture of MUJI.
Here are 15 verbs that are MUJI as they are. It would be nice to read that one thing carries several verbs, and that the verbs lead to a better social movement.
Kazuko Koike on behalf of the Ryohin Keikaku Kenkyusho (from the preface of the book)
【Basic information】
Exhibition with the verb forest "MUJI IS"
Session | October 16, 2020 (Friday) -February 21, 2021 (Sunday)
Hours | 10: 00-21: 00 Business hours and closures are based on the store.
* Please check the ATELIER MUJI GINZA official website as the schedule may change, such as the session and time.
Venue | MUJI Ginza 6F ATELIER MUJI GINZA Gallery2 Free admission Organizer | MUJI Planning Cooperation | Living Ryohin Kenkyusho Space Composition | Trough Architectural Design Office Graphic Design | Akiko Kurachi Construction | Tokyo Studio Curation | Junko Suzuki Planning and Management | Ryohin Keikaku Co., Ltd. Living Goods Department Planning and Design MUJI Ginza ATELIER MUJI GINZA
[Related event]
Various related events are scheduled to be held during this exhibition period.
Details will be announced on the ATELIER MUJI GINZA official website and SNS as soon as they are decided.
* If the event is canceled or the content is changed due to various reasons, we will inform you on the official website and SNS.
ATELIER MUJI GINZA
MUJI Ginza 6F, 3-3-5 Ginza, Chuo-ku, Tokyo 104-0061
Access | Tokyo Metro Ginza Line / Marunouchi Line / Hibiya Line "Ginza" Station Exit B4 3 minutes walk Tokyo Metro Yurakucho Line "Ginza 1-chome" Station Exit 5 3 minutes walk
JR Yamanote Line "Yurakucho" Station Central Exit 5 minutes walk
ATELIER MUJI GINZA Official Website | https://atelier.muji.com/jp/
Instagram | @ateliermuji_ginza
Twitter | @ateliermuji