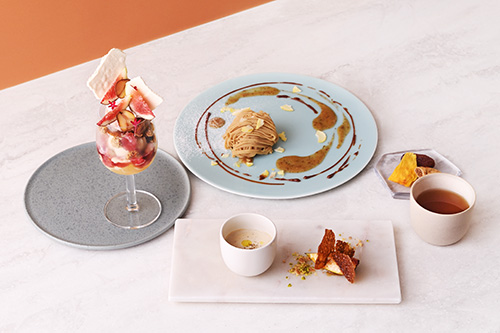 "Waguri and figs" autumn luxury full course will be available from October 21st
Limited offer of popular wine set menu
"Beauty Connection Ginza" will be held at the fruit course specialty store "Fruit Salon" on the 2nd floor of the facility from October 21st (Wednesday) to December 7th (Monday), 2020. We will offer a new menu using figs.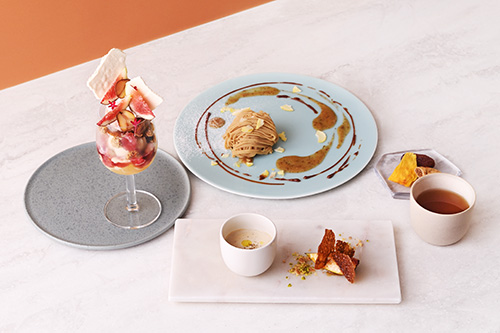 The full course of fruit sweets, which focuses on seasonal fruits and is particular about details, has gradually attracted attention from the beginning of its opening, and has been well received by many customers. This autumn, November will mark the first anniversary of its opening.
The new menu, which will be released in October, is a four-course course that luxuriously uses the fruitful "Waguri" and "Fig". With a variety of arrangements that are not bound by the frame of sweets, the delicate and mellow autumn taste of Waguri and figs, which are rich in nutrients, has been completed into a full-course meal with a new taste.
This time, we started with the first dish "Mont Blanc" using chestnut paste from Aso in Kumamoto prefecture and boiled chestnuts from Ehime prefecture, and the second dish "Waguri soup and fig parfait" with an exquisite balance of sweetness and saltiness. Up to the main third dish, "Parfait," where the abundant figs are eye-catching, the menu is gorgeous and you can enjoy the fruitful autumn woven by the combination of seasons.

---

---

The parfait, which is the pride of the fruit salon, mixes the ingredients as you eat, due to the margins of the glass that you dare to make, and you can enjoy the change in taste and texture until the last bite. Enjoy a luxurious time to see, eat, and satisfy your five senses on a 90-minute full-course meal that requires a reservation.

In addition, as a limited menu, we also offer a set menu (grape) of alcohol that matches the parfait. Please enjoy this together in a spacious space.
■ Full course of Japanese chestnuts and figs ¥ 4,400 (tax included) Offer period: October 21st-December 7th
Amuse "Dried Fruit / Minardies"
Please enjoy our special dried fruits and bite-sized baked goods.
1st Plate "Mont Blanc"
Mont Blanc of Japanese chestnuts that combines cream made from chestnut paste from Aso, Kumamoto prefecture, soy milk and gelato of fromage blanc. Carefully selected slices of boiled chestnuts from Ehime prefecture. The semi-dried figs and cassis compote are accented with a moderate acidity for a light finish.
2nd Plate "Potage / Falsi"
The gentle-tasting Japanese chestnut potage, which is sweetened only with chestnuts and onions from Ehime prefecture, warms your body and soul. The fig falsi, which is made by stuffing Gorgonzola cream into fresh figs and caramelizing the surface, has an outstanding impact with the freshness of figs and the thick and rich combination of Gorgonzola cream.
3rd Plate "Parfait"
A parfait with a sorbet made from the Japanese fig "Horai", which arrived from Ehime prefecture, and a hazelnut gelato with a scent of Shimanami lemon. Please enjoy with Japanese chestnut with astringent skin and red wine compote of figs.
Drink "After-meal drink"
You can choose your favorite drink from Maruyama Coffee's original blended coffee, black tea, roasted tea, herbal tea, and fruit tea.
The chef's recommendation is hojicha, which has a relaxing scent. The fluffy aroma and refreshing taste leave a gentle and mellow finish without negating the delicate aftertaste of Japanese chestnuts and figs.
■ I am happy with beauty! Autumn taste, nutrients of Japanese chestnuts and figs
The notable ingredients of chestnuts are vitamin C and dietary fiber. Vitamin C has the effect of suppressing and reducing melanin produced by UV rays, so it is a perfect fruit for recovering damaged skin in the summer when it has been exposed to UV rays. In addition, it is rich in dietary fiber, and its content is said to be about 2.9 times * that of sweet potatoes.
In addition to being rich in potassium, which is effective in preventing swelling, figs are the only fruit that contains a component similar to female hormones, "phytoestrogens," and is expected to work to balance hormones that are easily disturbed at the turn of the season. I am. * From "Standard Tables of Food Composition in Japan 2015" (per 100g of edible portion)
■ [Limited offer] Parfait and alcohol set (grape) ¥ 2,178 (tax included)
~ Grape parfait / fruit plate / alcohol (glass 120mL) ~
The popular parfait and alcohol set is the fruit "grape" that appeared as a full-course menu last time during this period. Please enjoy the special pairing menu that allows you to enjoy the special parfait even more flavorfully.
■ Recipe supervision / BIEN-ЛTRE PÂTISSERIE owner Maiko Baba
Born in Kyoto in 1977. After graduating from university, he worked as an interpreter overseas and returned to Japan to move into the world of eating and drinking. Participated in the launch staff of the Spanish restaurant "Restaurant Sant Pau" in Tokyo and served as a chef pastry chef. After that, he was involved in the launch of patisserie and cafes and became independent. In 2010, the confectionery and parfait shop "BIEN-STRUCTTRE PÂTISSERIE" was opened, and in 2017, the gelato and bake shop "FLOTO" was opened. Sweets that take advantage of the characteristics of the ingredients are gaining popularity.

Comment from Maiko Baba
Delicate Japanese chestnuts and juicy figs are Japanese autumn traditions. We have prepared an expressive pairing that you can enjoy because of the gentle flavors. Please enjoy the luxurious taste unique to short-season ingredients.
■ About Beauty Connection Fruits Salon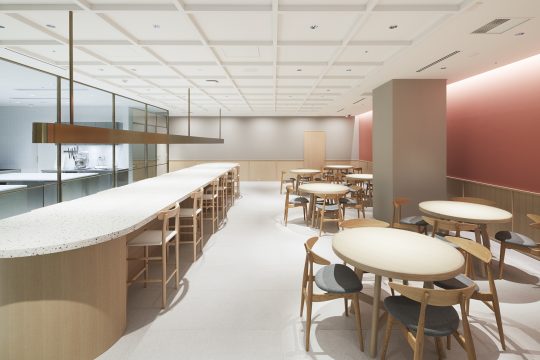 Opened in November 2019, "Beauty Connection Ginza" is a beauty complex consisting of four floors: "beauty equipment / cosmetics", "food / drinks", "beauty medicine", and "hairstyles". Beauty Connection Ginza 2F "Fruit Salon" is a full-course meal specialty store that attracts attention for its new sensation that you can enjoy nutritious seasonal fruits in a "full course" with the concept of "cleaning from the inside".
The recipe is supervised by Maiko Baba, the owner and patisserie of Yoyogi-Uehara's popular patisserie "BIEN-STRUCTTRE PÂTISSERIE". You can enjoy it in a relaxed space.
* About our new coronavirus infection prevention measures *
https://www.beauty-connection.jp/news/2020/05/26/business-resumption_0601/
・ Customers who come to the store are requested to measure the temperature and disinfect their hands when entering the store.
・ All staff are required to wash their hands, gargle, disinfect their hands, and wear masks in the salon.
・ The layout is such that the distance from other groups is 2 meters or more so that customers do not sit face-to-face. In addition, for stores that require advance reservations, we limit the number of reservations from normal times to ensure a thorough social distance.
・ At stores, wear masks and face guards properly and thoroughly wash your hands frequently and appropriately.
・ We will thoroughly clean the kitchen's cooking equipment and utensils with kitchen detergent, and thoroughly implement general hygiene management, such as hand washing before and after work.
Store overview
Name: Beauty Connection Ginza Fruits Salon (Beauty Connection Ginza Fruits Salon)
Residence: GINZA gCUBE 2F, 7-9-15 Ginza, Chuo-ku, Tokyo 104-0061
Business hours: 11: 00-20: 00
Regular holiday: Tuesday Phone number: 03-6263-8392
Official HP: https://www.beauty-connection.jp/fruits/