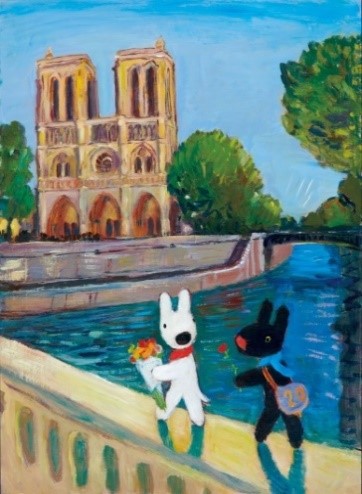 The French-born picture book "Lisa and Gaspard", whose master license is owned by Sony Creative Products Inc., was released in France in 1999, and when it was introduced in Japan the following year, it quickly became a popular series. This year, the 20th anniversary of the publication in Japan, this work has sold 40 titles and a total of more than 2 million copies. The first animation (1st series: 51 episodes) was produced in 2010 and has been broadcast in more than 80 countries around the world to date.
In 2013, the world's first theme park "Lisa and Gaspar Town" adjacent to Fuji-Q Highland in Yamanashi Prefecture opened. In 2019, we will celebrate the 20th anniversary of our birth, and various collaborations have been planned.
The keyword of this exhibition to commemorate the 20th anniversary of Japan's debut is "Omoide". Through the exhibition of more than 100 original pictures including unpublished works and the latest interview videos of artists, the trajectory from the origin of Lisa and Gaspard to the present, as well as the thoughts of artists Georg, Anne, and fans are vivid. This is an exhibition that you can see in the world of picture books.
■ Highlights of this exhibition
・ First public release of more than 100 original drawings and sketches of early works, including unpublished
・ Lisa and Gaspard's birth opportunity "Red Notebook" in one place
---
---
・ Approximately 250 items including original goods are available
・ Collaboration cafe OPEN for a limited time
・ The latest interview video of Anne and Georg is released.
■ Writer profile
Anne Gutman (left)
Born in Paris in 1970. Under the influence of his father who was a novelist, he started to create picture books. I met Georg while working as a designer at a publishing company and got married. In 1999, he launched the "Lisa and Gaspard" series with her husband. In this series, he deals with storytelling and book design.
Georg Hallensleben (right)
Born in Germany in 1958. He became familiar with watercolor painting from an early age and started as a painter in Rome after graduating from university. I met Anne Gutman in Paris and got married. In addition to the "Lisa and Gaspard" series, there are many works such as the "Penelope" series, "Isabel and the Angel" (Kinnohoshi), and "Kogitsune Hatabatsu" (Bronze Shinsha).
■ Approximately 250 items including 80 types of 20th anniversary original products are available!
About 80 kinds of exhibition original products such as "wall clock" and "ice cream spoon", and about 250 "Lisa gas goods" including pre-sale items such as "Anies B bag (price undecided)" will be on sale.
* An exhibition ticket is required to enter the sales corner.
* Product design and price are subject to change.
■ Opened "Lisa and Gaspard Cafe" for a limited time
A limited menu of "Lisa and Gaspard" that can only be eaten here is now available!
Dates: February 23, 2021 (holiday / Tuesday) to March 3 (Wednesday)
Time: To be decided Venue: Matsuya Ginza 8th floor MG Cafe
[20th Anniversary of Japan Debut Exhibition with Lisa and Gaspard]
Dates: February 23, 2021 (holiday / Tuesday) to March 3 (Wednesday)
Venue: Matsuya Ginza 8th Floor Event Square
Opening hours: 10:00 to 20:00 (Closed at 19:30 on Sunday, February 28, 17:00 on the last day. Admission is until 30 minutes before closing)
* Business days and opening hours are subject to change.
* When it is crowded, you may have to wait or a numbered ticket may be distributed.
Organizer: Lisa and Gaspard Omoide Exhibition Executive Committee
Cooperation: Sony Creative Products, Bronze New Company, Hachette Livre
Planning and production: Office Shibuya
Fees: General 1,000 (700) yen, high school students 700 (500) yen, junior high school students 500 (400) yen, elementary school students 300 (300) yen * Advance charges are in parentheses.
Advance tickets will be sold at Lawson Tickets until February 22nd.
Official HP: http://www.lisagas.jp/
Inquiries: Matsuya Ginza 03-3567-1211 (Representative)
* Please check the Matsuya website for details on admission tickets.
Matsuya Ginza: https://www.matsuya.com/ginza/
"Lisa and Gaspard" Official HP http://www.lisagas.jp/