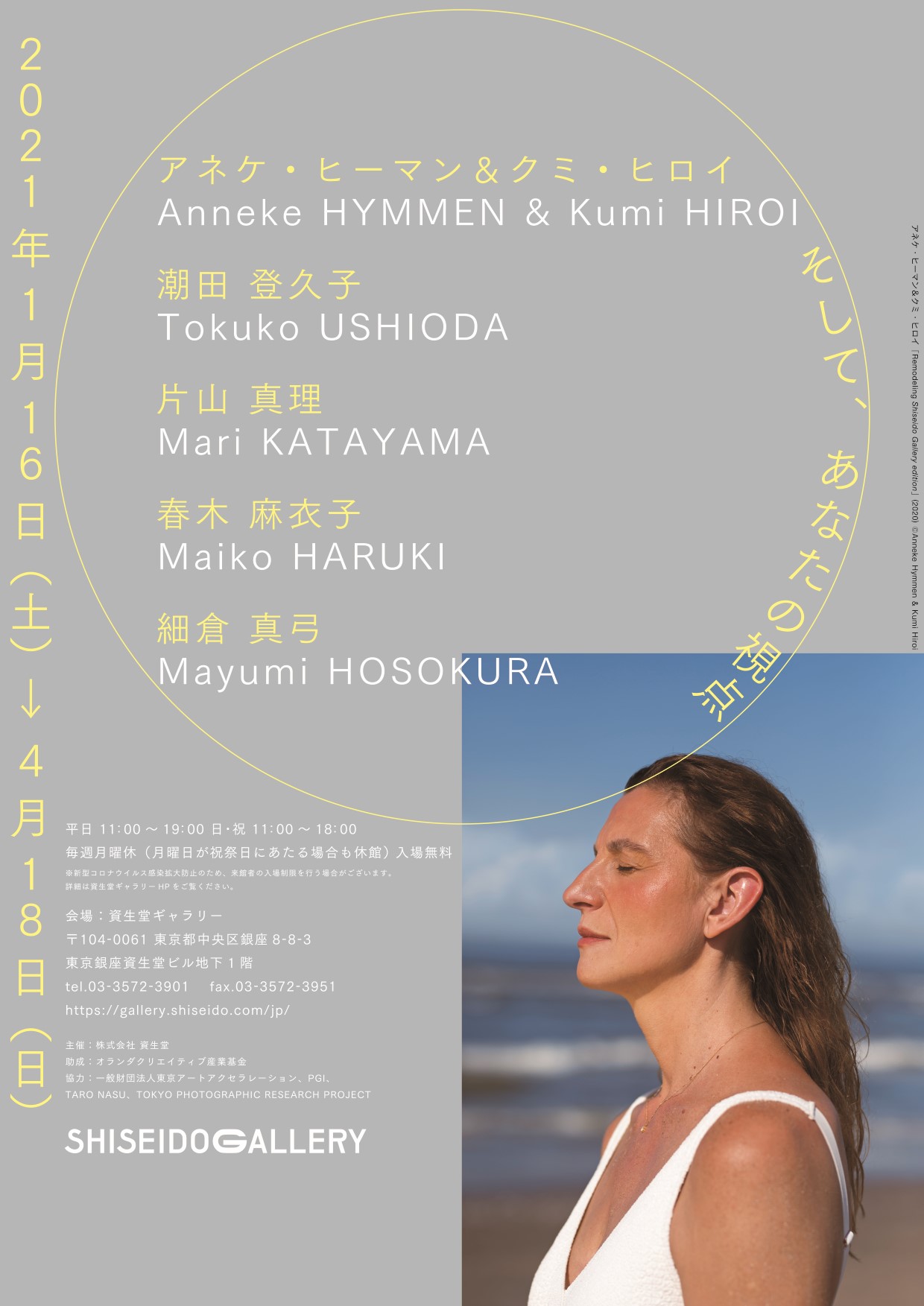 Shiseido Gallery will hold an exhibition "Aneke He-Man & Kumi Hiroi, Tokuko Ushioda, Mari Katayama, Maiko Haruki, Mayumi Hosokura, and your point of view" by five female artists who are active in photographic expression. ..
In 2020, the world we live in changed its appearance due to invisible threats. In this exhibition, we will introduce works by five groups of artists under the theme of "boundaries" that exist in the changing times. By taking up the "boundaries" that each artist captures and faces sincerely, we ask the viewer's point of view.
Since its founding in 1919, Shiseido Gallery has always endeavored to introduce new expressions that cut the era, and one of its features is that it has continuously supported female artists. At Shiseido, we consider art to be a major point of contact with the world in order to realize a better world, and we continue to work on it as an important corporate activity along with diversity & inclusion and sustainability. Since March 8th, during the exhibition period, will be International Women's Day, we will provide an opportunity to capture diversity from various angles through this exhibition.
■ Outline of the event
Title: Aneke He-Man & Kumi Hiroi, Tokuko Ushioda, Mari Katayama, Maiko Haruki, Mayumi Hosokura, and your point of view
Date: January 16th (Sat) -April 18th (Sun), 2021
Opening hours: Weekdays 11: 00-19: 00 Sundays and public holidays 11: 00-18: 00
Closed: Closed every Monday (closed even if Monday is a national holiday)
---
---
free entrance
Venue: Shiseido Gallery
https://gallery.shiseido.com/jp/ (Shiseido Gallery)
https://twitter.com/ShiseidoGallery (Shiseido Gallery Twitter)
Organizer: Shiseido Co., Ltd. Social Value Creation Headquarters Art & Heritage Office
Grant: Dutch Creative Industry Fund
Cooperation: Tokyo Art Acceleration, PGI, TARO NASU, TOKYO PHOTOGRAPHIC RESEARCH PROJECT
Related measures: Opening talk will be distributed on the Shiseido Gallery website.
Details will be announced on the Shiseido Gallery website as soon as they are decided.
* The number of people may be limited to prevent the spread of new coronavirus infection. For details, please see the Shiseido Gallery website.
■ About the exhibition
<Planning background>
In 2020, the world we live in changed its appearance due to invisible threats. A new boundary that has come to everyone equally, that we cannot see the future. Mankind is trying to overcome it with wisdom, solidarity, and imagination.
We believe that presenting a certain perspective to questions that have no correct answer is the meaning of beauty, and Shiseido Gallery will continue to introduce the activities of contemporary artists as a breath of the times. I would like to present the diversity of the way the world looks and continue to ask society what a better future is.
<Exhibitor>
In this exhibition, five female artists who are active mainly in photographic expression will be taken up, and Aneke Heeman & Kumi Hiroi will reconstruct from a different perspective with advertising as a motif, and the background and relationships will be presented from the appearance of the photographed book. Tokuko Ushioda, Mari Katayama who develops a wide range of production activities starting from a self-portrait wearing a hand-sewn object, Maiko Haruki who asks the act of "seeing" in an installation, the boundary of many "should have been commonplace" Mayumi Hosokura will be exhibiting.
<Theme>
The common theme is "boundaries". What are the "boundaries" that each artist perceives and faces sincerely? The world we see from the perspectives of artists with diverse careers and life stages as well as styles may be different from the world we see. Maybe it's similar.
In this exhibition, the title will include the keyword "and your point of view". We hope that this exhibition will give you the opportunity to ask questions to the viewers and deepen their awareness and thoughts.
■ Writer profile
<Anke HYMMEN & Kumi HIROI>
Aneke He-Man: Born 1977 in Ludenscheid (Germany), lives in the Netherlands
2005 Graduated from AKI Art & Design Academy, Department of Photography and Monumental Art
Kumi Hiroi: Born in Gifu Prefecture in 1979, lives in the Netherlands
2002 Graduated from Faculty of Economics, Saitama University
2008 Graduated from Gerrit Rietveld Academy Graphic Design Department
A collaboration unit between He-Man, who has more than 20 years of experience as a portrait photographer, and Heroy, who works as a graphic designer / artist. Since 2014, he has been working on the "Remodeling Project" to reshape existing advertisements, and casts various perspectives through photographs and texts on the stereotypes of women, consumption, and fashion that people receive from "advertisements." Major exhibitions include 2017-2018 "Remodeling" Melkweg Expo (Amsterdam), Maison / by Teruhiro Yanagihara (Osaka), State of Fashion (Arnhem, Berlin), 2019 "Pearl Contour / Parel Silhouet" Nagasaki Holland Village , Nagasaki Prefectural Art Museum, IMA Gallery (Tokyo). In this exhibition, a new work of "Remodeling Project" will be produced with the motif of Shiseido's advertisement, and a short story by Akiko Otake will also be exhibited.
<Tokuko Ushioda Tokuko USHIODA>
Born in Tokyo in 1940, lives in Tokyo
1963 Graduated from Kuwasawa Design School, Graduate School of Living Design, Department of Photography
Under the guidance of photographer Kiyoji Otsuji, he went on to become a photographer. Representative works include the "Refrigerator / ICE BOX", which records refrigerators actually used in various homes, and books in libraries, personal collections, editorial rooms of publishers, etc. for over 20 years. There is a "book view / BIBLIO THECA" to shoot. From the appearance of the refrigerator and books in the photo, you can see the background of things and the relationship with the writer. Major exhibitions include 1995 "Photo City / TOKYO" Tokyo Metropolitan Museum of Photography, 2004 "Mahochanchi" Art Tower Mito Contemporary Art Gallery, 2018 "Domon Ken Award Winning Works Exhibition Book Scenery / BIBLIO THECA" Domon Ken Memorial Hall (Yamagata), Nikon Plaza The Gallery (Tokyo, Osaka), 2019 "Akarui Katei" Hiroshima City Museum of Contemporary Art. Awards include the 2018 "37th Domon Ken Award", "Photographic Society of Japan Award" Writer Award, and "34th Higashikawa Award" Domestic Writer Award. In this exhibition, works including unpublished works will be exhibited from "Book Scenery / BIBLIO THECA".
<Mari Katayama Mari KATAYAMA>
Born in Saitama prefecture in 1987, lives in Gunma prefecture
2010 Graduated from Gunma Prefectural Women's University, Faculty of Letters, Department of Aesthetics and Art History
2012 Completed Master's Program in Advanced Art Expression, Graduate School of Fine Arts, Tokyo University of the Arts
At the age of 9, he amputated both legs due to a congenital limb disease, and created self-portrait works using hand-sewn objects, three-dimensional works, and decorated artificial limbs that imitated the body. Starting from one's own body, threads and needles are used to sew and connect various boundaries that connect to others, society, and the world. Major exhibitions include 2013 "Aichi Triennale 2013" Barn Bridge Venue (Aichi), 2016 "Roppongi Crossing 2016 Exhibition: My Body, Your Voice" Mori Art Museum (Tokyo), 2017 "Photographs of Innocence and Experience" Emerging Japanese artist vol.14 "Tokyo Metropolitan Museum of Photography, 2019" 58th Venetian Biennale ". Awards include the 2005 "Gunma Youth Biennale" Encouragement Award and the 2020 "45th Kimura Ihei Photo Award". This exhibition will focus on "shadow puppet", which was shot by playing with an object with the motif of his left hand, which is two fingers.
<Maiko HARUKI>
Born in Ibaraki prefecture in 1974, lives in France
1997 Graduated from Tamagawa University Faculty of Letters, Department of Arts
Shoot with overexposure or underexposure, and compose the screen with bold contrasts of white or black. In recent years, he has developed a series that creates a space that does not actually exist by superimposing different landscapes on photographic paper. Consistently interested in the act of "seeing", he produces. Major exhibitions include 2011 "New Japanese Artist Exhibition vol.10 Leap of Photography" Tokyo Metropolitan Museum of Photography, 2014 "Azamino Photo Annual Photo Boundary" Yokohama Civic Gallery Azamino, 2017 "vision | noisiv" TARO NASU (Tokyo), 2018 "Moment-Shards of Time" Gunma Prefectural Museum of Modern Art. Awards include the 2008 "Roppongi Crossing 2007: Pulsation for the Future" Special Award (Judge: Toyoo Ito) and the 2015 "31st Higashikawa Award" New Artist Award. The theme of this exhibition is "boundary", and a new installation will be presented in which the viewer actively faces the act of "seeing".
<Mayumi Hosokura Mayumi HOSOKURA>
Born in Kyoto in 1979, lives in Tokyo
Graduated from Ritsumeikan University Faculty of Letters in 2002
Graduated from Nihon University College of Art, Department of Photography in 2005
Based on the representation of the body, he creates works that reorganize the boundaries of "what should have been commonplace" such as race and nationality, people and plants and machines, and organic and inorganic substances. In "NEW SKIN" announced in 2019, we will ask about boundaries by collages cutouts of gay magazines, statues of men exhibited in museums, selfie images on the net, etc., and further dividing and reconstructing them. Major exhibitions include 2012 "Transparency is the new mystery" Kuandu Museum of Fine Arts (Taipei), 2016 "Cyalium" G / P gallery (Tokyo), "Close to the Edge: New photography from Japan" Miyako Yoshinaga (New York) ), 2017 "Jubilee" nomad nomad (Hong Kong), 2018 "Small but sure" Tokyo Metropolitan Museum of Photography, 2019 "NEW SKIN | New skin" mumei (Tokyo). In this exhibition, "NEW SKIN" will be reconstructed and exhibited according to the venue.