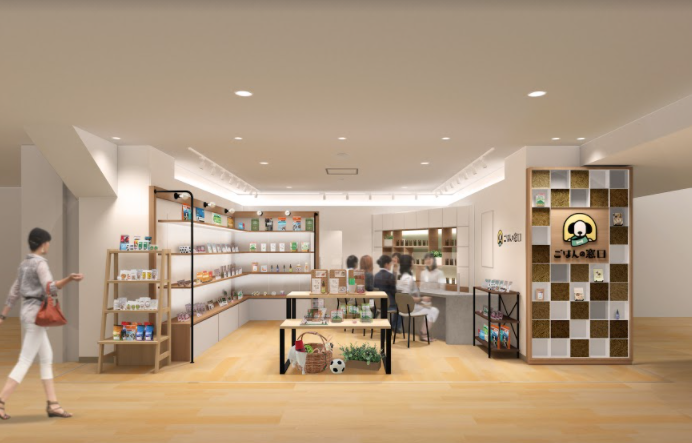 A new pet food support service developed by a comprehensive pet support company with a long-established department store in the "With Corona era"
Colors Co., Ltd. will open "Rice Counter Matsuya Ginza Store" on the 7th floor of Matsuya Ginza on January 28, 2021.
As the way of spending at home is being reviewed with a new lifestyle and the desire for "healing" is increasing, more and more families are welcoming pets as a new family. However, on the other hand, there is a survey result that about 75% (* 1) of existing owners, not to mention new pet owners, have problems with their dog's diet. At the "Rice Counter", we will develop a pet food support service through "Real Store x Subscription" in order to support your dog's meal with peace of mind for the rest of your life even in the With Corona era.
■ [With Corona] What is the "real store x subscription" system of the era?
Under the influence of the corona disaster, the ideal way of actual stores is being questioned in various business formats, and the new dog food support of "real store x subscription" of "rice window" will open in Matsuya Ginza, a long-established department store representing Japan. It is a service.
At the Matsuya Ginza store, based on counseling to pet owners by experts at the store, we propose the best premium dog food for your dog from more than 60 types, and you can also make a regular purchase on the spot. After that, we will continue to propose the most suitable dog food for each time according to changes in the age and health condition of the dog through the "rice window original subscription system" and support the dog's eating habits throughout his life. We will continue to build relationships with customer pet owners as a subscription while leveraging the real strengths of physical stores.
■ Flow of using the rice counter service
■ The pet market that expands with love, the keywords are "health" and "diet". Qualified specialists "pet hoodists" will be on hand to each and every one of them.
In 2019, the number of dogs and cats raised was about 18.57 million, exceeding the number of children under the age of 15. In addition, lifetime spending per dog has increased by 25% over two years. The pet market, which is expanding through "familyization," which considers pet dogs to be members of the same important family as children and partners, can be said to be a sign of love from owners to pet dogs. On the other hand, the average life expectancy of dogs is increasing year by year, and diseases are diversifying due to aging. Increasing owners' health consciousness has also led to dietary interests, with dog food spending increasing by 14.5% over two years. (* 2)
■ Achieve "face-to-face" counseling by experts who can consult firmly
All the staff at the rice counter are qualified dog food specialists, "pet hoodists." We will listen to you slowly while you are seated, and we will propose the best dog food for your dog and give you dietary advice from more than 60 kinds of carefully selected foods. We will record the contents of the counseling in the medical record to provide long-term support.
Through counseling by a pet hoodist, we will ask you about your dog's health condition and current diet, and propose the best dog food for each dog.
■ Carefully selected high-quality premium dog food that is particular about safety and security
Because it is eaten by your beloved dog, dog food is as safe as human food. We only handle human-grade "premium dog food" that has cleared our own safety standards.
By combining carefully selected products, we will propose a food plan of about 5,000 to 15,000 yen for one month.
(The amount varies depending on the product, the weight and health of your dog, and the delivery cycle.)
■ Voices of "joy" from customers one after another!
The Marui Kichijoji store, which will be the first store for rice, will open in March 2020. We respond to more than 100 (* 3) counseling sessions a month, and we receive many joyful voices from our customers, such as "I have resolved my concerns" and "I was relieved to be able to make a firm choice."
● There is a sense of security that you can choose properly.
Somehow I was choosing the food, so I wasn't sure if the rice I was giving at that time would suit the child. At the rice counter, you can choose the food after counseling properly, so you can get a sense of security on the part of the owner.
Tokyo Metropolitan Government H Mei-chan 2 years old Italian Greyhound
● I've come to eat well!
As I was old, my gastrointestinal tract became weak and I was feeding foods that support the digestive system, but I couldn't eat it easily and I lost weight. It seems that the food suggested by the counseling at the rice counter was suitable, and I started to eat it a lot.
Tokyo M-san Coco-chan 14 years old Toy Poodle
■ Store overview
Store name: Dog food specialty store Rice window Matsuya Ginza store Location: Matsuya Ginza 7F, 3-6-1 Ginza, Chuo-ku, Tokyo 104-8130
Phone number: 03-5579-5076 (opens when open)
Business hours: 10: 00-20: 00 * From January 12th (Tuesday) to the immediate future 11: 00-19: 00
Sales floor area: 7.8 tsubo Products handled: Dog food, snacks, supplements, care products, miscellaneous goods (some)
Number of items: Approximately 400 types Website: https://www.inu_gohannomadoguchi (scheduled to be released on January 26)
■ Company profile
Trade name: Colors Co., Ltd. Representative: Toshimasa Sakuma
Location: 〒657-0036
4-1-1 Sakuraguchi-cho, Nada-ku, Kobe-shi, Hyogo Welve Rokkodo 4th Avenue 1st Building 402
Date of establishment: July 2000 Capital: 50,000 thousand yen Homepage: https://www.colorzoo.com/
<Representative introduction>
After graduating from the Faculty of Law at the University of Tokyo in 1992, joined the P & G Marketing Headquarters.
After being in charge of marketing strategy, promotion, CM development, etc. for paper napkins and sanitary napkins, he has served as a whisper Asia strategy planning manager, product strategy and brand strategy planning for sanitary napkins in Asia, and manager of Japanese Pampers brand. After the Great Hanshin-Awaji Earthquake, he met a dog and decided to start a business based on the discomfort he felt in his life with the dog. After leaving the company in February 2000, he established Colors Co., Ltd. in July of the same year. Currently, in addition to the "GREEN DOG" business, we are developing a human resources development business, a veterinary hospital business, and a wholesale business.
(* 1) GREEN DOG E-mail Magazine Reader Questionnaire Conducted in February 2020 (n = 440)
(* 2) Japan Pet Food Association Reiwa 1st year national dog and cat breeding fact-finding survey
(* 3) Rice window Marui Kichijoji store June 2020 results