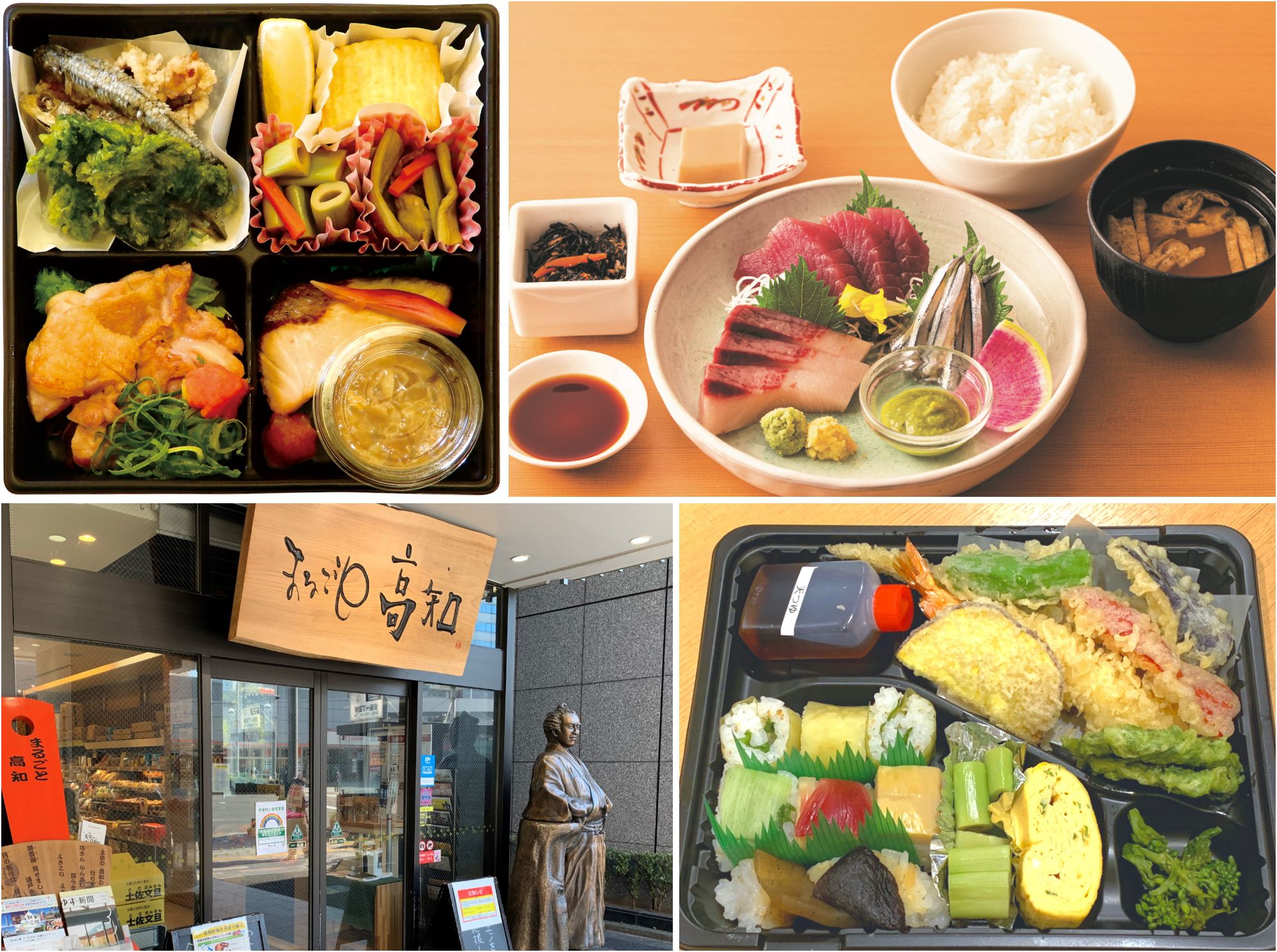 "I would like to support the stores that are making efforts under the influence of the new coronavirus infection!"
With that in mind, Kokoshiru covered the stores operating in Ginza as a "store support project ." We introduce a wide range of information such as new services and takeout.
Introducing this time is the take-out menu of the antenna shop "Marugoto Kochi", which sells products from Kochi prefecture and disseminates cultural and tourist information . We also cover restaurant information and products that can be purchased at the store, so please have a look.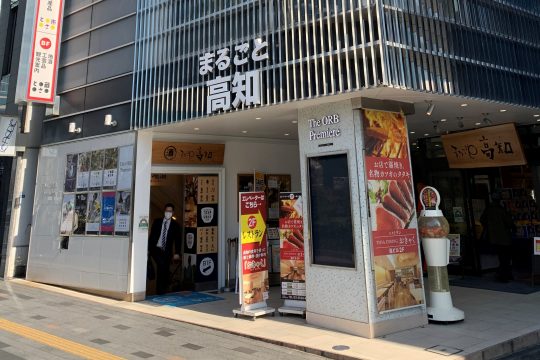 A take-out menu is now available at the restaurant "TOSA DINING Okiyaku" in "Marugoto Kochi"!
"Marugoto Kochi" is a few minutes walk from the Kyobashi exit of JR Yurakucho station. At the restaurant "TOSA DINING Okiyaku" on the 2nd floor where you can enjoy Kochi's sake and local cuisine, take-out lunch boxes have been on sale since January.
There are 8 types of take-out menu (as of February 10). The main dish uses abundantly selected ingredients from Kochi, including side dishes and rice.
<Example of take-out menu>
We asked Mr. Yokoyama, a public relations officer, for his recommendations. The "Shimanto Pork Rice Pork Ginger-grilled Bento" (1.000 yen including tax), which contains the popular ginger-grilled at lunchtime at the restaurant, is the popular food "Universal Side dish Ginger" handled by "Marugoto Kochi" from the top of the pork. It's sprinkled, and it's a double ginger power, making it an irresistible lunch for ginger lovers.
◆ Enjoy the take-out menu!
Actually, the Kokoshiru editorial department also took out one lunch box. This time, I bought "Countryside Sushi and Kochi Vegetable Tempura Bento" (1,000 yen including tax).
It's a colorful and full-bodied bento!
Ryukyu (hasimo), Japanese ginger, bamboo shoots, etc. are used in the main countryside sushi (vegetable sushi). The taste of the ingredients is alive in all of them, but especially myoga is delicious with a modest tsundere and moderate bitterness.
Yuzu juice is used instead of sushi vinegar for the sushi rice, which is a blend of Kochi Koshihikari and aromatic rice. The refreshing sourness that is just right to match with the fried food makes the chopsticks go on and on.
It seems that the tempura of Kochi vegetables changes depending on the purchase situation, but this time it is very volumey with blue seaweed, sweet potato, eggplant, paprika, green pepper, four-sided bamboo, and shrimp as well. Among them, the fragrant blue seaweed was excellent.
I like the countryside simmered chimonobambusa. It was the first time for me to eat the vegetable called Chimonobambusa, but it was more refreshing than ordinary bamboo shoots, and its light sweetness and bitterness were perfect for resting chopsticks.
It is surprising that 1,000 yen is the content of this fulfillment.
Mr. Yokoyama said, "We offer all kinds of bento boxes with confidence in the taste. Even customers who have never used our restaurant should take this opportunity to take advantage of the takeout and learn about the deliciousness of Kochi's ingredients. I would appreciate it if you could. "
"It is easiest to make a reservation by phone in advance for takeout, but it is okay to place an order after visiting the store directly. If it is not crowded, we can provide it in about 15 minutes. Please wait. While you're there, please take a look at the products downstairs. "
Introducing the popular menu of the restaurant "TOSA DINING Okiyaku"
The restaurant "TOSA DINING Okiyaku" is also open every day. If you want to eat in Ginza as well as take out, please try to choose the store as an option.
Regarding the new coronavirus countermeasures that are of concern, according to Mr. Yokoyama, "TOSA DINING Okiyaku" measures the temperature and disinfects when entering the store, installs air purifiers in various places, and opens windows for constant ventilation. Also seems to be doing. Furthermore, we are operating through thorough efforts, such as guiding customers with spaces between seats.
When asked about popular menus, "Straw-grilled bonito no tataki set" (1,400 yen including tax) and "Kochi fresh fish sashimi set" (1,400 yen including tax) are attractive for lunch, and "Select set" is for dinner. (3,000 yen including tax) is popular.
"Select Gozen" is a new menu that was launched in January, and it is an interesting thing that you can choose from more than 1,000 combinations of appetizers, side dishes, and main dishes. It seems that it has been well received by regular customers, and it seems that it will become a specialty menu of the store as soon as possible.
Shopping as well as takeout. Special products that can be purchased at "Marugoto Kochi"
"Marugoto Kochi"'s B1 to 1st floor is a product section. Since I came to the antenna shop, I have to get Kochi gourmet food other than lunch boxes! So, from here, I would like to introduce a few nice products that can be purchased by "Marugoto Kochi".
◆ 1st floor "Tosa City"
The first floor "Tosa City" is a food area. There are about 1500 kinds of products such as fresh vegetables sent directly from Kochi surrounded by rich nature every day, processed ginger and yuzu products, Tosa tea, sweets such as potato kenpi and "millet biscuits". It is on sale.
The most eye-catching is the large number of Yuzu-related products, which have the highest production volume in Japan. There are over 100 types!
Even if you focus only on ponzu, you will be surprised that there are more than 20 types, including the blockbuster product "Ponzu Soy Sauce Yuzu no Mura". It seems that the taste will vary considerably depending on the production area and the ratio of fruit juice, so it seems interesting to compare them.
In addition, Yuzu jam, Yuzu tea, Yuzu dressing, and Yuzu Shichimi. Isn't there any processed Yuzu product that isn't available in stores? There were so many product genres that I was overwhelmed.
Kochi is also famous for producing ginger. "Universal side dish ginger", which is chopped Kochi ginger seasoned with soy sauce, sugar, salt, and rice black vinegar, is the store's most popular and immovable product. It's easy to match with anything, such as using it for grilling ginger or sprinkling it on rice, and repeaters are appearing one after another with the ease of use that is just right for the name "universal".
As I have received, it was a perfect "rice that never stops" type of food.
When I asked Mr. Yokoyama, a public relations officer, about his personal recommendations, he told me that "Soda-bushi is good." Simply add your favorite soy sauce to a container containing Soda-bushi (a type of dried bonito), and you can enjoy delicious soy sauce all year round. (Soda-bushi for refilling was also sold in case the dashi stock was gone)
At Yokoyama-san's dining table, he says that he is very active in making omelet plates, porridge, cold tofu and avocado, and using it as a secret ingredient for curry. The secret to making the taste last longer is to add soy sauce immediately and prevent the Soda-bushi itself from drying out.
◆ "Tokizo" on the 1st basement floor
At "Tosakura" on the 1st basement floor, you can buy various types of sake and crafts, including sake from all 18 breweries in Kochi prefecture. There are more than 300 types of sake available, and there are not only standard products but also rare brands that are not widely available outside the prefecture for a limited time.
Kochi's sake is basically light and dry. There are many brands that are easy to drink and have a taste that does not choose the scene, so it is a great ant to buy it for a drink.
"Marugoto Kochi" holds tasting sales of local dishes and local sake events on an irregular basis. There are some great gift plans, so if you are planning to take out, please check the event schedule on the official website.
"Whole Kochi"
Takeout information
Reservation phone number: 03-3538-4351
Reservation time: 10: 00-19: 00
Receivable time:
Lunch 10: 00-15: 00
Supper 17: 00-20: 00
Street address
1-3-13 Ginza, Chuo-ku, Tokyo Orb Premier
business hours
Please check the latest information on the official website.
Official site
https://www.marugotokochi.com/
Official online shop
https://marugotokochi.jp/
* The information in this article is as of the time of publication. Please check the official store website for the latest information.