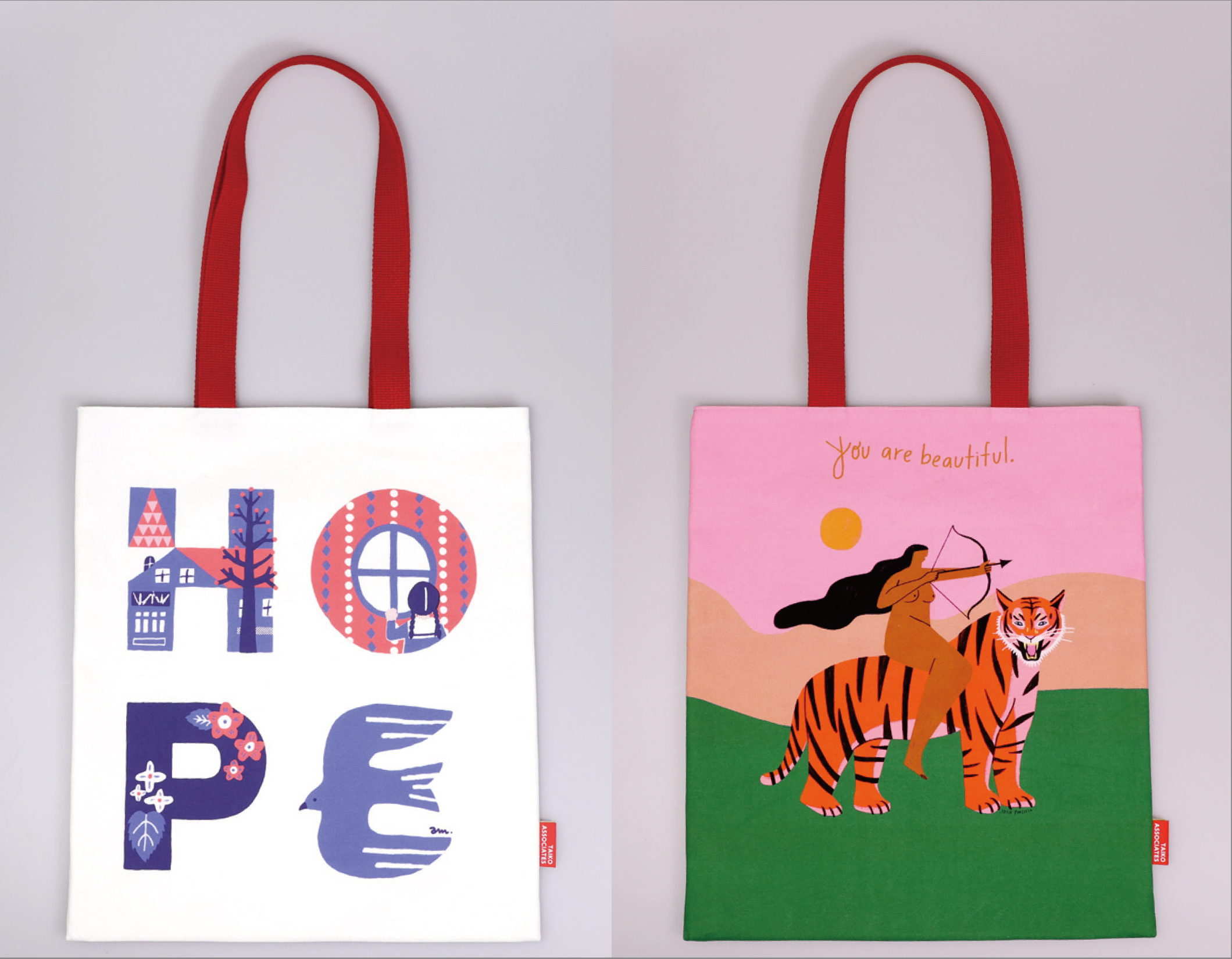 < Image: Provided by Marronnier Gate>
Marronnier Gate Co., Ltd., which operates "Marronnier Gate Ginza 2 & 3", utilizes the cloud funding site "idea market" operated by the Yomiuri Shimbun to tote in the area affected by the Great East Japan Earthquake, Minamisanriku Town, Miyagi Prefecture. We are implementing a project to support the "Minamisanriku Sewing Studio" that sews bags and other items.
The fashionable tote bag that goes well with spring outings is made from 100% cotton thick Oxford fabric. The staff of the workshop wholeheartedly finishes everything by hand. As the sewing is solid, it is also useful for carrying heavy items. The workshop has refined its sewing technology by undertaking sewing from the fashion brand "Mina Perhonen" and the long-established textile company "Kawashima Selkon Textiles".
You can purchase this tote bag at the crowdfunding site and the real stores at Marronnier Gate Ginza 2. The collected donations will be used to broaden the range of activities of the workshop as part of the purchase cost of printers for fabrics.
---
---
Seven popular illustrators, including Cassandre Montreal, a Frenchman who works on many illustrations for famous fashion magazines with the cooperation of the art agent "Tyco Associates", and NATSKO SEKI, who is in charge of illustrations for Scandinavian Airlines menu covers, etc. We will prepare 10 kinds of tote bags designed by.
◆ Recruitment period for support in crowdfunding
March 1st (Monday) -May 5th (Wednesday / holiday), 2021
◆ Consideration for support (product)
An illustrated tote bag sewn by Minamisanriku Sewing Studio, a thank-you note from the studio, and a message card of the artist who drew the illustration. A set with a replica of the tote bag design is also available.
◆ Price (including tax and shipping)
Basic set (tote bag + message card, etc.) 6,050 yen Duplicate image set (tote bag + duplicate image + message card, etc.) 24,200 yen to 34,100 yen
◆ Purchase method (① or ②) ※ ② sells some products ① Yomiuri Shimbun crowdfunding "idea market"
https://idea-yomiuri.en-jine.com/projects/mishin
② Marronnier Gate Ginza 2 B1F Special Store (Real Store)
In addition to selling some tote bags in real stores, small items such as pouches made by Minamisanriku Sewing Studio are also on sale. We will exhibit a panel that introduces the current situation of Minamisanriku Town and the efforts of the workshop. The opening period is from February 26th (Friday) to May 5th (Wednesday / holiday)
[Role of each in this project]
◆ Sew a tote bag and send it to a crowdfunding supporter
Minamisanriku Sewing Studio (Representative Director, Mr. Yasutoshi Kumagai)
In Minamisanriku Town, Miyagi Prefecture, which was damaged by the Great East Japan Earthquake, while Mr. Kumagai, the representative director, provided support for the disaster area, he heard local women say "I want a sewing machine" and purchased it for household use with disaster donations from all over the country. The activity began with the distribution of sewing machines, irons, ironing boards, and sewing kits, and the holding of sewing machine seminars in the fall of 2011. In March 2013, "Minami Sanriku Sewing Studio" was established as a non-profit organization, and in April of the same year, production of goods for the unofficial character "Funassyi" in Funabashi City, Chiba Prefecture began. From March 2016, original products will be sold at the online shop. Currently, about 10 members handle orders and sew small items from the fashion brand "Mina Perhonen", and have a good reputation for sewing technology.
◆ Recruit supporters who wish to purchase tote bags on the crowdfunding site
Crowdfunding site "idea market"
A purchase-type crowdfunding site opened by the Yomiuri Shimbun on October 1, 2019. With the concept of "creating tomorrow for Japanese business," we aim to revitalize the Japanese economy by leveraging the power of the Yomiuri Shimbun Group. (1) Innovation (new business and product development of companies, support for venture companies) (2) Regional revitalization (support for local governments and excellent local companies) (3) Culture, sports, and entertainment (support for activities of companies and organizations) , Call for and post plans.
◆
on
display and sell a tote bag at a special shop (real

store),
to introduce the Minami Sanriku sewing machine workshop of efforts
Marronnier Gate Ginza
A commercial facility that started its grand start on March 15, 2017 with three buildings: "Marronnier Gate Ginza 1", "Marronnier Gate Ginza 2", and "Marronnier Gate Ginza 3". "Marronnier Gate Ginza 2" and "Marronnier Gate Ginza 3" are the predecessors of the department store "Printemps Ginza" (April 27, 1984-December 31, 2016), and Marronnier Gate Co., Ltd., wholly owned by the Yomiuri Shimbun Tokyo Headquarters, Operation.
◆ Ask a world-class illustrator to provide a pattern for a tote bag,
and send the fabric with the pattern printed to Minamisanriku Sewing Studio.
Tyco Associates
Since the 1990s, he has been involved in the management of leading illustrators and creators such as Isaac Zenou, a fashion illustrator who worked on the image illustration of Printemps Ginza. .. In the 2011 Great East Japan Earthquake, he presided over the relief project "T-shirts Aid Japan" to send warm hearts to the disaster area by wearing T-shirts of artists' works from all over the world, and one of the sales revenue of the works provided by the artists. Donated the club to the victims.