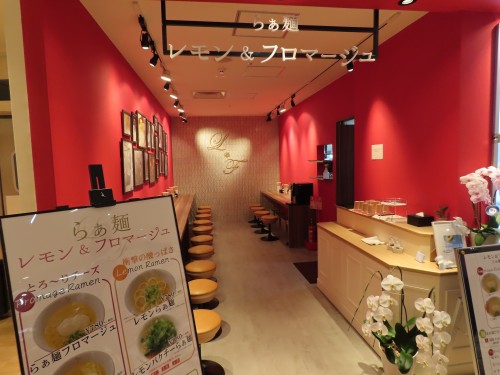 In this corner, we will talk about the things, people, places, and commitments of the shops and facilities that are "recommended!"
---
This time, "Ramen Lemon & Fromage GINZA
", which opened at Marronnier Gate Ginza 2 in December last year, will appear.
The store is the sixth store of "Due Italian", a ramen shop owned by Mr. Kazuo Ishizuka, who has a career as an Italian chef. "Ramen", which incorporates Italian elements and uses healthy ingredients as a beauty food, has become a hot topic here in Ginza, where women with high fashion sensitivity gather.
This time, we interviewed Mr. Wataru Kimura, Managing Director of From Foti Co., Ltd., which operates "Due Italian", and explored the secret of its popularity.
---
---
---
It's a new store of "Due Italian", but why was the store name "Ramen Lemon & Fromage GINZA" this time?
We only offer two types of noodles , "Lemon Ramen" and " Ramen Fromage ", which are carefully selected from the "Ramen" menu of "Due Italian". The signboard menu is listed as the store name so that customers can easily understand it. We have prepared toppings, so you can enjoy the change in taste by adding them to the two types of ramen as you like.
Lemon, fromage and regular ramen menus are unfamiliar, but what are their characteristics?
"Lemon ramen" uses citrus juice in the soup, so you can enjoy the sourness and enjoy the noodles refreshingly. However, if the temperature of the soup is too high, the acidity will be lost, so we make sure to serve it at an appropriate temperature.
It's healthy with plenty of raw vegetables (while eating)! It seems that you can drink all the soup with moderate acidity.
Thank you very much. Fried shallot is used as an accent, so you can enjoy it until the end without getting tired. Kyoto chili peppers are also available for those who like spicy foods (free of charge).
Next, we had you prepare "Ramen Noodles Fromage" with prosciutto on "Ramen Fromage". You can feel the Italian element more, but what kind of device are you doing to provide it as ramen?
It uses salt-based soup and is topped with two types of cheese, cheddar and gorgonzola. It's creamy so it's easy to dissolve in the soup. When you eat it, it is recommended that you do not melt all the cheese from the beginning, but gradually entangle it with the noodles.
I'll get it right away. The cheese is entwined with the noodles and is very mellow! The cheese-melted soup is very rich and rich in flavor.
Actually, we have "Beauty brown rice (¥ 200)" on the side menu, but you can also add it to the soup of "Ramen Fromage" and enjoy it in a cheese risotto style. You can enjoy delicious soup until the end!
---
At "Ramen Lemon & Fromage GINZA", although there are two types of base menus, we were able to enjoy completely different flavors. This time, I had
domestic wheat noodles
, but at the store, you can also
choose konjac zero sugar 12kcal noodles
,
half & half
(zero sugar 12kcal noodles & domestic wheat noodles) as you like. Women who are concerned about calories can also feel free to do so.
"Lemon Pakuchi Laa Noodles" (¥ 880) with coriander, which is becoming more popular among women in recent years, is also available, and there is also "Pakuchi Masu" (¥ 150) as a topping.
I realized that "Ramen", which skillfully incorporates the essence of Italian food, is gaining the support of many women not only for its taste but also for its delicate consideration. It is located on the 2nd basement floor of Marronnier Gate Ginza 2, which is easily accessible from Yurakucho Station and Ginza Station, so please stop by when you come near us!
* All prices do not include tax.
Click here for store overview