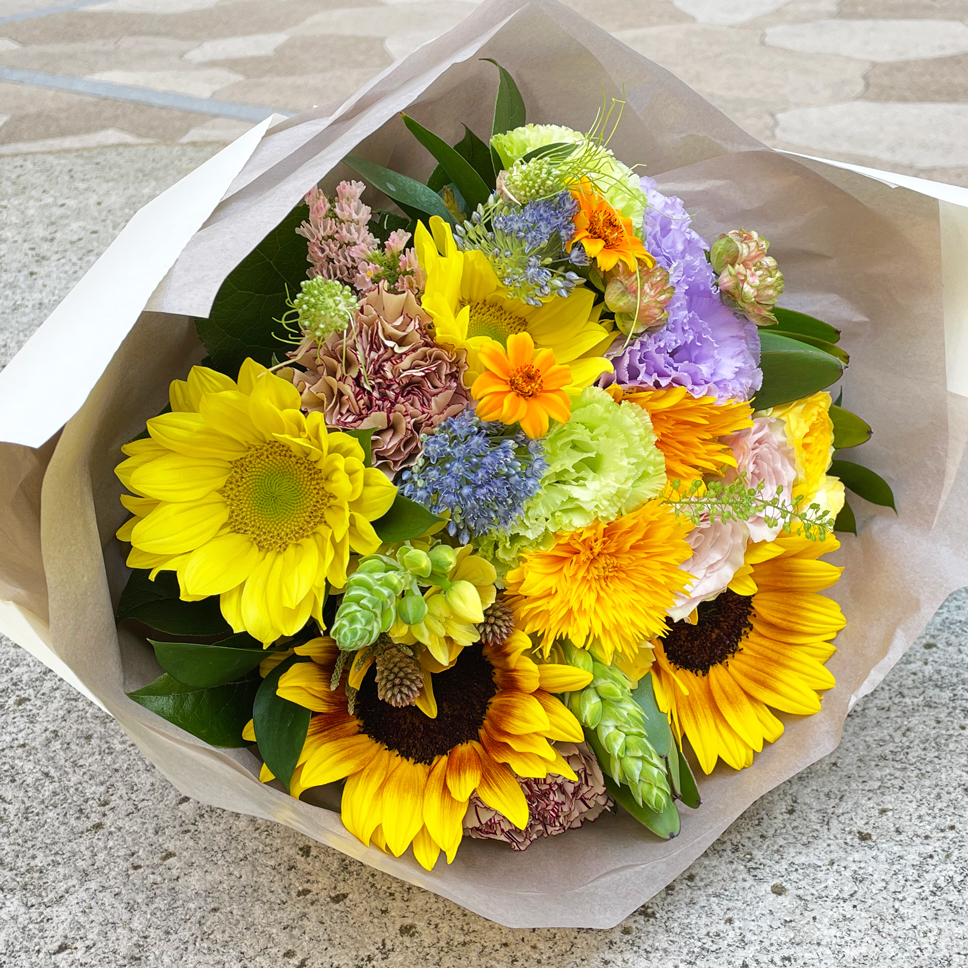 -Put your thoughts on the flower language and wish for the happiness of your loved one-
Daiichi Engei Co., Ltd. (Headquarters: Shinagawa-ku, Tokyo, President: Noboru Ito, Mitsui Fudosan Group), which develops businesses related to flowers and greenery, will be corona on Wednesday, July 7th for Tanabata / Summer Valentine From Thursday, July 1, 2021, we will sell a pair bouquet of various flowers in pairs, centering on the sunflower, which is popular for its bruise.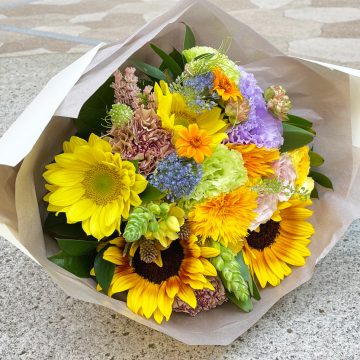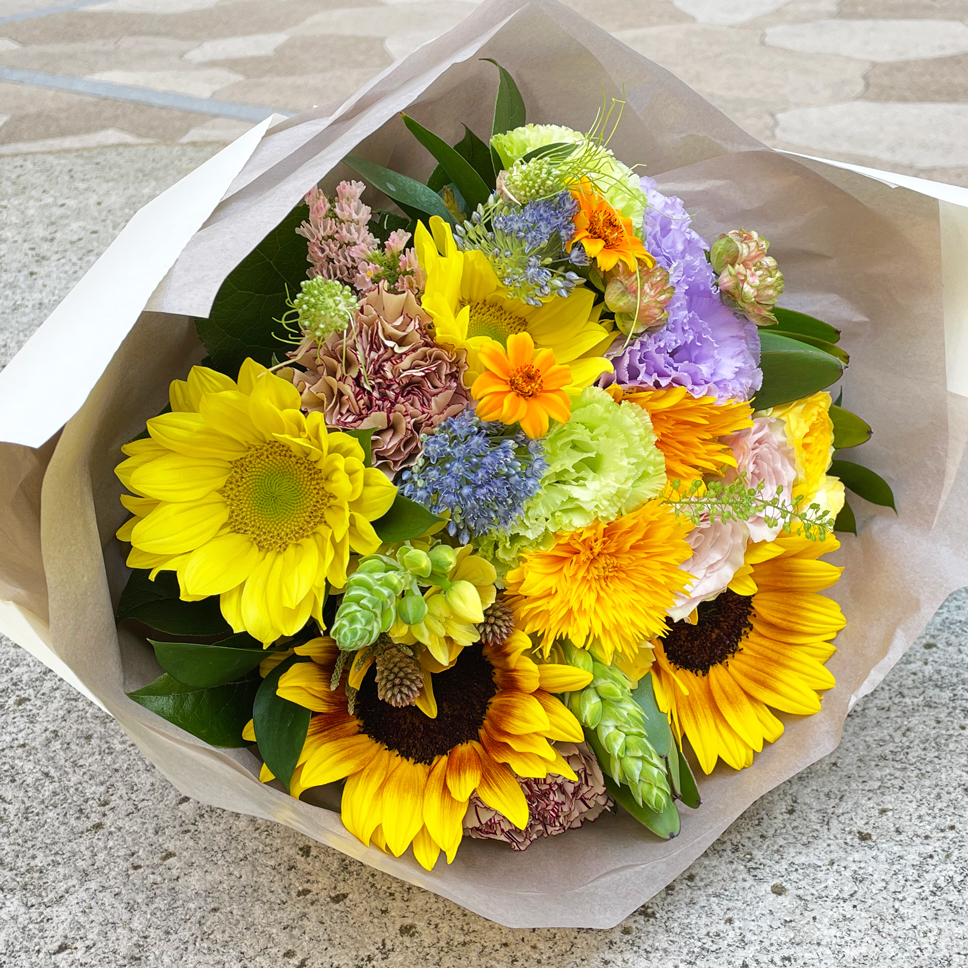 ・ Annual Summer Valentine's Day to wish for the happiness of loved ones
Tanabata is the day when Orihime and Hikoboshi meet once a year, and it is the day when they entrust their wishes to the stars. Based on this legend, July 7th is also called Summer Valentine's Day, and some people choose this day to enroll.
Therefore, at Daiichi Engei, there are various sunflowers, which are popular nowadays, as a day to give flowers to those who are hard to meet due to corona damage and to wish for the happiness of loved ones such as family, friends, lovers, etc. We sell bouquets of flowers in pairs.
You can enjoy it in various ways, such as decorating it as it is, or decorating it in pairs with flowers regardless of gender or age, so please take this opportunity to give it to your loved ones. What do you think.
・ Sunflower is recommended as the leading role in the pair bouquet! A bouquet that is conscious of the colors and flower language that will make you feel good during the rainy season
---
---
The second rainy season greeted by the corona disaster. It's a time when you can't go out and your feelings are often blocked, so let's choose a flower with a color that makes the recipient feel more energetic. In particular, the vitamin-colored sunflower is becoming more and more popular due to the corona sickness, making it a perfect protagonist for pair bouquets.
It is also recommended that you choose the flower language consciously and put various feelings into one bouquet. We have listed 7 kinds of flowers that will last for a long time even in summer, and we have listed recommended flowers for pair bouquets, so please refer to them when choosing.
・ 7 recommended flowers for pair bouquets
【Sun Flower】
A flower that plays a leading role in summer bouquets, such as the flower language "looking only at you" and "longing". There are various variations such as yellow to brown, the color of the center of the petals, and the size of the flowers.
[Eustoma]
The types of frilled flowers such as the flower words "hope" and "appreciation" are so gorgeous that they can be mistaken for roses, and they have elegant colors. The point is that it is also resistant to the heat of summer.
【Carnation】
It is a durable flower with a long shelf life, with a wide variety of colors such as the flower language "innocent and deep love" and "fascination". Recommended for a refreshing impression of green colors in summer.
[Gypsophila]
There is also a variety called Altair (Hikoboshi) such as the flower language "happiness" and "everlasting love", and it is becoming popular as a Tanabata flower.
[Blue Star]
The matte baby blue flowers such as the flower words "happy love" and "believing heart" are impressive. The name and appearance are perfect for a bouquet unique to Tanabata.
[Masterworts]
A flower that means "star" in Greek, such as the flower word "wish for the stars". A romantic flower language was given from the name and shape of the flower.
[Statice]
A trendy flower that is also used for wedding bouquets these days, such as the flower language "unchanging heart" and "love that never changes". Hybrid statice as shown in the picture is also popular. It has a very long shelf life and is also suitable for dried flowers.
・ Flowers with a bright and energetic impression are popular for gifting flowers at Corona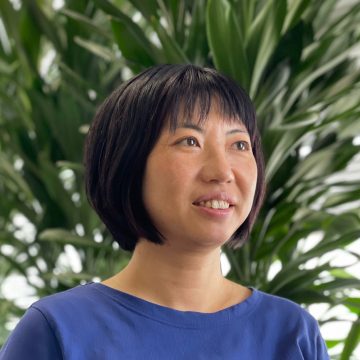 Daiichi Engei Store Division Managing Store Manager / Bouquet Production Ai Yamaguchi
"Pair bouquet" is a combination of summer flowers. Sunflower was originally a popular flower in the summer, but since it became a corona, more and more people are looking for it in stores, so with this sunflower as the leading role, there is also a "rose" with the flower word of love. Added. In addition to these flowers, we can also make pair bouquets according to your order at the store, so please feel free to tell us your taste.
・ Handling stores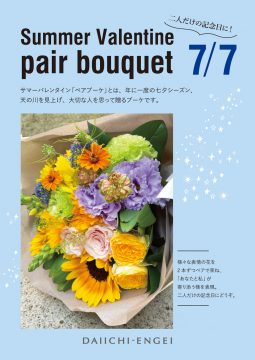 ・ Daiichi Engei Isetan Shinjuku Store, Teikoku Hotel Plaza Store, Mitsukoshi Ginza Store, Mitsukoshi Nihonbashi Store, Denenchofu Store, Tokyo Club Building Store, Gate City Osaki Store
・ BIANCA BARNET
Tokyo Midtown Hibiya store, Yokohama Bay Quarter store
· Sales period
July 1st (Thursday) -July 7th (Wednesday), 2021
·price
We accept orders from 5,500 yen (tax included).
* The photo sample is 11,000 yen (tax included).
* We also accept delivery from stores.
* Some areas such as remote islands cannot be delivered. For more information, please contact the store staff.
■ Overview of Daiichi Engei Co., Ltd. <br /> Daiichi Engei is a company of the Mitsui Fudosan Group, which has been in business for 123 years as a flower and green professional. A wide range of businesses, including sales of personal / corporate products at stores and online shops, wedding decoration flowers, urban greening of office buildings and commercial facilities, landscaping and management of parks and gardens, and seasonal space decoration business. We are developing our business. Daiichi Engei will continue to take on the challenge of realizing a rich, moist and sustainable society surrounded by flowers and greenery.
Location: 1-5-21 Katsushima, Shinagawa-ku, Tokyo Mitsui Bussan Global Logistics Katsushima Building No. 20 Representative: Noboru Ito, President and CEO Founded: 1898 (established 1951)
Capital: 480 million yen Shareholder: Mitsui Fudosan Co., Ltd. (100%)
URL: https://www.daiichi-engei.jp/