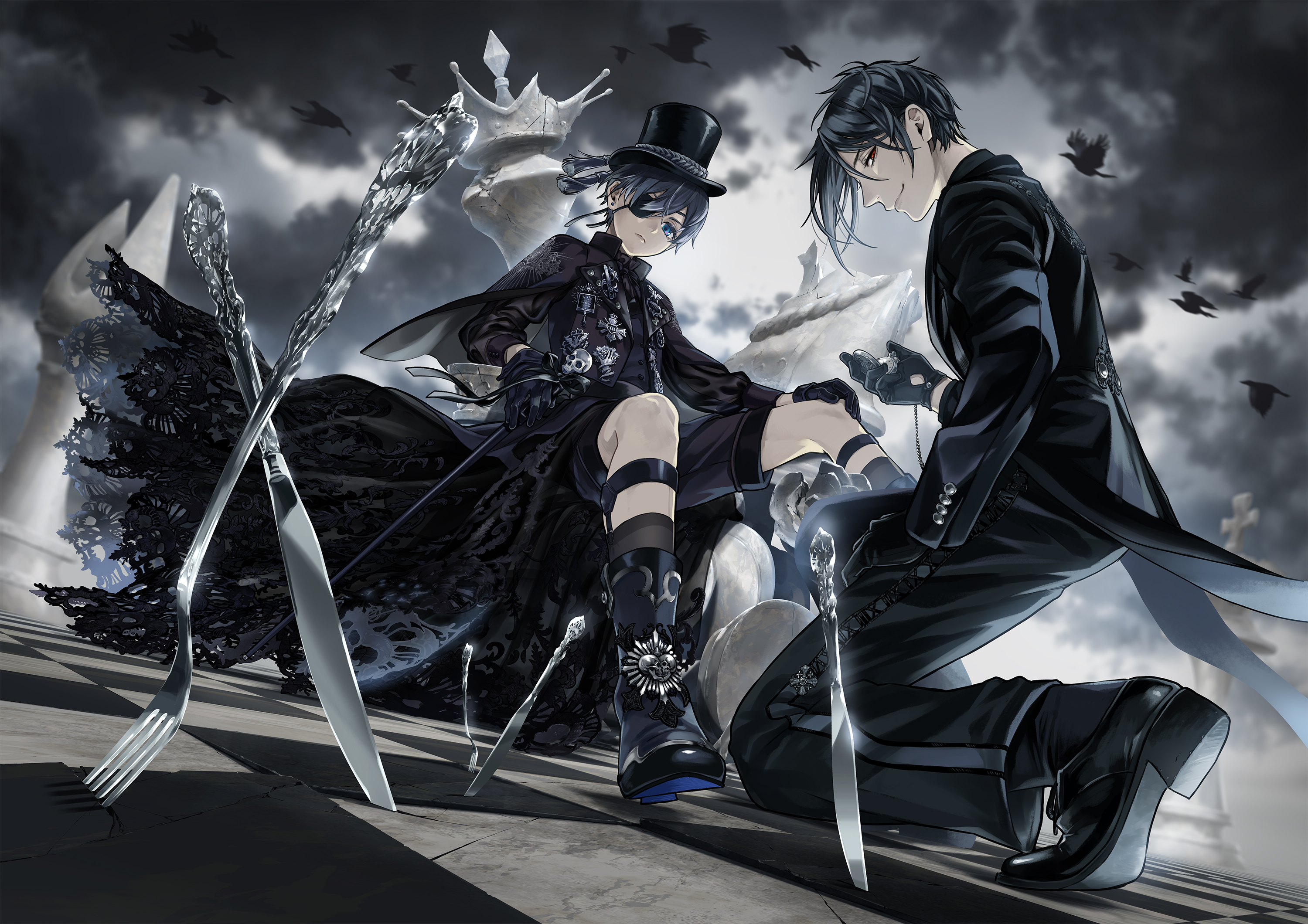 "Kuroshitsuji Exhibition -Rich Black-" Main Visual © Yana Toboso / SQUARE ENIX
Held at Ginza Matsuya from August 13th (Friday) to 31st (Tuesday)
Daisuke Ono and Maaya Sakamoto also watch the exhibition!
To commemorate the 15th anniversary of the popular manga "Kuroshitsuji", we will hold an exhibition "Kuroshitsuji Exhibition -Rich Black-" at Ginza Matsuya from August 13th (Friday) to 31st (Tuesday).
---
---
"Kuroshitsuji" (written by Yana Toboso) is serialized in the monthly "G Fantasy" (published by Square Enix) in the October 2006 issue. Set in Britain at the end of the 19th century, the story of a butler who contracted with a solitary boy aristocrat for a "devil" became popular not only in Japan but all over the world. Has exceeded 30 million copies worldwide (as of August 2021).
In this exhibition, which will be a new attempt, the visuals will be unified with a world view based on the theme color "Rich Black" (black that is deeper than black, created by superimposing various colors on black), and the beauty of the heart and handwriting will be beautiful. Approximately 250 items, including illustrations, popular episodes such as "Akashitsuji", "Circus", and "Luxury Passenger Ship", as well as the latest "Memories of Blue" and original drawings of serialized manuscripts that look back on many famous scenes. Exhibition. We will also sell a lot of original exhibition goods.
On August 12th, the night before the opening of the exhibition, Daisuke Ono, the voice actor of Sebastian Michaelis, who is the cast of the anime version and is also in charge of the audio guide for this exhibition, and Maaya Sakamoto, the voice actor of Ciel Phantomhive. Watches the exhibition. He enthusiastically talked about the impressions and highlights of the exhibition, the recommended points of the audio guide, and recommended goods. We will introduce the charm and highlights of this exhibition through their comments.
■ Impressions of the exhibition Ono: I am very happy to see the 15-year history of "Kuroshitsuji" at once. I felt the soul with the thoughts that Mr. Kiki put in. Also, I was happy to hear the enthusiasm of the people surrounding "Kuroshitsuji".
Sakamoto: From the moment I entered from the entrance, I felt like I was surrounded by the world of "Kuroshitsuji", and while I was watching it, I felt like I was in another world where I didn't know where it was. There are so many things to see, so I thought it was an exhibition that you could take your time to enjoy.
■ What is the best recommendation for the exhibition?
Ono: It's a raw manuscript corner. Immediately after entering, there is an exhibition "Because I am a devil and a butler". You can see the raw manuscript of that scene at the entrance of this work and the basic lines. I got goosebumps when I was in front of me, remembering the feeling I had when I first played Sebastian.
Sakamoto: In the video corner, you can see original works with our voice for this exhibition. It's a scene that hasn't been animated so far, and you can only watch it here, so please take a look.
■ What are your impressions of the audio guide recorded together?
Ono: It's been a while since we recorded together, so it was very encouraging. A butler cannot exist without her husband, so when I heard Maaya-chan's voice from Ciel, my spine stretched out and I was glad I was doing "Kuroshitsuji" at that moment.
Sakamoto: It's a story that is spun as a pair, so I think Sebastian and Ciel are two people who can't shine without each other. I was the same as Mr. Ono, and when I listened to Mr. Ono's voice, I immediately became a Ciel without feeling a time lag.
■ What is the best voice guide?
Ono: It's an exchange between two people that isn't in anime. Mr. Kiki called me a "manzai".
Sakamoto: There is a secret secret story between the two, so you can enjoy the unique way of enjoying an audio guide that only you can listen to.
■ What kind of goods are you interested in?
Ono: It's "Bitter Rabbit Basic Sebastian".
Sakamoto: This is the "Tsubameo T-shirt".
■ Message to "Kuroshitsuji" fans at the opening of the exhibition Ono: We were able to celebrate the 15th anniversary of "Kuroshitsuji". Not to mention Mr. Kiki's efforts, I think that the fans have loved "Kuroshitsuji" for a long time. Thank you for being Sebastian. A butler cannot exist without a master. If Mr. Kiki is Sebastian, I think you are Ciel and your husband who support you. We hope that you will continue to love "Kuroshitsuji" for many years to come.
Sakamoto: This exhibition is overwhelmed by the energy of drawing works that have been loved for 15 years. "Kuroshitsuji" is also my masterpiece, and I hope that people of all ages around the world will continue to enjoy it.
[Kuroshitsuji Exhibition -Rich Black-] Outline of the event Date: August 13th (Friday) -August 31st (Tuesday), 2021
Opening hours: 10:30 am to 8:00 pm Admission is 30 minutes before closing, closing at 5 pm on the last day, closing at 19:30 on Sundays Venue: Matsuya Ginza 8th floor Event Square Organizer: Kuroshitsuji Exhibition- Rich Black- Executive Committee Cooperation: TOKYO MX
Admission: General 1,300 yen / High school students 900 yen / Junior high school students 700 yen / Elementary school students 500 yen With pump 2,800 yen Audio guide: 700 yen * This exhibition will be "all day date and time designation system". Tickets for specified dates and times are on sale at Lawson Tickets.
Inquiries: Matsuya Ginza 03-3567-1211 (Representative)
■ Black Butler Exhibition -Rich Black- Official Website: https://sqex.to/kuroshitsujiten
■ Black Butler Exhibition -Rich Black- Official Twitter @kuroshitsujiten
* After the event in Matsuya Ginza, it will be toured nationwide in Osaka, Fukuoka, Hyogo, Ishikawa, Niigata, Aichi, etc.
<Related article>
Experience-based exhibition "POKÉMON COLORS" to enjoy with Pokemon From July 22nd, touring the whole country starting from Matsuya Ginza
[45th Anniversary of Birth Anniversary Nezumi-kun's Waistcoat Exhibition Yoshio Nakae / Noriko Ueno's World] Matsuya Ginza's first online exhibition (live distribution) will be held! [6/1 19: 00 ~]