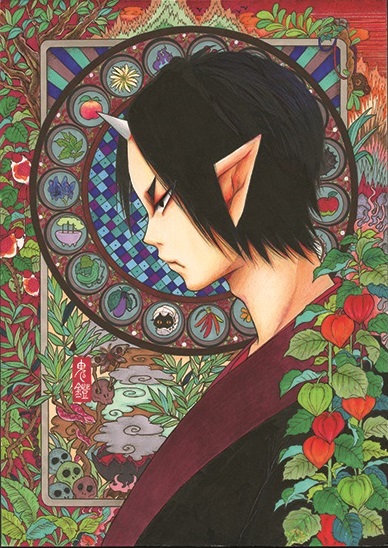 © Natsumi Eguchi / Kodansha
The largest original painting exhibition ever will open in Matsuya Ginza from September 22nd (Wednesday)!
The manga work "Hozuki's Coolheadedness" serialized in "Morning" (published by Kodansha) from 2011 to 2020. Set in hell, this work, which depicts the fun daily life of hell that the first aide of Enma Daiou, "Ogre Light," unfolds with unique characters, has a cumulative circulation of over 14 million copies and was animated in 2014. In 2017, the second season was also broadcast.
In this exhibition, which will be the largest ever, about 200 works will be exhibited, centering on Professor Eguchi's manga manuscripts and color original drawings. Including each corner where you can learn about hell such as "Ten King's Room", "Eight Great Hell", "Introduction of Residents", color illustrations drawn for this exhibition, and "Graffiti" that is still posted on SNS In addition, we will take a closer look at the charm of "Hozuki's Coolheadedness". Please enjoy the world of "Hozuki's Coolheadedness" more deeply at the Hell Museum.
■ Exhibition Overview [Venue] Matsuya Ginza 8th Floor Event Square https://www.matsuya.com/ginza/
3-6-1 Ginza, Chuo-ku, Tokyo 03-3567-1211 (Matsuya Grand Representative)
---
---
[Session] September 22, 2021 (Wednesday) -October 5 (Tuesday)
* Since the two days of September 22nd and September 23rd are the "Hozuki's Coolheadedness Festival", it is a <date and time designation system / free admission exclusion>.
* Admission is 30 minutes before closing. Closed at 5 pm on the last day.
[Admission fee] General 1,100 yen (900 yen), high school students 800 yen (600 yen), junior high school students 600 yen (500 yen), elementary school students 400 yen (300 yen)
* A reserved-seat ticket is required for the two days of September 22nd (Wednesday) and September 23rd (holiday / Thursday) for the "Hozuki's Coolheadedness Festival". The admission fee is the same as the regular admission ticket.
Ticket purchase is Lawson ticket (L code 38333)
https://l-tike.com/event/hozukino-reitetsu-ex
[Organizer] "Hozuki's Coolheadedness" Original Painting Exhibition Executive Committee [Cooperation] Kodansha
* Business days and hours may change depending on the spread of the new coronavirus infection. Please see the Matsuya website for details.
* During times of congestion, you may have to wait or distribute a numbered ticket.
* For admission fees, "Hozuki's Coolheadedness Festival", exhibition contents, etc., go to the exhibition website Exhibition HP https://hozukino-reitetsu-ten.com/
Exhibition Twitter @hozuki_ten
■ Venue composition
<Hell Museum>
You can see the history of the "Hozuki's Coolheadedness" series for about 9 years. An exhibition of the original color paintings on the cover of the morning and a folding screen created based on the original color paintings are also on display.
<Hell Information Center>
Introducing the trial of the Ten Kings, information on Japanese hell, and the fun life of hell while tracing the original drawings
<Resident recording room>
A recording room for demons and graduates who live in hell. In addition to the original drawings, we will also exhibit a scroll-style "Choju-jingai-ga".
<Creative room>
We will exhibit all the "graffiti" by Dr. Natsumi Eguchi posted daily on SNS.
* Exhibition contents are subject to change without notice.
■ Goods Corner <br /> A large collection of about 130 types of "Hozuki's Coolheadedness" goods!
* The product image is an image. Design etc. are subject to change.
* Product lineup, product name, price, design, specifications, etc. are subject to change without notice.
* You cannot enter only the goods corner. In addition, please proceed in the order of exhibition hall, product sales hall, goods counter, and it will be a one-way street. Re-entry to the exhibition hall and product sales hall is not possible.
* There is no inventory allocation for each day.
* The number of products is limited. Please note that it may be sold out even during the exhibition period. In addition, the admission ticket will not be refunded due to out-of-stock items.
* You can purchase goods at the store only on the day of admission to the exhibition, and you can only pay once for each admission.
* We may limit the number of items you can purchase.
* Purchasing an "admission ticket" does not guarantee the purchase of all goods at the venue.
* We do not accept reservations, reserves, or deliveries for out-of-stock items at a later date.
* We do not accept overseas shipments of ordered products. In principle, we cannot accept cancellations, quantity changes, product returns or exchanges due to customer convenience after purchasing the ordered product.
* Goods will be mail-ordered after the fact except for some items.
<Related article>
[Holding Information] Matsuya Ginza "Kuroshitsuji Exhibition -Rich Black-"
Experience-based exhibition "POKÉMON COLORS" to enjoy with Pokemon From July 22nd, touring the whole country starting from Matsuya Ginza
[45th Anniversary of Birth Anniversary Nezumi-kun's Waistcoat Exhibition Yoshio Nakae / Noriko Ueno's World] Matsuya Ginza's first online exhibition (live distribution) will be held! [6/1 19: 00 ~]