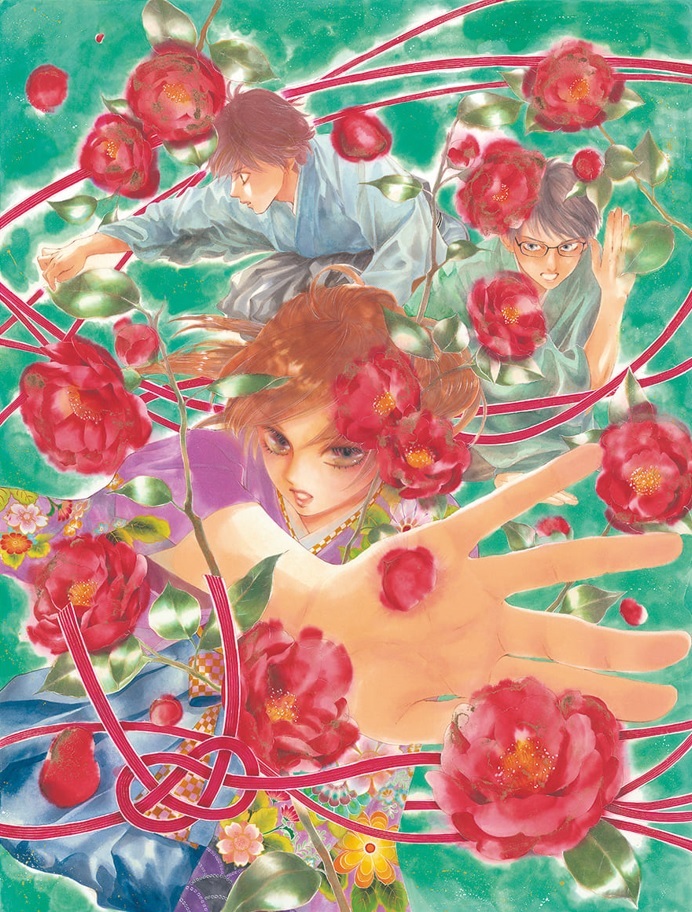 © Yuki Suetsugu / Kodansha
Look back on its charm at once at the largest original painting exhibition ever
<Monday, December 27, 2021-Monday, January 17, 2022 Matsuya Ginza>
---
---
Yuki Suetsugu's shojo manga work "Chihayafuru" (serialized in "BE LOVE" since 2007 / Kodansha) based on "competitive karuta". The passionate story that attracts readers has received high praise from various fields, and has been loved by fans for generations due to its three-term animation, live-action movie by gorgeous actors, and long-term serialization.
The story is about to reach its climax, and the friendship and battle over the "competitive karuta" of Chihaya, Shin, Taichi and their unique rivals are about to come to an end.
In this exhibition, we will look back on the story of the youth of "Chihayafuru" in the original picture on a scale of more than 500 exhibits. Including the newly drawn for this exhibition, the first public color manuscript will also appear. In addition to valuable setting materials and survey memos, we will also introduce the back side of the work creation through the production scenery drawn with elaborate techniques and the video that Mr. Suetsugu talks about his thoughts on the work, and approach all the charms of "Chihayafuru". increase.
[Highlights of this exhibition]
§ Review the manga "Chihayafuru" at once with a total of 500 points or more such as original drawings and materials ・ Introduce the back side of the creation with materials such as setting materials and survey memos ・ First public release including drawing for this exhibition Exhibition of color manuscripts ・ Production scenery and interview video with Yuki Suetsugu ・ Competition reproduction corner ・ Waka poems that reflect the feelings of the characters are introduced with picture cards and their translations ・ Introduction of the Chihayafuru Fund
[Exhibition outline]
Title: Chihayafuru Exhibition Date: December 27, 2021 (Monday) -January 17, 2022 (Monday)
Holidays: January 1st (Saturdays and public holidays)
Time: Please refer to the Matsuya Ginza website below.
Venue: Matsuya Ginza 8th Floor Event Square Price: General 1,300 yen (1,000 yen), high school students 800 yen (600 yen), junior high school students 600 yen (500 yen), elementary school students 300 yen (300 yen)
All prices including tax (parentheses) are advance ticket prices.
Advance sales will be available at Lawson Tickets until December 26th.
For details, please refer to the official website of the exhibition.
Organizer: Asahi Shimbun Supervision: Yuki Suetsugu Special Cooperation: Kodansha Cooperation: All Japan Karuta Association, Chihayafuru Foundation Inquiries: Matsuya Ginza 03-3567-1211 (Representative)
Official website of this exhibition: https://chihayafuru.exhibit.jp
Matsuya website: https://www.matsuya.com/ginza/
After that, it will be touring the whole country for about 2 years
[Venue composition plan]
Chapter 1 We can meet again because there is a karuta ~ The beginning of the story ~
Chapter 2 You can be stronger because you have friends-The circle that connects with karuta-
"Chihayafuru" and the world of waka poems (topics corner in Chapter 2)
Chapter 3 Thank you for joining Karuta together-The fight for all youth-
Chapter 4 Let's Go Together to Takane in Fuji-Meijin / Queen Battle Chapter 5 Chihayafuru Kamidai Mokikazu What does it mean to be watered from the Tatsuta River?
-Manga artist Yuki Suetsugu's brush strokes-
Epilogue If you dive into the heart after seeing it, you will think about things in the old days-connecting and continuing the "Chihayafuru" circle-
[Goods sale]
At the sales corner, we have a large number of exhibition-limited catalogs and original goods.
<Past related articles>
A full-scale exhibition with the theme of Disney's masterpiece "Dog and Cat" Disney Cats & Dogs Exhibition to be held at Matsuya Ginza
[Holding Information] Matsuya Ginza "Kuroshitsuji Exhibition -Rich Black-"
Experience-based exhibition "POKÉMON COLORS" to enjoy with Pokemon From July 22nd, touring the whole country starting from Matsuya Ginza